Chinese firm Deepcool is mostly recognized for its stunning chassis. Power supply and liquid and air-cooled CPU coolers are both sold by the same business. Although it has been a while since we last used a Deepcool PSU, a glance at the official website reveals a substantial selection of related items, the most of which cater to mainstream systems.
Although probably not as well-known in Western markets, Deep Cool is one of the most well-known brands in the PC industry. However, this is undoubtedly changing. You've undoubtedly noticed Deep Cool's recent high-profile product launches, which have been many. I have high hopes for their new DeepCool PK650D Power Supply because they have a lot of great items, like their stylish Steam Castle chassis and Lucifer CPU coolers.
We only had the possibility to test Deepcool products, thus we asked for PSUs in the more affordable price range. The PSU that we are analyzing today in the low-cost category is the DeepCool PK650D Power Supply Series non-modular power supply, which has an 80 PLUS Bronze certification for effective power delivery with excellent performance at a low cost.
With features like a 120 mm fan that is 80 PLUS Bronze certified, heavy-duty black flat cables, and—most importantly—a 5-year DeepCool warranty, this PSU is intended for PC users on a tight budget.
DeepCool PK650D Power Supply Features & Overview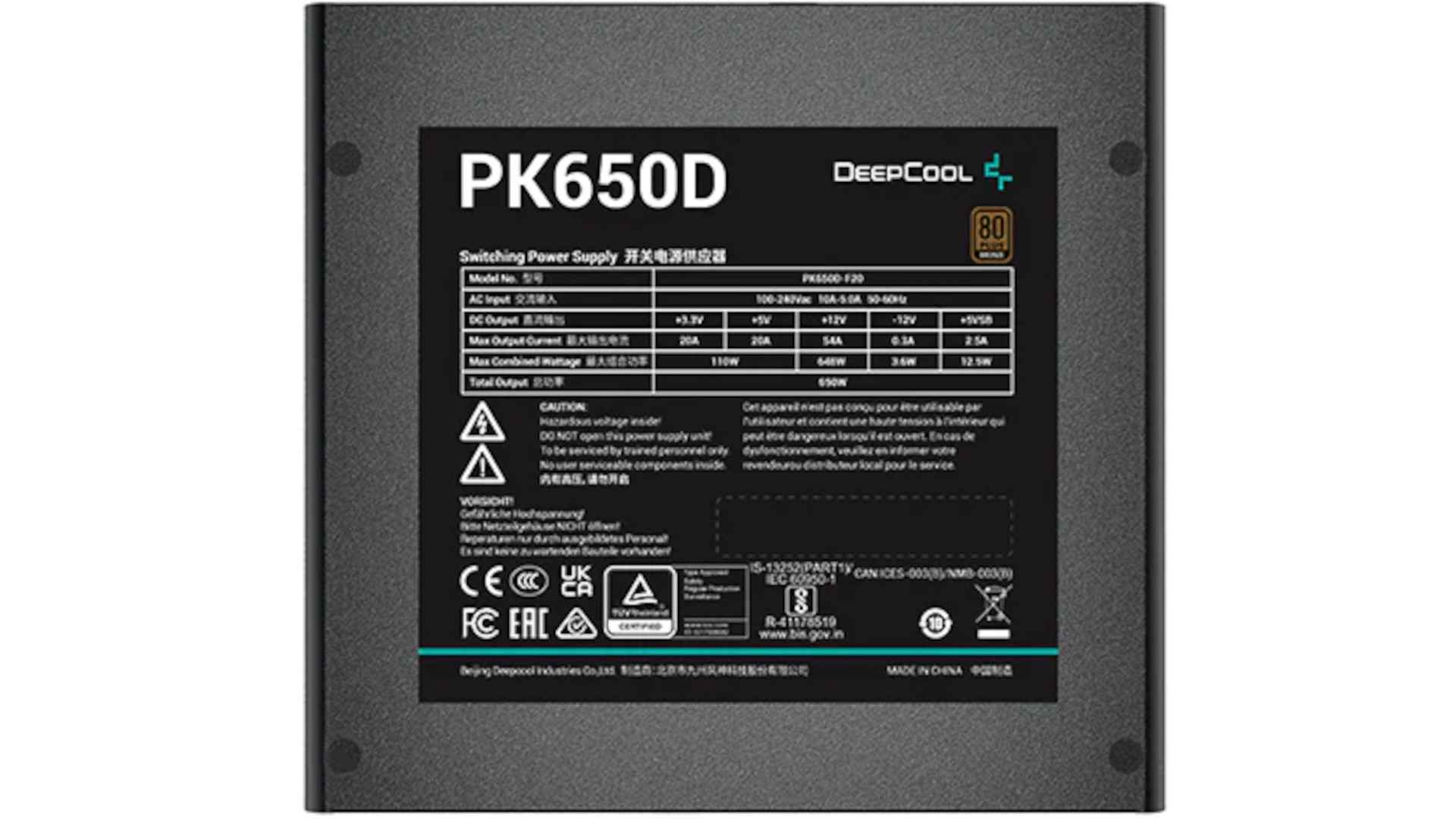 Provides a minimum efficiency of 90% or greater for consistent power supply with negligible waste under common loads.
The PM-D series power supply has a full-bridge LLC design with DC-DC conversion and Japanese bulk capacitors for consistent power performance and low signal noise.
Each PM-D power supply is built to Intel PSU specifications that provide instant-on power from sleep or standby modes and current power supply design requirements for constant voltage stability.
The PM-D series power supply complies with both the IEC 62368-1 safety standard and the 2014 ErP guidelines for energy saving.
OPP/OVP/SCP/OTP/OCP/UVP well-rounded circuit protection can help you safeguard your power supply.
DeepCool PK650D Power Supply Packaging
The DeepCool PK650D Power Supply comes in a sturdy box with PSU graphics, the model name, and highlights of its characteristics on the front and rear.
DeepCool PK650D Power Supply, Power cord, PSU mounting screws, and User Manual are all included in the box.
As an OEM, CWT provides an excellent PCB design for the DeepCool PK650D Power Supply. The power supply features a full-bridge LLC design and uses DC-DC conversion for 5v and 3.3v. The power supply also contains superb Japanese bulk capacitors. 120 mm 12 volt cooling fan wonderful PCB design There are SMD components and decent soldering on the back of the PCB.
The principal high voltage DC rectifier and switching components, as well as all EMI mitigation components, are mounted on a considerable heatsink. On the main side, Nippon Chemi-Con is a reliable Japanese bulk capacitor. Japanese capacitors for filtering 12 volts. Module for DC-DC conversion with copper shielding.
DeepCool PK650D Power Supply Testing
Test system Configuration 
| | |
| --- | --- |
| CPU | Intel i9-9900K |
| Board | MSI Z390 GAMINF PLUS |
| RAM | 2 X 8GB Corsair DDR4 3000Mhz |
| SSD | Corsair Force GT 240GB SSD |
| GFX | ASUS GeForce RTX3080 TUF Gaming OC |
| PSU | DEEPCOOL 650W |
| Case | Corsair iCUE 4000X Case |
| Display | ASUS PB287Q |
| OS | Windows 10 |
Without any overclocking, the DeepCool PK650D Power Supply power supply handled the aforementioned gaming setup at 1080p medium settings with ease. To be totally honest, I was pushing the limits of this PSU because 750Watts is the absolute minimum required for this type of combo.
DC Active fake load PSU tester manufactured to order.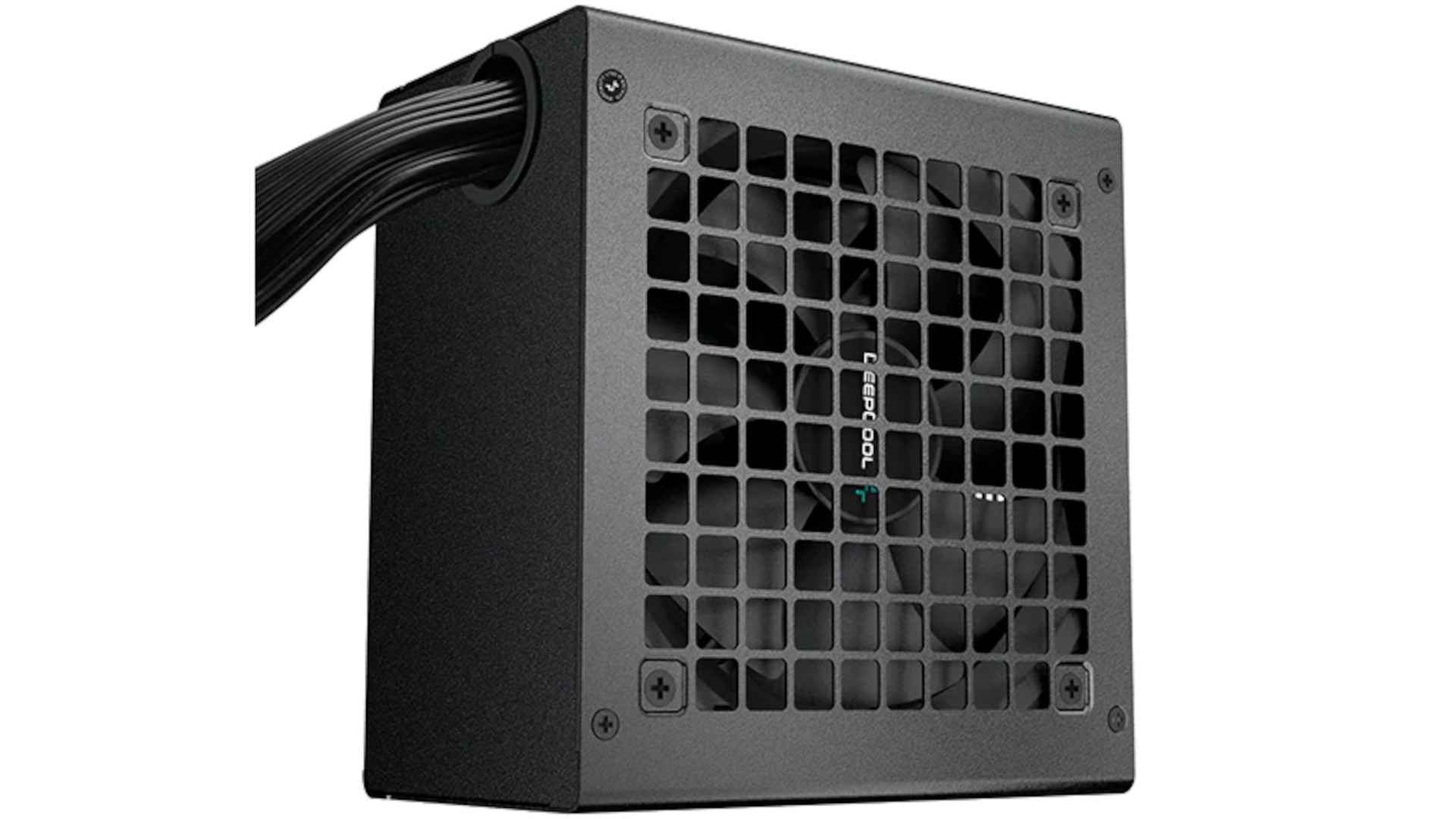 I manually adjusted the load in Amps on the 12V first rail, 12V second rail, 5V and 3.3V rail to mimic a 100%, 80%, 50%, and 20% load in order to test the DeepCool PK650D Power Supply  using my Active load test to evaluate the PSU.. Since this PSU only has one 12 volt rail, I split the load between my tester's two 12 volt loads were cut in half.
A constant 0.5amp load was supplied to both the -12V and 5V supply throughout the test.
Despite having a maximum theoretical load carrying capability of roughly 1500W, my tester can only handle 1300W due to the safe operating area (SOA) characteristics of MOSFETs and the heatsinks' capacity to handle thermal loads. Out of concern for safety, I also added a thermal controller, which will turn the associated PSU off if the temperature exceeds SOA standards.
The PSU instantly cut off while trying to draw more power throughout the test, proving how well the overload protection was working.
DeepCool PK650D Power Supply Specifications
| | |
| --- | --- |
| Type | ATX12V V2.4 |
| Product Dimensions | 150×140×86mm (W x L x H) |
| 80PLUS Certifications | Bronze |
| Fan Size | 120mm |
| Fan Bearing | Hypro Bearing |
| Topology | Active PFC+DC to DC |
| Capacitors | Taiwan capacitor |
| Power Good Signal | 100-150ms |
| Hold Up Time | ≥16ms(80% Load) |
| Efficiency | ≥85% Under Typical Load(50% Loading) |
| Protection | SCP,OPP,OTP,OVP,OCP,UVP |
| Operation Temperature | 0 – 40 °C |
| Regulatory | CB/CE/FCC/CAN ICES-003(B)/NMB-003(B)/ TUV-RH/CCC/UKCA/EAC/RCM/BIS |
| Erp Regulation | ErP 2013 |
| MTBF | 100,000 Hours |
| EAN P/N | 6933412715153 R-PK650D-FA0B-CN6933412715160 R-PK650D-FA0B-AU6933412715177 R-PK650D-FA0B-EU6933412715184 R-PK650D-FA0B-JP6933412715191 R-PK650D-FA0B-UK6933412715207 R-PK650D-FA0B-US6933412715214 R-PK650D-FA0B-AR6933412715221 R-PK650D-FA0B-BR6933412715238 R-PK650D-FA0B-WO6933412715245 R-PK650D-FA0B-BP6933412715610 R-PK650D-FA0B-BE |
DeepCool PK650D Power Supply Conclusion
With a 650 W output, the DeepCool PK650D Power Supply may be regarded as a wise purchase because it truly justifies the money spent on it. Excellent efficiency, great stability, minimal noise, and a fully modular design are all features of this power supply.
No complaints have been made regarding the quality since the manufacturer concentrated all of its efforts on this component of the power supply rather than on extra design features like backlighting. However, we don't want to imply that the block appears commonplace.
It features a non-standard fan grille design and a black metal chassis, which ideally fits this model into systems with a rigid aesthetic. Generally speaking, it is hard to criticize the DeepCool PK650D Power Supply.
In our tests, the DeepCool PK650D Power Supply demonstrated nice efficiency, clean power delivery, and decent voltage stability.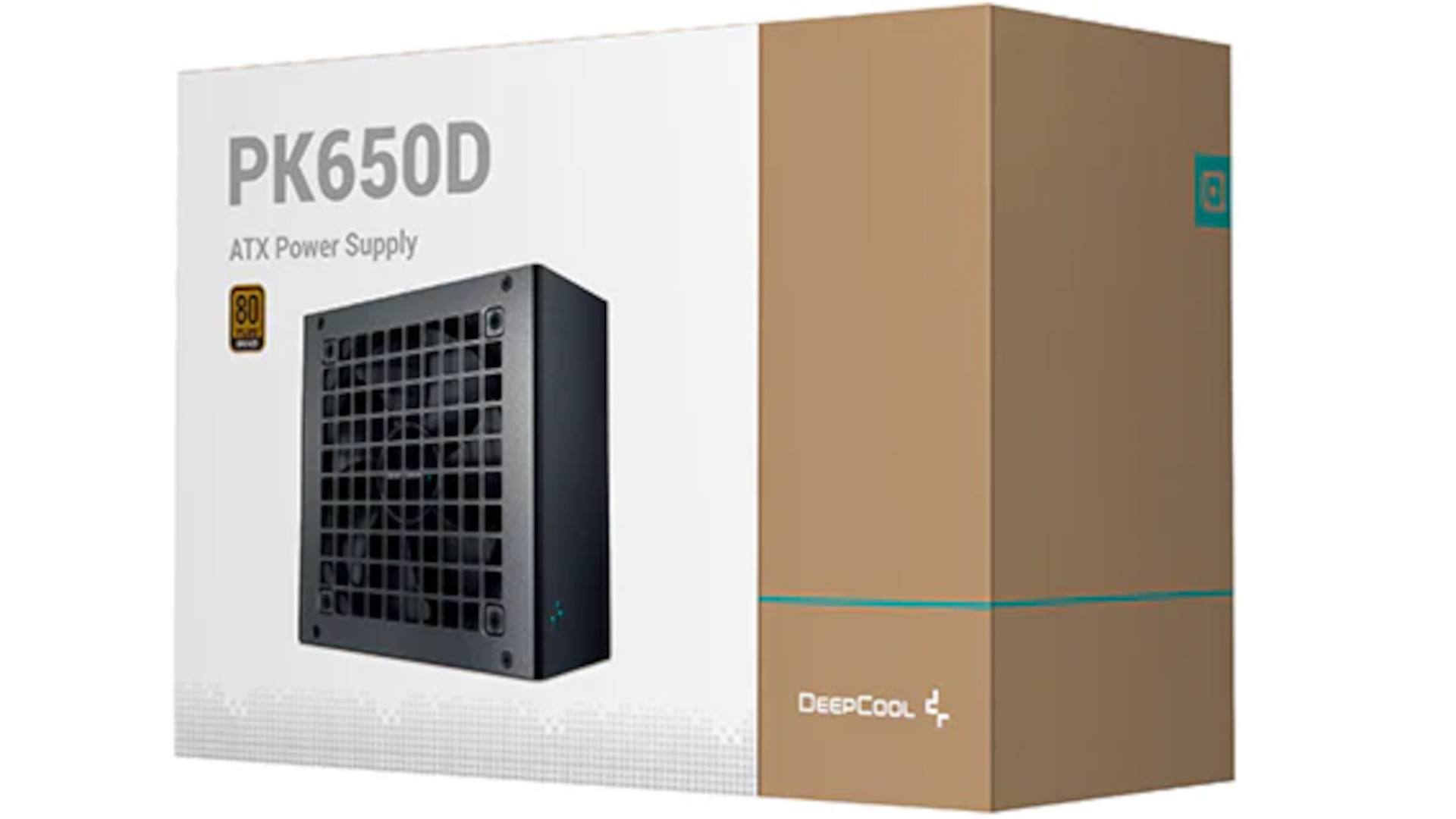 Last but not least, at 60 $, the DeepCool PK650D Power Supply with 80 PLUS Bronze certification is a superb choice for entry-level or low-cost PC builds and is deserving of our PC Reviews VALUE Award.
DeepCool PK650D Power Supply
Performance -

97%

Price -

98%

Value -

98%