Hardware reviews are firmly rooted in the present. Even if the initial Nehalem CPUs from Intel were a complete game changer when they were released, they would receive a sound beating today. The same is true for shorter time periods, and the evaluation would have been considerably different had the AMD Ryzen 7 5700X been introduced concurrently with the 5900X, 5800X, and 5600X. Currently, there are just better solutions available because since Zen 3 first graced our motherboards, the world has advanced significantly.
The $80-$299 AMD Ryzen 7 5700X, which has eight cores and 16 threads, is a somewhat cheaper counterpart of the $335 Ryzen 7 5800X. However, with a little easy tinkering, it performs almost as well in games and other applications.
The 5700X is the first of AMD's seven new Ryzen 5000 models, which are intended to improve the company's CPU benchmark rankings and reclaim its spot on the list of the Best CPUs for Gaming. After Intel's Alder Lake range shocked AMD's Ryzen with a superior balance of price and performance, that is a crucial necessity. 
The most recent member of AMD's highly regarded Ryzen CPU family is the AMD Ryzen 7 5700X. This CPU, which is based on the Zen 3 architecture, offers outstanding performance, power efficiency, and enhanced gaming experiences. We will examine the Ryzen 7 5700X's salient characteristics, performance metrics, and user experience as a whole in this study.
AMD Ryzen 7 5700X Specifications & Overview
The AMD Ryzen 7 5700X is an eight-core processor featuring simultaneous multithreading that enables each core to operate two software threads at once, similar to the Ryzen 7 5800X. Both processors support overclocking, use AMD's Zen 3 microarchitecture, are constructed using TSMC's 7-nanometer FinFET technology, and feature 32MB of Level 3 cache. They are essentially the same product in general.
The two Ryzen 7 CPUs only differ in three respects from one another. Price has previously been revealed; the AMD Ryzen 7 5700X lists for $299.99 while the 5800X's MSRP is $449.99. Fair enough, the Ryzen 7 5800X is presently selling for far less than that—it costs $338 on Amazon—but as you'll see in a moment, that's an extra $38 you don't need to spend.
The two CPUs' clock speeds and thermal design powers also differ significantly from one another. The TDP of the Ryzen 7 5800X is 105 watts, while that of the AMD Ryzen 7 5700X is 65 watts. The Ryzen 7 5700X has lower clocks than you might anticipate given its lower thermal rating, but not by nearly as much as you might anticipate given the reduced TDP.
The basic speed of the AMD Ryzen 7 5700X is 3.4GHz, which is 400MHz slower than the base speed of the 5800X at 3.8GHz. However, the more significant boost clock only decreases by 100MHz, with the 5700X running at 4.6GHz as opposed to the 5800X's 4.7GHz.
Due to the fact that modern CPUs frequently operate at their boost speeds, these two processors had a frequency difference of only 100MHz for the majority of our workloads. This led to the two performing similarly in the majority of tests, as you might anticipate.
I say $300, but the AMD Ryzen 7 5700X has already seen some significant price reductions despite only having launched in April at that price. This chip is currently available for as cheap as $250, and it could potentially become much more affordable before the Zen 4 chips are released this fall.
In comparison to the original 5800X, which went on sale for $450, that is really not a bad pricing, but the fact that the chip is currently available for about $290 illustrates how fiercely competitive the mainstream market is right now.
AMD Ryzen 7 5700X Overclocking & Thermals
Thanks to AMD's precision boost technology and the 7nm manufacturing process, the AMD Ryzen 7 5700X maintains exceptional heat control. For the majority of users, the built-in Wraith Prism cooler functions fine, although enthusiasts may want to consider spending extra money on a more durable cooling system for overclocking.
The AMD Ryzen 7 5700X will fit into current 400- and 500-series motherboards (Socket AM4) and fully supports overclocking the CPU, including core clocks, RAM, and the Infinity Fabric. The majority of the older 300-series systems will now be supported by AMD's future BIOS upgrades. For the AMD Ryzen 7 5700X, you'll need a BIOS with AGESA 1.2.0.6b or later. According to AMD, vendor-specific Ryzen 5000 support and the release schedule for future BIOS updates will differ. However, by the end of May 2022, we ought to see them all.
The AMD Ryzen 7 5700X full capability can be unlocked through overclocking, much like with earlier Ryzen CPUs. But even at default settings, the Zen 4 architecture's upgrades make it a powerful performer. Better results may be obtained by overclocking, but users should take caution and make an investment in suitable cooling to prevent overheating.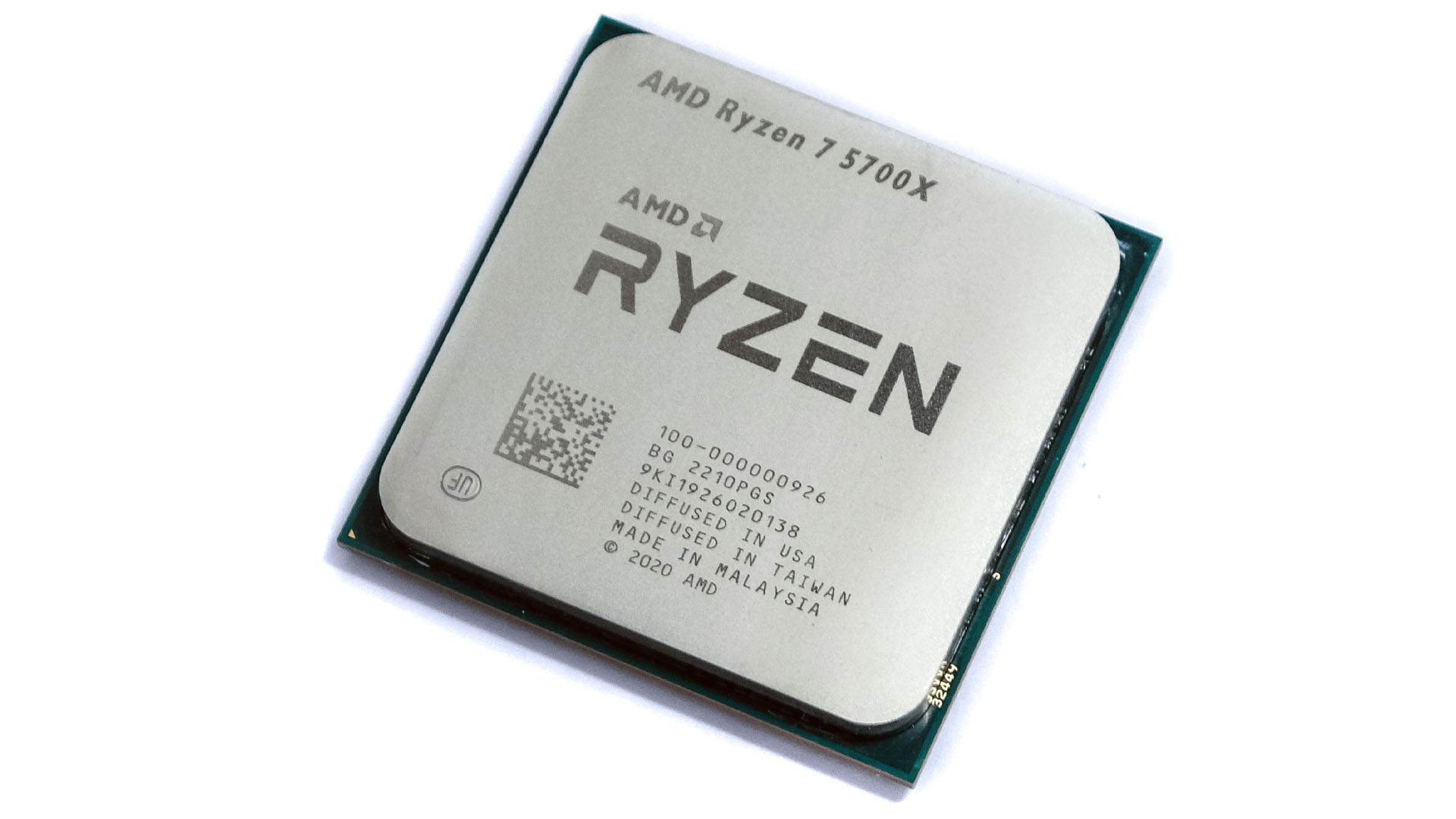 AMD Ryzen 7 5700X Specs
| | |
| --- | --- |
| Platform | Boxed Processor |
| # of CPU Cores | 8 |
| Base Clock | 3.4GHz |
| Default TDP | 65W |
| CPU Socket | AM4 |
| Launch Date | 4/4/2020 |
| Product Family | AMD Ryzen™ 7 Desktop Processors |
| # of Threads | 16 |
| L2 Cache | 4MB |
| Processor Technology for CPU Cores | TSMC 7nm FinFET |
| Thermal Solution (PIB) | Not included |
| *OS Support | Windows 10 – 64-Bit EditionRHEL x86 64-BitUbuntu x86 64-Bit |
| Product Line | AMD Ryzen™ 7 Desktop Processors |
| Max. Boost Clock | Up to 4.6GHz |
| L3 Cache | 32MB |
| Unlocked for Overclocking | Yes |
| Max. Operating Temperature (Tjmax) | 90°C |
AMD Ryzen 7 5700X Conclusion
The AMD Ryzen 7 5700X supports the AM5 socket, hence a motherboard with compatibility is needed. To take full use of the processor's capabilities, buyers should make sure their motherboard supports DDR5 memory and PCIe 5.0. A degree of future-proofing is provided by switching to newer technology even if it could cost an initial expenditure.
The AMD Ryzen 7 5700X lives up to the expectations and provides both professionals and gamers with a superb computing experience. With its Zen 4 architecture's significant IPC improvements and superb single-core performance, it can handle resource-intensive applications with its multi-core capabilities. Future-proofing for the foreseeable future is provided by the compatibility with DDR5 memory and PCIe 5.0. The AMD Ryzen 7 5700X is unquestionably a strong candidate if you're looking for a high-performance CPU that strikes an ideal mix between power and efficiency.
AMD Ryzen 7 5700X
Performance -

95%

Price -

93%

Value -

94%