For a few generations, the mid-range ROG Strix ZXXX-A Gaming boards have been available on the market with a black and silver theme that is distinct from Asus' black-and-red ROG-themed boards. This legacy is carried on by the Asus ROG Strix Z690-A Gaming WiFi D4, which also offers top-tier hardware.
It is now the most affordable way to get Asus' premium ROG series, with a price tag of around $320. The motherboard comes with four M.2 ports, top-notch audio hardware, speedy networking and Wi-Fi, reliable power delivery, and support for any Alder Lake processor.
Our ASUS ROG Strix Z690-A Gaming WiFi D4 functioned admirably in our testing environment with the most recent BIOS (1601). The Procyon Office test results are among the fastest we've seen, and the board performed above average on the majority of the other tests.
Gaming performance was comparable to motherboards based on the other Z690- and B660-architectures. Furthermore, the Strix easily increased the clock speed of our Intel Core i9-12900K. Overall, this motherboard performs well on a variety of benchmarks while using less power.
We'll dig deep into the features to see what makes this board special and whether it deserves a spot on our list of the best motherboards or even consideration as a Z690 DDR4 option. But first, here are the exact specifications of the board, straight from the Asus website.
ASUS ROG Strix Z690-A Gaming WiFi D4 Specifications
I like to refer to the ASUS ROG Strix Z690-A Gaming WiFi D4 and its black and silver design as an Asus one-off. All previous ROG and ROG Strix boards have been black on black with red accents, but this one looks more like their Prime series on steroids. Above the VRMs and rear IO area is a huge heatsink with a stylish RGB feature on top and the ROG Strix branding flashing through.
The primary PCIe slot uses reinforcement and is silver, however the rest of the 6-layer PCB, including the PCIe and DRAM slots, are all black. A velcro strip loops through the heatsink on the heatsink that protects the chipset, making it different from other heatsinks.
It's a nice alternative to the other ROG/Strix boards for individuals wishing to purchase a premium ROG-class motherboard who prefer a contrasting black-on-silver style (that are also more expensive).
The two 8-pin EPS connectors, one of which is required to power the processor, are located on the left side, beginning at the top. The main draw is the unusual RGB feature on top of the substantial VRM heatsink, which is encircled by a brushed metal finish. Because of its substantial bulk and surface area, the heatsink is more than adequate to keep the power bits underneath working within specifications.
The first two (of eight) 4-pin fan headers are located above the top VRM heatsink. The CPU FAN and CPU OPT headers are located here, and the remaining headers are dispersed thoughtfully throughout the board. Except for the AIO PUMP, which operates at full speed and outputs up to 1A/12W, all fan headers are Q-Fan controlled. There are plenty of headers available, but I'd like to see at least one with higher output so I can run some additional fans or a stronger pump for custom water cooling.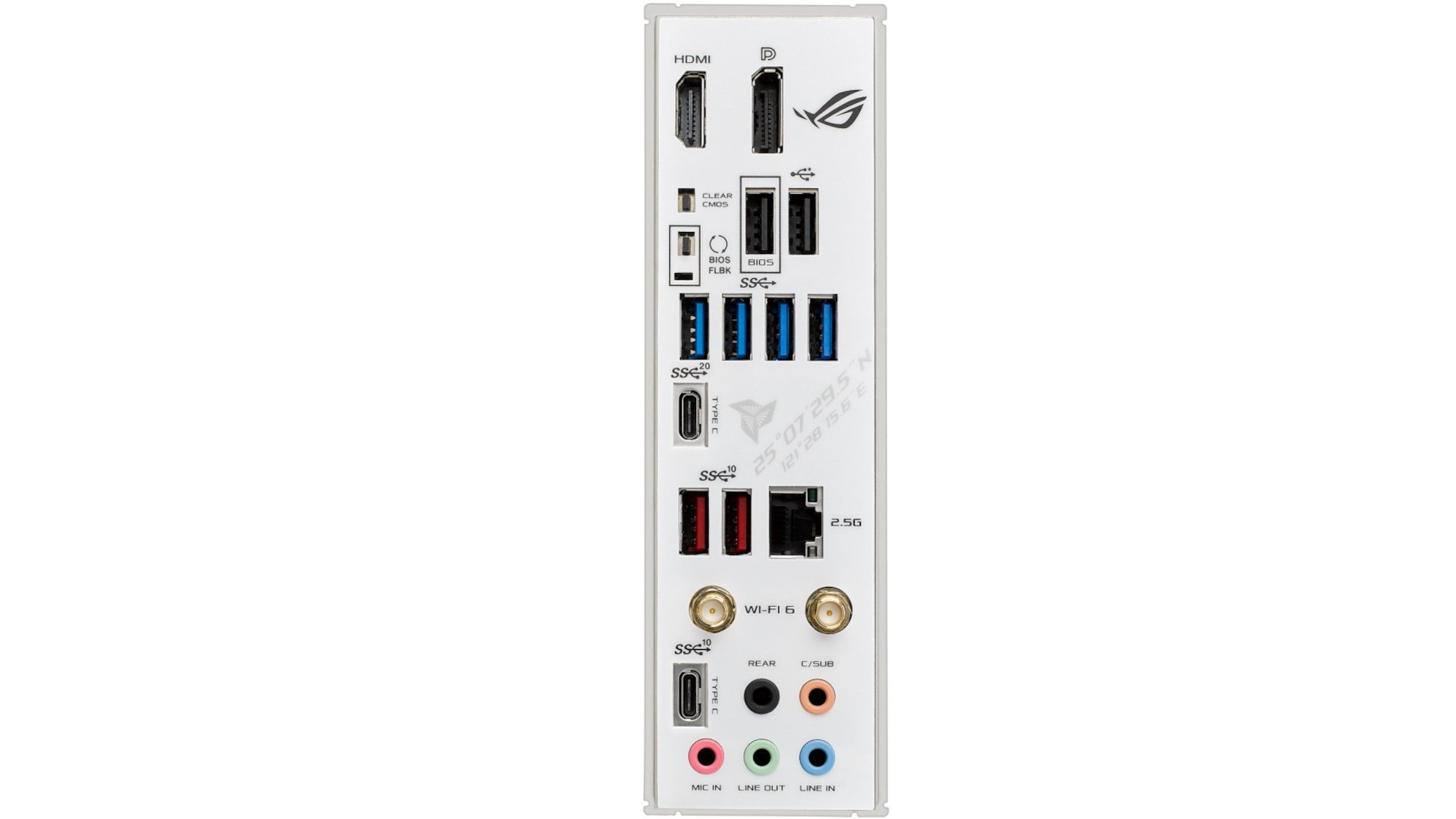 Four unreinforced DRAM slots that latch on both ends come into view as we move to the right, past the socket. With speeds mentioned up to DDR4-5333(OC), one of the higher figures we've seen, the board can accommodate up to 128GB of RAM. We had no problems with our DDR4-4000 kit, but as always, your results may vary. Reaching such speeds requires the correct kit and a good IMC.
The initial two (of four) RGB headers are shown in white, directly above the DRAM slots. A 3-pin Aura ARGB header and a 4-pin RGB header are included here. When we look down the right edge, we see the Q-LED function, which alerts you to any issues with POST. A front panel USB 3.2 Gen 2×2 (20 Gbps) connector, a USB 3.2 Gen 1 (5 Gbps) header, and a 24-pin ATX connector for powering the board are all located below that.
The ASUS ROG Strix Z690-A Gaming WiFi D4 uses 17 phases for power delivery, 16 of which are reserved for the Vcore. The 16 80A Vishsay SIC659 DrMOS MOSFETs receive power from the EPS connections via Asus' DIGI+ VRM (ASP2100 10-channel controller).
The top Intel Core i9-12900KS can be overclocked with the 1,280 Amps available to the processor, and we had no trouble doing the same with the similarly power-hungry i9-12900K. Most of the time, rather than power delivery, you are constrained by the cooling solution, as has been the case with Alder Lake.
The audio section is located on the left-hand side of the board's bottom half and is separated from the rest of the board by the audio line shielding that most boards have these days. The premium Realtek ALC4080 codec-based SupremeFX chip is concealed beneath the chrome Faraday cage. A Savitech SV3H712 amplifier, built to operate a range of headphones, manages front panel output. At this pricing point, this is one of the better audio solutions available.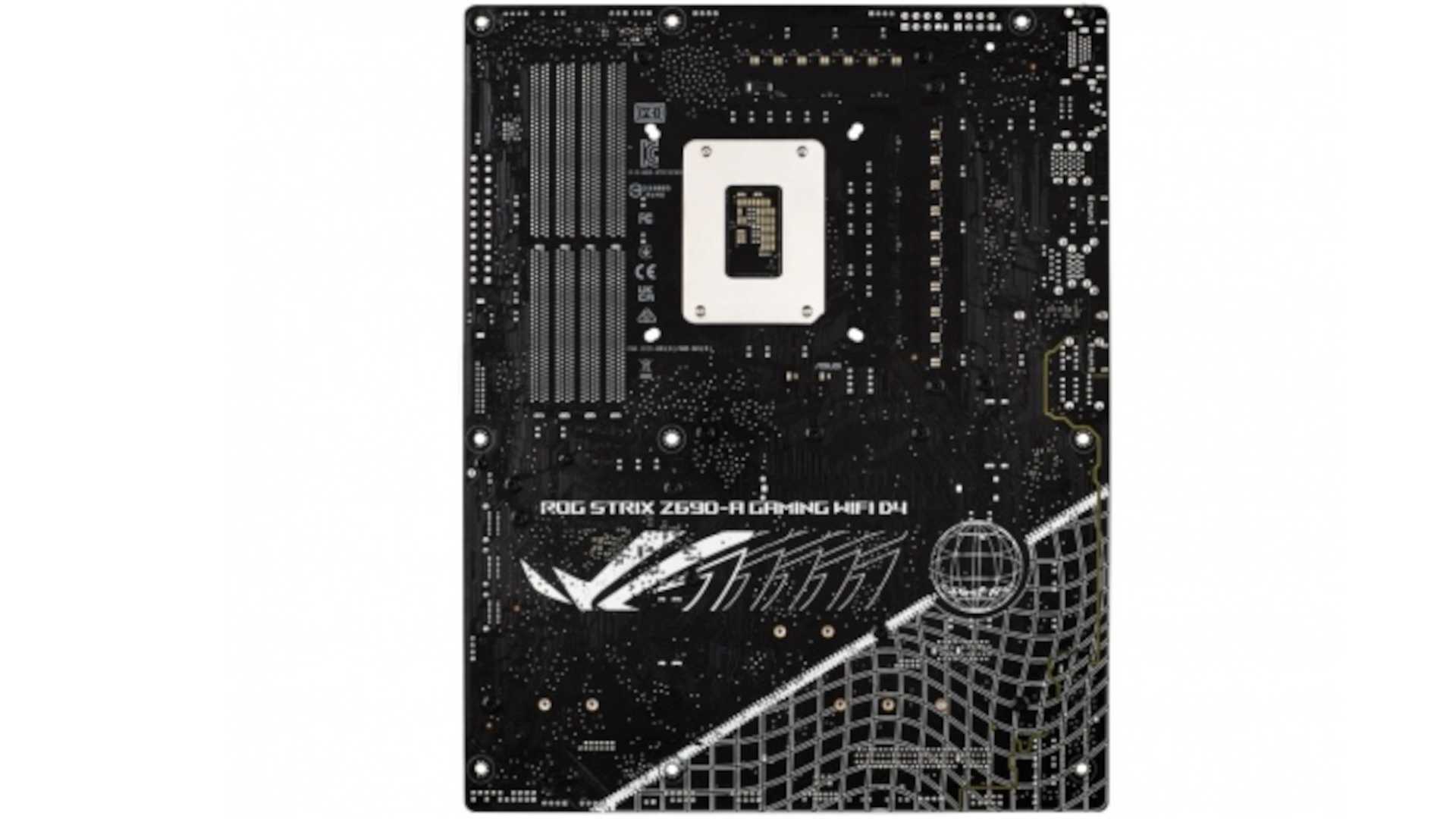 Four M.2 sockets with heatsinks and three PCIe slots are located in the middle of the board. There are two full-length PCIe slots on the board, the reinforced top slot serving as the primary location for graphics cards.
The bottom full-length slot connects through the chipset and operates at PCIe 3.0 x4 speeds, while the top slot is connected to the CPU and operates at PCIe 5.0 x16 speeds. The middle PCIe 3.0 x1 slot is likewise connected via the chipset and operates at this speed. This set up is compatible with AMD Crossfire.
ASUS ROG Strix Z690-A Gaming WiFi D4 Specs
| | |
| --- | --- |
| Socket | LGA1700 |
| Chipset | Z690 |
| Form Factor | ATX |
| Voltage Regulator | 17 Phase (16+1 80A DrMOS MOSFETs for Vcore) |
| Video Ports | HDMI (v2.1)DisplayPort (v1.4 – 8K@60Hz) |
| USB Ports | (1) USB 3.2 Gen 2×2, Type-C (20 Gbps)(1) USB 3.2 Gen 2, Type-C (10 Gbps)(2) USB 3.2 Gen 2 (10 Gbps)(4) USB 3.2 Gen 1 (5 Gbps)(2) USB 2.0 (480 Mbps) |
| Network Jacks | (1) 2.5 GbE |
| Audio Jacks | (5) Analog |
| Legacy Ports/Jacks | No |
| Other Ports/Jack | No |
| PCIe x16 | (1) v5.0 (x16)(1) v3.0 (x4) |
| DIMM Slots | (4) DDR4 5333+(OC), 128GB Capacity |
| M.2 Sockets | (1) PCIe 4.0 x4 (64 Gbps) / PCIe (up to 110mm)(1) PCIe 4.0 x4 (64 Gbps) / PCIe (up to 80mm)(1) PCIe 4.0 x4 (64 Gbps) / PCIe + SATA (up to 110mm)(1) PCIe 4.0 x4 (64 Gbps) / PCIe + SATA (up to 80mm) |
| SATA Ports | (6) SATA3 6 Gbps (Supports RAID 0/1/5/10) |
| USB Headers | (1) USB v3.2 Gen 2×2, Type-C (20 Gbps)(1) USB v3.2 Gen 1 (5 Gbps)(2) USB v2.0 (480 Mbps) |
| Fan/Pump Headers | (8) 4-Pin (CPU, CPU OPT, AIO Pump, Chassis) |
| RGB Headers | (3) AURA aRGB (3-pin) |
ASUS ROG Strix Z690-A Gaming WiFi D4 Conclusion
The proper phrase is one of the sporadic issues we run across when summarizing our review of something. The phrase that comes to mind when analyzing the ASUS ROG Strix Z690-A Gaming WiFi D4 results is inconsistent.
The default outcomes are either excellent or terrible; single-threaded software performs well, whereas multi-threaded software does not. On single threaded benchmarks, the AI OC is even more spectacular, but at the expense of every other factor.
This makes it inconsistent. It only contradicts itself when compared to itself, though. The differences between the very best and the, relatively, worst modern chipsets and architectures are so small as to nearly not be worthy of discussion, as regular readers will know.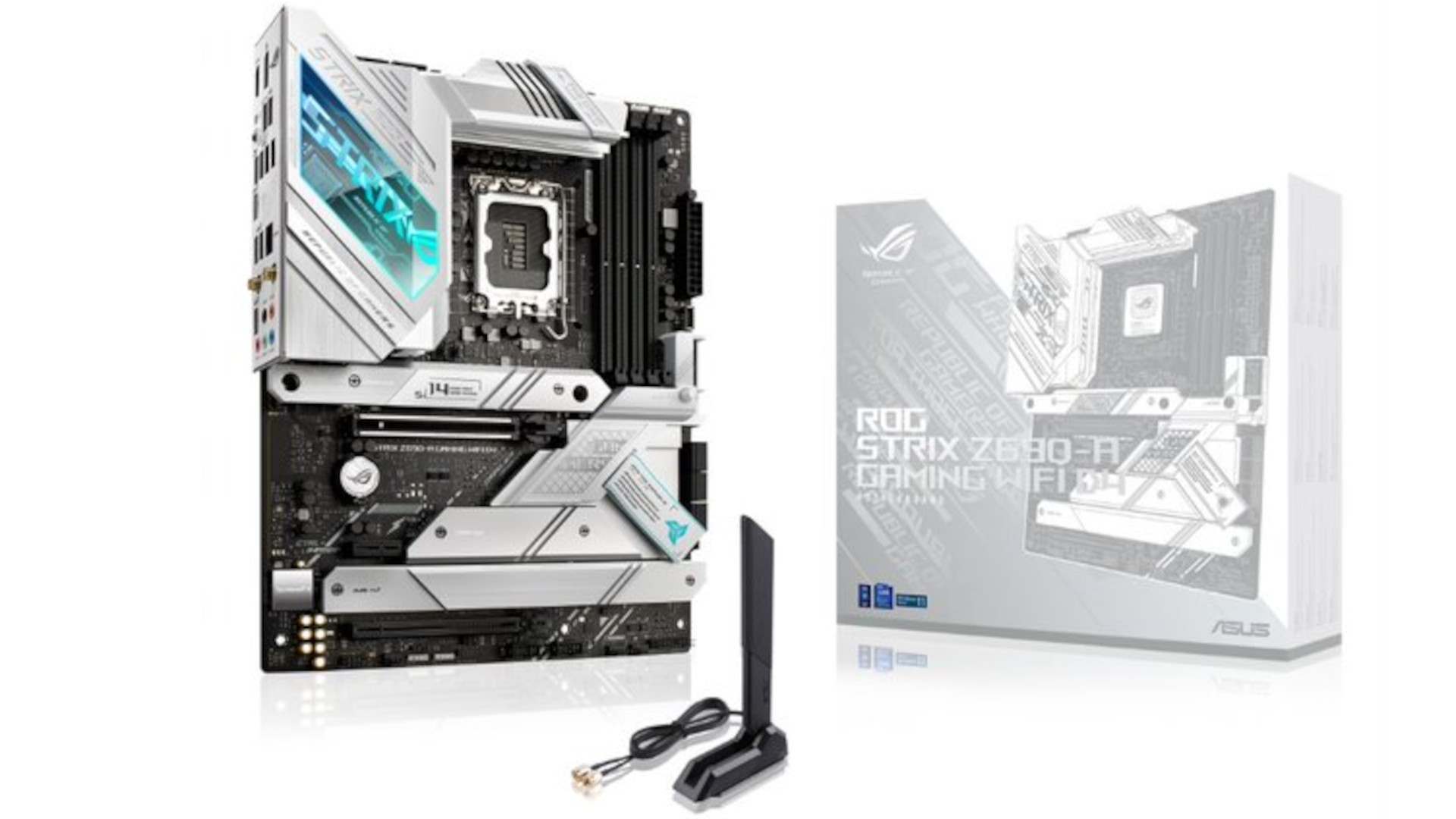 If you want to create your rig and then leave it alone, the ASUS ROG Strix Z690-A Gaming WiFi D4 is not a motherboard you should use. It won't let you down in any way, but you owe it to yourself to manually tweak it using the user-friendly UEFI. You could employ AI Overclocking, but we don't really see its advantages right now. The Strix-A, however, is a fantastic choice for gamers and receives our OC3D Gamers Choice Award.
ASUS ROG Strix Z690-A Gaming WiFi D4
Performance -

98%

Price -

97%

Value -

98%