The MSI MEG Z690 ACE Gaming Motherboard is likely one of the most intriguing Z690 motherboards available out of all the Z690 chipset motherboards we've encountered since Intel introduced its 12th Gen Core CPUs. The MEG Z690 ACE, which comes in an E-ATX form factor and includes its well-known black and gold color scheme, offers quite a few features that you would typically find on a top-tier Z690 motherboard.
In the market for PC enthusiasts, Micro-Star International (MSI) is not a new name. They were founded in Taiwan in 1986 and primarily made motherboards and graphics cards. With its own "Gaming" brand of PC parts, laptops, monitors, coolers, and peripherals, MSI has now entered the gaming business. They also have a global presence in more than 120 countries and are active in the automobile industry, industrial-grade servers, and robotic automation.
The MSI MEG Z690 ACE Gaming Motherboard is now the company's top flagship model until the Godlike, which is expected to arrive after Alder Lake's introduction, hits the market. Going back to the Ace, we see that it has all the high-end features we've come to anticipate over the years, including those from the MSI MEG Z590 Ace that came before. Without requiring integrated RGB LED lighting, MSI chose a black and gold theme for the design. Even though the gold isn't as prevalent among other hardware components, which could make hardware matching difficult, the board still has a really elegant appearance.
The MSI MEG Z690 Ace, which resembles a gladiator wearing gold and black armor, includes two full-length PCIe 5.0 slots that can run at either x16 or x8/x8, as well as one full-length PCIe 4.0 slot for good measure. The number of M.2 slots is increased to five with the addition of one PCIe 3.0 x4 slot, supporting a total of four PCIe 4.0 x4 M.2 drives. Additionally, MSI has six SATA ports that are compatible with Intel RAID 0, 1, and 10 arrays. Four memory slots with a total capacity of up to 128 GB are situated in the top-right corner and support up to DDR5-6666.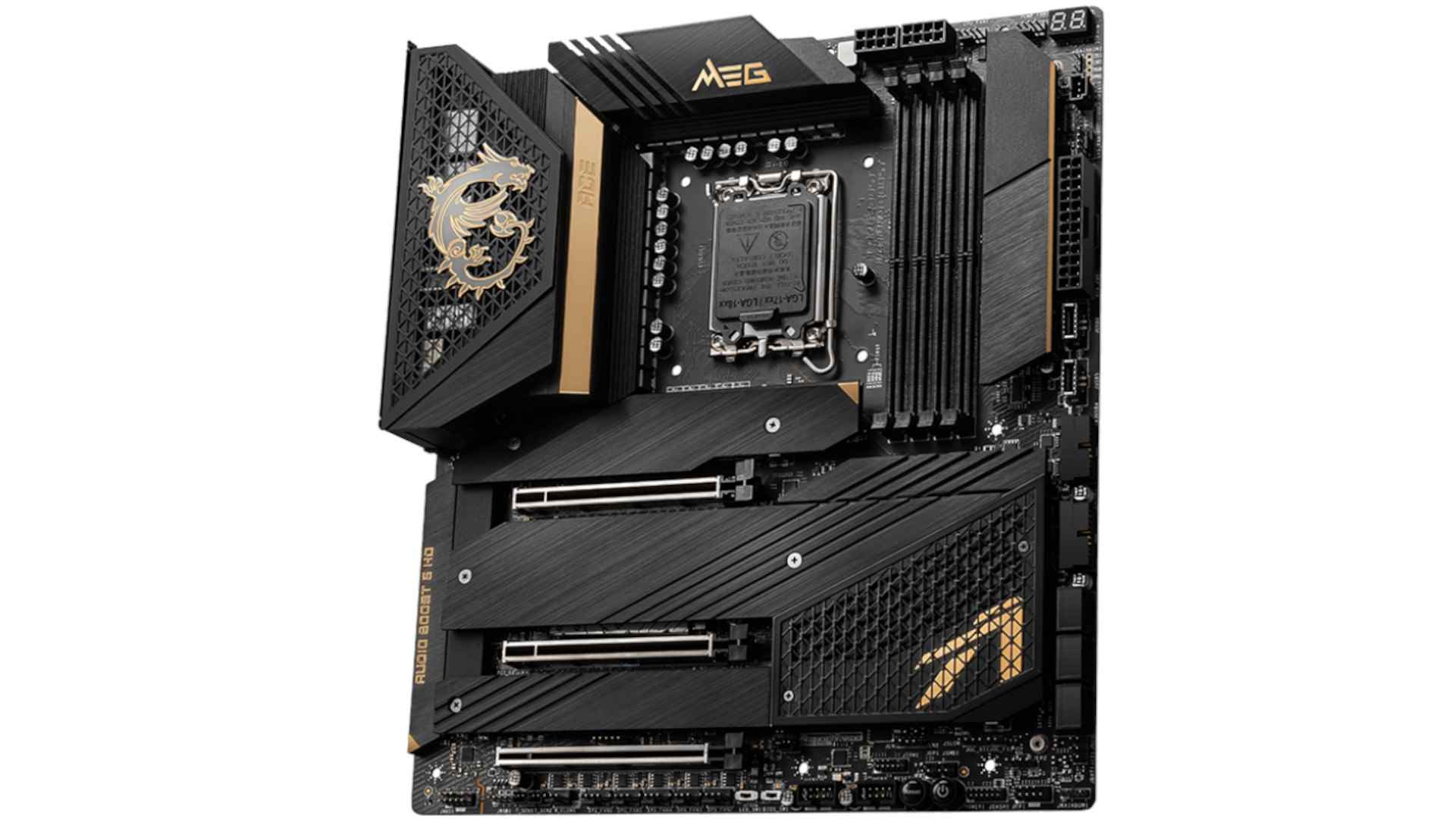 MSI MEG Z690 ACE Gaming Motherboard Packaging
The retail package for the MSI MEG Z690 ACE Gaming Motherboard is really attractive. A picture of the board is on the front. The board's various features are described in depth on the back, along with a list of specifications and an explanation of the back I/O ports.
You'll discover quite a bit after opening the package and taking everything out but the motherboard. The WiFi antenna, screwdrivers, a USB drive, four SATA cables, three sets of RGB extension cables, two DP to mini DP cables, an EZ front panel cable, M.2 screws and standoffs, screwdrivers, a cleaning brush, two thermistor cables, cable stickers, MSI stickers, a quick installation guide, a user's guide, and a case badge are all included in the accessories.
MSI MEG Z690 ACE Gaming Motherboard Specs & Performance
The MSI MEG Z690 ACE is compatible with LGA 1700-socketed 12th generation Intel processors. To support the 24-thread, 22-phase Intel Core i9-12900K, the board contains a 22-phase (19+1+2) VRMS, which is cooled by two sizable machined metal heat sinks joined by a heat pipe. To ensure proper contact and heat dissipation, the MOSFETs and the chokes include 7 W/mK thermal pads. An 8-layer PCB constructed using IT-170 server-grade PCB material and 2 oz thicker copper also aids in heat dissipation.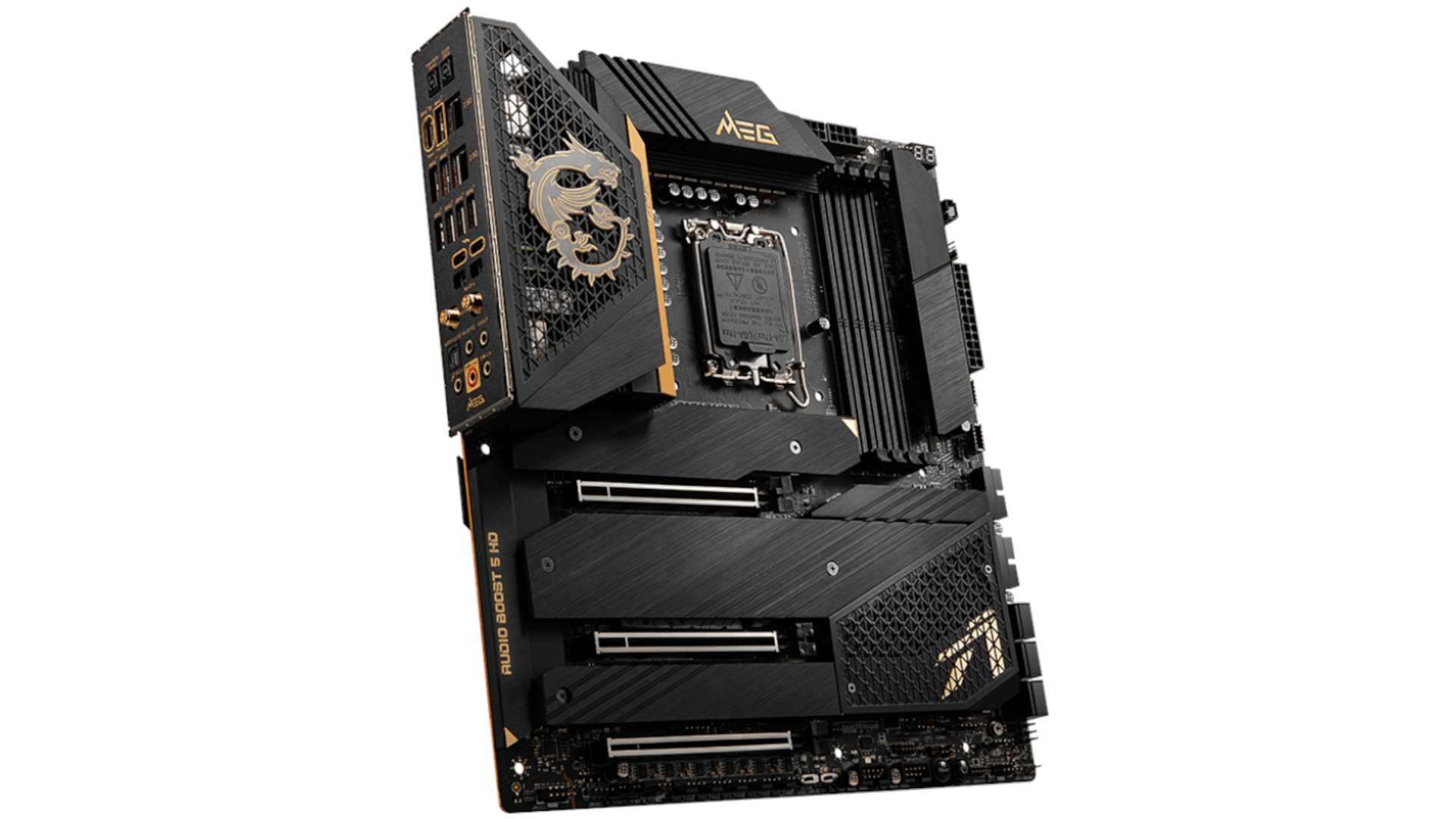 The MEG Z690 ACE features four DIMM slots that can accommodate up to 128 GB of dual-channel, 6666 MHz, non-ECC memory. On the QVL, we can find single-rank Hynix choices from ADATA that are rated for 6666 MHz.
We have three full-length PCIe x16 slots for PCIe, however only the top slot is x16 electrically. The table below provides a bandwidth split. The two slots closest to the CPU will operate in PCIe Gen 5.0 mode (x16/x0 and x8/x8), while the two slots closest to the PCH will operate in Gen 4.04 and share bandwidth with the M.2 slot directly above it. The three full-length PCIe slots are strengthened by MSI's PCI Express Steel Armor technology, which includes EMI shielding for signal integrity and reinforced, hefty solder spots.
The MEG Z690 ACE Gaming Motherboard has six SATA 6 Gb/s ports for storage, including two from an ASMedia ASM1061 controller and four from the PCH, which enable RAID 0, 1, and 10. MSI has five sockets on the ACE for the M.2 side. PCIe NVMe drives are supported by all five sockets. PCIe NVMe and SATA-based M.2 drives are supported in the two lowest M.2 (Key-M). slots; however, using a SATA-based drive in the fifth M.2 slot will disable the seventh SATA 6 Gb/s connection. The M.2 drive slots all have built-in heat spreaders. For further information on the storage configuration and drive compatibility, see the table below or the user manual on the MSI website.
With 18 possible connections between onboard headers and the rear I/O shield, USB connectivity is also widely available on the MEG Z690 ACE. There are eight USB 3.2 Gen2 Type-A ports and one Type-C port on the back IO shield (10 Gbps). The motherboard's headers, which include two USB 2.0 (for four ports), two USB 3.2 Gen1 (for four ports), and two USB 3.2 Gen2x2 Type-C (20 Gbps) internal headers, are used for the other USB connections.
On the Z690 ACE, the networking front features a standard Z690 motherboard configuration with dual Intel I225-V 2.5 Gbs ports. Additionally, we have out-of-the-box Intel Wi-Fi6 / Bluetooth 5.2 wireless connectivity with a Wi-Fi antenna that attaches to the back I/O shield.
MSI selected an ESS SABRE9018Q2C AMP/DAC and the Realtek 7.1 channel High Definition ALC4080 CPU with S/PDIF for the audio system. We also have PCB enhancements with MSI's Audio Boost 5, like an isolated audio area to cut down on EMI, distinct layers on the board for the left and right audio channels, and high-quality Nippon Chemicon audio capacitors from Japan.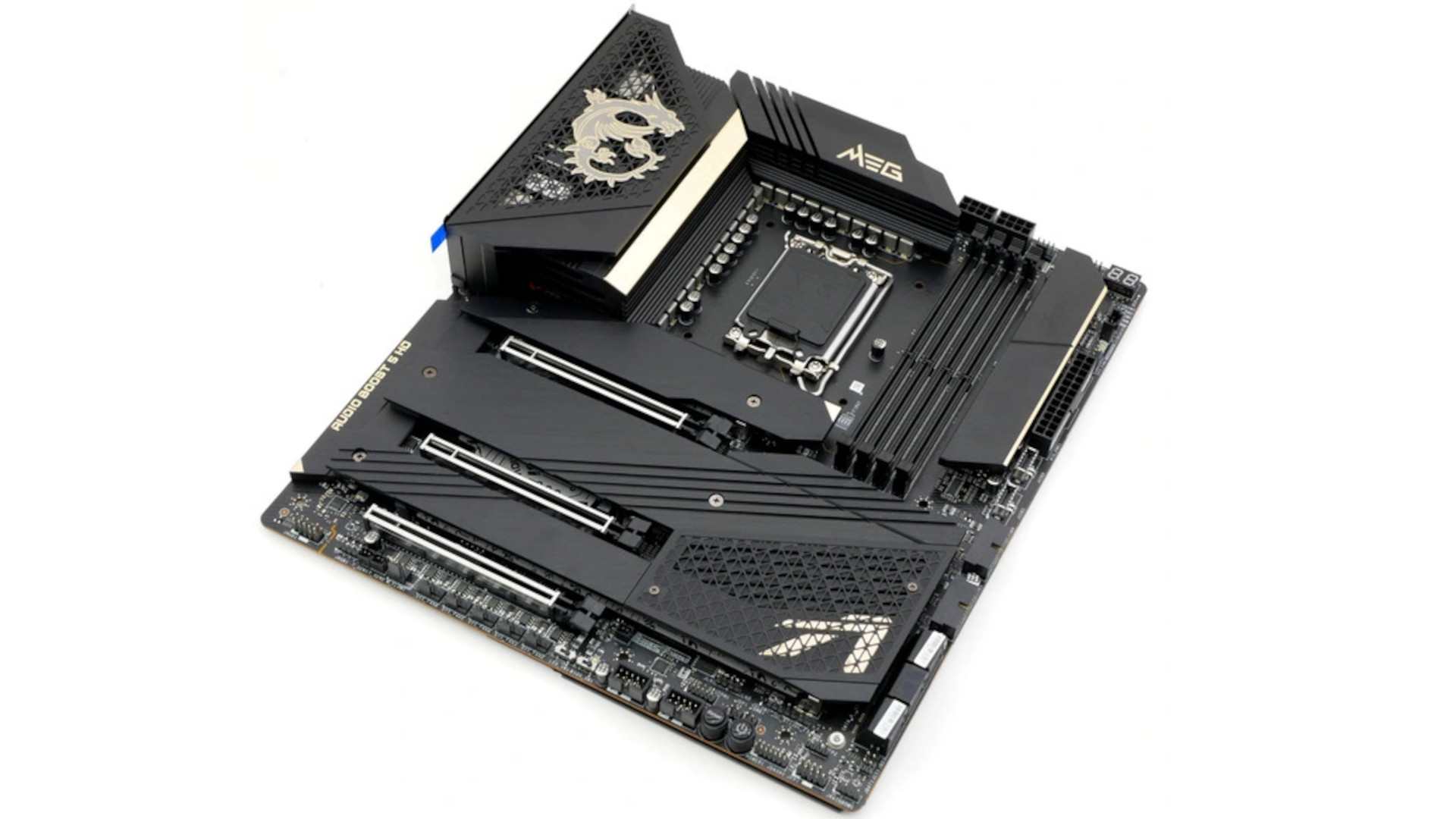 To wrap things up, MSI decided against including RGB LED in the ACE, as is customary these days. Instead, MSI has chosen to let the ACE's golden elegance do the talking. There are still several options for RGB LED connectivity, including two 3-pin Rainbow LED addressable RGB headers for 5 V WS2812B individually addressable LED strips with a rating of 3 A, one regular 4-pin RGB LED header for 12 V, and 5050 RGB strips up to 3 A. The ACE also includes an EZ LED Control switch and a Corsair RGB LED link connection. You can control all of the headers using the Mystic Light software.
The MSI MEG Z690 ACE Gaming Motherboard website's list of specifications is included below.
| | |
| --- | --- |
| CPU (MAX SUPPORT) | i9 |
| SOCKET | 1700 |
| CHIPSET | Intel® Z690 Chipset |
| DDR5 MEMORY | 6666+(OC) , 6600(OC) , 6400(OC) , 6200(OC) , 6000(OC) , 5800(OC) , 5600(JEDEC) , 5400(JEDEC) , 5200(JEDEC) , 5000(JEDEC) , 4800(JEDEC) MHz |
| MEMORY CHANNEL | Dual |
| DIMM SLOTS | 4 |
| MAX MEMORY (GB) | 128 |
| PCI-E X16 | 3 |
| SATAIII | 6 |
| M.2 SLOT | 5 |
| RAID  | 0/1/5/10 |
| LAN | 2x Intel® I225V 2.5Gbps LAN controller |
| WIFI & BLUETOOTH | Intel® Wi-Fi 6E module |
| THUNDERBOLT 4 | 2x USB Type-C up to 40G, Charging support up to 5V/3A, 15W, 2x Mini DisplayPort input ports |
| USB 3.2 PORTS (FRONT) | 2(Gen2x2, Type C), 4(Gen1, Type A) |
| USB 3.2 PORTS (REAR) | 7(Gen2, Type A), 1(Gen2, Type C) |
| USB 2.0 PORTS (FRONT) | 4 |
| AUDIO PORTS (REAR) | 7.1-Channel High Definition Audio+ Optical S/PDIF (Realtek® ALC4082 Codec) |
| DIRECTX | 12 |
| SLI | Y |
| CROSSFIRE | Y |
| OPERATING SYSTEM | Support for Windows® 11 64-bit, Windows® 10 64-bit |
| FORM FACTOR | E-ATX |
| DIMENSION | 12 in. x 10.9 in. (30.5 cm x 27.7 cm) |
MSI MEG Z690 ACE Gaming Motherboard Conclusion
The Z690 ACE motherboard from this generation performed admirably, as would be expected from MSI's MEG ACE motherboard. It's true that it didn't finish first on the charts, but it's because the majority of the settings were on auto. No adjustments were made behind the scenes to (artificially) improve the chart appearance of this motherboard.
It is jam-packed with necessary functions, some of which a common user might not really need. This motherboard's Thunderbolt 4 port is really helpful, especially if you routinely transfer huge files of data. or if you already own devices that support Thunderbolt.
Its all-black color scheme with a golden accent is appealing to me. Unless you are going for a build with a white theme, it will look good with any cooler, memory, or graphics card. There are RGB connectors and even a specific Corsair peripheral header, yet there are no (RGB) lights on the motherboard.
But I believe this is a case of squandered opportunity. I'm not sure if the team that creates the motherboards for MSI's graphics cards is distinct from the team that creates the motherboards. They most likely belong to different teams.
I'd like MSI to create a graphics card that complements the MEG ACE series well. A graphics card that is almost entirely black with gold accents, or that is entirely black with a stylish RGB accent. Given that we can essentially configure the RGB LED to generate a color like gold. A beast, the MSI RTX SUPRIM graphics card series. But compared to the MSI MEG Z690 ACE Gaming Motherboard, it has a different color scheme and style.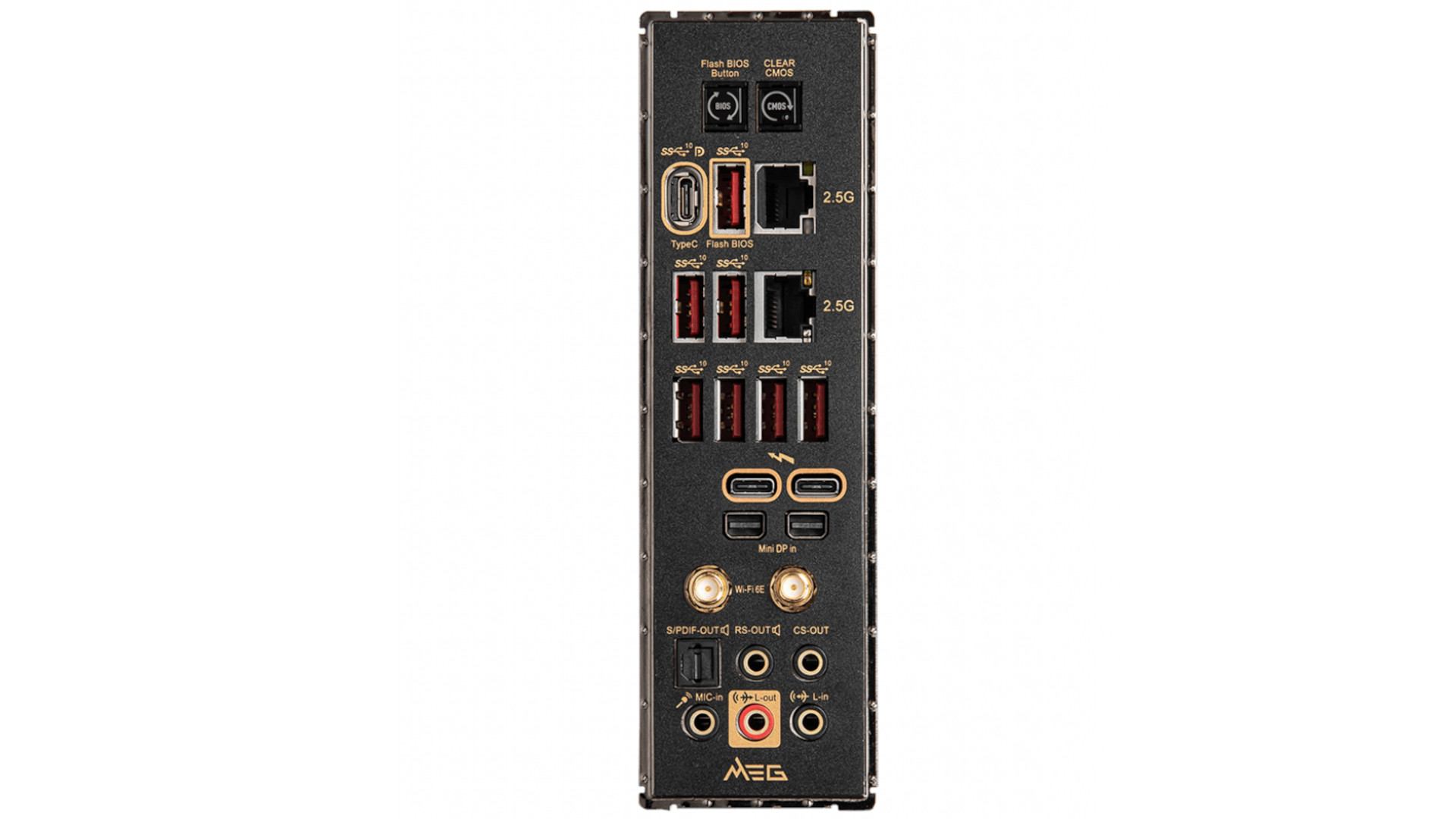 I didn't run into any problems or anything noteworthy while using and testing this motherboard. It worked as planned, and everything appears to be operating without a hitch. Excellent and durable, the MSI MEG Z690 ACE is a motherboard. It is packed with features and will work with 13th-generation Raptor Lake CPUs. It is somewhat pricey, though. Thus, only get this if you absolutely require some of the features on this motherboard, such as Thunderbolt 4. Otherwise, you might choose a cheaper motherboard like the Tomahawk or the MSI Unify (X) to save some money.
MSI MEG Z690 ACE Gaming Motherboard
Performance -

96%

Price -

97%

Value -

97%