The most recent Intel Z690 chipset, which has been optimized for it as well, is also available and supports DDR5. Although my general view of the platform is favorable after using it, I think that DDR5 may have been introduced a little too soon. We have a fantastic review of the MSI MPG Z690 Edge Gaming Motherboard today. Yes, you read that right: the Z690 platform is being offered with the most recent memory interface. This one not only satisfies the need for a new platform but also keeps DDR4 capability at its heart.
This motherboard is powered by Intel's enthusiast chipset, the Z690. Alder Lake processors from Intel are a completely new and speedier architecture, therefore it also heralds the beginning of a new age. We've written extensively about it. To balance power consumption under demand and while the processor is idle, the next processors will contain energy and performance cores. New features are introduced with the Alder Lake platform. DDR5 and PCIe Express 5.0 are two of Intel's first-ever innovations.
Alder Lake, lead by its squad of sixteen-core goliaths constructed on Intel's transistor-dense 10-nanometer manufacturing process, puts the corporation squarely back in the multi-core ring as opposed to prior launches, which concentrated only on single-core and gaming performance. However, Intel offers its own explanation of the word BIG.little this time. On the pages that follow, we'll go into greater detail about it.
MSI MPG Z690 Edge Gaming Motherboard Overall look & Specs
MSI still categorizes its motherboards into series, with the MEG series being at the top of the list, followed by MPG, MAG, and finally the PRO series. The MSI MPG Z690 Edge Gaming Motherboard is a member of MSI's MPG line, as we already mentioned. The DDR4 and DDR5 versions of five Z690 motherboards are now available. The MPG Z690 CARBON EK X, which has a completely integrated EK monoblock, is at the top of the list, followed by the $400 MPG Z690 CARBON WIFI. Moving down the stack, MSI has two MPG Z690 EDGE WIFI boards in either DDR5 or DDR4 for $330 and $320, respectively, and a white-colored offering in the MPG Z690 FORCE WIFI for $390.
The MPG Z690 EDGE's DDR4 variant is compatible with LGA 1700-socketed 12th generation Intel processors. The board contains an 18-phase (16+1+1) VRMS that can support the power needs of the 24-thread, top-of-the-line Intel Core i9-12900K. MSI employs two sizable machined metal heat sinks coupled by a heat pipe to cool the VRM. To ensure proper contact and heat dissipation, the MOSFETs and the chokes include 7 W/mK thermal pads. A 6-layer PCB composed of IT-170 server-grade PCB material and 2 oz thicker copper also aids in heat dissipation.
Four DIMM slots on the MSI MPG Z690 Edge Gaming Motherboard support a total of 128 GB of dual-channel, non-ECC, unbuffered memory at speeds of up to 5200 MHz. However, the kit with the highest rating on the QVL is one DIMM per channel, single rank memory operating at 5133 MHz. The eleventh-generation Intel CPU, which regulates the speed of the internal memory controller (IMC), is where we first noticed Gear settings. We were able to run our i9 12900K sample at DDR4 4000 MHz in Gear1 or at a 1:1 ratio with a modified BIOS. Results may differ because of the CPU dependency.
We have three full-length PCIe x16 slots for PCIe, however only the top slot is x16 electrically. The table below provides a bandwidth split. With reinforced, hefty solder points, EMI shielding, and PCI Express Steel Armor technology from MSI, the top full-length PCIe slot has enhanced strength. The two lower full-length PCIe slots (from PCH) are Gen 3.04 while the upper slot (from CPU) will operate in PCIe Gen 5.0 mode. Additionally, we have a single PCIex3 slot that can accommodate add-on cards.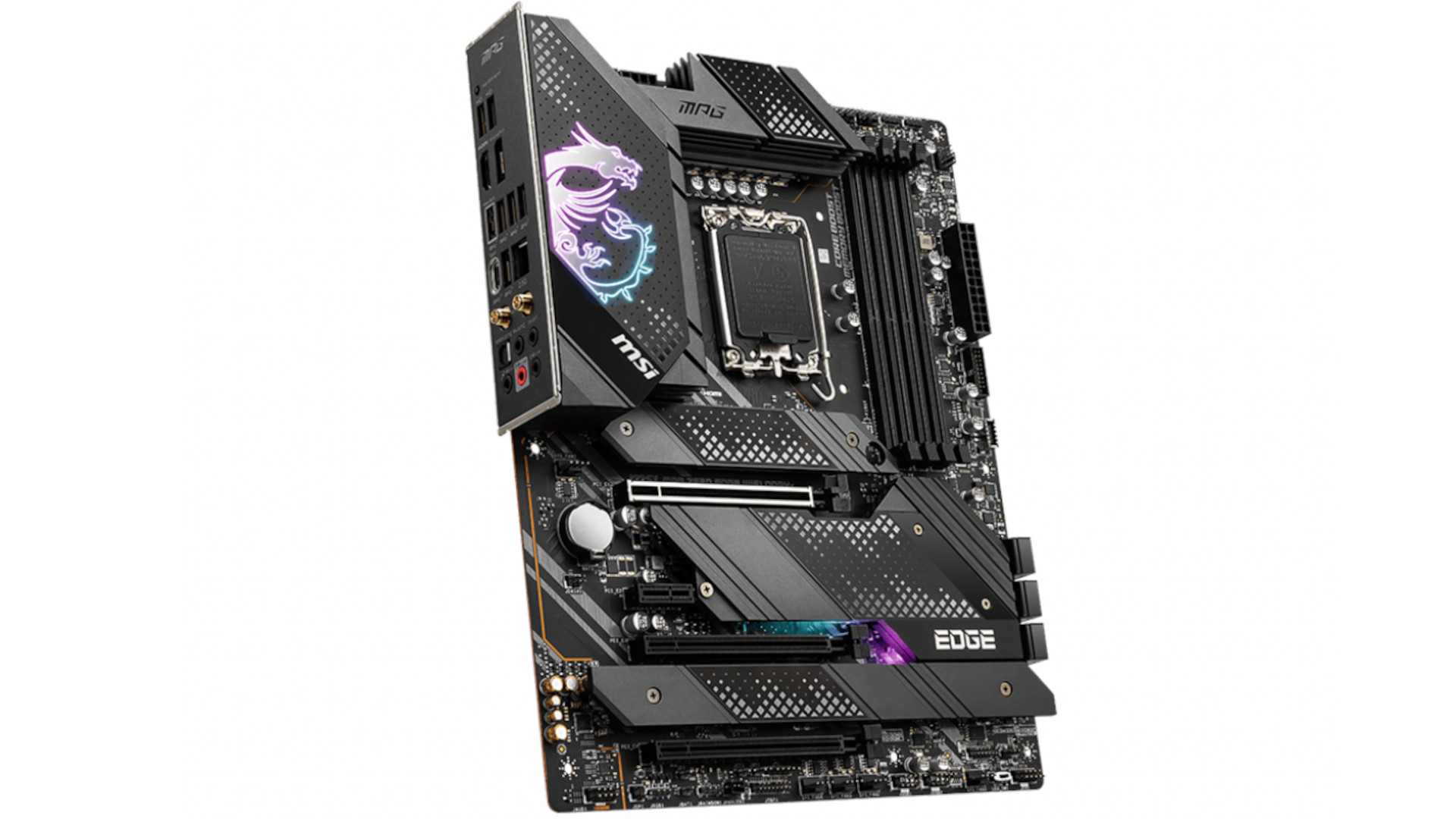 The MPG Z690 EDGE has six SATA 6 Gb/s ports for storage, including two from an ASMedia ASM1061 controller and four from the PCH, which enable RAID 0, 1, and 10. MSI has added four EDGE sockets on the M.2 side. PCIe 4.0 x4 NVMe drives are supported in all four sockets. The two lowest M.2 (Key-M) models will enable PCIe 4.0 x4 NVMe and SATA-based M.2 drives; no SATA 6 Gb/s ports are disabled. The M.2 drive slots all have built-in heat spreaders. For further information on the storage configuration and drive compatibility, see the table below or the user manual on the MSI website.
The Z690 EDGE has 15 connections between onboard headers and the rear I/O shield for USB connectivity, which is also very common. Seven Type-A connectors, five of which are USB 3.2 Gen2 (10 Gbps), two USB 2.0 ports, one USB 3.2 Gen2x2 (20 Gbps) Type-C port, and two USB 2.0 ports make up the rear IO shield's total of eight ports. The motherboard's headers for the other USB ports include one USB 3.2 Gen2 internal header, two USB 2.0 (for a total of four ports), and two USB 3.2 Gen2 Type-C external connectors.
This motherboard deviates from the standard Z690 motherboard in terms of networking by providing just one Intel I225-V 2.5 Gbs connector. Additionally, we have out-of-the-box Intel Wi-Fi6 / Bluetooth 5.2 wireless connectivity with a Wi-Fi antenna that attaches to the back I/O shield.
MSI used the Realtek 7.1 channel High Definition ALC4080 CPU for audio, which is a fairly recent processor that was released in 2020. We also have PCB enhancements with MSI's Audio Boost 5, like an isolated audio area to cut down on EMI, distinct layers on the board for the left and right audio channels, and high-quality Nippon Chemicon audio capacitors from Japan.
MSI has included a range of RGB LED connectors on the EDGE to round things up. First, we have one conventional 4-pin RGB LED header for 12 V, 5050 RGB strips up to 3 A, and three addressable 3-pin Rainbow LED RGB headers for 5 V, WS2812B individually addressable LED strips up to 3 A. The I/O cladding and chipset heatsinks of the EDGE additionally feature RGB LEDs. You have control over these using the Mystic Light software, along with all the headers.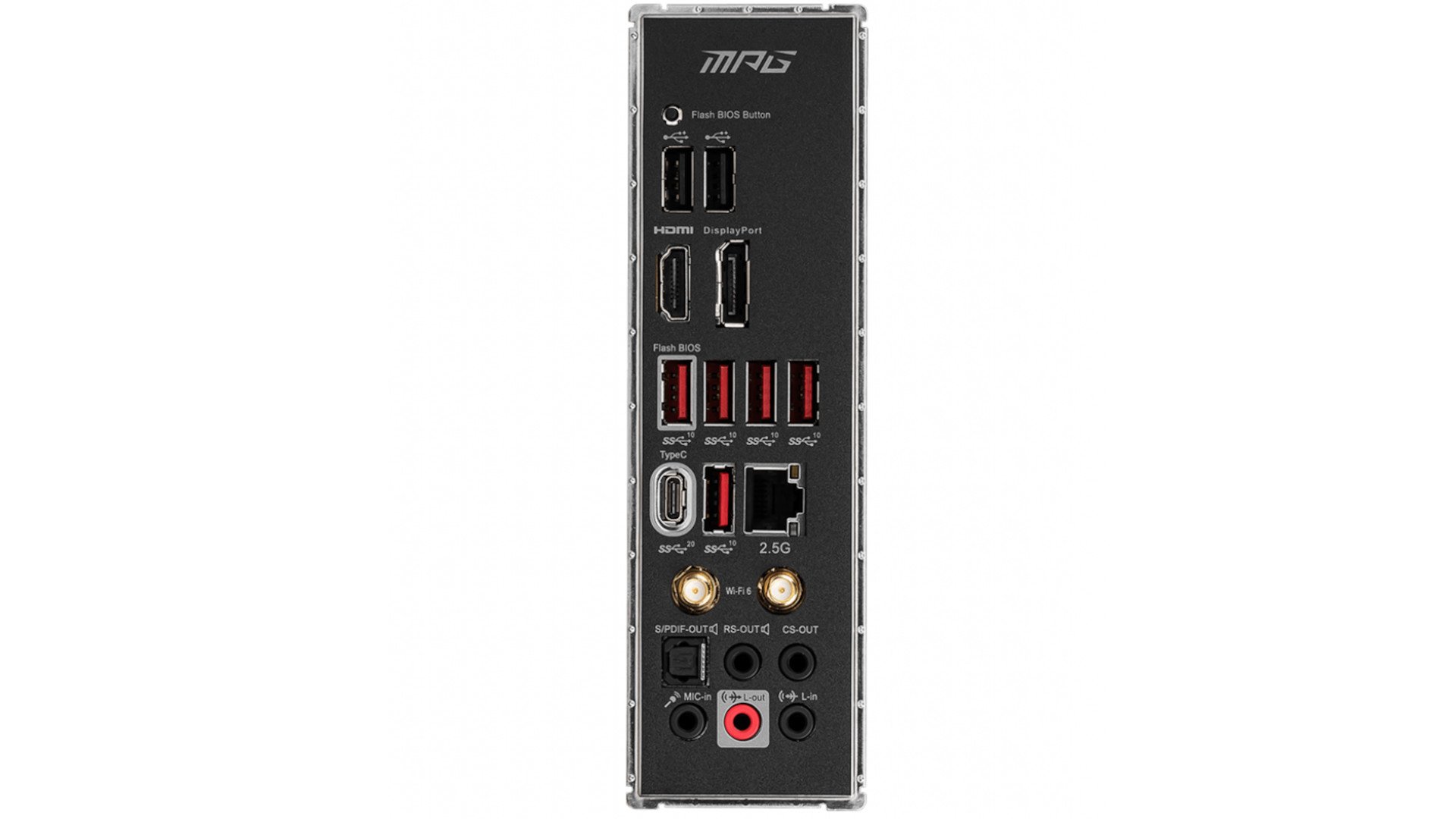 The list of features for the MSI MPG Z690 Edge Gaming Motherboard is provided below.
| | |
| --- | --- |
| CPU (MAX SUPPORT) | i9 |
| SOCKET | 1700 |
| CHIPSET | Intel Z690 Chipset |
| DDR4 MEMORY | 5333 (OC) , 5200(OC) , 5066(OC) , 5000(OC) , 4800(OC) , 4600(OC) , 4400(OC) , 4266(OC) , 4200(OC) , 4000(OC) , 3800(OC) , 3733(OC) , 3600(OC) , 3466(OC) , 3400(OC) , 3333(OC) , 3200(JEDEC) , 2933(JEDEC) , 2666(JEDEC) , 2400(JEDEC) , 2133(JEDEC) MHz |
| MEMORY CHANNEL | Dual |
| DIMM SLOTS | 4 |
| MAX MEMORY (GB) | 128 |
| PCI-E X16 | 3 |
| SATAIII | 6 |
| M.2 SLOT | 4 |
| RAID | 0/1/5/10 |
| LAN | 1x Intel I225-V 2.5G LAN |
| WIFI&BLUETOOTH | Intel® Wi-Fi 6 module |
| USB 3.2 PORTS (FRONT) | 1(Gen 2, Type C), 2(Gen 1, Type A) |
| USB 3.2 PORTS (REAR) | 1(Gen 2×2, Type C), 5(Gen 2, Type A) |
| USB 2.0 PORTS (FRONT) | 4 |
| AUDIO PORTS (REAR) | 5+ Optical S/PDIF (Realtek ALC4080 Codec) |
| DIRECTX | 12 |
| SLI | Y |
| CROSSFIRE  | Y |
| OPERATING SYSTEM | Support for Windows 11 64-bit, Windows® 10 64-bit |
| FORM FACTOR | ATX |
Final thoughts on MSI MPG Z690 Edge Gaming Motherboard
Our tests demonstrate its performance, demonstrating that it is more than capable of competing with the big boys and, in some cases, even outperforming them (Procyon Office). Even with the power-hungry i9-12900K, gaming performance was comparable to the other evaluated boards, indicating that the I performs well across a number of applications. Although it thermally throttled during the stress test (like most others), it handled the benchmarks we threw at it nicely otherwise.
There aren't many disadvantages to using this board. Although the pricing is fair for the Z690 market, it is a little higher than its competitors. The ASRock Z690 Extreme WiFi 6E is now available at Newegg for $249.99, the Asus TUF Gaming Z690-Plus WiFi D4 is $284.99, and the Gigabyte Z690 Aero G DDR4 is $281.99. The Z690 Extreme is the finest option out of the bunch, with the most SATA ports (8), the fastest Wi-Fi (6E), and the current-generation audio codec, which is where ASRock and Asus fall short. It comes down to cost and aesthetics since many of the functions are comparable and not deal breakers.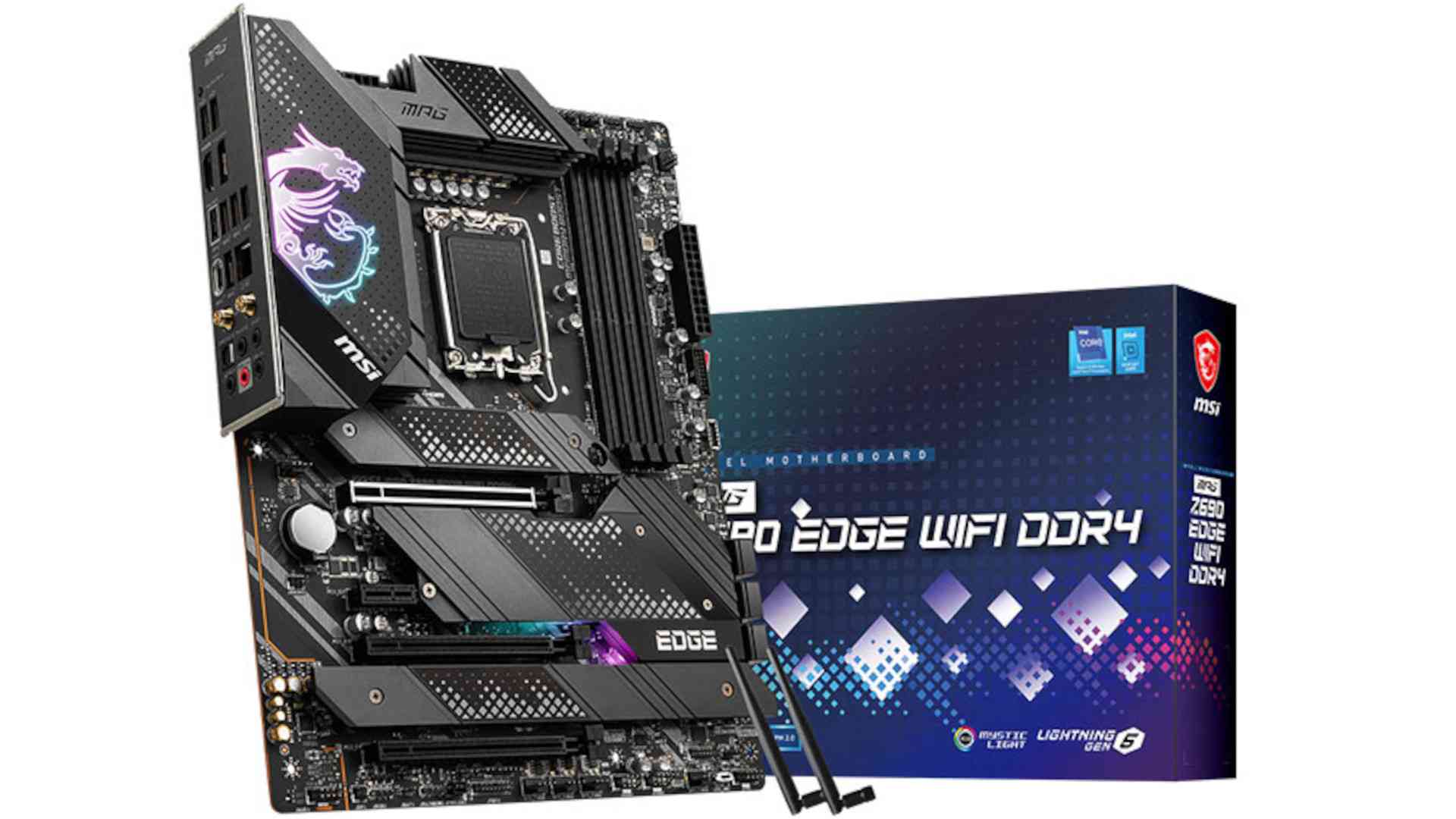 The MSI MPG Z690 Edge Gaming Motherboard is a respectable choice in the sub-$300 DDR4 sector if you're looking for a less excessively costly way to enter into Z690 while still receiving most of the features. A B660-based board is suitable and probably less expensive if overclocking isn't your thing. But when selecting a motherboard for your Alder Lake processor, the Edge WIFI DDR4 delivers a decent blend of features and performance and should be on your shortlist.
MSI MPG Z690 Edge Gaming Motherboard
Performance -

95%

Price -

95%

Value -

95%