Thermaltake's product line is steadily earning them a good reputation. While it might not be the first manufacturer of PC components that comes to mind, it is best recognized for their coolers, power supplies, chassis, and gaming gear. However, there is no clear reason why it shouldn't be. Leaving that aside, Thermaltake is making every effort to achieve that given the direction things are headed.
We have previously tested a number of their items and have always thought they are top-notch. But this time, we're looking at something truly outstanding.
1250 watts are used by the Thermaltake Toughpower iRGB PLUS 1250W Titanium. Additionally, it has a Titanium rating. For those who are not familiar with power supply ratings, that is essentially the highest level of efficiency available. Additionally, as if that weren't enough, this PSU has RGB lights in addition to some really outstanding power management features that can be controlled by software. Thermaltake obviously takes RGB lighting seriously.
Though we appreciate their items more and more each day, we don't accept that at face value. So let's thoroughly examine this brand-new device and put it to the test to see if it lives up to its claims of being a powerhouse.
Thermaltake Toughpower iRGB PLUS 1250W Titanium Packaging & Design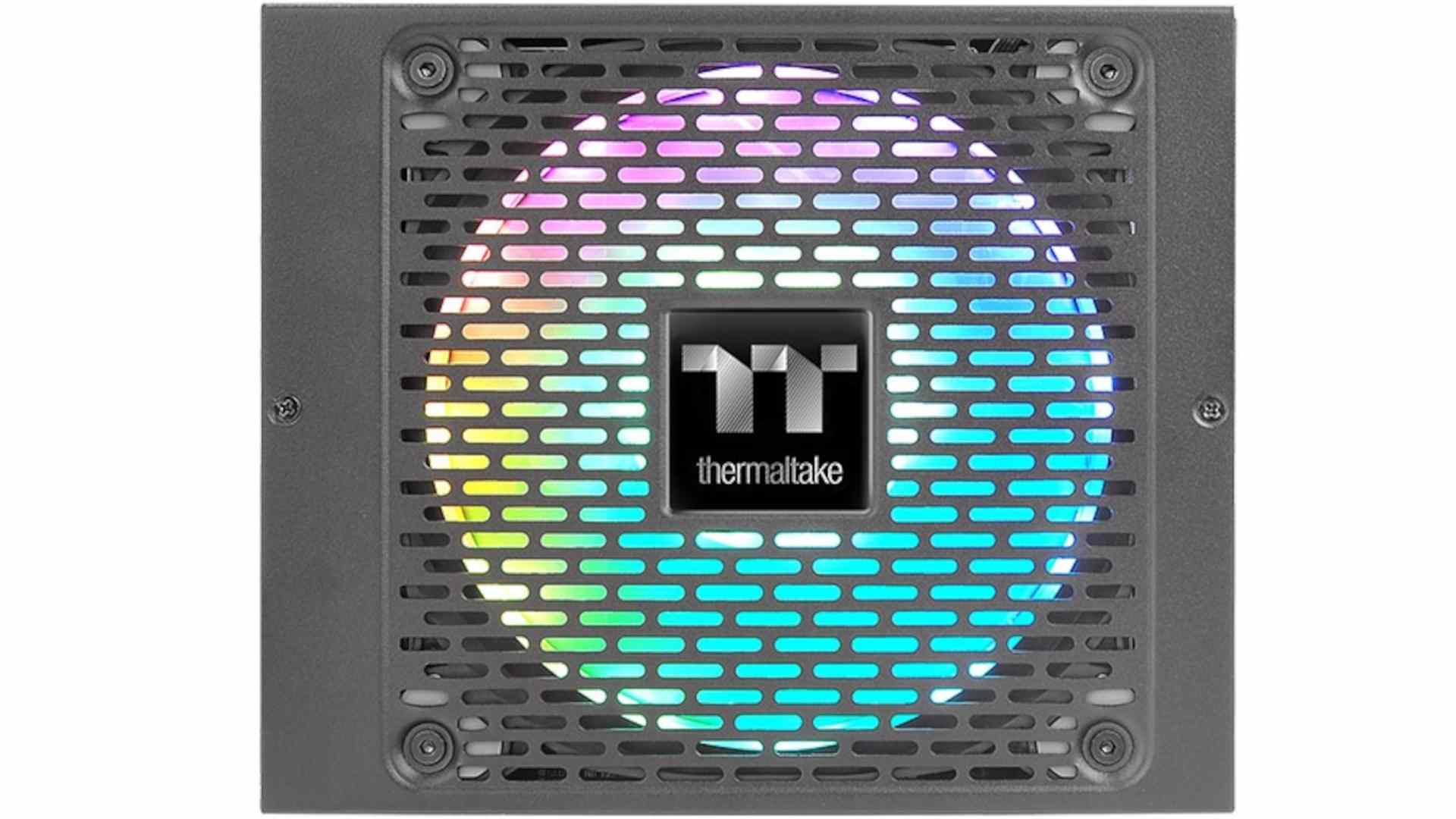 The Thermaltake Toughpower iRGB PLUS 1250W Titanium packaging radiates a sense of great quality, which is appropriate given the item's high price. Detailed information about the PSU's characteristics and specifications is provided on the box, which is decorated with stylish artwork.
Users are welcomed by a set of orderly accessories when they open the package, which includes modular cables, cable ties, mounting screws, and an installation manual. Professionalism permeates the presentation, and it is clear that Thermaltake paid close attention to detail.
The matte black surface of the Thermaltake Toughpower iRGB PLUS 1250W Titanium is well complemented by delicate RGB lighting accents. The device conforms to the standard ATX form factor with dimensions of 160mm x 150mm x 86mm. The construction quality is excellent, with sturdy parts designed to resist intensive use and sustained tension. The 140mm unique RGB fan that is present improves the PSU's cooling performance and aesthetic appeal.
A thorough set of modular cables included with this PSU ensures that your PC build's interior is uncluttered and well-organized. Only the necessary connections may be connected thanks to the totally modular design, which also improves airflow inside the chassis and minimizes cable clutter.
A 24-pin ATX connector, two EPS (4+4-pin and 8-pin) connectors for the CPU, many PCIe (6+2-pin) connectors for graphics cards, and a variety of SATA and peripheral connectors for disks and peripherals are all included in the package. Furthermore, all of the cables are flat and of excellent quality, which makes cable management simple.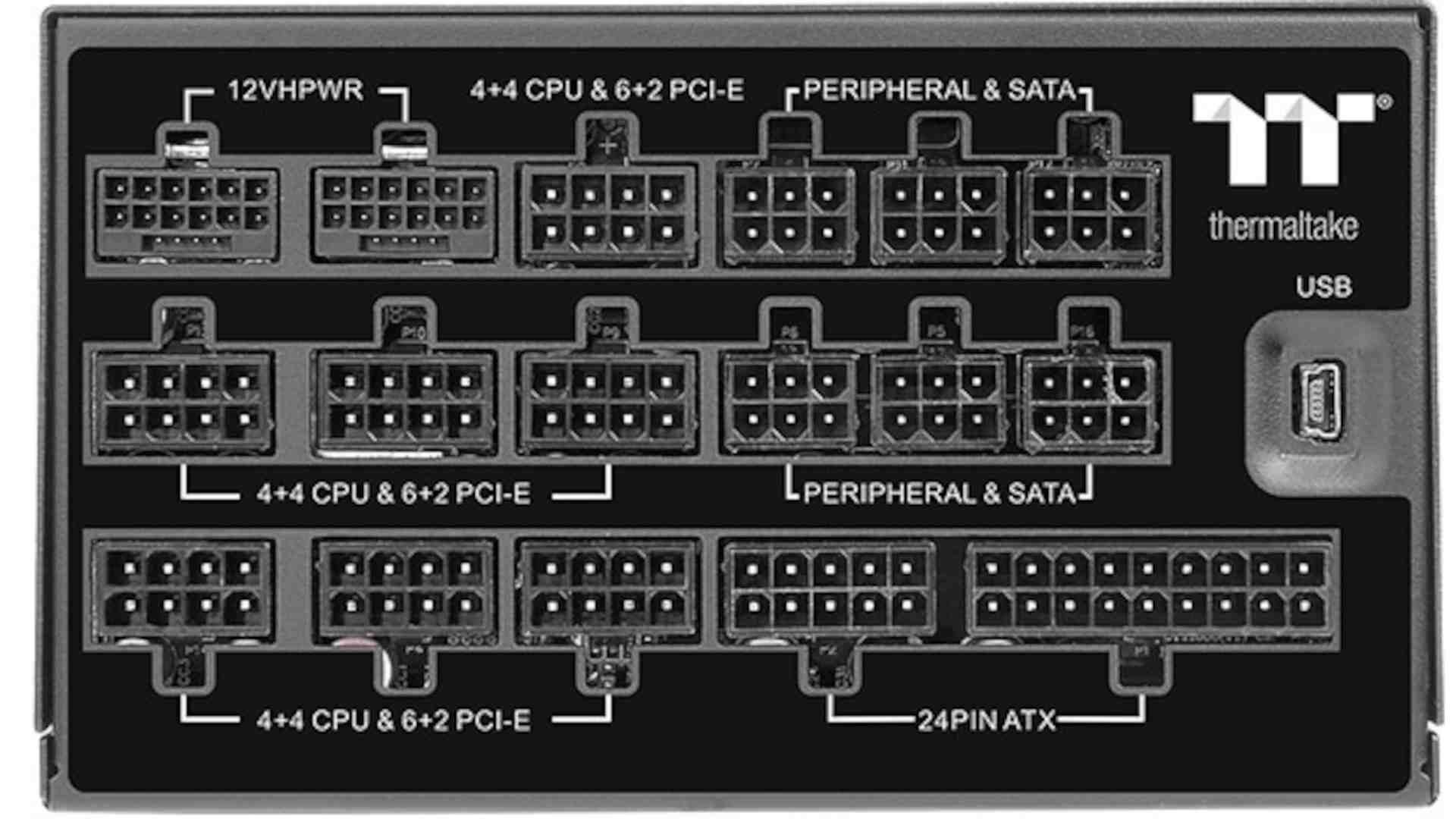 The Thermaltake Toughpower iRGB PLUS 1250W Titanium programmable RGB lighting is one of its notable features. The accompanying Riing Plus RGB software allows you to control the 16.8 million colors and several lighting effects that are available on the device. A wide range of customization options, including color selection, lighting patterns, and synchronization with other compatible RGB devices, are available through the software's user-friendly interface. 
Thermaltake Toughpower iRGB PLUS 1250W Titanium Performance & Efficiency
With an 80 PLUS Titanium efficiency certification, the Toughpower iRGB PLUS 1250W Titanium is guaranteed to have a minimum efficiency of 94% at 50% load and 91% at full load. This great efficiency results in less energy being squandered, less heat being produced, and cheaper power costs.
Tight voltage management, which guarantees reliable and consistent power delivery to your components under various loads, further improves the PSU's performance.
The Thermaltake Toughpower iRGB PLUS 1250W Titanium excels in terms of performance. With a 1250W power output, it has enough power for even the most power-hungry systems, like those with multiple GPUs and highly overclocked processors.
The device has high-quality Japanese capacitors installed, which add to its remarkable stability and dependability. The PSU had outstanding transient responsiveness and little voltage ripple during our tests, demonstrating its capacity to easily handle rapid load fluctuations.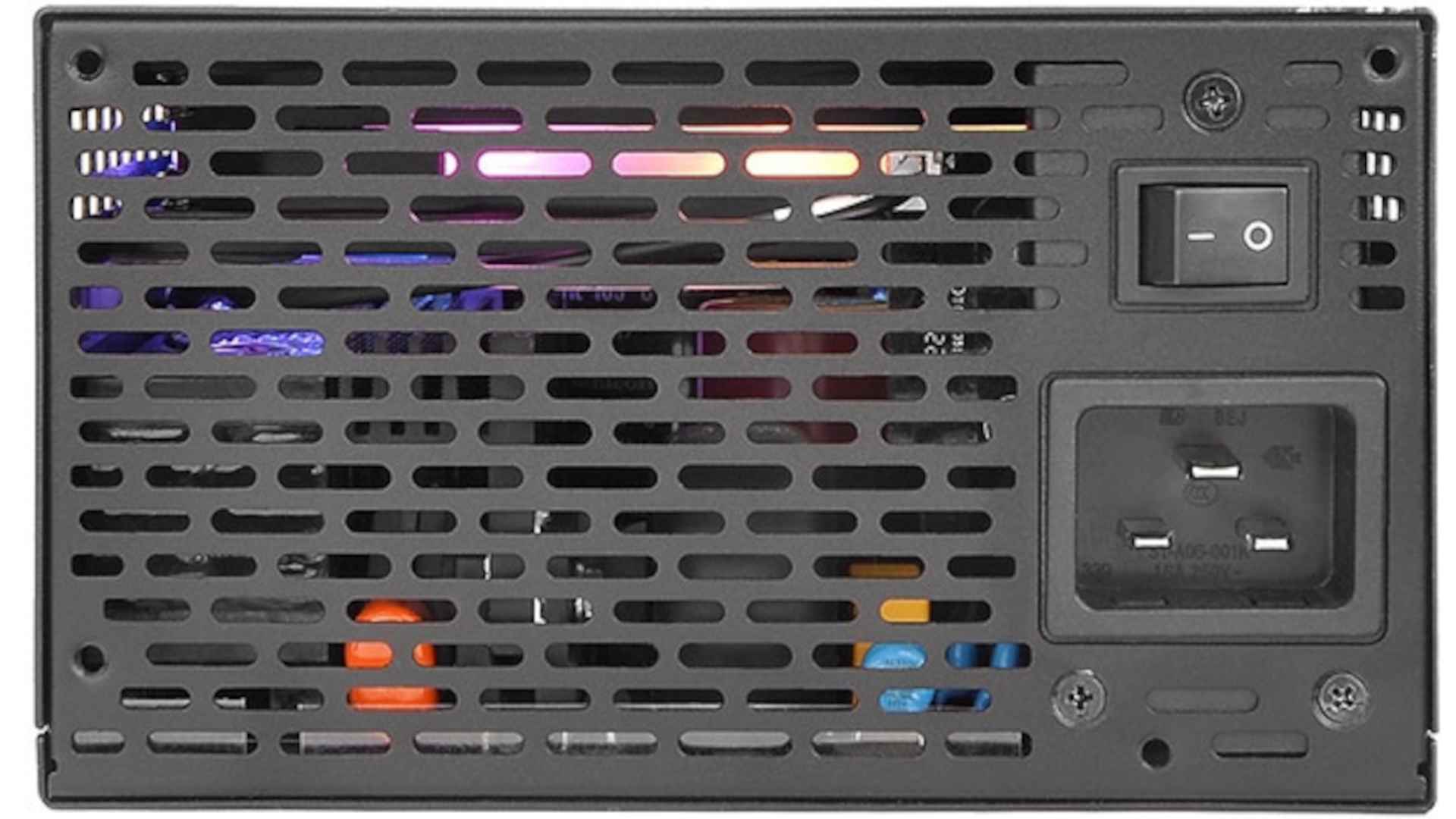 The Toughpower iRGB PLUS 1250W Titanium's cooling system is equally amazing. The Zero RPM Fan mode, which prevents the fan from turning on until the PSU hits a specific load or temperature threshold, allows the 140mm RGB fan to run quietly under typical circumstances. This feature prolongs the life of the fan while also reducing noise levels during light usage. During periods of high load, the fan's speed dynamically adjusts based on the PSU's temperature to provide optimum cooling.
Thermaltake Toughpower iRGB PLUS 1250W Titanium Specifications
| | |
| --- | --- |
| Model | Toughpower iRGB PLUS 1250W Titanium |
| Type | ATX 12V 2.4 |
| Maximum Power Output | 1250W |
| Efficiency Certification | 80 PLUS Titanium |
| Input Voltage | 100V – 240V |
| Input Current | 15A – 7.5A |
| Input Frequency | 47Hz – 63Hz |
| PFC | Active PFC |
| Fan | 140mm Patented RGB Fan |
| Zero RPM Fan Mode | Yes |
| Modular Cables | Fully Modular |
| Main Connector | 1 x 24-pin ATX |
| CPU Connectors | 2 x 4+4-pin EPS, 1 x 8-pin EPS |
| PCIe Connectors | 8 x 6+2-pin PCIe |
| SATA Connectors | 12 |
| Peripheral Connectors | 8 |
| Protections | OVP, OCP, OTP, UVP, SCP |
| Operating Temperature | 0°C to 50°C |
| MTBF | 120,000 hours |
| Dimensions (L x W x H) | 160mm x 150mm x 86mm |
| Weight | 2.85 kg (approx. 6.28 lbs) |
| RGB Lighting | 16.8 million colors, multiple effects |
| RGB Control | Riing Plus RGB Software |
| Compatibility | ASUS Aura Sync, Gigabyte RGB Fusion, MSI Mystic Light Sync, ASRock Polychrome Sync |
| Certifications | CE, TUV, FCC, UL, CCC, BSMI |
Thermaltake Toughpower iRGB PLUS 1250W Titanium Conclusion
A top-tier PSU that offers great performance, unmatched efficiency, and amazing RGB lighting customization is the Thermaltake Toughpower iRGB PLUS 1250W Titanium. Outstanding energy efficiency is guaranteed by its 80 PLUS Titanium accreditation, and cable management is made simple by the modular design and high-quality cables. The device is a dependable option for demanding gaming setups and workstation configurations because to its sturdy construction, cooling capability, and voltage management.
Any construction is given a touch of visual beauty by the incorporation of programmable RGB lighting through the use of the Riing Plus RGB software. This allows users to easily express their creativity and sync their lighting with other RGB components. Although the Toughpower iRGB PLUS has more expensive premium features, the expenditure is justified by the strength, effectiveness, and beauty it offers.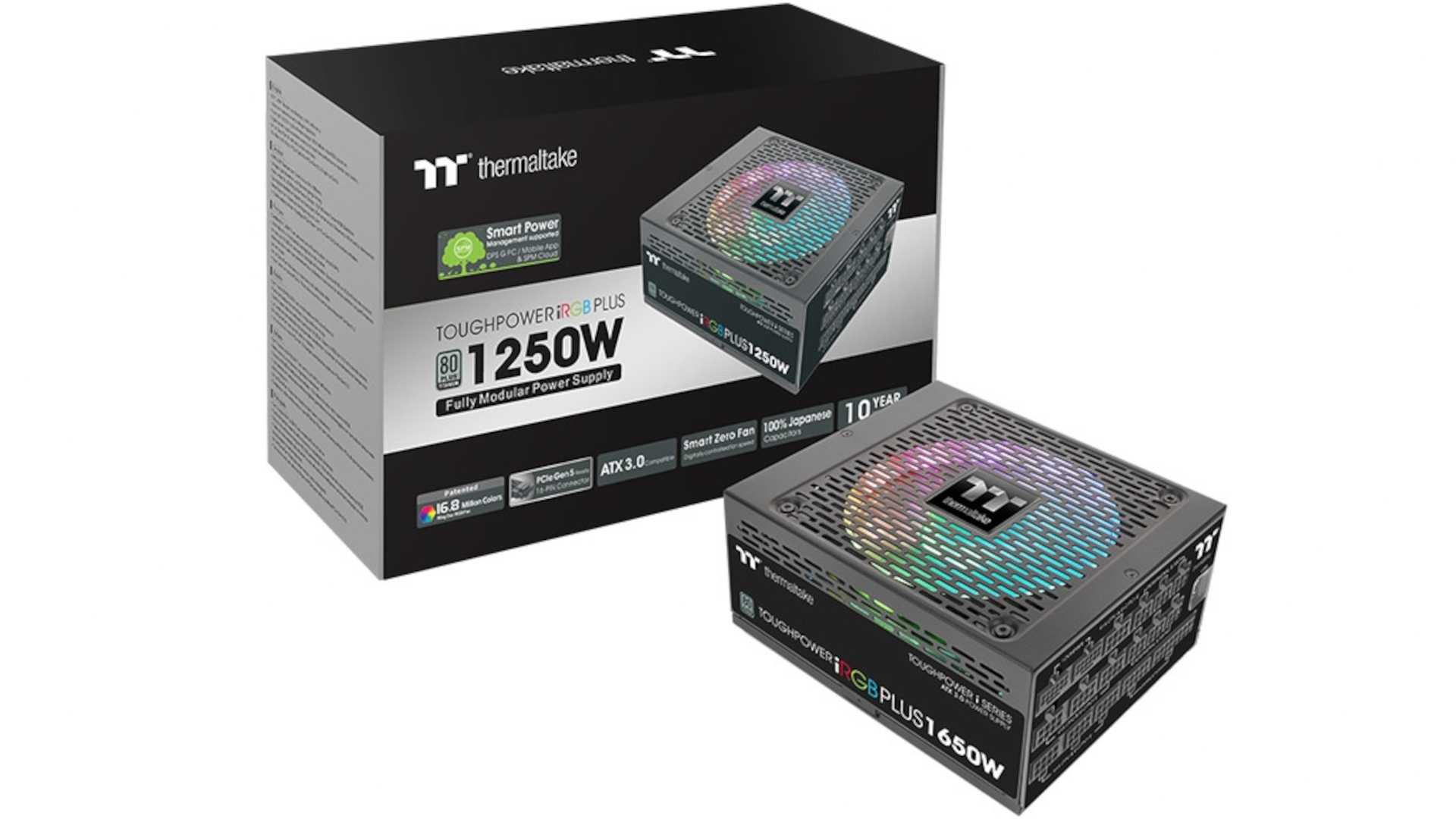 In conclusion, the Thermaltake Toughpower iRGB PLUS 1250W Titanium is a great option if you're a serious PC enthusiast who needs only the finest for your high-performance rig. It blends power, efficiency, and RGB aesthetics into one stunning package.
Thermaltake Toughpower iRGB PLUS 1250W Titanium
Performance -

95%

Price -

97%

Value -

96%