One of the few GPUs that is now available for purchase at full retail pricing, or at least close to it, is the ZOTAC Gaming GeForce RTX 3050 Twin Edge OC. However, the suggested retail price for this specific Twin Edge OC Edition 3050 graphics card is $400, which is higher than the cost of a regular RTX 3050 desktop card.
The OC edition, as the name implies, offers performance that is roughly 2% overclocked for an additional $150. So, does it merit purchase?
In any case, the fact that it can be purchased at least makes it a very decent alternative. For now, older GPUs like the RTX 2060s will cost you at least $400 and maybe even up to $500.
Since the RTX 3060 and other RTX 30-series cards are considerably more costly, the $400 Zotac RTX 3050 Twin Edge OC version is still preferable. The Zotac GeForce RTX 3050 Twin Edge OC version offers outstanding 1080p gaming performance, so that's good to know.
I had no significant issues running a range of taxing AAA games at 1080p. In fact, I even combined a GPU with what would be considered a low-end CPU by 2022 standards, and the performance was at least as impressive. Although the performance across my test suite was far above 60 frames per second, I wasn't expecting this GPU to handle a lot of the games that I tried.
ZOTAC Gaming GeForce RTX 3050 Twin Edge OC Unboxing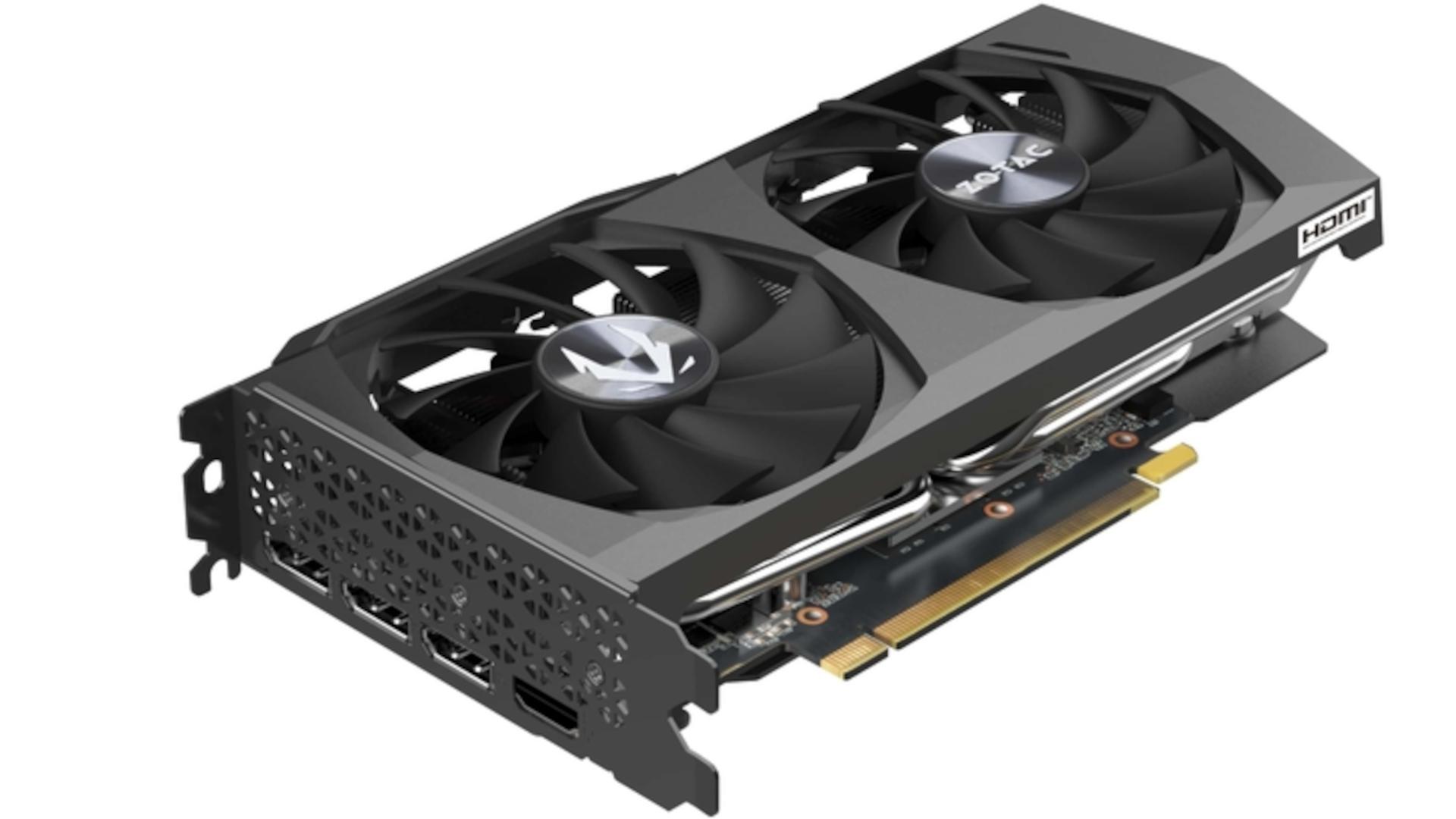 The ZOTAC Gaming GeForce RTX 3050 Twin Edge OC is a very small, two fan card with an excellent fit in many cases, making it a great choice for ITX projects. The cooler differs from certain OEM design cards' basic heatsink blocks in that it has two cooling fans and a heatsink with three heat pipes that pass through a variety of aluminum fins.
The RTX 3050 requires a least 550W power source and is supplied by an 8-pin PCIe power connection. I had hoped that the RTX 3050 wouldn't need an extra power supply, however that isn't feasible because the PCIe x16 slot can only provide a maximum of 75W.
You'll see 3 x DP and 1 x HDMI for the display output, which is very typical for graphics cards today.
When it comes to design, ZOTAC Gaming GeForce RTX 3050 Twin Edge OC is simple. The straightforward black and grey color scheme, two fan cooling, and absence of RGB add nothing in the way of aesthetics to a build, but it doesn't stop me from being a major fan. The absence of RGB may seem like a step backward in this day and age, evoking GPU designs from the past, but I really find it to be a welcome shift.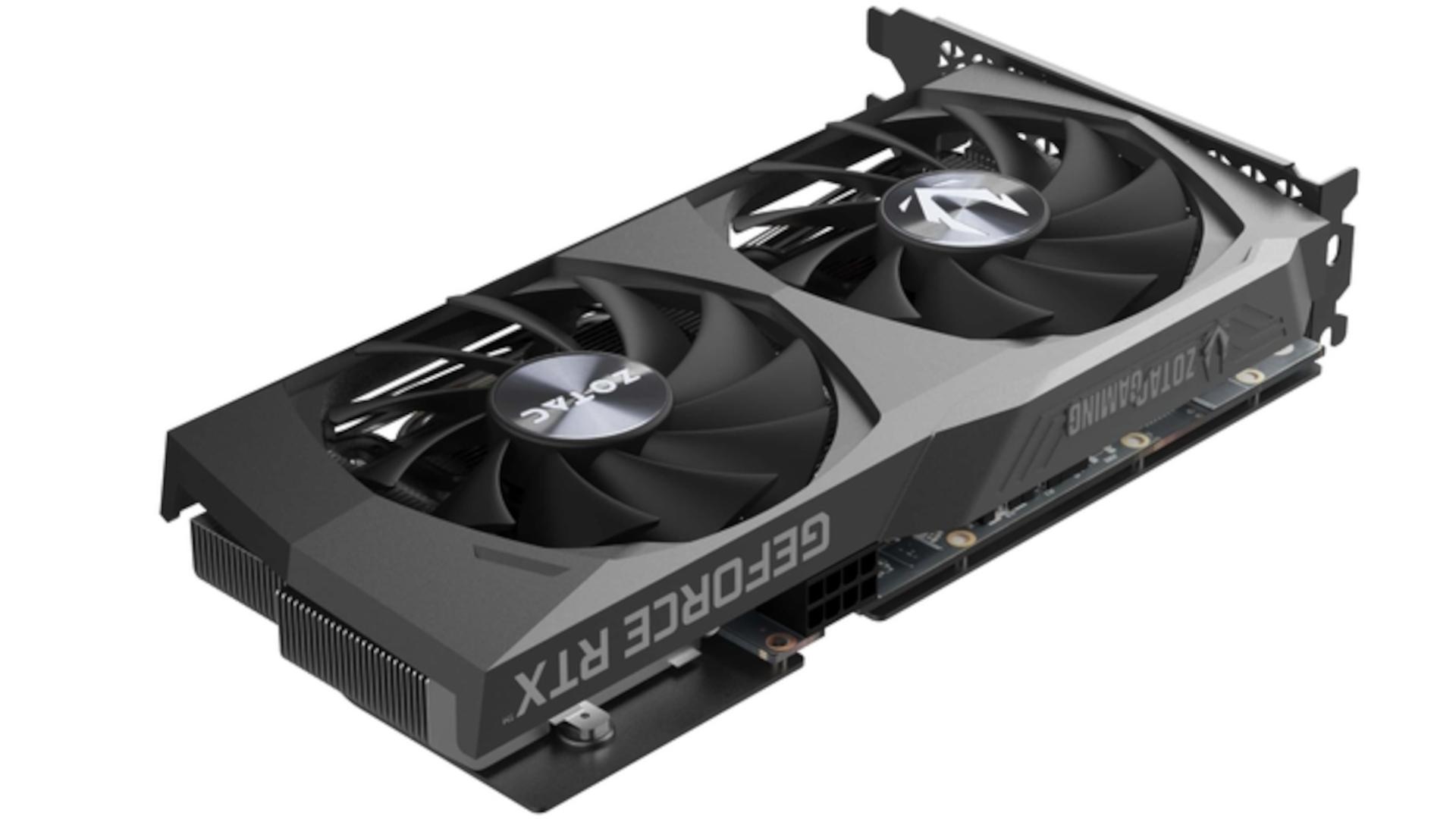 I like Zotac for designing a GPU that is just concerned with speed and usability, rather than using flashy looks to attract more buyers.
ZOTAC Gaming GeForce RTX 3050 Twin Edge OC Specifications
The Zotac RTX 3050 makes excellent use of DLSS, giving the vast majority of 1080p gamers that extra performance bump without breaking the budget.
Another useful feature included with the RTX 3050 is Nvidia Reflex, which improves communication between the CPU and GPU to reduce system latency. NVIDIA reflex is particularly significant in Esports games like CS:GO, Valorant, and COD Vanguard because it gives players an advantage when every millisecond counts.
The 8GB of GDDR6 RAM that Zotac's RTX 3050 has is comparable to those of the RTX 3060Ti and 3070. The importance of having the appropriate quantity of video RAM was demonstrated by AMD's recent 6500XT introduction.
It is encouraging to see that Nvidia will not repeat the error made with a card that had excellent potential on paper but was held down by its meager 4GB of VRAM. The card has a very good boost clock speed of 1777MHz, which is slightly higher than that of the RTX 3060Ti and identical to Zotac's Twin Edge RTX 3060.
Given these impressive on paper specifications, it's not surprising that the ZOTAC Gaming GeForce RTX 3050 Twin Edge OC performs so well in a variety of games at 1080p.
Thanks to the added advantages that the RTX line-up of cards has, the RTX 3050 fits into NVIDIA's lineup perfectly and seems quite at home among the larger boys of the GPU industry. The Twin Edge OC and AMP versions, which have higher boost clocks of 1807 MHz and 1830 MHz respectively, are Zotac's other two 3050 variants.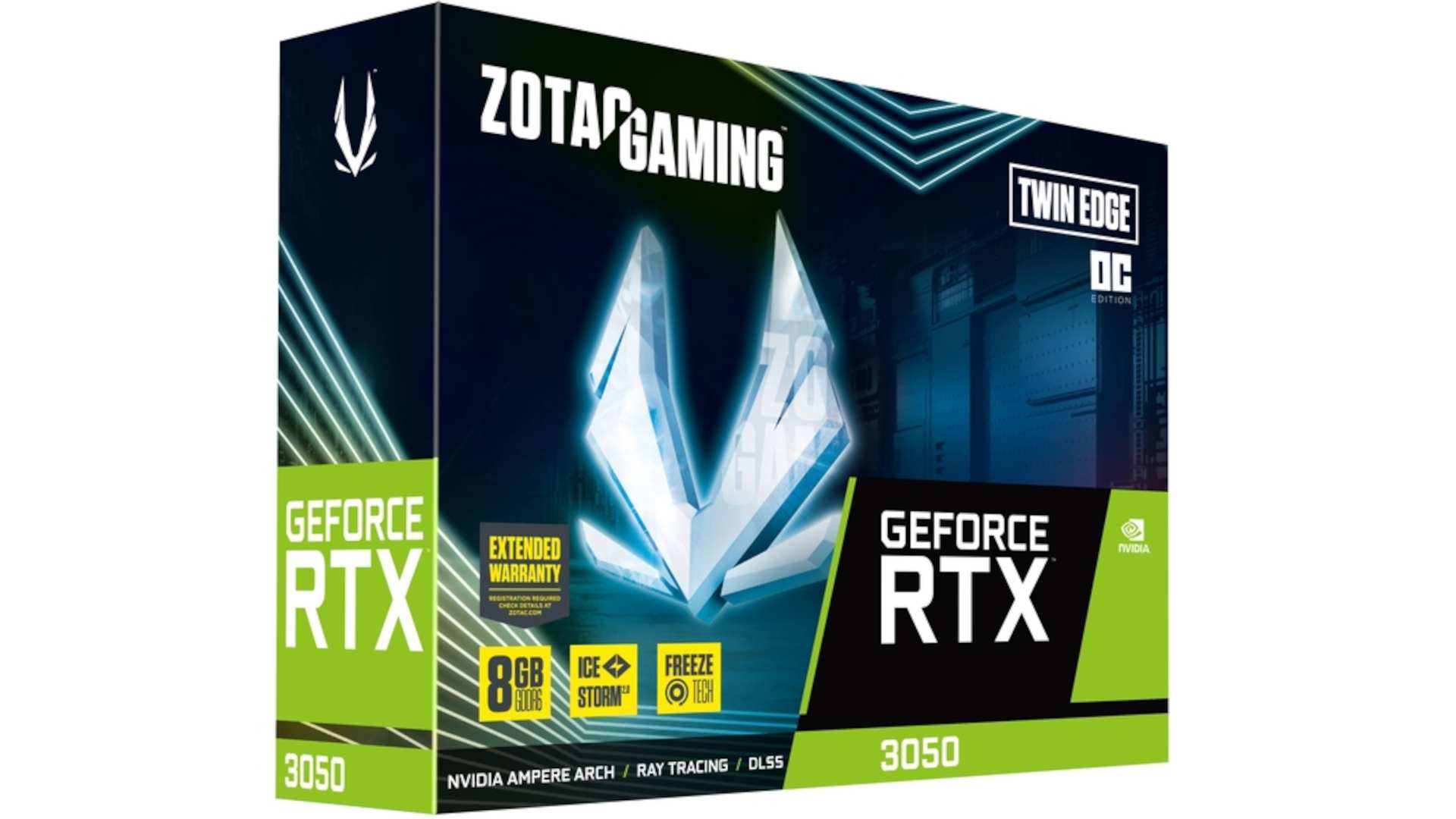 ZOTAC Gaming GeForce RTX 3050 Twin Edge OC General Information
| | |
| --- | --- |
| GPU | GeForce RTX 3050 |
| CUDA Cores | 2560 |
| Tensor Cores | 80 |
| RT Cores | 20 |
| GPU Clock | Base: 1552 MHz, Boost: 1777 MHz |
| Memory Data Rate | 14 Gbps |
| Total Video Memory Size | 8GB GDDR6 |
| Memory Interface | 128-bit |
| Memory Bandwidth | 224.0 GB/s |
| TDP | 130W |
| Recommended PSU | 550W |
| Power Connectors | 1 x 8-Pin |
ZOTAC Gaming GeForce RTX 3050 Twin Edge OC Conclusion
Actually, there isn't much to criticize about this card. When I initially began the testing, I didn't have big expectations for the performance, but I'm not let down by what it can provide.
It definitely doesn't perform as well as the RTX 2060 in terms of performance. Although it has somewhat stronger raster performance than the GTX 1660 SUPER, the ray tracing and DLSS capabilities are really what set this card apart. Personally, I believe that the DLSS is a helpful tool that may improve your gaming experience even if you don't play with ray tracing enabled.
Although the final retail pricing ($249 or 1200MYR) may not be as inexpensive as the MSRP claimed during the official introduction, this card's 8GB RAM, apparent respectable ray tracing performance, and DLSS already make it superior than the RX 6500XT, which is roughly the same price. Overall, for those looking to upgrade from cards like the GTX 1050 Ti or below, it's a really good entry-level 1080P 'RTX ON' graphics card.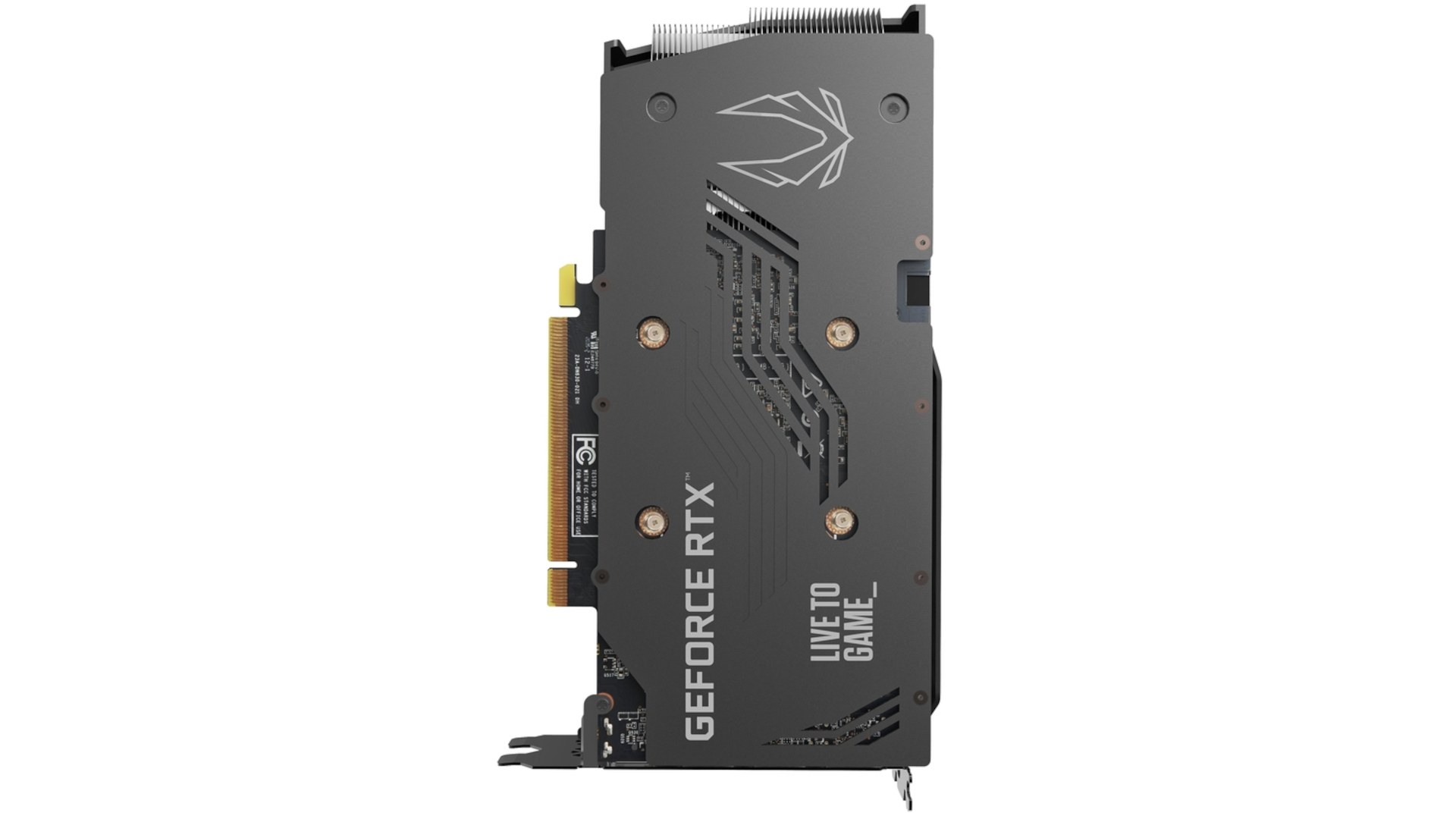 Keep an eye on the website for a future post that compares a 20xx series card to a 30xx series card if you are still using previous-generation hardware.
ZOTAC Gaming GeForce RTX 3050 Twin Edge OC
Performance -

97%

Price -

96%

Value -

97%