In this article, I give you my Acer Aspire S7-392 review with specs included. This 13-inch laptop is the S7 refresh with Intel Haswell fourth-generation CPUs inside.
That means it now has much-improved battery life and everything else that we liked about the last generation S7 is still here. The full name of my configuration is Acer Aspire S7-392-6411.
So, higher capacity battery as well as a couple of other improvements but largely the same as the last generation S7 in terms of the design and what you get inside. SSD is still a RAID 0 (zero) configuration for extreme speed.
The memory is soldered on the motherboard. The good thing is now it starts with 8 GB of RAM instead of 4 GB. That is nice because you can't upgrade RAM later.
As you can see obviously it's a white laptop. It's not just a white laptop this is Gorilla Glass 2 glass lid beautiful. Doesn't show fingerprints too much since it's white the little Acer logo actually lights up when you open it up. The backlighting from the display shows through. Really really super thin gorgeous-looking product.
Two-point-eight-seven pounds so extremely light just like the Sony Vaio Pro. The fact it's actually a little bit heavier than the VAIO pro because that's still the 13-inch model is still the lightest 13-inch out there. Toshiba care buck is also quite light in the same weight class again all those are of course more premium ultrabooks are more expensive.
We take a look at the side right here you have a USB 3.0 port that's our power button next to the charging port. Acer moved the power button because the last generation it was awfully hard to hit. I find it's still hard to hit here especially if you're plugging or unplugging the power you tend to hit this button a little bit annoying and it's weird.
But it doesn't really move very much there's no tactile feel it's strange just strange. Here's your SD card slot and the SD card will stick out. You can see the height of the blank which gives you an idea at least half of your SD card will stick out if you have it in there. The nice metal around the edges here.
The whole body is actually aluminum underneath this lovely gorilla glass right here. Take a look at the back. Painted white stole aluminum. Pretty easy to take this part you just undo all these Torx screws and the back pops right off but there's not much to upgrade here.
Other than the SSD drive pretty much everything is soldered on this guy anyway but you could access the battery. Which now is up to 60 to 80 milliamps much higher capacity battery. So one problem with the s7 the last generation was well very weak battery life. This guy is much better and goes for about six hours on a charge which is certainly more usable.
Got inside ports here also over here. We have cooled a little LED indicator area over here you can see it whether it's open or closed lets you know if it's charging or if it's plugged in. On this side here we have another USB 3.0 port our combo 3.5-millimeter headphone jack full-size HDMI port it's nice to have and this is a Sears proprietary port for accessories.
Now I know it looks like a mini DisplayPort but it's not too bad. Just like the last generation model it doesn't just open up you know like your regular notebook say to 130 degrees or something like that. It has a double hinge so you can feel the resistance here and then you keep pushing back and you can open it all the way flat. So for those of you who have a use for all the way flat cool there it is.
Ten-point touchscreen so there is actually some point to having something that's flat it's great if you're playing games maybe if you're giving a presentation that kind of thing. And we still have a beautiful IPS display inside. Glossy as you can see.
So here we have the same lovely 13.3-inch full HD display 1920 by 1080. Now they're going to be some laptops that have even higher resolution and I can tell you even with Windows 8.1 which handles scaling better I think it's just overkill for resolution.
1920 by 1080 is already very sharp on the desktop and we're not using any scaling here so right now we are at a hundred percent scaling and things are pretty darn tiny and even with Windows 8.1 scaling. We're not running 8.1 here but I put out a couple of other machines.
I can tell you the things are still a little bit awkwardly small. The keyboard is every kind of a unique Acer approach to things shall we say. You can see the key travel is pretty shallow because they made this thing so incredibly thin. But they have increased the key traveler. Was one millimeter announced 1.3 does the third of a millimeter help it does? You can feel the difference a little bit.
It's still a very shallow keyboard but it is more tactile. So you're going to have to get used to your fingers kind of bottoming out on the keyboard. I think you can do it. For me it feels about as firm shall we say as the Sony Vaio duo 13 which also has a kind of strong bottoming out sensation.
You look at the keyboard layout itself they do a couple of things that are a little bit unusual here. Like your Delete key, where did it go oh it's over sighs and it's over here. A little bit accident-prone being over there I think instead of having a Windows key on both which would be pretty handy, especially for Windows 8 we have it just on the left side. Instead of a Windows key on this site, we have this oddball little key over here instead.
The oversized Enter key I like a whole lot the insert isn't just fine over here we do have our little arrow pad. No fear FN-based multimedia controls for your brightness and your volume right there are usually there at the top row but instead, they've been moved down to be here on your little arrow cluster which is where we are.
One-handed actions they're just about impossible unless you work for the NBA as a basketball player. This has the same yell electroluminescent backline which is kind of neat so like organic lighting it's kind of the same as a light blue-green and it doesn't contrast super well with the silver keys here.
So it's not the easiest thing to see unless the room is really really dark. If it's just kind of medium dim then it might actually make it a little harder to see the keys of anything but it's not the end of the world. Got a pretty large trackpad here glass trackpad and actually it works fairly well. No complaints with the trackpad on this.
And here's what the keyboard backlighting looks like in a dark room. Not the easiest thing to see. Right now we had set it to the maximum you can use the FN keys on the keyboard to adjust that. And here's what the Acer logo looks like on the back.
Now since we have has well inside Intel for a generation if you've been watching our reviews you know that that does not actually change our performance numbers a whole lot what it does is gets you a whole lot better battery life potentially.
So right here for our Windows Experience Index you see pretty much the same you would with the Ivy Bridge. For our processor, we have a six-point nine this is the Intel Core i5 dash 4200 you clocked at 1.6 gigahertz in here with our 8 gigs of ram.
Dual-channel ram obviously because rams course 7.5 our desktop graphics is 5.9 and that's what intel HD 4400 integrated graphics 3d gaming graphics 6.5 and the SSD that's again in a raid 0 that's that Acer thing they like to do for performance that score is a very impressive 8.3.
Now in PC Mark 7 is scored 5015. That's quite good for a Core i5 CPU. So good numbers there really helped by the fast solid-state storage. And on the crystal disk mark which is a measurement for SSD drives, I'm going to show you how well it did. And there are scores and crystal discs Margaret.
Very very good read speeds they're pretty good write speeds. It's right up there very competitive with Sony's PCIe SSD and the VAIO pro 13. So good numbers they're good fast storage absolutely no complaints. Now how about the display.
The display is certainly very pleasing to look at. You'll notice that the camera is picking up some of the refreshes right here but the naked eye can't see it so. Don't worry too much about that too look at the display you be in love with it. It seems very high contrast very colorful very bright at 350 nits
And you can see how our colors are right here this is measured with our spider calibrator. 72% of sRGB that's not superduper impressive really the display looks better than it would fool you to take a look at it. Color calibration was pretty decent out of the box a little too cool which is not uncommon. So that falls well short of the VAIO Pro and the VAIO duo 13 which had 95% of sRGB.
And for Adobe RGB which is a wider spectrum even harder to color cover for color gamut 55% of Adobe RGB versus closer to 75 percent on the new products that compete with this. So free graphic tart types for graphics professionals those of you who do HD video editing professionally keep that in mind.
This is not going to be the most color-accurate display even though it's a very pleasant display looking. Contrast is pretty good at 600 to 1 black level is pretty good as well on this. Now one thing you've probably noticed is you haven't heard the fan howling.
Acer is twin cooling fans they use it on the last generation s7 somehow it managed to take a little bit of air movement and make a lot of noise. It really kind of backfired and didn't work out well for them. They've revised the blade design on the fans and this time the guy does not roar even when you're doing some moderately challenging tasks.
So it's no longer a little vacuum cleaner much much improved there. CPU temperatures are good around 46 degrees centigrade to the cores when doing average productivity work which is pretty much par for the course for an ultrabook and way under the maximum thermal allowance of 100 degrees centigrade. So no complaints there.
Again with battery life with our battery that's sealed inside a huge capacity battery in here just like sony Acer has learned that you got to put a big battery in these guys. So they filled up this whole section and we have an internal image that will show you so you can see what the internals are like.
A very big battery means good battery life. Routinely so far 6 hours on a charge which is reasonably competitive with other longer-lasting ultrabooks on the market. Now it's not going to match the MacBook Air 13-inch as well but among Windows notebooks, I think that's quite usable for many people.
And that means 6 hours of actual use time not six hours including sleep time that's a lot of time I should go to use your notebook. As you can see we have Dolby speakers here on the bottom on each side. Not too loud, unfortunately. Acer has impressed us with some of their products like the w 700 made a really loud 11.6-inch tablet there and their 11.6-inch last generation s7 was also quite good.
These are just okay they distort if you go much about 75% but we'll play some video so you can hear them. The laptop has Intel 7260 and 802 11 BG and Wi-Fi same things using the VAIO Pro 13 as suffer it's actually not been problematic for us a maybe Acer had a little more time to get those drivers ready, unlike Sony who tried so hard to be first to the market with as well.
But we've seen pretty good data transfer rates and normal behavior no disconnects when 40 feet from the router which for us is pretty much as far as we can get with our access points given the number of walls we have in between before we start to see some problems.
However, even going outdoors and there aren't some big walls in between this guy does pretty well. As Bluetooth 4.0 as well. And speaking of the VR pro 13 here it is next to the bio pro 13. You can see just about the same footprint. Both of these are very attractive laptops.
The VAIO Pro starts out a little bit cheaper at twelve hundred and fifty dollars for the same I 5 and 128 gig SSD. Of course, you do get four gigs of ram on the vo versus eight gigs on the Acer. The Acer by the way retails for $1,500. We have the Microsoft signature store Edition right here. And the i7 1.8 gigahertz 4500 you sells for $1,700 and that gets you a 256 gig SSD as well still eight gigs of ram.
Now I'll have a smackdown of both of these guys so we can compare both them and help you decide which one might be better for you. One thing I will say is each of them is might feel delicate in their own way. The Acer is more rigid but it has glass Gorilla Glass 2 for this surface here and on the screen buts though we always feel like we have to be a little careful with glass and the sony is carbon fiber which is a flexible thing so some people are disconcerted by having a flexible product.
And now for a little web browsing. Obviously, this is a standard Windows 8 computer with a 64-bit window inside. It can handle web browsing just fine. And it's a quick Ultrabook at that but we're really going to take a look at some video playback so you can hear what the speakers are like and see how it looks and what it plays video.
By the way, again our desktop scaling is a hundred percent so we're not zooming it anyway and our IE is set to 100% as well. So this is what text looks like you can of course pin zoom to your heart's content or you can set the default zoom for text to be larger as well if this is too teeny for your eyes.
We'll take a look at our video review of the asustor republic of gamer g7 50. Yeah hey, this kind of loud advice. So we got the volume there but it's also pretty darn harsh. Anything above 50% starts to feel a little irritating to me.
You might like it okay but it does make a considerable amount of sound I would say for something that's thirteen point three inches. So who's the Acer Aspire s7 – 392 for anybody who's looking for an ultrabook and once like a little bit higher-end definitely you want a higher resolution display like this one has.
Touch screen with gloss super thin super light if those kinds of things appeal to you obviously you're going to be looking at this. Again this is going to be on the price here and abed starting at $1500 the for an i5 processor. A little shocking when a certain manages to be more expensive than Sony there but still it's a very compelling and very attractive-looking product and I like the fact that they have improved the keyboard so it's much more comfortable to use.
Certainly large enough that in terms of ergonomics of doing this that's just fine on it. Also, the cooling way improved from the last generation so no complaints with that. Doesn't sound like a vacuum cleaner anymore. A gaming machine obviously it's not. This is an ultrabook with integrated graphics until HD 4400 graphics.
Again you're looking at a 3d mark 11 scores around a thousand for the performance mode. But you can play casual games on this you can play sip 5 on this you can play older games on it it's just fine. This is not your machine for Call of Duty or Crysis 3.
So that's the Acer as far as seven is just starting to appear in stores now. Again this is the dash 392 model that has well inside. And if you're looking for a premium ultrabook it certainly is attractive and largely it has everything that the first generation did that we liked an awful lot.
The beautiful white glass lid slim design is incredibly lightweight. That has some competition now from saying the Sony of I owe Pro 13 and I'm surely giving me some other ultrabooks out there as well there might be a little less expensive while still being premium. Still, if you just live for this design and you love the look of it I can understand that.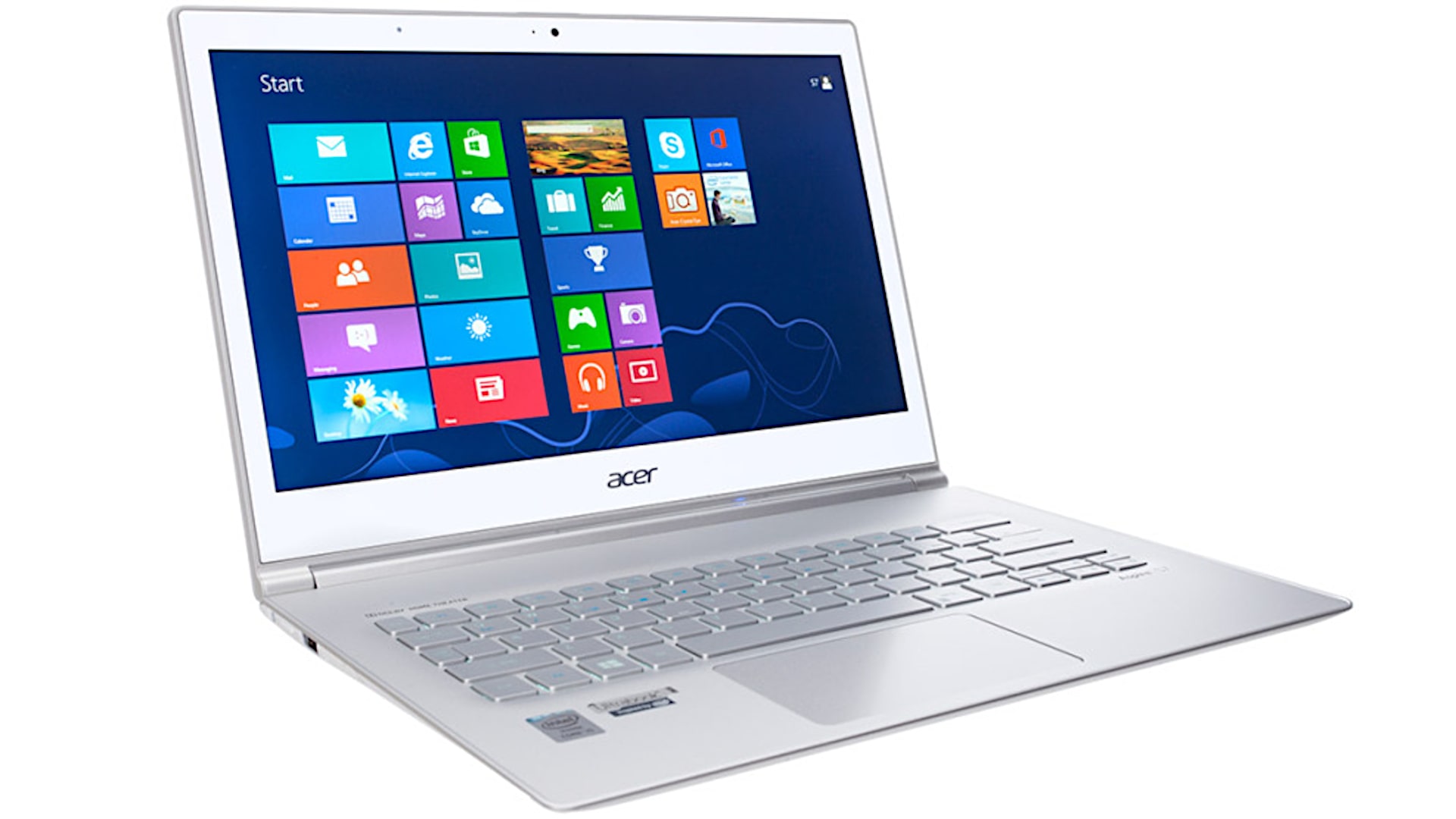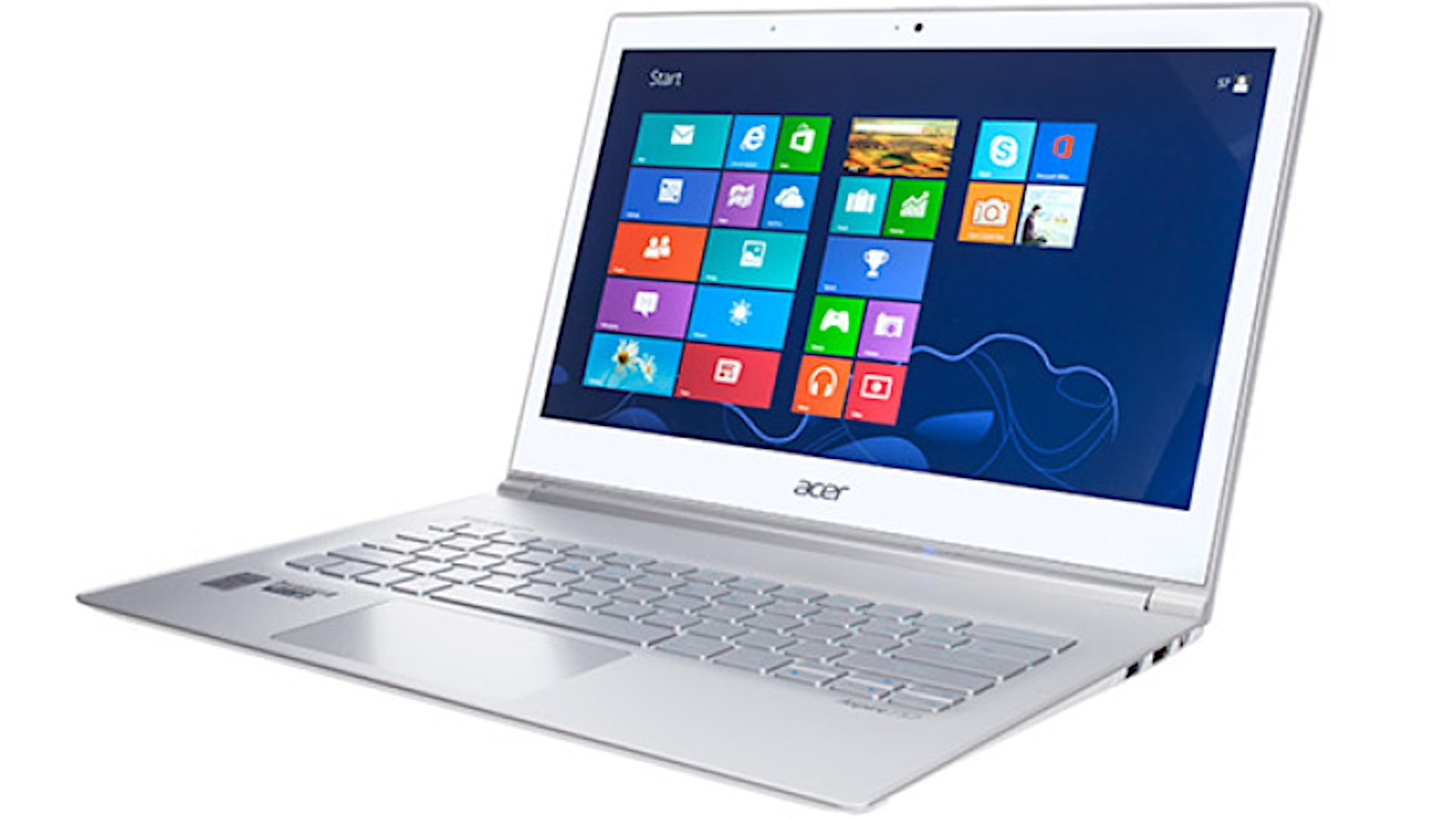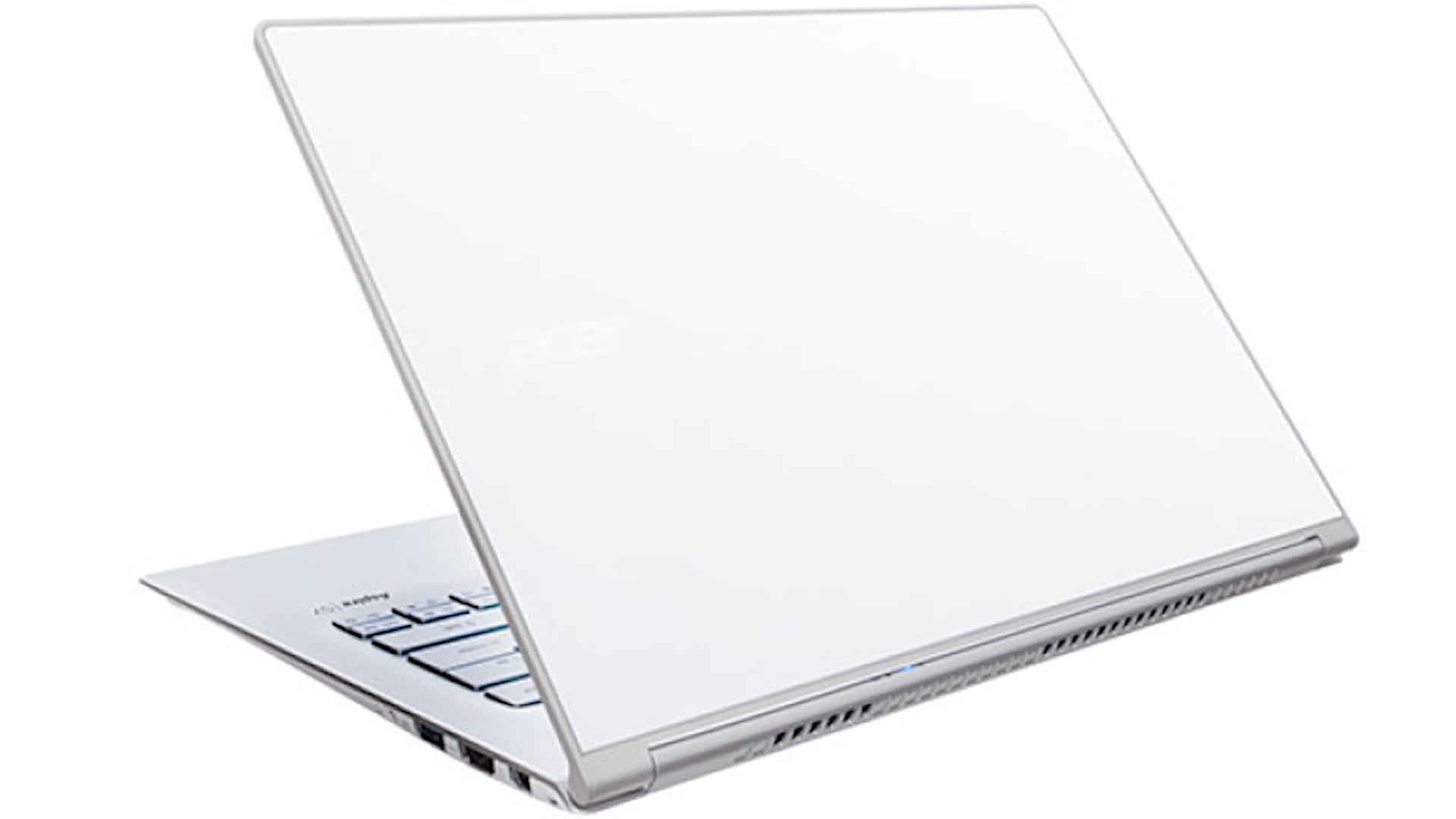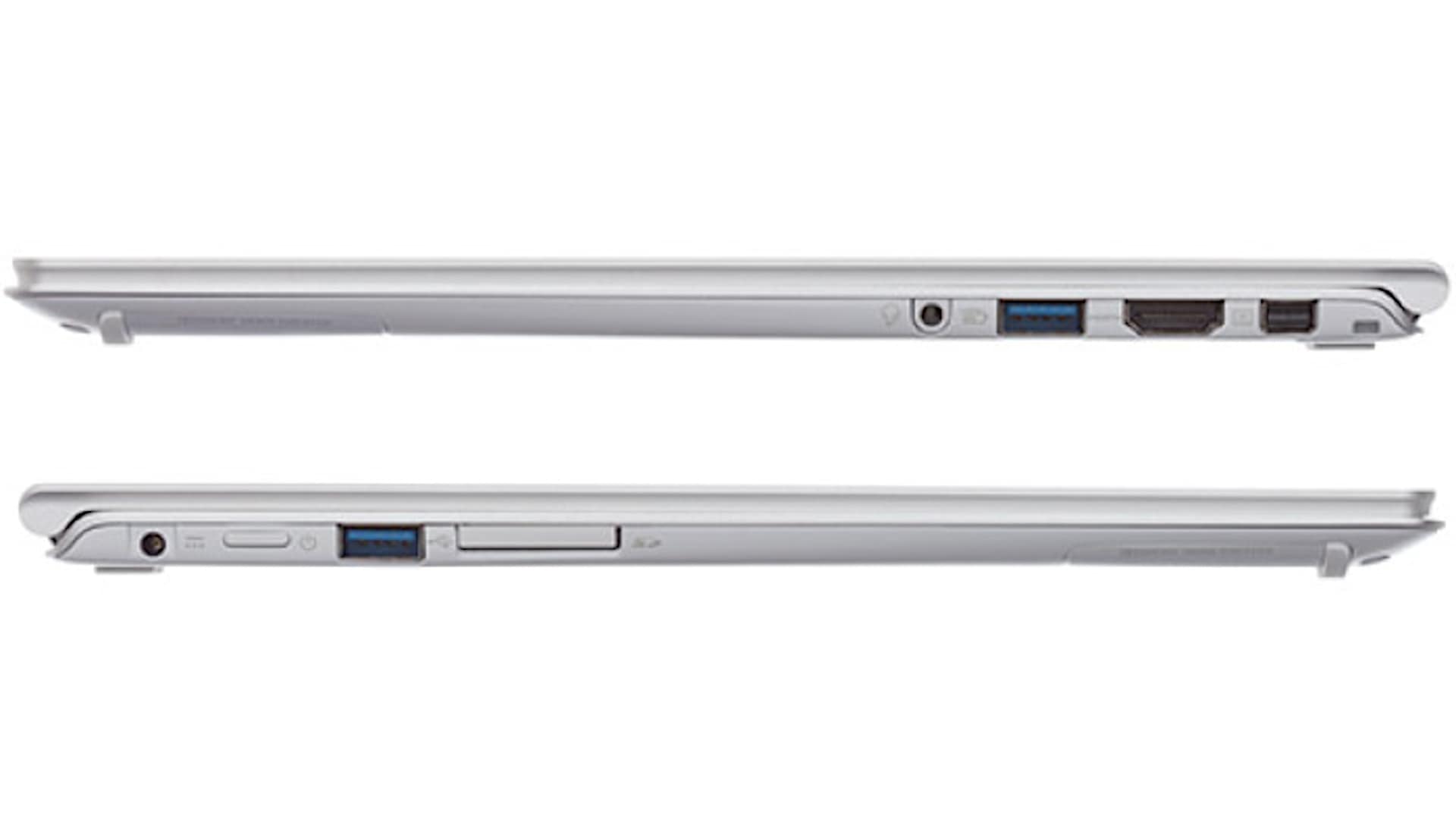 Acer Aspire S7-392
Performance -

95%

Price -

94%

Value -

95%