In this article, I give you my Acer Aspire Switch 10 Special Edition review with specs included. This is actually better looking and a little bit classier than an average Switch 10. It's certainly much better looking than the Switch 10 E which has a plastic netbook feel. The full name of my device is Acer Aspire Switch 10 Special Edition SW5-015-16Y3.
I've been covering a lot of very expensive laptops and convertibles and there are some more expensive ones on the market that compete with this generation Switch 10. The price (for a new device on the release day) for this one is just 349 US dollars.
Besides the Gorilla Glass 3 white glass lid, it reminds me of the Acer Aspire S7 which was a pretty classy ultrabook in its day.
This is a 2-in-1 with the magnetic Acer Hinge 2 design so it comes apart and then you have a 10.1-inch tablet with an IPS display that is actually quite colorful, very sharp, and vivid.
The display resolution is 1280 by 800. That's not too impressive but it's fairly appropriate for 10.1-inch display size. After all, we're not talking about a big surface here and you don't need a lot of Windows scaling to make use of it.
Acer Aspire Switch 10 Special Edition weight of the display part is 1.3 pounds and if you attach the dock section which is included (for $349 MSRP) they weigh 2.6 pounds together. In this price range, you're not going to get a wafer-thin kind of thin and light design on any laptop.
The keyboard is fairly usable for a 10.1-inch device. Even if you have big hands it's going to be the size of a netbook. I didn't have any problem adapting to an even smaller keyboard. Also, the key travel on this is fairly good.
As a magnetic connector electrode connector right here and the magnets here HS is that's good for holding 6.2 pounds worth of weight. So obviously it's enough to hold the two together if you happen to pick it up like a laptop.
The bottom is genuine plastic here but it doesn't flex it doesn't feel too cheesy. I mean for the price it's actually pretty darn impressive. With the trackpad fairly large fairly useful.
So this is the Acer Aspire switch 10 special edition. The special edition gets you the gorilla glass 3 lens. They have the brushed kind of a sort of illuminating-looking version that we reviewed about a year ago.
The specs inside are pretty similar actually to the one we reviewed a year ago. And now there's a spire switch 10e as well. That one has a very plastic playful colorful great for kids kind of look.
I don't know. Comes in three different colors and the apex of a class is not. So this is certainly the best-looking among them. And the price isn't really much higher considering all that it's $349.
There is only one configuration of this and as I mentioned Costco sells these in the United States you can also get it from a sirs website.
Now we have the exact model number in the video description so you can figure out which one that is because there's a lot of difference which tends apero on a sirs website at this point. Interesting design line over here.
They chose to keep it kind of a unified look and I won't complain about that. It looks nice gorilla glass all around. Switch it to the side it looks like a baby laptop because well that's basically what it is.
Only it's also a convertible that comes apart and you can use it as a tablet if you want. You can also set up in tent mode too. When you close it satisfying think actually of something this inexpensive and not too too bad looking there.
And then we've got our windows button on the side. So if you're using this tablet you can hit that. You got our power button right there we have our volume controls over here and this on the keyboard dock section is a full-size USB 2.0 port.
The back looks like this. And on this side, we have our round power connector. This uses a standard 10-watt charger which is pretty common with Intel Atom tablets. A lot of them use actually a micro USB style connector.
This actually has a dedicated round connector. So it's not going to use up your us micro USB port to charge it. It's your little compact very lightweight charger with the skin cord. Here we have micro USB 2.0 we have micro HDMI and a micro SD card slot.
Now, this particular model is bundled with a 16 gig micro SD card slot. Why I don't really know but hey it doesn't hurt. Has 64 gigs of internal flash storage and as is the way with the Intel Atom Bay trial era CPU.
So this one hasn't been updated to Cherry Trail. It uses EMMC style flash storage so it's not SSD with the SATA interface it's a bit slower. The microphone hole right here has a 720p webcam.
There's the bottom now typically this has a harddrive data because some of the other switch 10 miles actually have an optional 500 gig hard drive and if you open this up that probably would be a dry Bay and there if you want to expand your storage some more.
All in all not too bad looking not too heavy, especially for the price. You're not going to get aluminum alloy in the lightest weight materials everywhere in fact a glass if anything should add a little bit of weight though.
It doesn't really weigh any more than the switch 10 e which is a plastic construction device. And inside this is running Windows 10 home. Now for some reason, it thought a 64-bit CPU is running home 32-bit.
Not a huge deal for probably the folks who were going to be buying this is not like it going to be looking for a speed demon with 64-bit performance for the operating system just a little bit of an odd pairing there.
So Windows 10 full edition home there no more than big edition business I was going on with Windows 8.1 that's all gone. Keyboard absolutely normal layout. And you've got an FN button to control your volume and your brightness and all that sort of thing.
It's not bad to type on honestly it isn't. As long as you can get along with a small keyboard. And to separate it you just yank. Very strong magnets are in play here it really is kind of impressive.
In fact, you to actually hook it up kind of the wrong way because it's pulling together so strongly and it'll tell you that it's docked or undocked to there.
Can you put it on backward let's find out? Yes, you can indeed, and then you can use it like so. And of course, you can use it like that as well if you want and my favorite is just to do this if you're watching a movie or something like that where you don't need the keyboard and that way you don't need a stand.
Since it's an IPS display you expect wide viewing angles but there are different levels of IPS display. This one is very colorful and has nice contrast that is sharp but feely idols are ok they're not super fantastic.
In part because it's a very glossy display it's also fighting glare here. But you can see how when you bring it on that way it's looking a lot better. The up-downs and other again glare are pretty good no matter how you angle it.
You're just going to have to deal with once again glare. Speakers are right here facing you. For a 10-inch tablet, the volume is pretty good actually. Performance well this is not going to be the sharpest knife in the drawer.
This is an Intel out of 1.3 3 gigahertz it's the atom z3735f PU of the Bay Trail era and has boosted to 1.8 3 gigahertz 2 gigs of ddr3 RAM. Again the 64 gigs of emmc flash storage. So here's our PC Mark 8 result right there 11 36. That's about half of a core i5 recent ultrabook or so.
So if you're not going to be doing video editing on this you're not going to be doing CAD work you might be able to get away with some Minecraft.
I know everybody who has everybody was asked by Minecraft on every low-end device you probably could do that. It's fine for Windows Live tile apps it's fine for MS Office it's fine for web browsing it is great for email social networking some light pho editing that sort of thing. But, it is gonna seem a bit slow if you start multitasking much because it only has two gigs of RAM and that's as much as you can go.
There's no expandable memory in this. For W Prime a computed PI in 37 seconds. That is really impressive. Core i5 ultrabooks do it in 19 seconds quad cores do it in about eight seconds so you get an idea.
That's a good indication of computational promise. This does have Intel HD graphics. No dedicated graphics here and off for $349. Geekbench 360 for the 32-bit test rather since the 32-bit OS that's all we could test.
772 single-core multi-core 21:29 unsurprising. Once again that's about half of what you get on say a Core i5 or even some of the core M products out there. But this guy is a lot cheaper.
Now if you want to move up the food chain there are products like Microsoft Surface 3, not pro 3 just Surface 3. That's running on the newer cherry trail atom platform.
It is faster you do get a digital pin bigger to screen to the keyboard of course is optional so if you include the type cover in with that you're looking at almost twice as much money too.
So again this is for the budget-conscious type to really don't need a whole lot of computing performance and maybe something as small as possible is what you want and not too bad looking which is exactly what this is.
It does have dual-band Wi-Fi a2a2 11n. It has a touchscreen there is no digital pin support here on this. Bluetooth 4.0 as well 2 cell battery 59 10 milliamps.
Acer claims eight hours as a maximum on the charge. We're seeing about seven or so I mean these things are pretty power frugal. The entire battery everything all the brains are inside the tablet here so.
It doesn't matter if you separated cell phones from those devices with a secondary battery in the base. Pretty simple here in terms of design. So how about the speakers and read browsing.
Well here's our website mobile tech review and touch goodness right here. We have a video embedded right on our front page which is the surface book and surface pro 4.
Much higher-end devices granted but we're going to play that just so you can hear the speakers at 50% volume. We do are they will be in a minute go 52%.
Now that's perfectly adequate for a 10-inch tablet. In terms of speakers, it's not fantastic will raise the volume a little bit more so you can see it but the video itself actually streaming smoothly it looks good.
We're up to 74 percent volume honestly it's not that much later at 74% volume kind of odd that but anyway. It certainly looks nice enough when you're playing video.
And as long as you keep it to one or two tasks it is pretty darn responsive. Like I said you just don't want to have four programs running at once with only 2 gigs.
Or keeping it you know to three at most. And to be doing ok with this. So that's the Acer Aspire switch 10 special edition again available from the Asus website from Costco stores in the United States.
And well it's a little bit laptop it's a little bit tablet. At 10 inches it makes sense certainly as a tablet and at 10 inches it's a challenge to use as a laptop with your big hands but otherwise not too bad.
And honestly, it's not bad looking. It's hard not to like it when you look at it. The design is pretty pleasing the back is nice looking on this the display is sharp colorful and clear and it's 349 bucks.
So if you're looking for something on a budget maybe for some of the kids in your family that certainly the keyboard size would be great for children so bad on.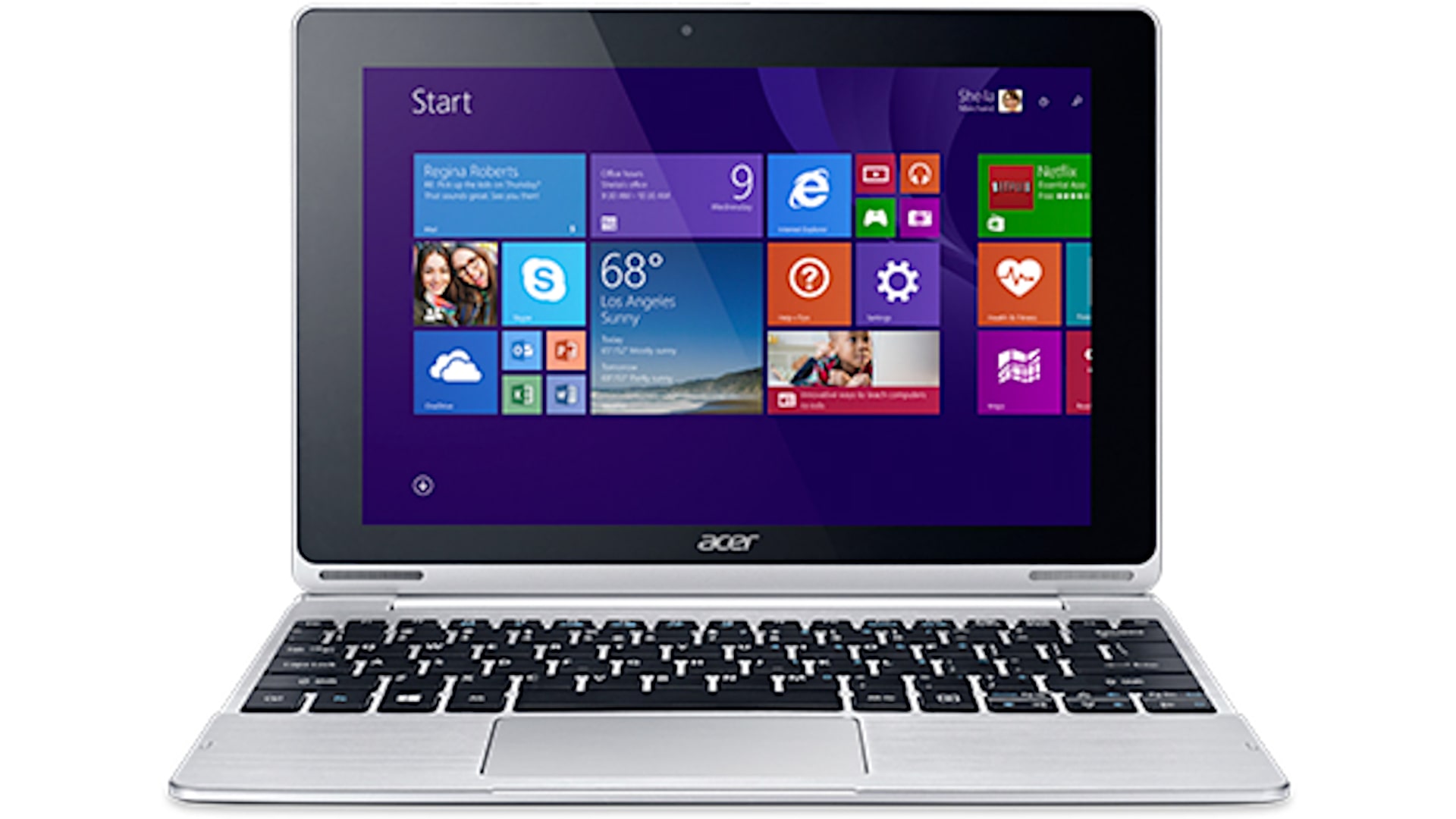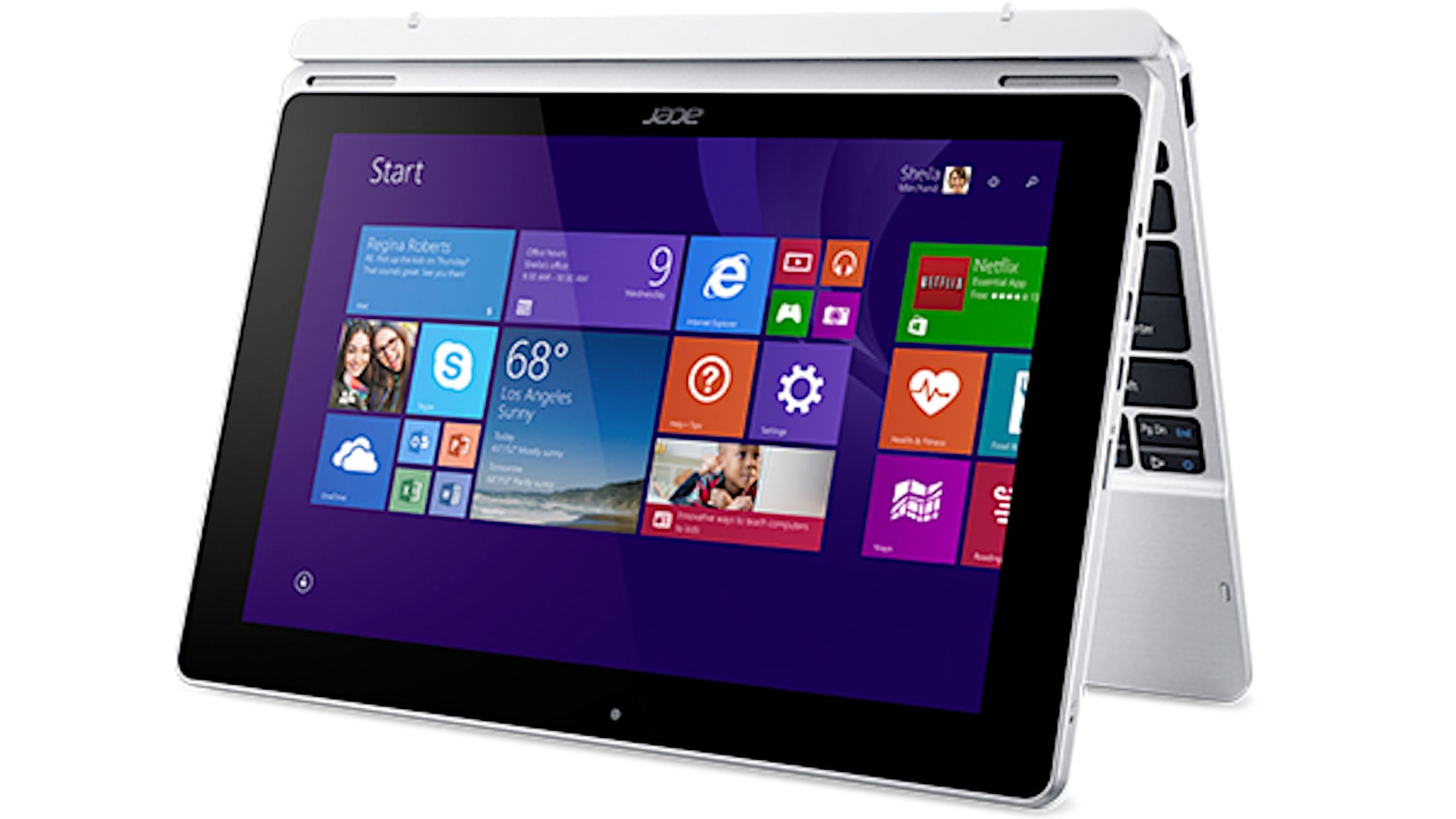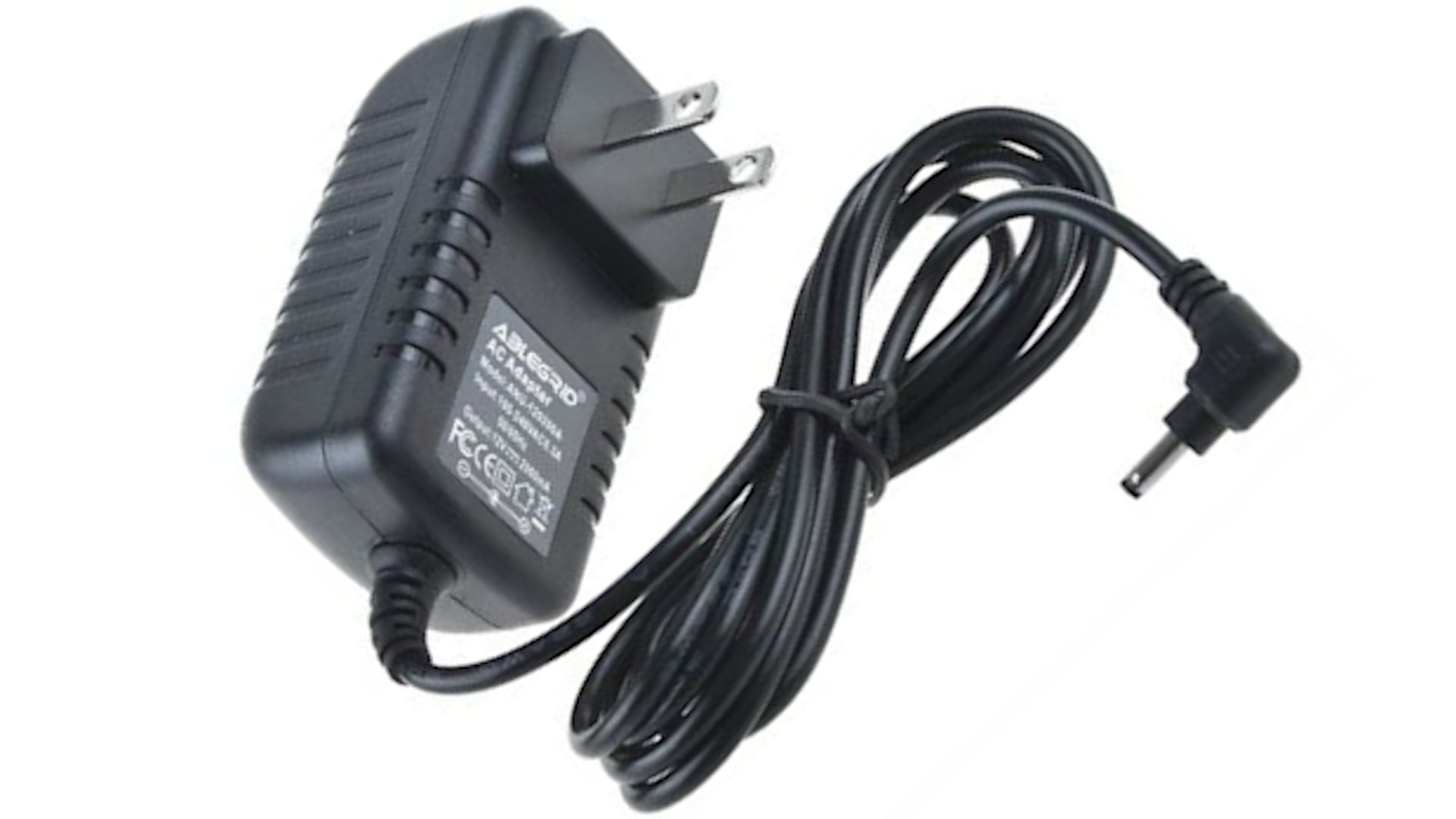 Acer Aspire Switch 10 Special Edition
Performance -

95%

Price -

92%

Value -

94%