In this article, I give you my Alienware Area 51m R2 review with specs included. This is the second generation of their desktop replacement class gaming laptop with Intel desktop CPUs inside and socketed and upgradeable graphics cards as well. It's actually my favorite Alienware.
This laptop is so powerful it requires two power supplies. One is a 330-watt power supply and the other one is 180-watt. If you go with the Core i9 overclockable and the RTX 2080 Super you might actually get a 240-watt second charger, so slightly bigger. You can use it with just one charger if you're doing light work or streaming video but not with optimal performance. So, you could just use the 330-watt charger to run it.
The reason why this is my favorite Alienware gaming laptop is that these days there are not many desktop replacements on the market.
For those who don't need to carry it around in your backpack everywhere and just want to take it from room to room in the house and you want a quiet and powerful PC, well desktop replacements still fit that bill.
And beyond that, this one has the Intel desktop CPU. You can get a Core i7 (with or without a K – overclockable), Core i9, or a Core i9 K-series overclockable 10th gen CPU inside.
The graphics card is swappable and upgradeable so you can pop it out and pop another one in. The graphics cards use the Dell DGFF connector. Supposedly they're pushing the desktop-level performance on the GPU and physically it is still smaller than the desktop card but it is using a lot of power.
For those of you who read my Alienware area 51 original version review you remember the big promise here was wow an upgradeable laptop we haven't seen this in decades almost it seems like. So the cpu is and this uses the intel z490 chipset which the next 11th gen cpu rocket league should use.
So in theory would be compatible whether the bios supports it i don't know. So the idea might be we're still stuck with tension here but you could upgrade if you started with the core i7 basemon you want to go to cory9oc or something like that. And with the graphics cards it's just going to be within the rtx 20 family of gpus. And there's no promised upgrade to go into rtx 30 gpus.
Now you could use a alienware graphics amplifier or thunderbolt 3 external line if you wanted to go to a 3000 series and keep using this laptop. So take the upgrade ability with a grain of salt. What it does give you another thing like that was repairability. It used to be if your cpu died or your gpu and that happened with some of the first area 51 first gens because they're letting overclock that gpu and over vault it pretty high. I you just get another one swap it in.
Likewise, ram is still socketed here. Unlike the regular alienware m17 r3 and m15 r3 they now have soldered ram because they're trying to make them so thin this has two ram slots. Yes that is down from four ram slots in the original model the area 51 but I'm guessing they did this for speed reasons and that gets pretty complicated and geeky but anyway. You've got up to 64 gigs of ram.
There's two options now the ram is now faster too. 29 33 megahertz so you go up to 64 gigs or they have 3200 megahertz xmp ram support. In fact we have 16 gigs of that dual channel configurations that goes up to 32 gigs max right now. So for those who are hoping for that faster ram and the last generation well it's finally here now. Cooling before was pretty good on the area 51 but there was room for improvement especially for those who are trying to take advantage of overclocking for the overclockable CPUs.
So now the cpu has a vapor chamber which is something they're also doing with the regular m15 m17 line. So that is more effective. In fact temperatures are better and the intel 10th generation cpus are a bit be better behaved thermally speaking. Even though the architecture isn't a lot different. What i can tell you is we have the core i7 10 700 k.
So it's the i7 overclockable eight core cpu. It performs a lot like the last generation i9 overclockable but without the thermal problems that we saw in the original one on the i9 cpu. And now we still have the lunar light and dark side of the moon colors but just like the m15 m17 again we have the high performance clear coat. So you know cheeto fingers all that sort of thing.
It was possible to get stained yellow palm rests i hear with the lunar light eventually that should go away not be a problem. The keyboard has also changed on this the old one had the bevel side keys which really felt good. I know a lot of people said oh my god that looks like such an old style keyboard but really was very pleasant to type on.
So now they've gone to the chiclet or island style keyboard which to me i thought i was gonna be too happy but it feels very good it's got a nice crisp feel good key return all that sort of thing. A lot like what you would see on the m17 r3. And your m17 r3 had an improved keyboard over the r2. So give it a try before you say no to the newer style keyboard.
So the keyboard is perky RGB backlit with the usual alienware fx effects to light it up. The alienware logo on the lid lights up unless you don't want it to then you can turn it off as well as a tron light on the back which is the light ring on the back which i think is pretty cool. Uh they're still not doing it msi does which is lighting up the usb a ports which is really handy.
And also the trackpad still lights up that's something that i miss on the m series of alienware thin and light gaming laptops where that doesn't light up. This is a synaptics trackpad with two dedicated soft touch clickers on it. My guesses are using synaptics instead of microsoft precision probably because this special light up trackpad may be not available with precision setup.
Anyway it works just fine it looks slightly smaller relative to the big chassis here but i like it it works it's predictable behaves well. Keyboard like i said i like the feel of it yes it's not the bevel keys but then again it's a pretty durable keyboard and it's comfortable it's got good key travel it's even suitable for gaming. So desktop replacement laptop with a desktop cpu inside can't be cheap right.
And no it's not cheap obviously but alienwares in general are not unless they're having a great sale. But it starts at around well under 2500. The lowest end configurations have the core i7 10 700 not k model just the regular i7 non-overclockable and they have the gtx 1660 ti card which i think is going to be kind of low and if you're buying this kind of laptop you probably wouldn't do it.
Unless you're figuring well i'll just pick up one of the other gpu cards from dell later and upgrade anyway. Or under 2 500 for that one. If you want to get rtx 2060 it starts to get more interesting then you're looking at around well 2550 or so. And you can go to town and you can go up to the core i9 10 900k which is a overclockable 10 core i9 CPU.
Which for thermal reasons and gaming reasons i wouldn't i'll talk about that so much but anyway. And you can go up to the rtx 2080 super and you can blow out four thousand dollars if you really want to go to town on this one. To me the sweet spot would be the core i7 10700k that we have here and the rtx 2070 super.
Because you get a lot of performance with the 2070 super with a bit less thermal consideration than you do with the 2080 and hundreds of dollars less than the 2080 cost. The performance delta to me isn't as much worth it i know some of your hardcore enthusiasts or benchers and you just want to get the highest benchmark numbers possible that's your decision there.
Why would i pick the i7 over the i9. Mostly for thermal reasons and if you're gaming. The difference between eight and ten cores really isn't there so much. But for those who are buying this to use zbrush and do rendering and professional work that sort of thing work mobile workstation level only on steroids which is really what this is then i could see doing the i9 or the i9 overclockable.
Why would i pick the overclockable i7 over the base one. Not because i want to overclock it but actually for other thermal consideration reasons here. You unlock all the control over timings the cpu voltage all that stuff you know not just under vaulting using throttle stop and you can use Alienware command center to do this stuff or you could do it yourself but you can't use the bios to change the timings by the way they have that lockdown but anyway.
The k gives you the versatility to actually control your thermals better because this thing has so much power. I mean I'm playing borderlands at 130 frames per second on ultra 1080p that really what I want to do is control the thermal zones. I don't want to hear a lot of noise I don't want to be forced to wear a headset just to drown out my laptop.
I don't want to have to worry about the CPU longevity much as dell engineers say oh it's okay to hit 100 and as we all know. And a lot of intel engineers say really it's better to keep your CPU at 80 especially a desktop CPU or less. So it's pretty easy to do here and have phenomenal frame rates for 1080p gaming. Now there is enough horsepower here for gaming that you could certainly easily game at 2k and even 4k resolutions but i think 2k is the frame the sweet spot i feel really like high frame rates.
4k you're looking at frame rates in the 60s for most games. Not ps4 ports like control which are typically pigs but for more optimized game. So there you have it desktop replacement can equal quiet peaceful I'm not going to burn up my laptop-style gaming that's what i like about it. Now in terms of the displays those have we got a whole new set of options from the area 51 original edition which I thought was a little lacking.
For example, there was no 4k option on that one for people who are content creators that are buying this to do rendering or video editing. So we do have a 4k 60hz wide gamut display option and that one is matte. We also have the base which is 144-hertz full HD IPS. And the one that we have which is a 300-hertz IPS display. These are the same display options that are available.
It's no surprise on the Alienware m17 is free they're using the same panels on both. And because Nvidia just announced their RTX 3000 series cards today and faster g-sync and all that sort of thing there's going to be a 360-hertz option. This gets to be mind-boggling but hey. I do like the 300-hertz display just because everything seems so buttery smooth and there's no ghosting and it's fast response times and the color gamut's a little better than that 144-hertz base model. Dell does have options with and without g-sync.
I really wouldn't worry about g-sync if you're getting something like the 300-hertz display though because the display is going to be faster most likely than any frame rate you're going to be getting out of most games. Although it's possible with something like overwatch if you're playing on high settings even that you might.
But anyway uh. Interestingly enough on our machine it should the intel integrated HD 630 graphics shows up but you can't use it you can't switch to it. Usually, when it's dedicated graphics only you don't even see it in device manager. So it's interesting this is the kind of laptop you're going to use on dedicated graphics all the time.
It has a 90 watt-hour battery so given the performance requirements of this machine it's there not just so you can move it from room to room while it's unplugged without shutting down like a desktop computer what you can actually run it for about two hours if you're doing something like streaming video or surfing the web that sort of thing. So it has some independent from the other outlet functionality going on.
In terms of the power that it consumes I mean obviously, we have 510 watts of power possible here from these power adapters. And if you are playing with overclocking and all that sort of thing then you might actually need that much power. The way I have a tune which is not really very conservative and you can see the profile that I set up in the Alienware command center.
I'm setting the CPU voltage at 1.3 volt which is perfectly reasonable. Overvolting a CPU is a great way to get it really hot. I have an under vault also for negative 65 millivolts. And the core clocks I'm sitting at a max of 4.8 gigahertz on all cores. So that's pretty reasonable stuff. And there I typically see when gaming hitting about 300 to 320 watts total power.
The CPU is typically using 120 the GPU is using the rest of that it's quite a lot of watts to be pulling through a laptop. But again that's something that you're doing when you're plugged in. In terms of ports on this well it's a big old laptop you're going to have plenty of ports obviously. Plenty of USB a ports you have a thunderbolt 3 port.
And by the way, it works with Wacom displays without any hanky-panky weirdness that USB-c thunderbolt 3 port. And you've got DisplayPort and you've got hdmi and of course, you've got a headphone jack and yeah a full-size sd card slot. So the port situation as you expect is good. And you have an Alienware graphics amplifier port too. This is still if you're going to stick with the Alienware brand a reasonably affordable way of adding an external GPU.
It's typically a bit cheaper than a thunderbolt 3 enclosure is. But you could do a Thunderbolt 3 enclosure on this as well. We have stereo speakers with the front vents for the audio like we saw on the m15 and m17 most recent generations. And the audio is pretty good it should be this is a huge laptop. There's no subwoofer here but has a reasonable amount of bass on it. It's fairly pleasing. When i play games without putting a headset on i don't feel like it's tinny.
For competitors, we have the MSI gt76 titan because they don't offer the range of configurations going to lower-end GPUs and all that sort of thing. That has a desktop CPU in it besides but it's pretty much a high-end configuration. So you're looking at around 43 to 4 500. That one does not have a socketed GPU and it has typical MSI aesthetics which is to say a little bit challenge but hey there's more to a laptop than the beauty of it. But it's a lot more expensive typically.
Unless you really configure the Alienware up and then there's price parity on. Uh Asus is pretty much leaving the desktop replacement model behind for the moment. Of course, there are always some clevo chassis that are available to you too. So there's not a super lot of direct competitors going on here. Gigabytes aorus they're not using desktop CPUs so. But other than that big chassis laptops with lots of cooling you get there.
Take the bottom cover off you just unscrew the Phillips head screws are all visible and then just pry your way around so easy if you start from the front it's not too hard to get off or use a suction cup to speed things up. So you can see there's little tangs it slides underneath the butt area here. So here's our internals. Looks almost identical to the last generation.
And here instead of seeing heat pipes, we can see the vapor chamber over the CPU which is very cool. If we look in from the side you'll see the bayonet that lifts up the CPU anchor point. Because it's a desktop cpu so that works just like well a desktop CPU. Our ram is right over here again we got the 3200 megahertz ram with 16 gigs in dual channel mode yes in the last generation and the height is still here available for it. There were four slots for ram now we're down to two.
I think this is probably for speed optimizations and other things that get really geeky and you know tech folks love to argue over such things that's my guess. Here is our socketed wi-fi card it's the killer 1650i wi-fi six card good card. Obviously really nice big smooth fans going right here nice deep dish turbine style. Batteries here 90 watt-hour and this is the boot SSD or ssd1 m.2 nvme.
Here's the slot for a second SSD if you wanted. And here's where it gets interesting so over here obviously this is you can tell a caddy for a hard drive. You can put a three and a half a two and a half inch SSD in here or a spinning mechanical drive. Alternatively, they also make a connector that would replace this which connects to the motherboard over there so you can have two more m.2 PCI-E SSDs. And they'll just say they're pcie if you do that. So that's interesting and versatile so there's the internals.
If you want to take this fully apart then you take off the aft cover over here where the tron lights are. Four screws shiny ones you can't miss them. There are two on the rear edge slide this off and then undo the screws that hold this shroud down. So underneath here we have separation of cooling just like the first generation which is a good thing no heat pollution between the GPU and the CPU. Sometimes one heats the other ip you know how that goes right. So they're separated here underneath.
Anyway, to unscrew these screws take that off you're going to have to take out the wi-fi card just because the the cable is routing over the over the cover over here. Unscrew some of the battery screws not a bad idea to disconnect your battery when taking something further apart because that screws down into the frame and then you can replace your CPU or GPU if you wish to do so.
If you want to see that in detail go look at our Alienware area 51m original version review. I'll link to that in the description so you can see me taking apart everything. So that's the Alienware area 51 m2. It's a load granted but that's like I said why I go to the gym it's really not that bad folks hey. It's a lot of laptop for the money that's something to say about this when you compare this to a 16-inch MacBook Pro or some other 3 000 gaming laptops with regular mobile CPUs inside you can understand the appeal of this.
But again this is not for people who are going to need to take this to class every day or commute with it constantly obviously. This is for those who move it from room to room take it to your friends to have a little lan party do people still have land parties I don't know anyway you get the idea. A lot of power and that peace of mind of being able to cool the machine are kind of nice. And it's pretty future poop let's face it.
Yes eventually RTX 3000 GPUs are going to come to laptops too probably not until the spring of 2021 I'm thinking right now we're having a fall launch for the desktop parts and they use more watts. But anyway the amount of horsepower in here in terms of computing and still in terms of graphics is enough to drive any game at ultra settings from anywhere from 120 frames all the way up to 250 frames. So this is not going to go obsolete anytime soon which is kind of nice too.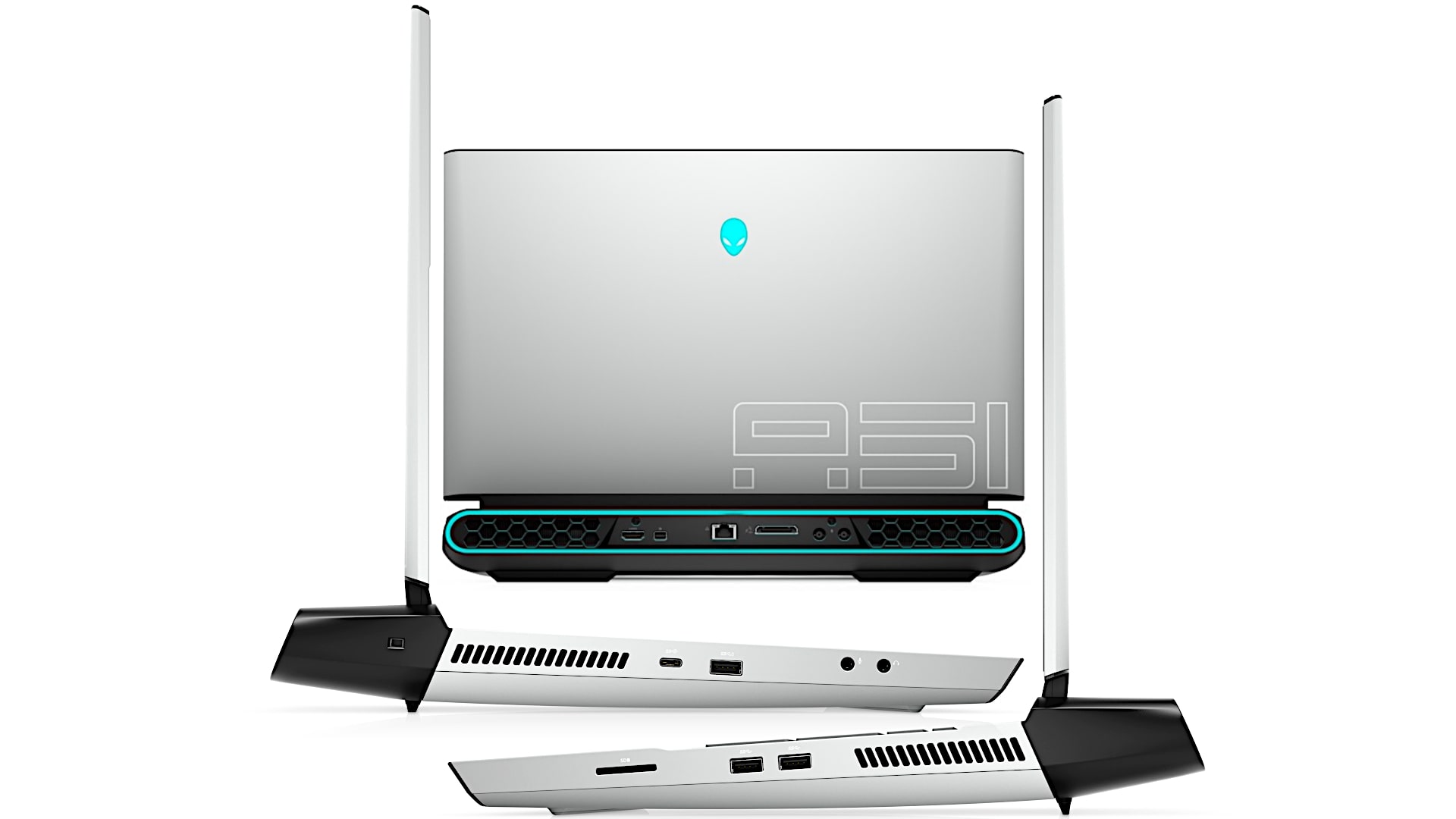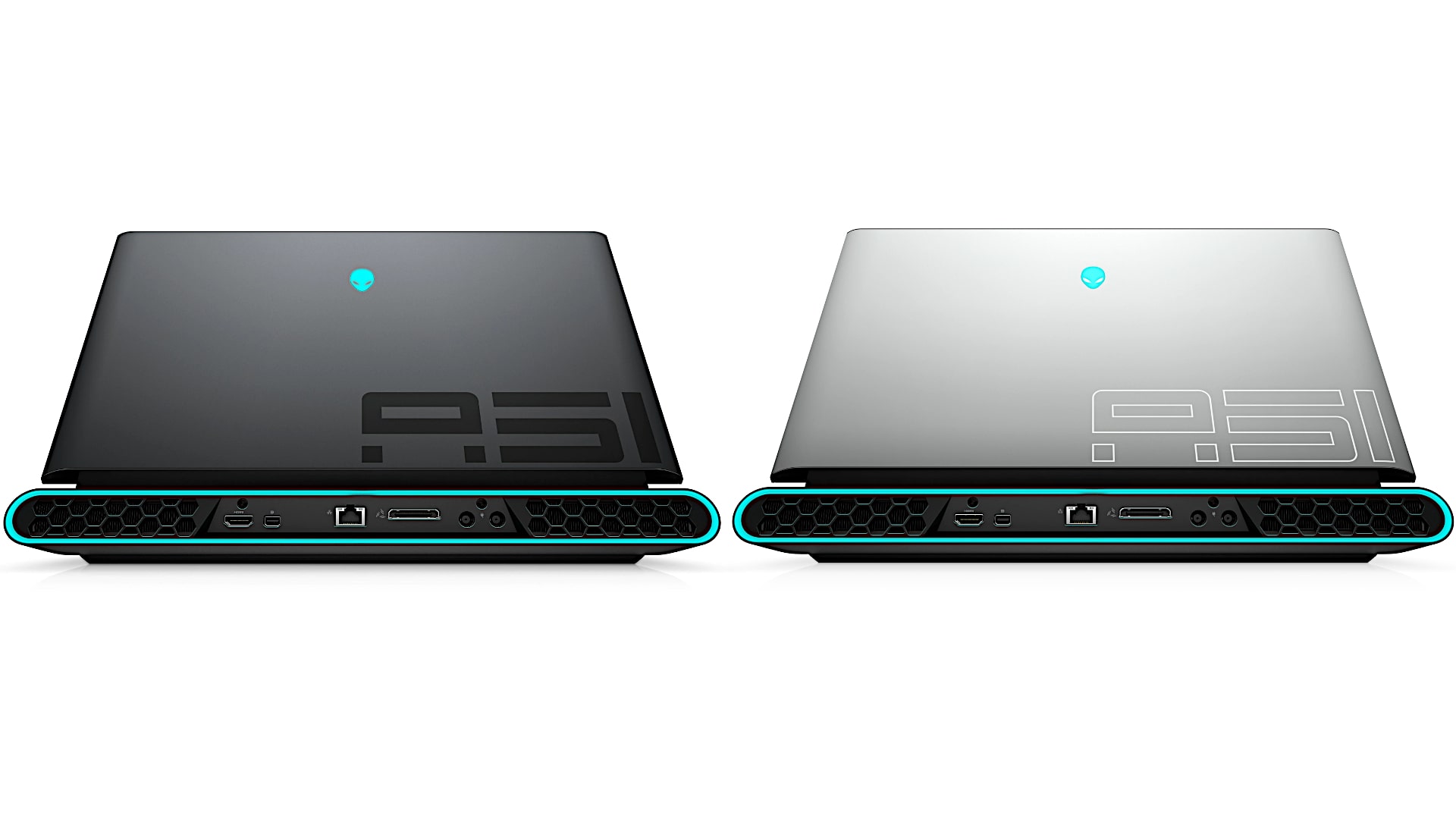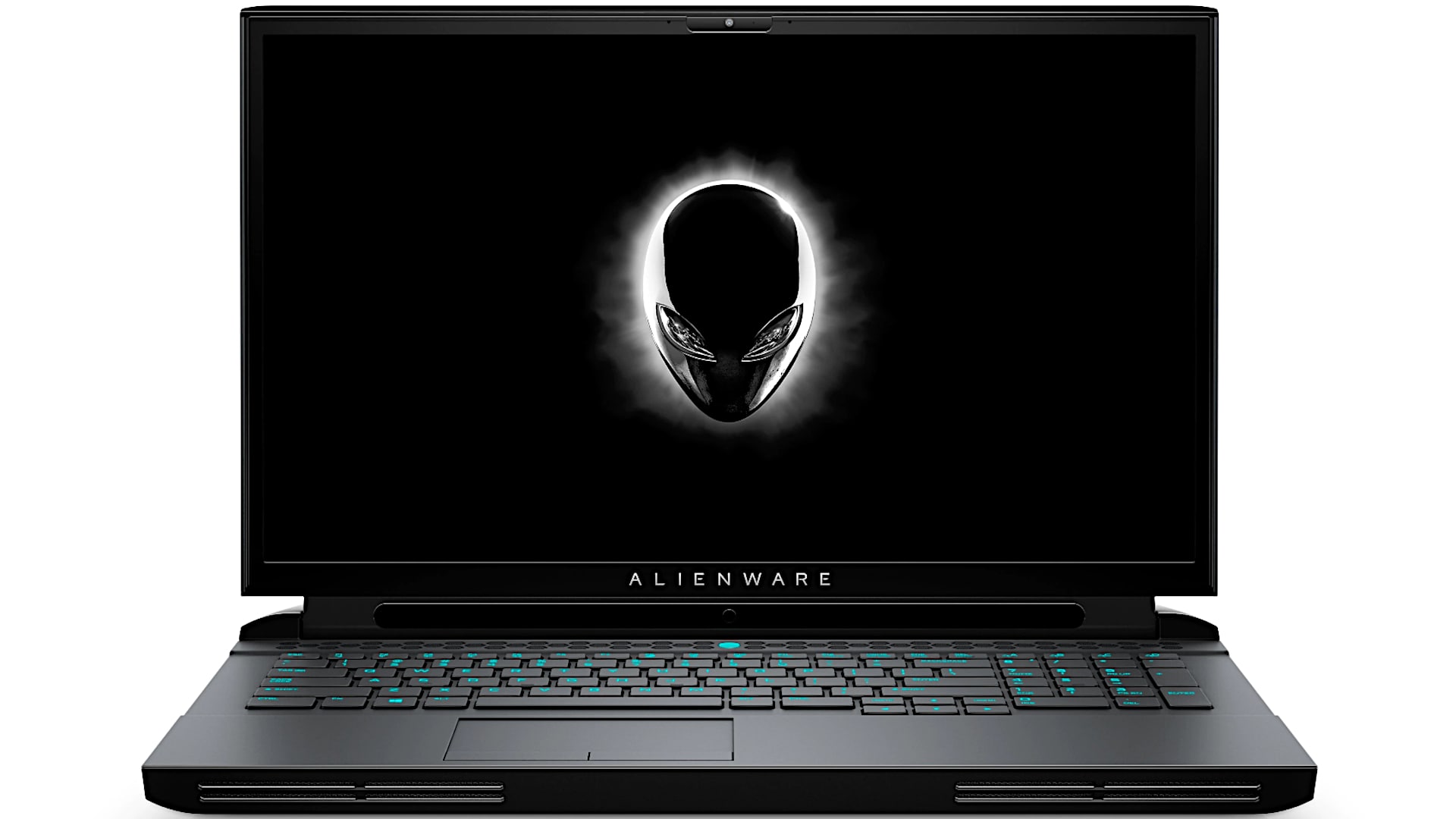 Alienware Area 51m R2
Performance -

95%

Price -

93%

Value -

94%