The RTX 4090, RTX 4080, and RTX 4070 Ti are the three GPUs that currently make up the newest line of NVIDIA graphics cards, the RTX 4000 series. Although we didn't have any official information when writing this evaluation, there will also be an RTX 4060.
The most affordable choice available right now is the ASUS TUF Nvidia RTX 4070Ti OC, although that in no way denotes its weakness. In fact, it ought to deliver performance levels on par with or even superior than those of the RTX 3090 from the previous generation. I'm examining the recently released ASUS TUF Gaming GeForce RTX 4070 Ti 12GB GDDR6X OC Edition to put this presumption to the test. 
Read this review to learn more about what it has to offer and how enjoyable the gaming experience is.
ASUS TUF Nvidia RTX 4070Ti OC Specifications & Overview
The new GeForce RTX 4070 Ti is designed for high-performance 1440p gaming at 120FPS and above rather than 4K 120FPS+ gaming. But I was utilizing the GeForce RTX 4070 Ti for some high-end 4K 120FPS+ gaming in games like Overwatch 2 and Warzone 2, both at their maximum settings, and they worked incredibly smoothly.
With the addition of 12GB of lightning-fast GDDR6X memory to the third-fastest Ada Lovelace GPU, NVIDIA has packed a significant amount of performance into the device.
The new GeForce RTX 4070 Ti graphics card easily competes with the older Ampere-based GeForce RTX 3090 and GeForce RTX 3090 Ti graphics cards, even with the reduced GPU and half the VRAM. A remarkable accomplishment, all while consuming less energy than those two previous generation flagship GPUs.
When playing games with ray tracing enabled—and significantly better when DLSS 3 is enabled—the GeForce RTX 4070 Ti's power keeps getting better. If you're playing games with RT, but especially if DLSS 3 is enabled, you're in for some happy days with the GeForce RTX 4070 Ti. DLSS 3 is specific to the Ada Lovelace GPU architecture.
The ASUS TUF Nvidia RTX 4070Ti OC Edition model that we're taking a look at today has a price tag of $849. That makes it $150 less expensive than AMD's top-tier Radeon RX 7900 XTX and $50 less expensive than the company's second-fastest Navi 31-based Radeon RX 7900 XT.
The underlying design of ALL ADA GPUs is the same. Raster, raytracing, and AI-accelerated compute performance are improved over the previous generation Ampere thanks to the use of the novel TSMC 4N process. The AD102 GPU has 608.4 mm2 of surface area and 76.3 billion transistors.
This shows that the 125.5 million transistor density per mm2 is 2.78 times more than the Samsung-fabbed GA102 Ampere GPU developed on the 8N node. Shader Execution Reordering (SER), a new feature of NVIDIA Ada (named after the mathematician), is said to accelerate raster processes and boost gaming performance by up to 25%. Additionally, Ada has faster Tensor cores (Gen4) and third-generation RT Cores (Gen3). 
The latter's performance is 4,375 times better than Ampere's third-generation cores, reaching up to 1400 TFLOPS.
By integrating AV1 video encoding functionality into the Ada eighth-generation dedicated hardware encoder (NVENC), Ada GPUs enhance streaming and video content. Previous versions of Ampere GPUs could decode AV1 but not encode it. Ada's AV1 encoder is 40% more effective than the H.264 encoder in the GeForce RTX 30 Series GPUs.
Users who are currently broadcasting in 1080p will be able to increase their resolution to 1440p while keeping their bitrate and quality the same thanks to AV1. Streams will seem similar to 1440p on viewers' 1080p televisions, resulting in better quality. Ada GeForce RTX 40 Series GPUs with at least 12 GB of memory come with dual NVENC encoders to boost encoding efficiency.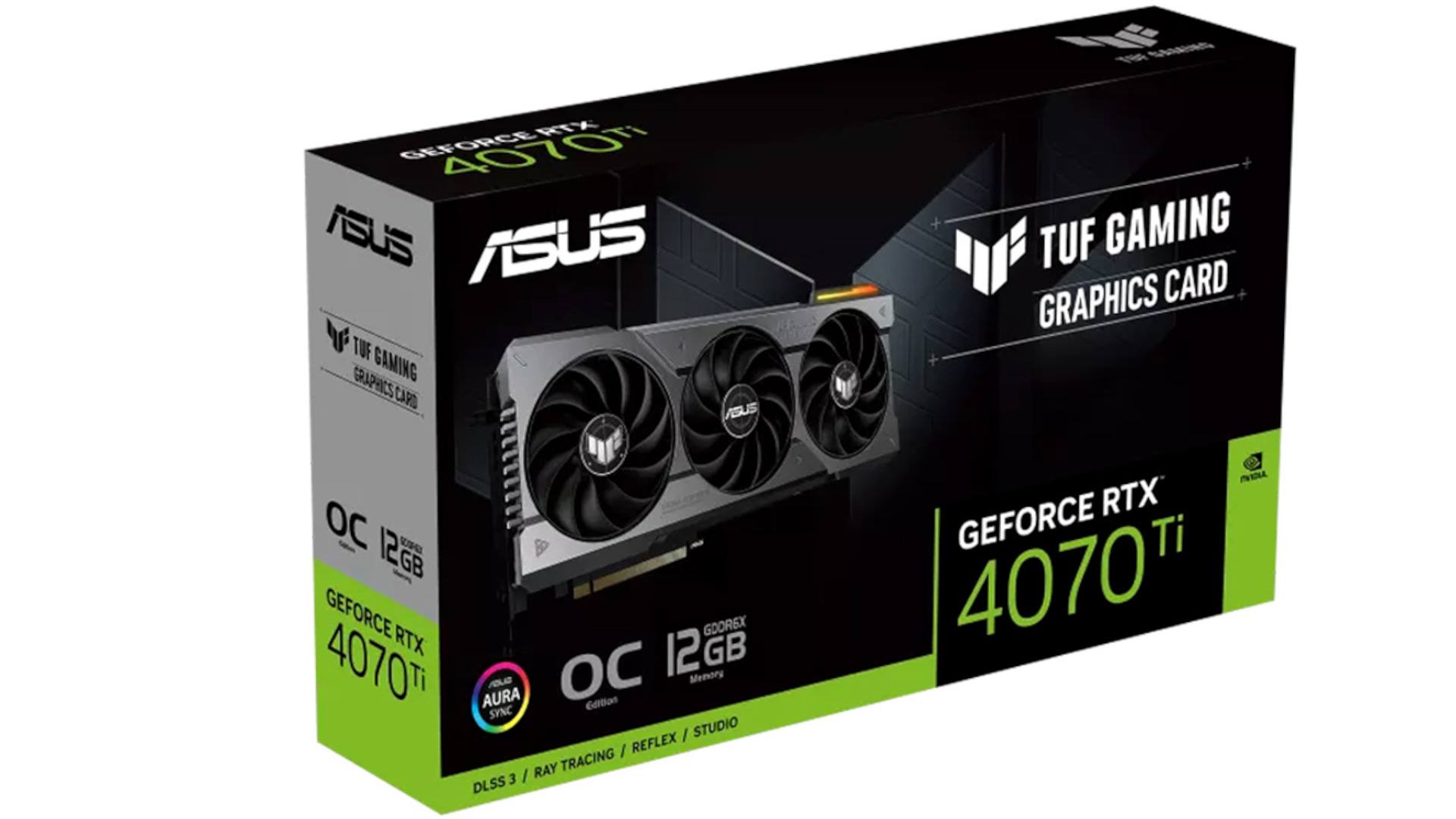 For professional video editing, this offers 8K/60 or four 4K/60 video encoding. (Game streaming services, for instance, can make use of this to enable more concurrent sessions.) AV1 compatibility and a dual encoder are made possible by encode presets in Jianying, the top video editing program in China, DaVinci Resolve by Blackmagic Design, and the Voukoder plugin for Adobe Premiere Pro.
For these applications, dual encoder and AV1 compatibility will be available in October. Additionally, NVIDIA is working with Topaz to support AV1 and dual encoders and Notch, a well-known video effects program. The fifth-generation hardware decoder (also known as NVDEC), introduced with Ampere, is another feature of Ada GPUs in addition to NVENC.
Video decoding for MPEG-2, VC-1, H.264 (AVCHD), H.265 (HEVC), VP8, VP9, and AV1 is supported by NVDEC using hardware acceleration. Decoding for 8K/60 is also fully supported.
ASUS TUF Nvidia RTX 4070Ti OC Specifications
| | |
| --- | --- |
| Architecture | Ada Lovelace |
| Process node | TSMC N4 |
| CUDA cores | 7,680 |
| Boost clock speed | 2,610MHz |
| VRAM  | 12GB GDDR6X |
| Memory clock speed | 21 Gbps |
| Memory Bandwidth | 504 GB/s |
| Total Graphics Power (TGP) | 285W |
ASUS TUF Nvidia RTX 4070Ti OC Conclusion
In terms of thermals and noise, the ASUS TUF Nvidia RTX 4070Ti OC Edition performs admirably, and this is where AIB's designs count. The smaller chassis will also make it easier to fit it inside smaller cases, but considering that the heatsinks appear to have a lot of unused space between them, I had hoped they could just reduce the slot width a little bit further to fit it under three slots.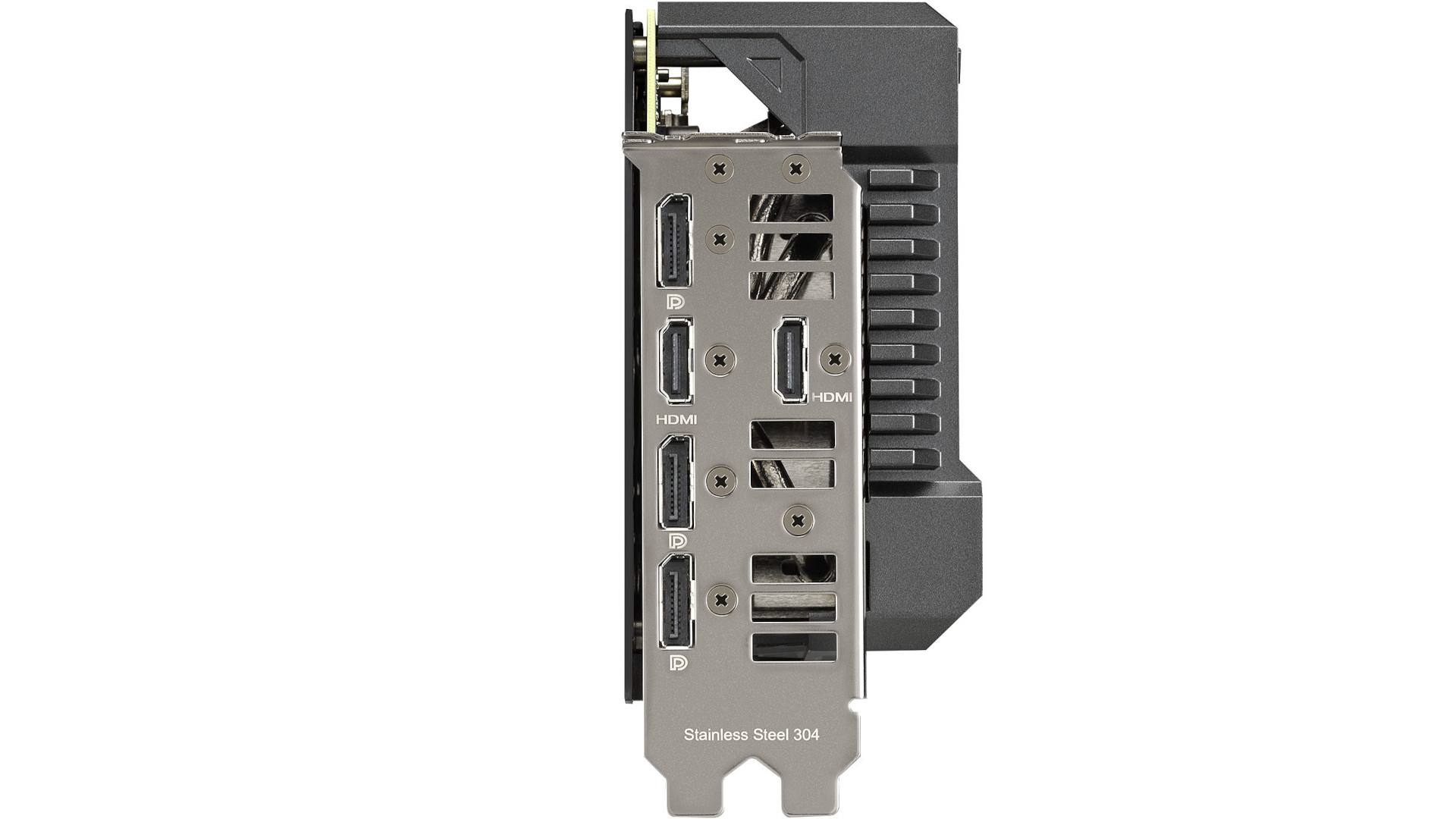 If not for the ridiculous pricing NVIDIA has imposed (this model sells for $799 but the 3070 Ti was originally $599! ), the silicon itself is actually rather good.
By purposefully pricing RTX 40 cards higher than they should be, are they still attempting to get rid of the RTX 30 stocks due to the excess supply created by the crypto crash? Nobody truly is aware. At least, I continue to reject Jensen Huang's claim that Moore's Law is no longer valid.
Nevertheless, putting aside NVIDIA's complaints about pricing, if you can find this card despite its less-than-ideal price, it will perform admirably in terms of gaming.
Even if the RTX 3080 Ti has 12GB of VRAM available, 192-bit can still be a significant pain point for workstation-related tasks that demand high VRAM bandwidth (in terms of raw VRAM bandwidth, the RTX 3080 Ti still dominates with over twice the GB/s).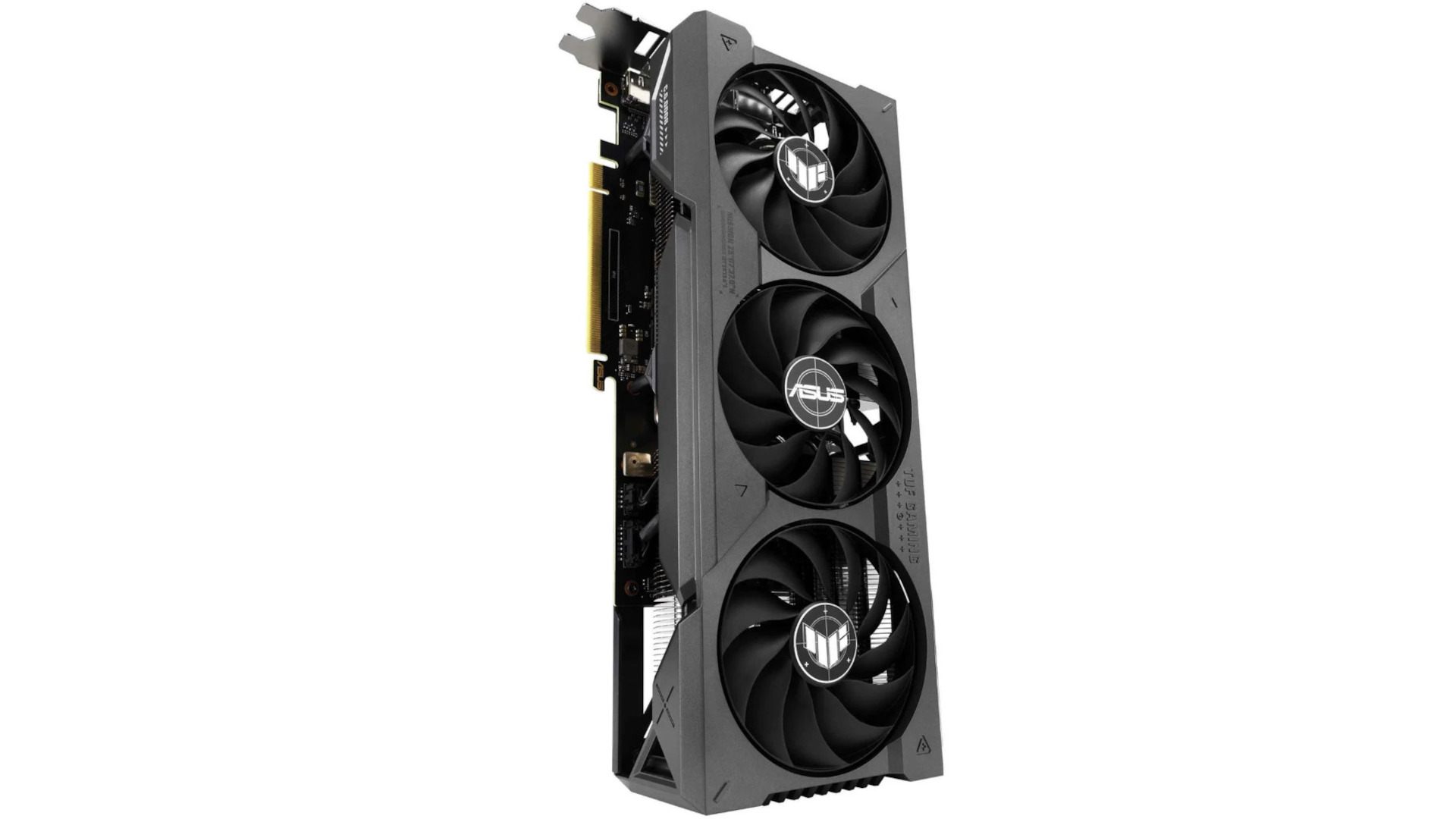 ASUS TUF Nvidia RTX 4070Ti OC
Performance -

94%

Price -

96%

Value -

95%