The power supplies with a "highlight," such as high efficiency, good ergonomics, amazing power, or excellent acoustic comfort, are, of course, the most intriguing to think about. But frequently, a user only needs a solid "workhorse" for a reasonable cost. The adoption of affordable, yet somewhat efficient and dependable power sources by those that assemble pre-built systems is also important. The power supply unit that we're looking at today, the new iArena series from Chieftec, makes this claim.
Despite not having the most well-known brand in the industry, Chieftec is still going strong and has done a lot of work in the B2B sector, with a rising consumer market presence over the past several years. With one of their newest power supply, Chieftec iARENA GPB-400S Power Supply, they're back on eTeknix today. It might not be anything spectacular, but its main objective is to do the task without costing you more than is necessary to achieve the required degree of performance and dependability.
There are five variants in the updated Series of Chieftec iArena power supplies, with outputs ranging from 300 to 500 watts. This PSU series falls within the budget category and cannot thus boast 80 PLUS certification, a broad variety of input voltages, or cutting-edge circuit designs.
However, the manufacturer guarantees a 230 V network efficiency above 85% and a very affordable price (including due to the rejection of retail packaging). There is always a market for these models, from budget-conscious consumers who prefer to allocate their available funds to other PC components to large assemblers and system integrators who can actually see the financial savings from even a small decrease in the price of a single device without sacrificing quality or efficiency due to volume.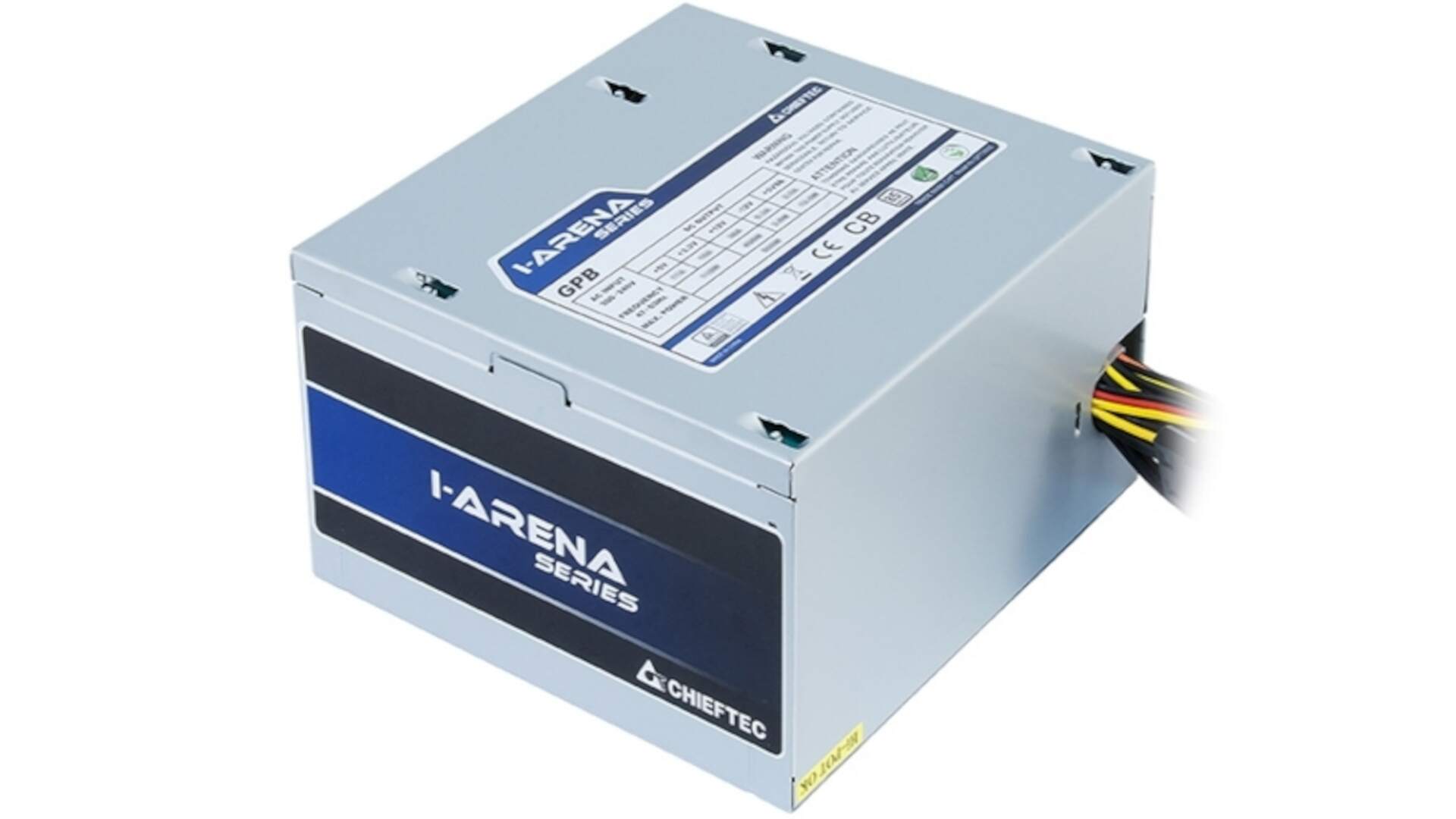 A setup with integrated graphics or even a cheap separate graphics card can be powered by even 300 watts of electricity (like the younger model of the iArena series). The older 500-watt type that we are looking at today is certainly capable of "feeding" a reasonably productive gaming system – provided that the power supply's actual output parameters match its advertised features, of course.
Chieftec iARENA GPB-400S Power Supply Specifications & First Impression
For the class of inexpensive solutions, Chieftec iARENA GPB-400S Power Supply specified output parameters are pretty good. The majority of the load in contemporary PCs can be carried by a voltage of 12 V, which can carry more than 90% of the total power. Budget-class PSUs are not all equipped with active power factor adjustment.
However, it still has a sufficient range of power connectors for the declared power; the only issue is that there is only a 4-pin (and not a 4 + 4-pin) connector of additional power connected to the motherboard. Cables typically used for "state employees" cannot boast of either the length of the cables or the presence of a braid.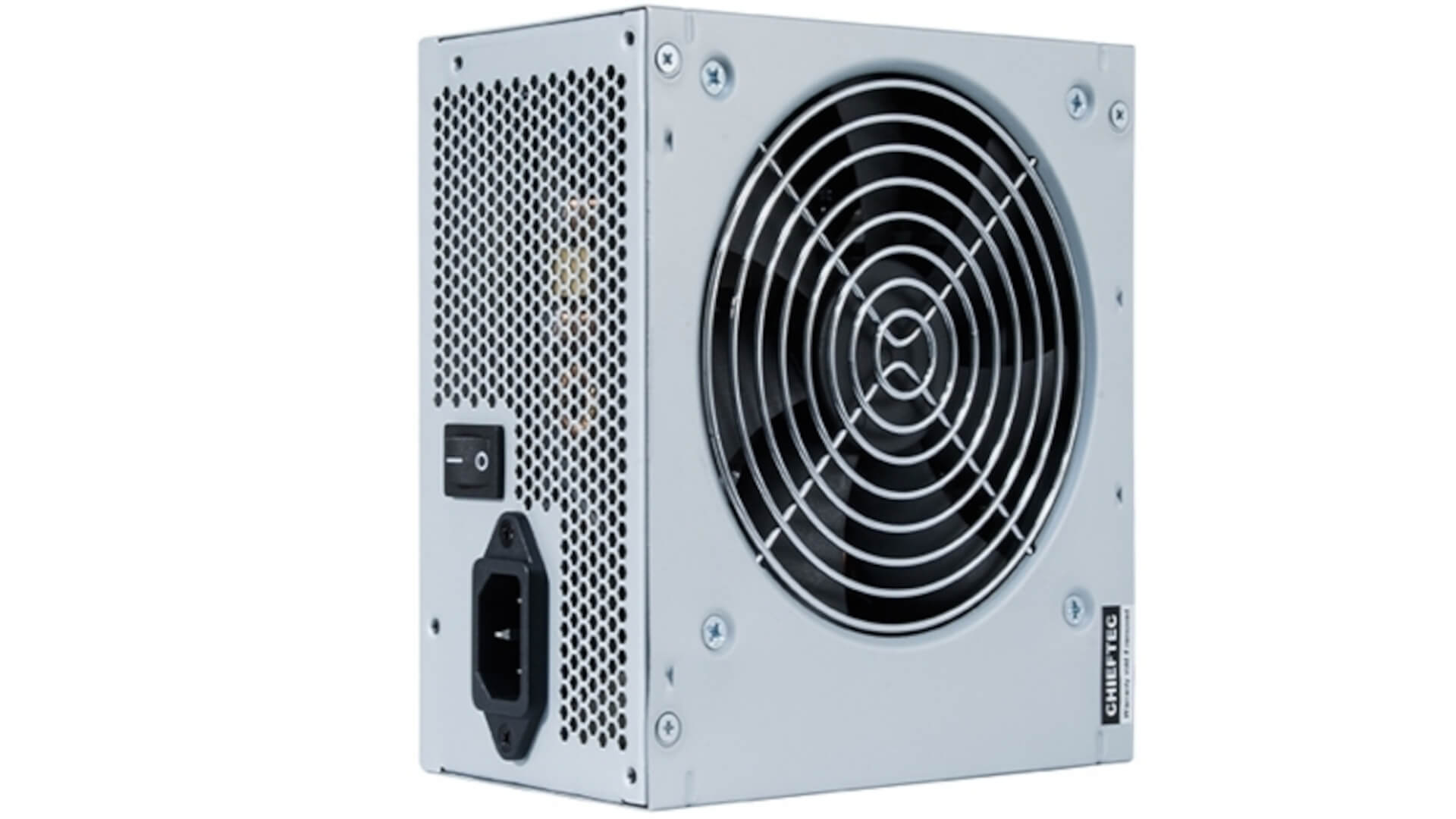 The wires have a cross-section of 18 to 20 AWG. While 18 AWG for higher loaded wires is quite an adequate value, which is frequently seen on much more powerful and costly solutions, the lowest cross-section of 20 AWG have cables with minimal transferred power.
In summary, given Chieftec iARENA GPB-400S Power Supply extremely affordable pricing, its specifications appear to be rather good.
As previously mentioned, Chieftec iARENA GPB-400S Power Supply is solely offered in a protective container; no retail packaging is included. Therefore, the buyer will be responsible for buying a power wire and mounting screws.
The device has a typical appearance for low-cost options: a thin, unpainted metal chassis with a normal 140 mm length and a 120 mm cooling fan moved from the center. The benefits include a wire fan grille and a sticker that hides the series' name on the sidewall while concealing the fan's modest appearance.
A power switch, a power connector, and a honeycomb ventilation grille are located at the back. There are markings indicating the passing of technical control throughout production on the second sidewall, and a plate with the block's output specifications is adhered to the bottom.
The Channel Well Technology development platform, which can be easily identified because to the distinctive insulating color, is at the center of the power supply.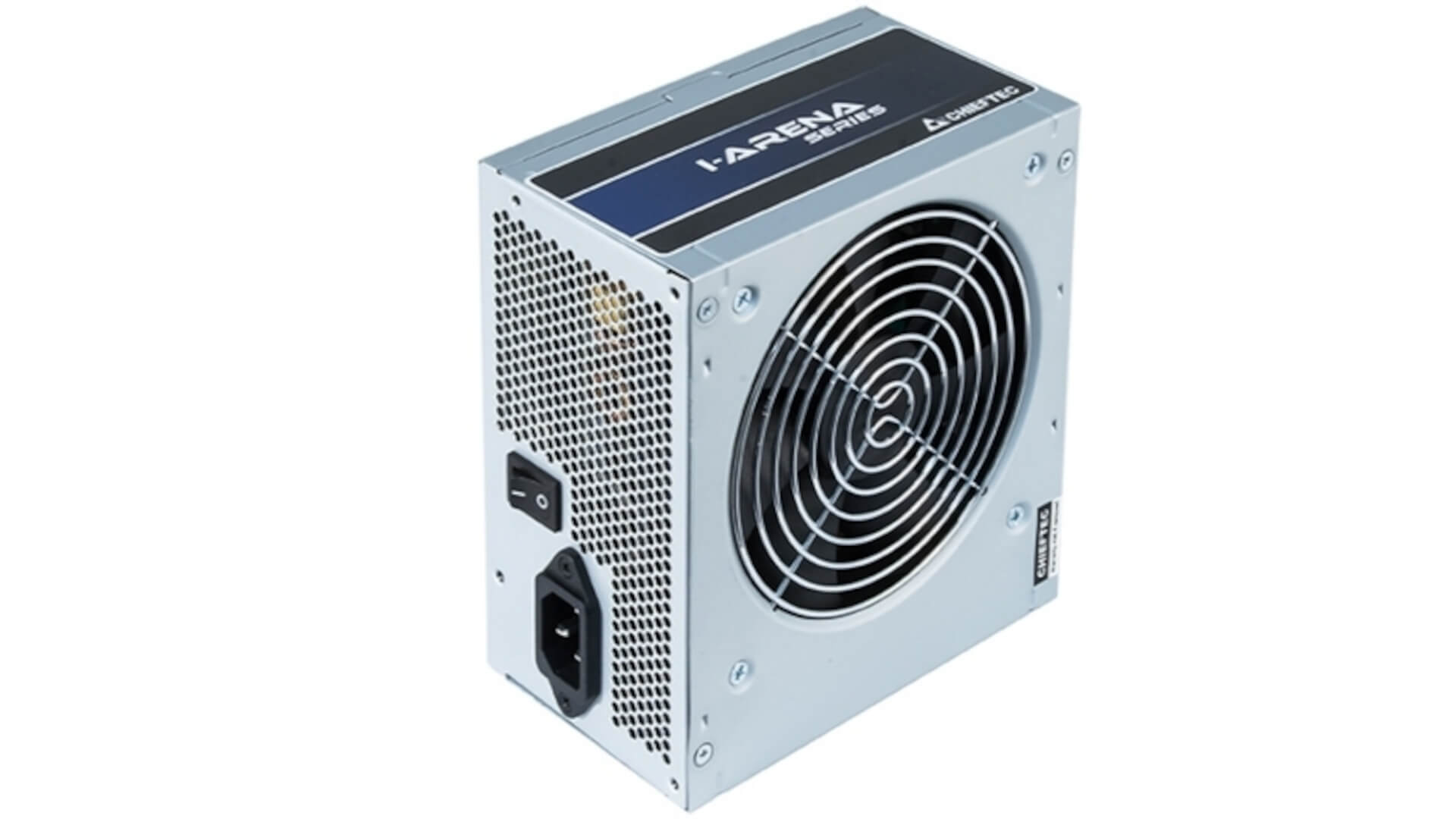 The presence of a PFC is confirmed by the choke concealed behind a plastic casing at the input, and the presence of two throttles at the output strongly suggests the presence of only group voltage stabilization.
The input filter's components are all soldered together. Four CY capacitors, two CX capacitors, and two common-mode chokes are present, it should be highlighted. Additionally, a varistor and a fuse are present to guard against short circuits and transient voltage surges, respectively.
A Sitronix ST9S313-DAG chip supervisor is located near the power cord's input on the baseboard and is in charge of safeguarding the power supply when the input or output parameters exceed the permitted range.
The Power Integrations chip PNY176PN is responsible for controlling standby power.
The problem of delivering power to a board with modular connections was resolved very ingeniously: voltages +3.3 V and +5 V were communicated by single wires with huge cross sections, while voltage +12 V was sent by a broad metal portion. However, the ES-FM1250W (90+) model was built on the same platform from which the scheme in the questioned block was migrated.
Chieftec iARENA GPB-400S Power Supply General Information
| | |
| --- | --- |
| Model | IARENA 400W |
| Article no. | GPB-400S |
| EAN code | 4710713233621 |
| Weight (without/with package) | 1.21kg / 1.3kg |
| AC Input | 200-240V / 3.0A |
| Frequency | 47-63 Hz |
| +5V | 16A |
| +3,3V | 17A |
| +5V & +3,3V combined | 100W |
| +12V1 | 30A |
| +12V2 | – |
| +12V1, +12V2 combined | 360W |
| P.F. | >0,9 |
| -12V | 0,3A / 3,6W |
| +5VSB | 2,5A / 12,5W |
| Maximum Power | 400W |
Chieftec iARENA GPB-400S Power Supply Connectors
| | |
| --- | --- |
| 20+4 PIN ATX | 1 |
| 8 PIN EPS(4+4) | 1 |
| 8 PIN PCIe (6+2) | 1 |
| SATA | 5 |
| MOLEX/FLOPPY | 3 |
Chieftec iARENA GPB-400S Power Supply Cable Length (mm)
| | |
| --- | --- |
| 20+4 PIN ATX | 400 |
| 8 PIN EPS(4+4) | 400 |
| 8 PIN PCIe (6+2) | 400 |
| SATA | 1x 550/1501x 400/1501x 400 |
| MOLEX/FLOPPY | 1x 4001x 550/150 |
Chieftec iARENA GPB-400S Power Supply Features
| | |
| --- | --- |
| ATX12V Version | ATX 12V 2.3 |
| Efficiency | >85% |
| Dimension (DxWxH) | 140 mm x 150 mm x 87 mm |
| PFC | Active PFC (0,9) |
| Fan | 120mm silent fan |
| Security | AFC (Automatic Fan speed Control)OPP (Over Power Protection)OVP (Over Voltage Protection)SCP (Short Circuit Protection)SIP (Surge & Inrush Protection)UVP (Under Voltage Protection) |
| Warranty | 24 Months |
Chieftec iARENA GPB-400S Power Supply
Performance -

97%

Price -

96%

Value -

97%