We haven't reviewed anything for the kind people at Deepcool in a very long time. The situation is set to change, and their products should once again become more prevalent. We are examining one of their more recent PSU models today.
A non-modular PSU with an 80PLUS Gold rating is the DeepCool DN500 Power Supply. Recent changes to Deepcool's branding, if you will, have given them a more professional appearance. Instead of only emphasizing affordability, their products also offer greater performance and aesthetics in addition to nicer-looking packaging.
I'm excited to see what else Deepcool may release as they expand into new product categories as they have been on the market for a good number of years and are beginning to have a solid reputation. But now is the time to examine the DeepCool DN500 Power Supply power supply and discover everything that it has to offer.
A flagship product from DeepCool, the DeepCool DN500 Power Supply is made to meet the requirements of powerful gaming setups and demanding workstations. The DeepCool DN500 Power Supply promises to satisfy power-hungry enthusiasts with its reliable performance, cutting-edge features, and powerful power delivery. We will examine the main characteristics, functionality, and overall worth of the DeepCool DN500 Power Supply in this study.
DeepCool DN500 Power Supply Design & Build Quality
The DN500 has a polished and professional appearance, with a matte black finish and simple embellishments. Its solid construction and meticulous attention to detail inspire faith in its sturdiness and longevity. The unit's dimensions are typical for ATX power supplies, thus it can easily fit into most PC cases.
We have a more comprehensive list of specifications on the back of the box. The efficiency curve, which is also visible, shows that the DeepCool DN500 Power Supply maintains an excellent 87% efficiency even at 100% usage. Even if it's hoped that nobody ever makes out their PSU, it's inevitable that it will happen occasionally with smaller units, thus it's crucial to have confidence in the unit itself.
The DeepCool DN500 Power Supply has a quite understated casing and a fan mesh that is rather conventional in appearance. For those who can't view the interior of their systems, this isn't really an issue, but it's obvious that it wasn't made for display rigs. It has a great light texture black finish, but that's about it.
There is a lot of airflow in the rear, but there is undoubtedly room for more below the AC outlet. I'm glad to see a master power switch, which is useful for entirely turning off your machine.
Since this PSU is not modular, all of the cables pass through this one opening. To stop the casing from harming any of the cables, there is a plastic grommet around the hole.
Cable management is made flexible by the DN500's modular architecture, which enables customers to connect only the cords they actually need, clearing up space inside the box. This facilitates installation and modification while also enhancing airflow. The wires that come with the kit are sturdy, cleanly braided, and long enough for the majority of system setups.
DeepCool DN500 Power Supply Efficiency & Performance
Efficiency and certification: The DeepCool DN500 Power Supply is 80 Plus Gold certified and provides exceptional power efficiency that reduces energy waste. With decreased power usage and utility costs as a result of the PSU operating at high efficiency levels under a variety of load scenarios thanks to this certification. The Gold certification additionally ensures steady power delivery, lowering the possibility of system instability or damage.
Power and Performance: DeepCool DN500 Power Supply is intended for systems with high-performance components, such as gaming PCs and workstations, with a maximum power output of 500 watts. It provides steady power over a number of voltage rails, ensuring dependable and stable operation even with heavy loads. Throughout prolonged testing, the DeepCool DN500 Power Supply maintained excellent voltage regulation and displayed little ripple, demonstrating that it can easily handle hardware that consumes a lot of power.
Advanced Cooling System: To control temperatures, the DeepCool DN500 Power Supply has an effective and cutting-edge cooling system. The PSU effectively distributes heat while operating reasonably quietly thanks to its 120mm fan. The fan regulates its speed according to the temperature to provide the best possible cooling without making an excessive amount of noise. This well-thought-out design keeps your system cool and makes computing more peaceful.
DeepCool places a high priority on user safety, and the DeepCool DN500 Power Supply includes numerous protection features. These cover over-voltage (OVP), under-voltage (UVP), over-power (OPP), short-circuit (SCP), and over-temperature (OTP) protection. These security measures give you piece of mind during demanding computing sessions by protecting your components from potential electrical risks.
DeepCool DN500 Power Supply Specifications
| | |
| --- | --- |
| Model | DN500 |
| Type | ATX 12V V2.4 |
| Total Output | 500W |
| Input Voltage | 200-240V |
| Input Current | 4A |
| Input Frequency Range | 47~63Hz |
| Fan Size | 120mm |
| PFC | Active PFC (>0.99) |
| Power Good Signal | 100-500ms |
| Hold Up Time | >16ms |
| Efficiency | 85% Under Typical Load |
| Protection | OVP/UVP/SCP/OPP |
| Operation Temperature | 0~40°C |
| Regulatory | CB/CE/EAC/UKCA/RCM |
| MTBF | 100,000 Hours |
| EAN | 6933412798828 |
| P/N | DP-230EU-DN450 |
DeepCool DN500 Power Supply Conclusion
For high-powered systems, the DeepCool DN500 Power Supply provides a durable and trustworthy option. The DeepCool DN500 Power Supply is a great option for enthusiasts and professionals looking for uncompromised performance because of its 80 Plus Gold certification, reliable power delivery, cutting-edge cooling system, and modular architecture.
The DeepCool DN500 Power Supply price may be more than that of entry-level PSUs, but its superb build quality, cutting-edge features, and capacity to handle heavy workloads make up for it. The DeepCool DN500 Power Supply is a wise purchase for anyone in need of a strong and dependable power supply unit.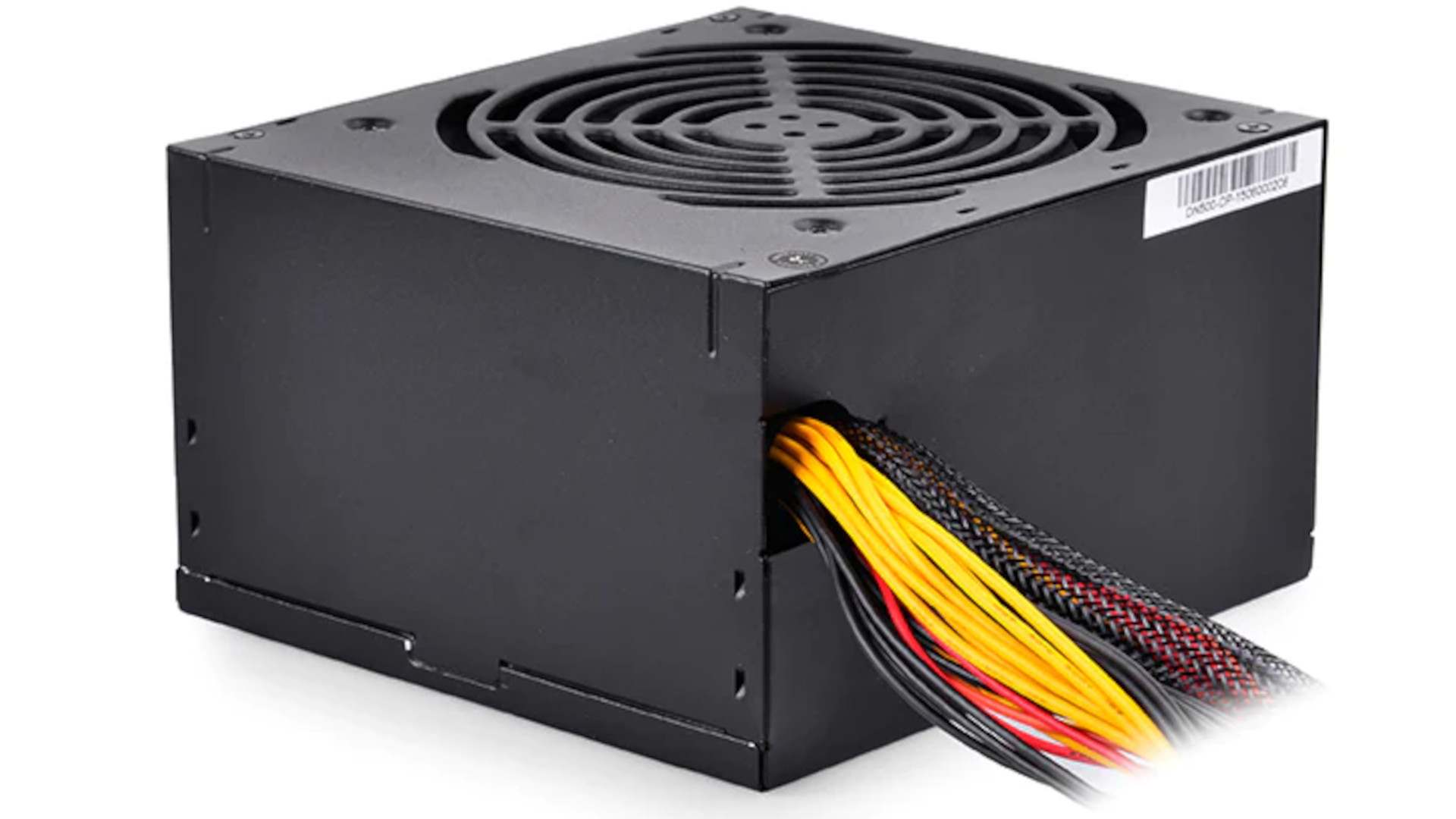 The DeepCool DN500 Power Supply provides strong performance and enhanced energy economy, making it a perfect choice for high-end gaming and workstation configurations. This PSU checks all the boxes with its 80 Plus Gold certification, steady power supply, effective cooling system, and many connectivity choices. Its sturdy construction and focus on safety add to its allure. The DeepCool DN500 is a suggested alternative worth considering for those in need of a robust and reliable power supply unit that provides great performance.
DeepCool DN500 Power Supply
Performance -

98%

Price -

96%

Value -

97%