Since Kingston has a long history of making memory for PC aficionados, it's not surprising that they've invested heavily in the most recent DDR4 technology. The Predator and Fury lines, which are both geared toward PC enthusiasts, are among their current HyperX DDR4 choices.
Today, we'll examine a kit from Kingston's HyperX Fury line, specifically the HyperX Fury DDR4 2133 C14 2x8GB. The HyperX Fury DDR4 kits are available with 16 or 32 GB capacities, with speeds ranging from 2133 MHz to 2666 MHz.
We recently got the chance to review a DDR3 HyperX Fury kit, and we were very pleased with both its performance and capacity for overclocking. We're eager to see if the HyperX Fury in DDR4 form can uphold that legacy, so let's get going!
The unboxing and appearance of HyperX Fury DDR4 2133 C14 2x8GB 
The box is typical for Kingston and HyperX modules; it is made of black plastic and can accommodate strips of both SO-DIMM and DIMM memory. Being versatile enables you to save money for consumers who do not have to pay for the whims of designers by using a single type of box.
Stickers with a lot of important information have been affixed on the box's outside. It is advised to read up on certification for a four-channel operation mode, the existence of a lifetime guarantee, and the fact that the module box is sealed at the factory and hasn't been opened since. Everything that is stated on the package is accurate because our blog has frequently discussed the factory testing procedure.
Two modules in black radiators on a black textolite are contained in a black box. It's kind of like a kid's horror story, but I can promise you that there's nothing to be concerned about. It is reassuring that the heatsinks are extremely low, which implies there won't be a compatibility issue with massive tower coolers.
The aggressive appearance reveals the modules' focus on gaming and will look nice in settings with glass walls. Since many gaming motherboards come in black and other colors, there is a good chance that HyperX Fure modules will blend naturally into the overall system design.
The module's sticker informs the user of the following information: HyperX is a division of Kingston; the module's standard voltage is 1.2 V; and the module is assembled in Taiwan.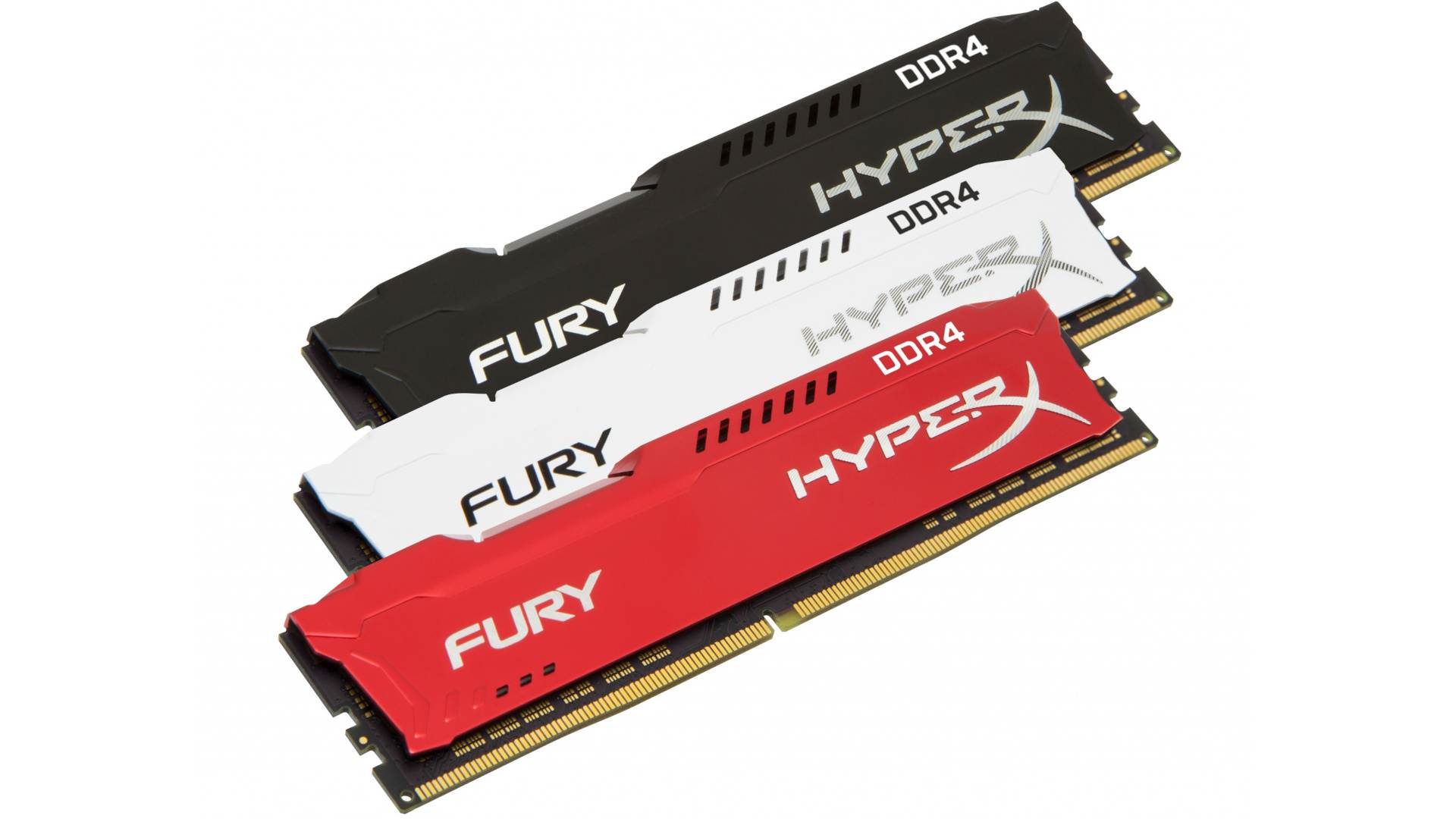 It is possible to learn more about the chips that are mounted on the slats without having to remove thin metal radiators by using the AIDA64 program (screenshot below). These are SK Hynix chips. Since they were created in the fourth week of 2015, the modules are brand-new. Even though there are many work profiles, we are only interested in one of them: XMP at 1067 MHz (also known as 2133 MHz) with timings of 14-14-14-35.
Specification of HyperX Fury DDR4 2133 C14 2x8GB 
Despite being far less expensive, this RAM has the same excellent build quality and well-designed heat sink as the Kingston 16GB DDR3 HyperX furious RAM that we reviewed. This is a single 8GB chip that runs at 2133 MHz and provides significantly better performance than DDR3 in terms of price.
The main benefit of the new memory chip over DDR3 chips is that it operates at 1.2V as opposed to the 1.5V required by DDR3. For a single desktop user, it may not seem like a great deal, but for a business with many PCs, this will make a big difference in power efficiency.
When compared to DDR3 RAM, DDR4 does have a lower latency but a higher frequency that allows for more processing to be done in an equivalent amount of time.
Regarding quality, Kingston's HyperX RAMs have established a solid reputation. This specific RAM chip is likewise of comparable grade. Overall, the construction is fairly solid, and the heat sink will offer sufficient cooling even if you intend to overclock it in the future. When you push the RAM into its motherboard slot, it emits a loud clicking sound that confirms the RAM's positive build quality. The RAM feels wonderful in your hands.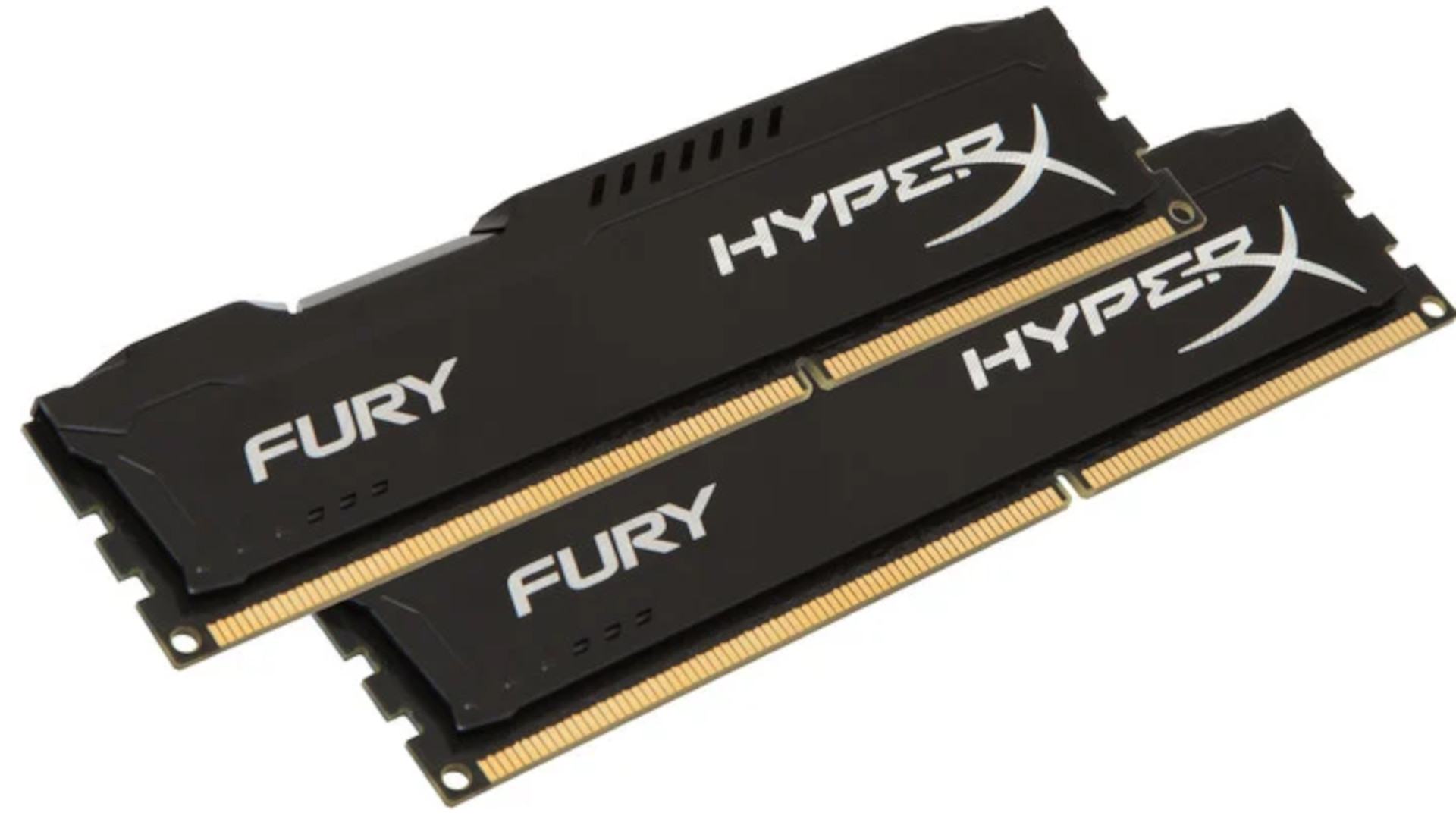 Using eight 1G x 8-bit FBGA components per module, the HyperX HX421C14FB2/8 is a 1G x 64-bit (8GB) DDR4-2133 CL14 SDRAM (Synchronous DRAM) 1Rx8 memory module. Each module is compatible with Intel® XMP 2.0, or Extreme Memory Profiles.
Each module has undergone testing to ensure that it can operate at DDR4-2133 with a low latency timing of 14-14-14 at 1.2V.
HyperX Fury DDR4 2133 C14 2x8GB Specs
| | |
| --- | --- |
| CL(IDD) | 14 cycles |
| Row Cycle Time (tRCmin) | 46.5ns(min.) |
| Refresh to Active/Refresh Command Time (tRFCmin) | 350ns(min.) |
| Row Active Time (tRASmin) | 32.75ns(min.) |
| Maximum Operating Power | TBD W* |
| UL Rating | 94 V – 0 |
| Operating Temperature | 0o C to +85o C |
| Storage Temperature | -55o C to +100o C |
Performance of HyperX Fury DDR4 2133 C14 2x8GB 
I anticipated an overall performance improvement over our previous-generation Core i3 PC with our new Core i3 6100 processor, entry-level MSI H110M motherboard, and this HyperX Fury DDR4 RAM, and it more than met our expectations. We noticed a performance improvement over our older system of at least 1.5x in everyday use and about 2x in gaming. Games loaded more rapidly, and every game we tried had at least 15% greater frame rate.
When we released this build, video editing and rendering were used to evaluate the most performance. Our editor was more than thrilled to output the videos in at least 30% less time. This instantly improves the effectiveness of our job and enables us to upload more videos to our YouTube account.
Final thoughts on HyperX Fury DDR4 2133 C14 2x8GB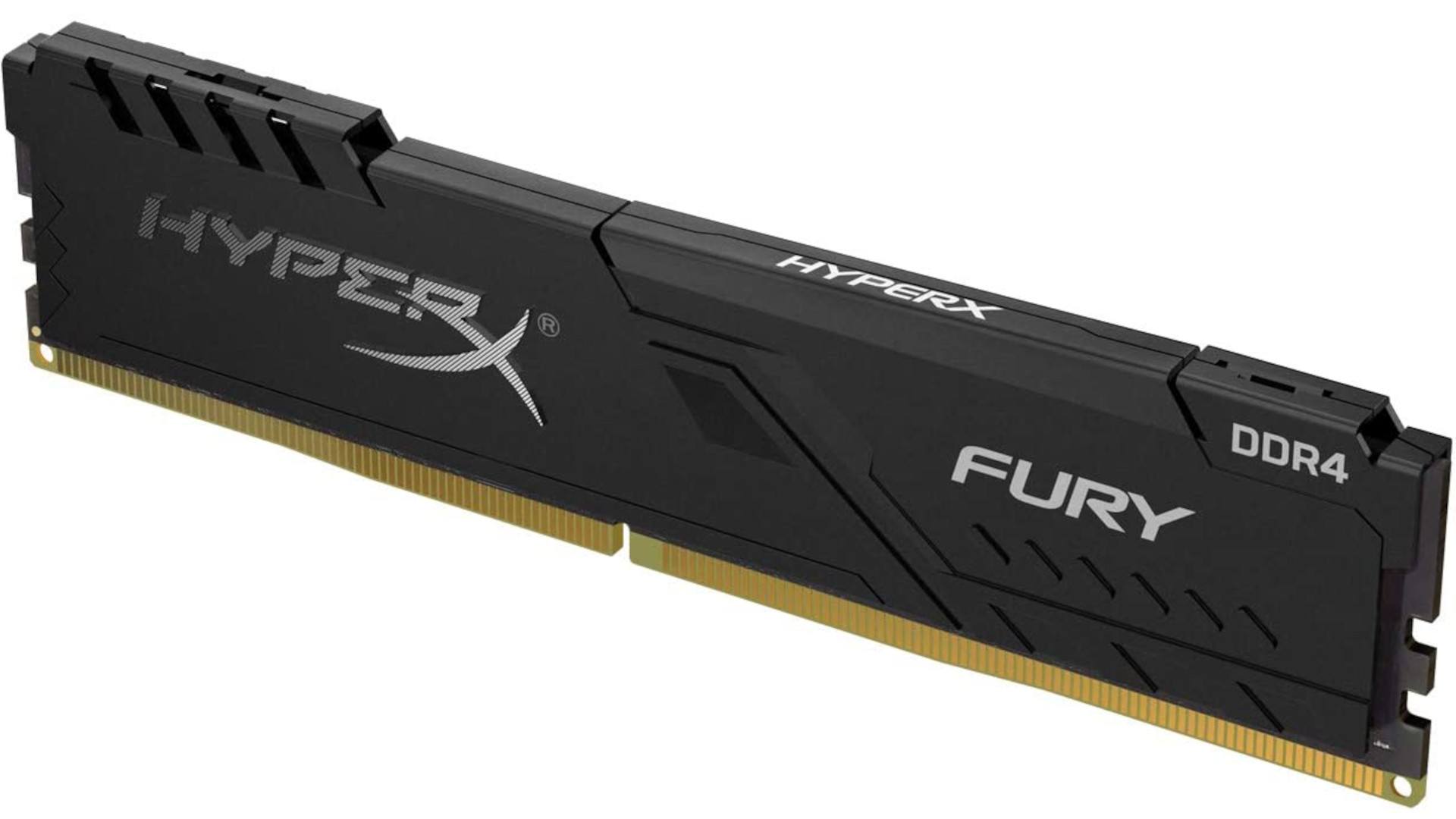 Users choose DDR4 with particular caution due to the market conditions and the system's overall relatively expensive cost. Thanks to Yandex.Market, you can learn that the HyperX Fury DDR4-2133 is in second place in terms of availability among all 32 gigabyte sets with a frequency of 2133 MHz, but considering that the standard CAS is 14, rather than 15, like the most affordable kit, it is clear what to buy. Furthermore, there is always the chance to marginally boost performance through overclocking.
DDR4 is the best choice to pair with Intel's Skylake architecture when designing a high-performance home or office PC that is future-proof. Due to its ready-to-overclock heatsink, this RAM is ideal for gamers, video/image editors, and enthusiasts. Although there are less expensive DDR4 RAM chips available without the fancy heatsink, they are only appropriate for light computing operations at home.
The Kingston HyperX Fury 8GB DDR4 RAM, which costs Rs. 2600, is unquestionably a good deal for your high-performance PC.
Is HyperX Fury DDR4 2133 C14 2x8GB RAM good?
The HyperX Fury DDR4 2133 C14 2x8GB RAM is a respectable memory choice, although it may not be "good" by today's standards. 
Speed: This RAM's 2133MHz speed is quite sluggish when compared to newer DDR4 modules on the market. Higher-speed RAM can improve performance in memory-intensive applications like gaming or video editing.
CAS delay: A CAS delay of 14 is regarded as typical. Lower CAS latency values typically suggest greater performance, however the difference in real-world usage conditions may be insignificant.
This RAM's total capacity of 16GB (2x8GB) makes it ideal for most general-purpose computer workloads. If you need extra memory for demanding programs or multitasking, you should look into higher-capacity modules.
It's important to note that RAM compatibility is determined by your computer's motherboard and CPU. Before purchasing any RAM, confirm that it is compatible with the specs of your system. Check to see if your motherboard supports increased RAM speeds and if there are any BIOS upgrades that might enhance compatibility.
If you're solely looking for a RAM update, you might want to check into newer DDR4 modules with greater speeds, lower CAS latency, and perhaps larger capacity to improve your system's performance.
Overall, the HyperX Fury DDR4 2133 C14 2x8GB RAM is a solid choice for a basic RAM kit with minimal CAS latency. However, if you want to maximize performance, particularly for gaming or demanding jobs, you should pick RAM kits with greater clock speeds and capacities.
Is HyperX Fury DDR4 2133 C14 2x8GB RAM good for gaming?
Although it is not the fastest RAM on the market, the HyperX Fury DDR4 2133 C14 2x8GB RAM is a good choice for gaming. 
Speed: The RAM works at 2133MHz, which is the standard speed for DDR4 RAM. While it may not have the fastest clock speed, it should be enough for most gaming scenarios. Keep in mind that RAM speed alone does not impact gaming performance; other elements such as the CPU and GPU are also important.
C14 CAS latency implies a low latency level, which is advantageous for gaming. It helps your system access data from RAM faster, resulting in faster data retrieval and perhaps smoother gaming.
Capacity: With a total capacity of 16GB (2x8GB), this RAM kit should meet the majority of gaming requirements. It has enough RAM to run contemporary games and multitask without experiencing severe performance concerns. Higher capacity alternatives, on the other hand, may be worth considering if you plan on performing memory-intensive chores alongside gaming or if you want to future-proof your machine.
While faster RAM is available, the HyperX Fury DDR4 2133 C14 2x8GB RAM should still provide enough gaming performance when combined with a suitable CPU and GPU. If it satisfies your system's compatibility criteria and your capacity requirements, it should be enough for gaming.
Consider RAM kits with higher clock rates (e.g., 3000MHz, 3200MHz, or faster) and reduced CAS latency if you're particularly interested in gaming and want to maximum performance. These characteristics can help enhance overall system efficiency and potentially lead to better gaming experiences, especially in memory-intensive or CPU-bound games.
However, if the HyperX Fury DDR4 2133 C14 2x8GB RAM is already in your system or falls within your budget, it will deliver a good gaming experience, particularly for mainstream titles and casual gaming.
Can you overclock HyperX Fury DDR4 2133 C14 2x8GB RAM?
Yes, you can overclock the HyperX Fury DDR4 2133 C14 2x8GB RAM, but your success depends on a number of things, including your system configuration, motherboard compatibility, and the quality of the RAM modules itself. Here are a few things to remember:
Check if your motherboard supports overclocking capabilities and has BIOS options that allow you to alter the RAM frequency and timings. Because not all motherboards have comprehensive overclocking possibilities, check the specifications and user manual for your motherboard.
RAM quality: Even within the same model line, the ability to overclock RAM might differ. Some RAM modules may have more area for overclocking, whilst others may have less. Keep in mind that lower-rated RAM modules, such as DDR4 2133MHz, may have less overclocking capability than higher-rated modules.
Cooling and stability: Because overclocking RAM produces greater heat, sufficient cooling is required to preserve stability. To prevent overheating, ensure that your system has suitable cooling solutions, such as good ventilation in the casing or extra cooling fans. Instability can arise if the RAM is overloaded, resulting in system crashes or faults.
Overclocking RAM in tiny increments: When overclocking RAM, it is best to increase the frequency and change the timings in small increments. To guarantee that your system stays stable, test stability after each update. Overclocking is an iterative process that demands perseverance and meticulous testing.
Keep in mind that overclocking is not without danger. Pushing the RAM beyond its rated parameters may violate the warranty and result in data corruption, system instability, or irreversible RAM module damage. When overclocking, proceed with caution and constantly keep an eye on your system's temps and stability.
If you're new to overclocking or have questions about the process, it may be helpful to examine materials related to your motherboard model or get advice from experienced overclockers to ensure you do it safely and properly.
Is HyperX Fury DDR4 2133 C14 2x8GB RAM Compatible with Ryzen?
Yes, the HyperX Fury DDR4 2133 C14 2x8GB RAM is Ryzen CPU compatible. DDR4 RAM modules with a speed of 2133MHz, which is the frequency of the HyperX Fury RAM you stated, are supported by Ryzen CPUs.
However, because to the architecture's dependency on memory performance, Ryzen CPUs often benefit from faster RAM speeds. Ryzen CPUs often perform better with faster RAM, typically in the 3000MHz or higher range. For maximum performance with a Ryzen system, consider choosing RAM with a higher clock speed if your motherboard supports it.
Is HyperX Fury DDR4 2133 C14 2x8GB RAM Compatible with Intel?
Yes, the HyperX Fury DDR4 2133 C14 2x8GB RAM is Intel CPU compatible. Intel CPUs also support DDR4 RAM, including modules that run at 2133MHz, which corresponds to the frequency of the HyperX Fury RAM you specified.
It's worth noting that Intel CPUs are less sensitive to RAM speeds than AMD Ryzen processors. Higher RAM speeds can still give a performance increase, although the effect is usually less obvious with Intel CPUs.
HyperX Fury DDR4 2133 C14 2x8GB RAM
Performance -

96%

Price -

97%

Value -

97%