Despite the fact that the majority of individuals purchase desktop monitors for their setup at home or the office, a different kind of monitor is useful if you operate while on the road. These screens, often referred to as portable monitors, are roughly the same size as a laptop screen and provide you with more workspace if you find your laptop's screen to be too small for your needs.
Portable monitors are as easy to transport as their name would imply. Due to their higher pixel density than certain conventional displays, they frequently offer clear text. Portable monitors do not, however, have the same visual quality as desktop monitors, and they are not intended to be used as the main display but rather as additional screen space.
Although some have built-in batteries, the majority of portable monitors still require power from an external source, so you might need to have a cord for the monitor's electricity and another charger nearby for your laptop. The majority of portable displays are adequate for the majority of users, but if you want higher quality, you should take the monitor's brightness and image quality into account, among other factors.
A flexible and portable display option, the KOORUI 15.6-Inch 15B1 Portable IPS FHD Monitor seeks to improve work and entertainment while on the road. This portable monitor presents a promising solution for consumers looking for a secondary display with its 15.6-inch Full HD IPS panel, thin design, and practical connecting choices.
We will examine the KOORUI 15B1's features, performance, design, connection, user experience, and overall value proposition in our in-depth study.
KOORUI 15.6-Inch 15B1 Portable IPS FHD Monitor Design & Display Quality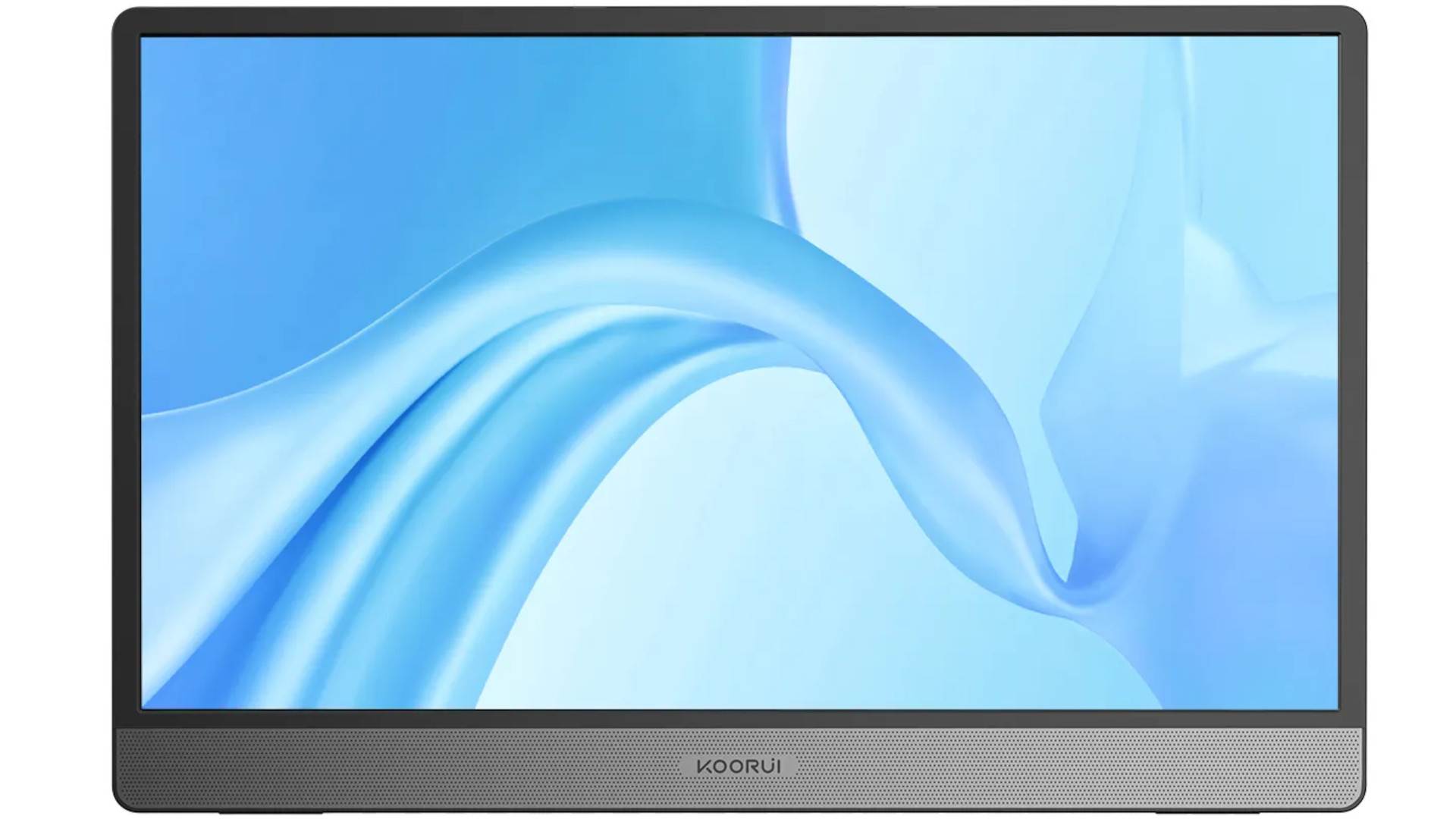 With its sleek and contemporary design and thin bezels surrounding the display, the KOORUI 15.6-Inch 15B1 Portable IPS FHD Monitor offers an immersive viewing experience. The monitor is extremely portable and fits easily into a backpack or laptop bag thanks to its lightweight design and thin footprint.
The construction seems solid, and the matte back coating helps keep fingerprints and smudges away. Considering its low price point, the whole design has a luxury appearance and is aesthetically pleasant.
The KOORUI 15.6-Inch 15B1 Portable IPS FHD Monitor has several connecting options to accommodate different devices. It has a 3.5mm audio connector, one small HDMI port, and two USB Type-C connections.
You may connect the monitor to laptops, cellphones, game consoles, and other suitable devices thanks to the USB Type-C connectors' compatibility for both power delivery and video input. Another choice for video input is the micro HDMI port. Multiple connecting options provide broad compatibility and user freedom.
The KOORUI 15.6-Inch 15B1 Portable IPS FHD Monitor displays vivid, clear images on a 15.6-inch IPS panel with a Full HD resolution of 1920 x 1080 pixels. Wide viewing angles, precise color reproduction, and high contrast levels are all provided by IPS technology.
The display has enough brightness for indoor use and great color reproduction. The display might, however, have some trouble in areas with high lighting or direct sunshine. Overall, the display quality is excellent, offering a pleasurable viewing experience for both business and leisure.
KOORUI 15.6-Inch 15B1 Portable IPS FHD Monitor Performance
The KOORUI 15.6-Inch 15B1 Portable IPS FHD Monitor may be set up without difficulty. You may immediately connect it to your device without the need for extra drivers thanks to its plug-and-play feature.
The monitor has a movable smart cover that also serves as a stand, giving you a variety of viewing angles to suit your tastes. Brightness, contrast, color settings, and other aspects may be quickly adjusted thanks to the user-friendly, simple OSD menu. A simple menu structure makes for a smooth user experience.
The KOORUI 15.6-Inch 15B1 Portable IPS FHD Monitor portability is one of its best qualities. This monitor is exceptionally thin and light, weighing less than 2 pounds and having a thickness of less than an inch.
It is perfect for workers, students, and travelers who need a secondary display on the road because of its thin design and tiny footprint. Its convenience is increased by the inclusion of a protective cover that also serves as a stand and offers an additional level of security when being transported.
The KOORUI 15.6-Inch 15B1 Portable IPS FHD Monitor performs admirably in the settings for which it is designed. This portable monitor works at a 60Hz refresh rate, which may not be suitable for intensive gaming or fast-paced action, despite the great display quality and connection choices.
For normal productivity activities, online surfing, multimedia consumption, and light gaming, it works excellently. External speakers are rarely necessary because of the good sound quality of the built-in twin speakers.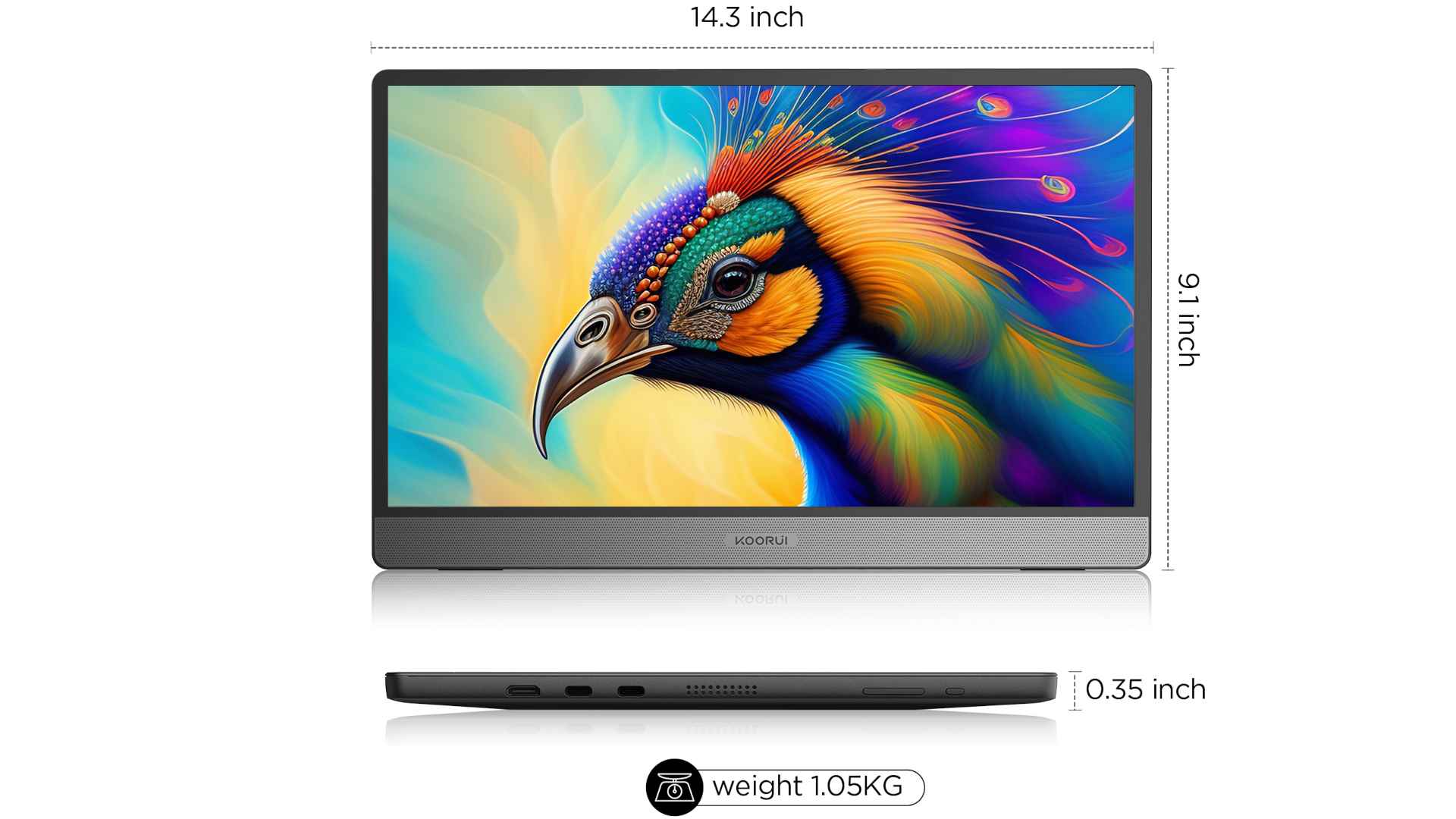 KOORUI 15.6-Inch 15B1 Portable IPS FHD Monitor Specifications
| | |
| --- | --- |
| Active Screen Size | 15.6″ Diagonal Viewable |
| Panel Type | IPS |
| Native Resolution | 1920 x 1080 |
| Refresh Rate | 60Hz |
| Aspect Ratio | 16:9 |
| Response Time | 5ms  |
| Color Gamut | 45% NTSC |
| Brightness (Typ.) | 200 cd/㎡ |
| Stand | / |
| VESA Mount Pattern (mm) | / |
| Inputs | Type – C / Mini HDMI |
| Size(W x H x D) | 416mm * 277mm * 9mm |
| Carton Box Dimension(W x H x D) | 600mm * 430mm * 296mm |
| net weight | 1.05(Kg) |
| Gross weight | 1.3(Kg) |
| Power Range (V, A, Hz) | 100 – 240V,47/63Hz,2.0A |
| Warranty Period | 3 Years |
KOORUI 15.6-Inch 15B1 Portable IPS FHD Monitor Conclusion
The KOORUI 15.6-Inch 15B1 Portable IPS FHD Monitor strikes a great mix between cost and usefulness. This portable monitor offers consumers on the road a useful secondary display solution at a competitive price range.
It features a stylish appearance, flexible networking choices, and a respectable display quality. Although it might not provide top-tier performance for demanding tasks, it thrives as a portable companion for productivity and pleasure.
Users looking for a portable, lightweight secondary monitor might choose the KOORUI 15.6-Inch 15B1 Portable IPS FHD Monitor. It provides a compelling bundle at a low cost with its vivid IPS panel, small design, flexible connection, and user-friendly experience.
The KOORUI 15B1 offers a worthwhile option whether you're a professional in need of an extra screen, a student seeking for a portable study help, or a tourist who appreciates multimedia entertainment. Although it might not provide the best performance for intensive activities like gaming, its total value makes it a suggested pick in the portable monitor market.
KOORUI 15.6-Inch 15B1 Portable IPS FHD Monitor
Performance -

97%

Price -

95%

Value -

96%