In this article, I give you my MSI GL62M 7REX review with specs included. This is, relatively speaking, an affordable, entry-level gaming laptop from MSI. Most of their models are kind of expensive, they're well over $1000.
This laptop's code name is MSI GL62M. It does not have a name (series name) like the higher-end models such as the "Stealth", the "Dominator", even the "Apache" which is the lowest end of the "named" MSI series.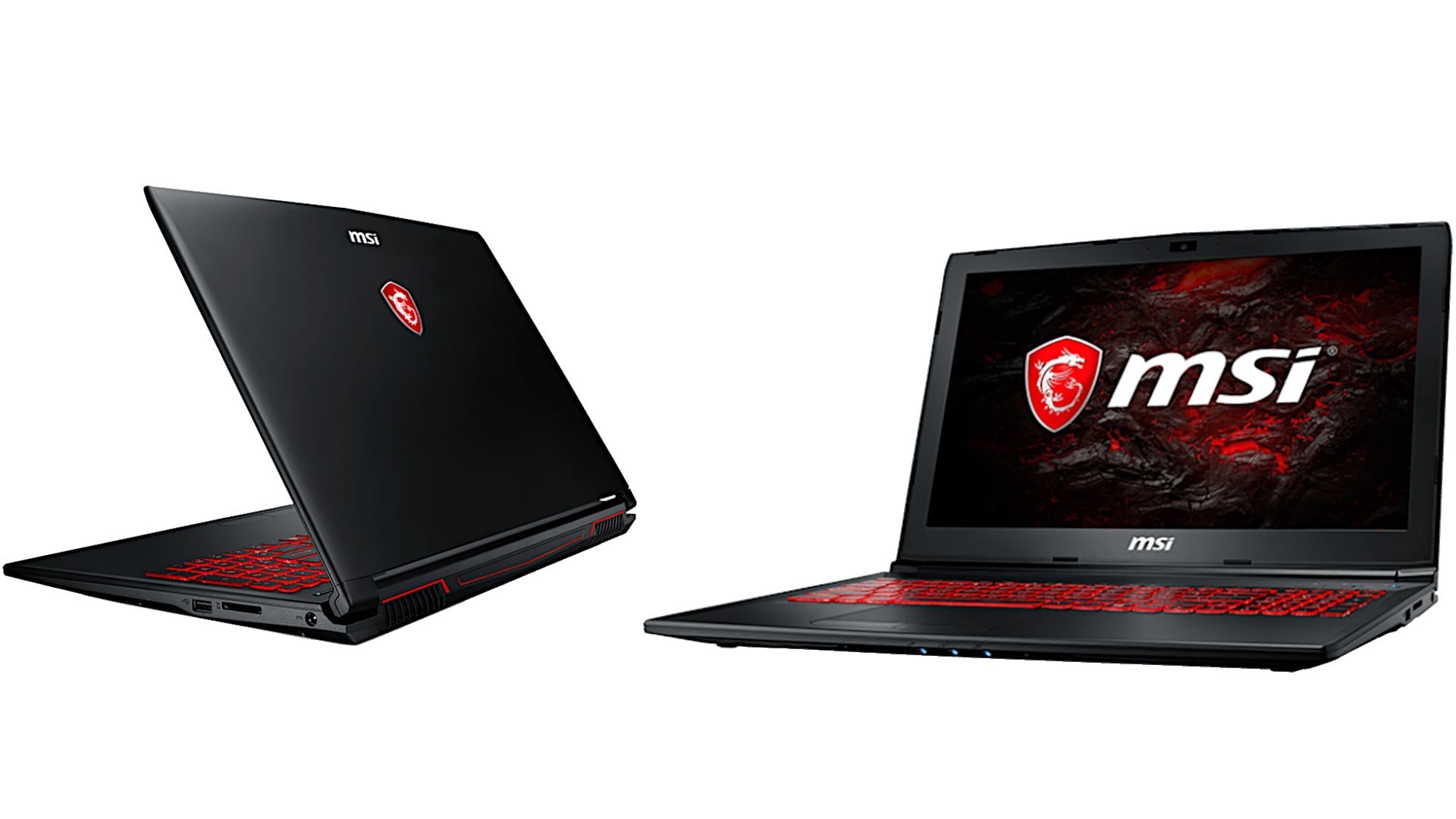 Anyway, it's a pretty good laptop and it's very competitive against things like the HP Omen 15, or the Dell Inspiron 15 Gamer, or the Acer Helios 300 too.
This is a 15.6-inch laptop. It's available in Full HD IPS matte non-touch, like all gaming laptops. There's also a 120 Hertz TN panel with 94% of NTSC color gamut coverage. And, there's even a 4K option, which is kind of strangely overkill for a low-end model like this laptop.
There's an Intel Core i7 7700 HQ inside, a full quad-core 45-watt CPU like it's expected to see in any gaming laptop.
For the price, this is a pretty nice device, because often (for example, if you're looking at the Dell Inspiron Gaming line), then you're going to get an Intel Core i5 for the price that this is at.
Thi laptop you can get with an SSD and a hard drive or just a hard drive, 8 or 16 gigs of RAM from the factory all the usual things you'd expect.
Also, there is an Nvidia GTX 1050 Ti dedicated graphics near switchable via optimist with the Intel HD 630 graphics. So, when you're doing lightweight tasks and you don't want battery life to take a hit, you don't need to worry, it will switch to more appropriate graphics.
So, the price for this one would be expected to be lower than the main competitors with that Intel Core i7 and the GTX 1050 Ti inside. You can find this on Amazon (check links below) and other places as well. It really depends on where you're most interested in buying from, who ships to the country that you're in, etc.
The MSI GL62M 7REX is one of those sorts of thin-and-light gaming laptops in the entry-level range. We've seen this before with the Dell Inspiron 15 Gaming Edition or the Asus Rogue Strix GL502.
This laptop weighs 2.2 kilograms (4.8 pounds), it's 25 millimeters thick (which is 1 inch), which's really not much size and weight for a gaming laptop.
Of course, the trade-off is gonna be the battery. When you look at the internals, there is a small battery inside. It's 41 watt-hours, just like the Rogue Strix for example, and the higher end of the Dell Inspiron Gaming Edition. Battery life is not going to be fantastic on this.
Once you get away from the fact that you are not going to get away from the power outlet for all that long, it's a pretty good machine for the price. It certainly is an affordable way to get into an MSI gaming laptop.
You've got the Full HD matte display, an IPS with good viewing angles, decent display metrics, you can see those here.
| | | | | | | | |
| --- | --- | --- | --- | --- | --- | --- | --- |
| Display metrics | 251 Nits | 68% sRGB | 51% Adobe RGB | 2.2 Gamma | 7400K | 0.28 Black level | 870:1 Contrast |
MSI GL62M 7REX Display Metrics
It is truly competitive with other laptops in this price range but it's not going to blow you away with the color gamut unless you go for that nice 120 Hertz TN panel with 94% NTSC coverage. But then again, you're getting the wide viewing angles of IPS.
Also, 120 Hertz is kind of overkill when you have an Nvidia GTX 1050 TI GPU in here. That is the lower end of Nvidia 10 series cards. It's not rated for VR but you can do mixed reality stuff under windows with this.
MSI GL62M 7REX is certainly powerful enough for games like Overwatch, Diablo 3, League of Legends, etc. Those games are not super demanding of the GPU. In fact, even more demanding games can play pretty well in here.
The only time you're not going to hold 60 frames per second at native 1080p resolution easily is for those really demanding games like The Witcher 3 or Mass Effect Andromeda.
Build quality on this is not something that sticks out. MSI uses a lot of fantastic plastic and that's what it is here.
The material is a matte black soft-touch kind of finish that doesn't show a whole lot of fingerprints. It feels decently sturdy but not super rigid. Again, in this price range and particularly gaming laptops you don't see a whole lot of high-end classy metal rigid designs unless you're looking at fairly expensive boutique products like the Razer Blade for example.
The logo on the lid is a little bit smaller at least. I know some may not like the big red dragon on the lid.
In short, it's decent enough build quality, it's good for impact absorbing. I've owned MSI laptops and they have held up pretty well.
Ports are plenty on here as you would expect. You got a full-size SD card slot, HDMI 2.0, USB 3.0 ports, and USB-C. There's no Thunderbolt 3 at this price point though. And, of course, you have wired Ethernet.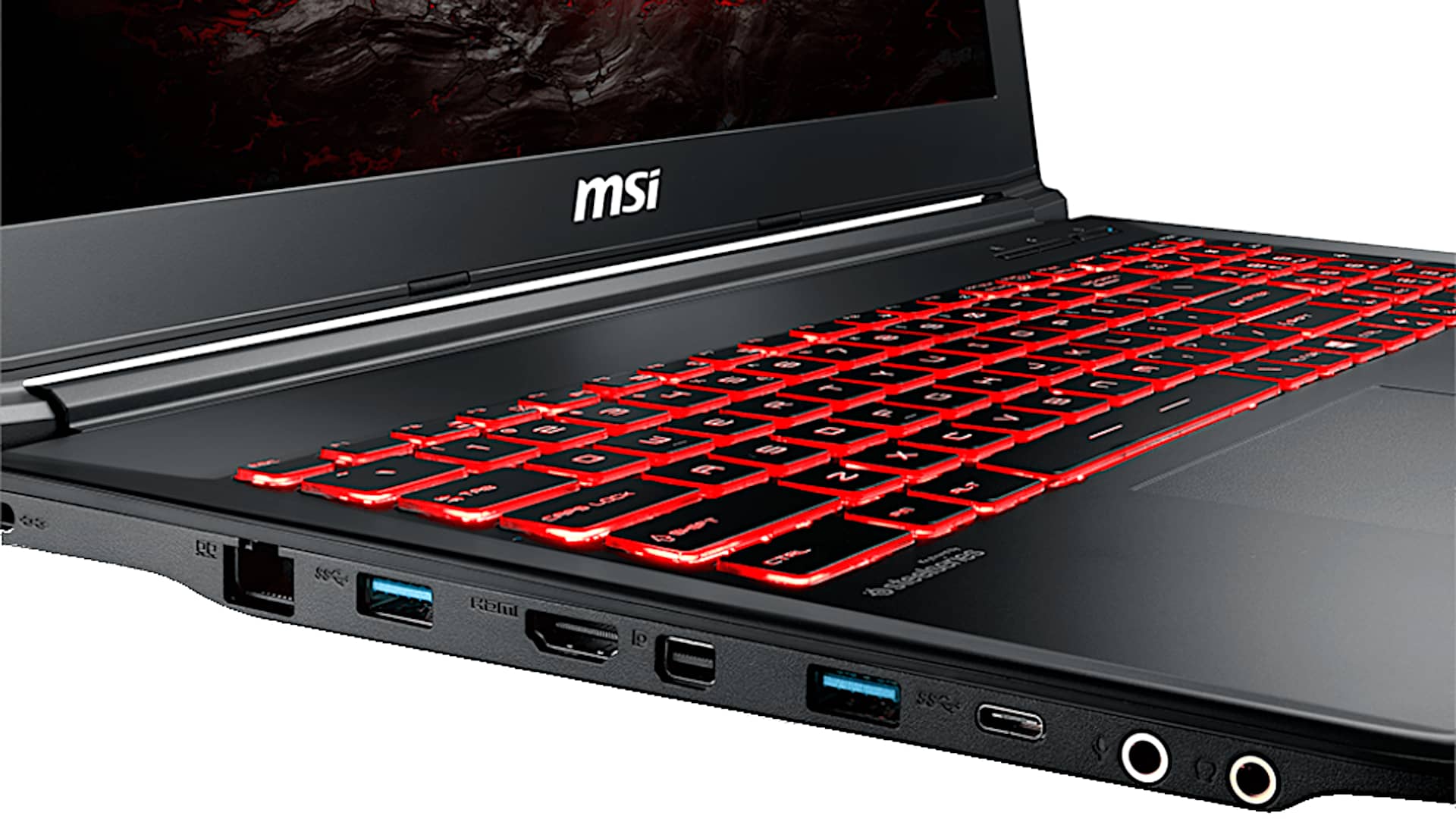 The keyboard is a Steelseries keyboard. I like the feel and it's nice compared to, for example, Dell Inspiron Gaming Edition, which has a very short travel keyboard. This one has more of a normal 1.4-millimeter travel and a really nice tactile feel. It's supposed to be anti-ghosting and it's backlit in red.
The trackpad is made by Synaptics and MSI used to have really poor trackpads that can make you go crazy. Not so bad here, actually. It's okay, not phenomenal but it's passably decent. And I do like that there are actually separate left and right mouse clicking buttons on it.
When it comes to the internals, it's got your typical gaming laptop architecture and that's a good thing. That means there's room for growth inside.
There are models with a boot SSD, you can get a PCIe NVMe one, you don't have to stick to SATA 3, it does support both. And, this base model that I review here just has a 7200 rpm hard drive.
So, you have the M.2 slot, the hard drive bay, two RAM slots for DDR4 RAM (theoretically you go up to 32 GB with two 16 GB modules). The base model starts at 8 GB of RAM but it's cheap and easy enough to upgrade that.
Next, there are dual fans inside, one is for the CPU and the other is for the GPU. And if you take a look at the bottom cover, there is just a lot of ventilation cutouts. I like what MSI has been doing lately with putting lots and lots of ventilation on the laptop because nobody wants their gaming laptop to be crippled because of heat.
You don't want to worry about the fact your CPU and your GPU are baking. Certainly, not the case with the GTX 1050 Ti. It is not a real hot powerful card anyway.
The CPU and the GPU temperatures were good from idle to full performance use. Well, the CPU typically is around 70C when gaming, and the GPU is typically around 60 Celsius, which is phenomenal.
There are no hot spots on this laptop to the touch even when gaming though you'll feel some warmth, certainly on the bottom side.
The only thing that's a bummer here is the battery life and like I said that that's the trend with these entry-level gaming laptops that are kind of slim or kind of light. You may think, oh I could take this to class, yeah you can as long as you're near an outlet because it averages about three and a half hours of battery life. That's doing productivity work that is not gaming.
You can use the Intel HD 630 integrated graphics, it's got Nvidia Optimus switchable graphics, which should save you some power. But a 41 watt-hour battery is just tiny. That's on the low end even for a 13-inch dual-core ultrabook.
This laptop comes with a 150-watt charger and that's perfectly adequate for this laptop. It's not going to need more than that even when you're gaming at full throttle.
One thing to note, if you buy this with Windows it's maybe going to ship with Chinese Windows so you're gonna have to either install the English language pack (or whatever your country's language is) or you can just download Windows 10 installation media install Windows 10 home on this for your language just wipe it out and start from scratch.
If you format the disk before reinstall then you may lose the MSI bloatware. But, you should add a few things like MSI's Dragon Center that enables you to handle the cooling profiles.
The fans are a little bit noisy at idle, they're a little bit overkill and you can adjust that in the Dagon Center and it is actually pretty excellent for that.
There's a couple of other drivers you can go to MSI's website and pick and choose the ones that you want. The most important would be Dragon Center and the one for the control keys on the keyboard.
To access the internals you remove the entire bottom cover. There are lots of little Phillips head screws. Unscrew that and then you can pry off the bottom. It will kind of catch along the area right around the headphone and microphone jack, so work it off in that area there.
Once we're inside, we can see two RAM slots for ddr4 RAM, the standard old ones. There is an M.2 SSD slot, there was no SSD installed in this particular model, which is the lowest end configuration. That slot works with SATA and PCIe NVMe SSDs. You have options available to you.
There's a hard drive 2.5-inch bay area where you could also put a two-and-a-half-inch SSD in there if you wanted to. I got a Hitachi 7200 rpm hard drive inside of there.
Lots of nice copper going on for the cooling. They are pretty well built, almost overbuilt for cooling. Because the dedicated GPU (the GTX 1050 Ti in this case) is not the most hot-running GPU, being at the lower end of the spectrum performance.
We have our CPU also connected with cooling tubes with four screws retaining them for a good and even heatsink coverage. And, there are two big fans on the other side of the cooling loop.
The battery pack is in a very small case on the rim. It is very small, no wonder this does not have very good battery life.
To take the battery out it's not so hard, you just lift it up and it's connected with one connector and one screw. You got to unscrew that screw and then you could replace the battery if you ever needed to a couple of years down the road.
There are dual stereo speakers, two on each side. On the bottom cover, you might have noticed that there is a mesh grille, which looks like it's for a subwoofer. This bottom cover must be used on other models that do have a subwoofer because there is no subwoofer there and we wouldn't expect one in this price range.
So, that's my MSI GL62M review. For the price, it's a very nice entry-level gaming laptop. For those who really want to get into MSI, you like that SteelSeries keyboard.
They're focused on very good cooling also. I like the heatsink, no tripod design there, four screws, one on each corner for a good even heatsink coverage. Beefy fans, lots of ventilation, and good performance are what you can expect from this MSI laptop.
MSI GL62M 7REX
Performance -

96%

Price -

95%

Value -

96%