I provide you with my nVidia GTX 1070 Founders Edition review. We are now starting to present the "big boys" of the 2016 nVidia cards, and one of them is the nVidia GTX 1070 Founders Edition. This was a high-end card in 2016 and it is still recommended today if you're constructing a reasonably affordable PC gaming setup because it offers so much for its price and is available for about $200.
We shall learn more about this card's competitors, who needs it today, and what you may expect from it in the article's next chapter.
The "x70" series of graphics cards—the GeForce GTX 670, GTX 770, and GTX 970—continues its tradition of being the "expensive sweet spot" in the company's lineup with the introduction of nVidia's GeForce GTX 1070 Founders Edition.
This Pascal-architecture GPU, which is built on the same chip as the powerful flagship GeForce GTX 1080 but has been slightly scaled back to make it more affordable, is what gamers with tighter (albeit still sizable) gaming budgets have been waiting for. Not to give anything away up front, but the GTX 1070 card is essentially a component that delivers 75% of the performance of the GTX 1080 for a little under 50% of the cost, making it a fantastic deal.
Aim for this card if you want to play 1080p games at nearly all settings when paired with a strong CPU and you don't want to spend more than $200.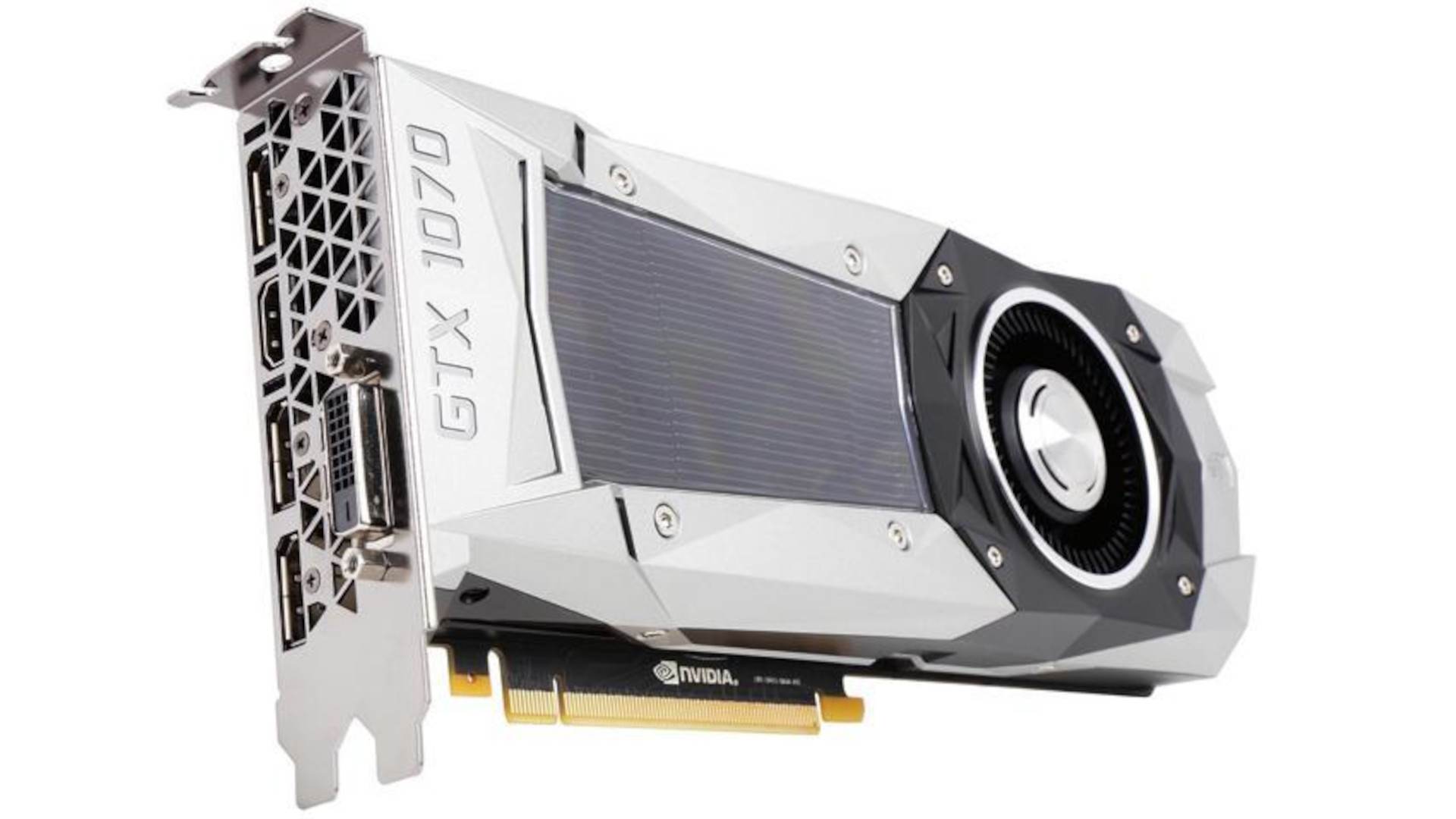 nVidia GTX 1070 Founders Edition Specs
The Nvidia-branded GeForce GTX 1070 that we tested and are looking at here is a Founders Edition card, which is the equivalent of what the graphics-card industry referred to as a "reference card" and bears the Nvidia branding. With its Pascal-based gaming cards, Nvidia has chosen to start charging a premium and plans to sell these variants of the cards for the duration of the product.
Actually, the Founders Edition board is what Nvidia formerly referred to as its reference design. But this time, the business decided it also wanted a share of the sales of premium cards. Renaming its own service is intended to assist avoid the unfavorable stigma that occasionally surrounds reference implementations.
Nvidia has been striving to update its GPU hardware to a new architecture known as "Pascal" over the past few years. Transistors with a planar (or single-layered) orientation were used in the prior architecture, known as Maxwell, and were created using a 28-nanometer (nm) manufacturing process. With "3D" transistors that are stacked vertically and a significantly smaller 16nm manufacturing process, Pascal is a totally new species.
A two-piece plate covers the rear of the board. It serves only aesthetic purposes and has no cooling effect. The backplate may easily be unscrewed if you're using SLI and have a few cards close to one another or if you just want additional airflow.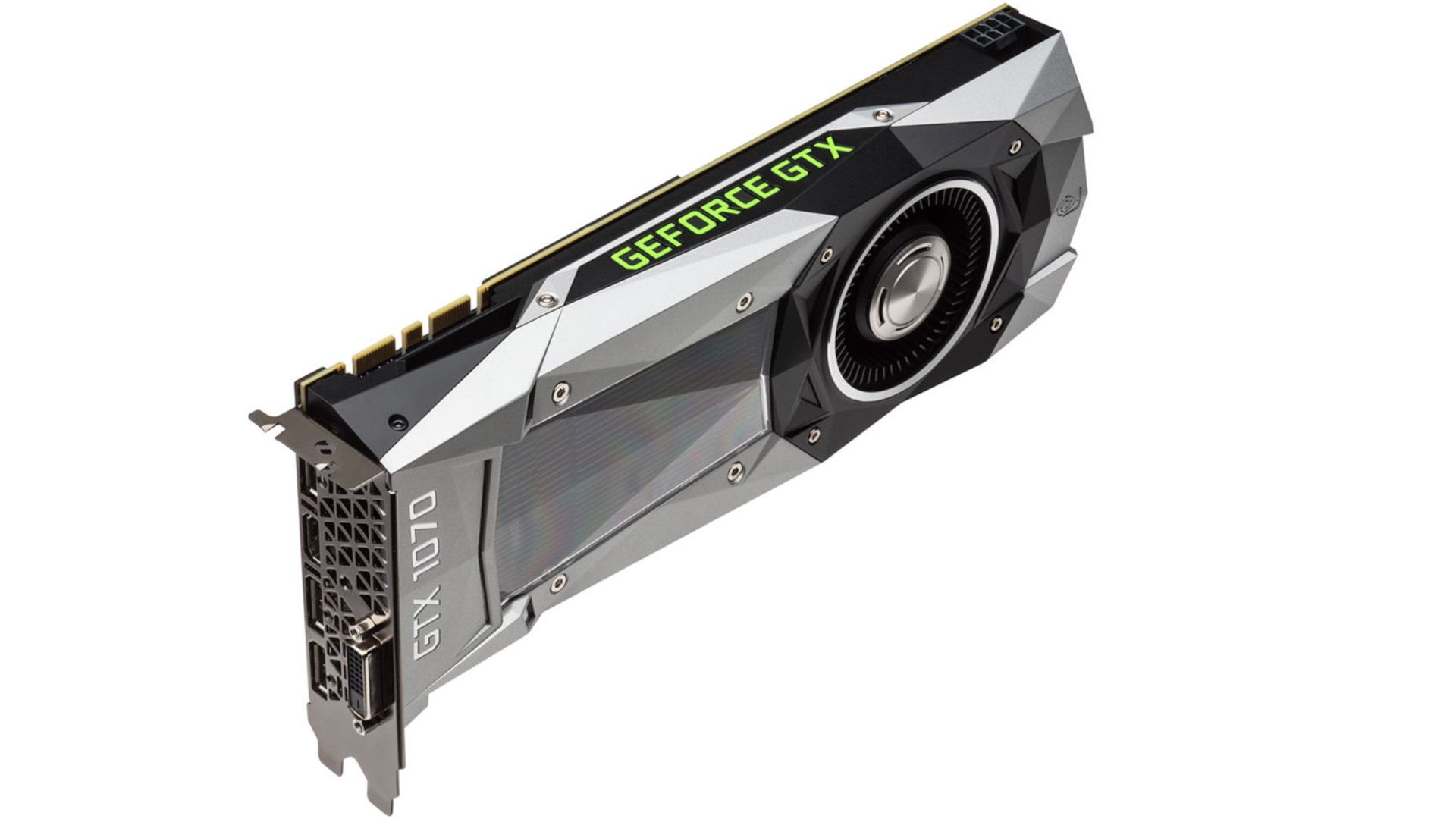 On top of the card is an illuminated GeForce GTX label, while the end has an eight-pin auxiliary power socket.
It depends on your taste whether you like the angular, tough look of Nvidia. But it sticks out without a doubt. You can anticipate getting noticed when using a windowed casing.
Five outputs total on the slot plate, four of which can be used at once with multiple monitors. The rear mount also reveals three DisplayPort 1.4-compatible ports, an HDMI 2.0 output, and one dual-link DVI-D interface. The remainder of the plate has several apertures to promote improved airflow.
The GeForce GTX 1080 employs a new form of memory developed by Micron called "GDDR5X," which operates at 10GHz, while the GeForce GTX 1070 uses more conventional GDDR5 memory clocked at an effective 8GHz.
The GeForce GTX 1080 can transfer 320GB of data per second while the GeForce GTX 1070 can only do 256GB per second, indicating a significant gap in memory bandwidth. However, a 256-bit memory bus is used by both devices. The GeForce GTX 1070's memory allocation is primarily different from that of its predecessor because it is double as large (8GB vs. 4GB), and it also uses memory that is somewhat faster.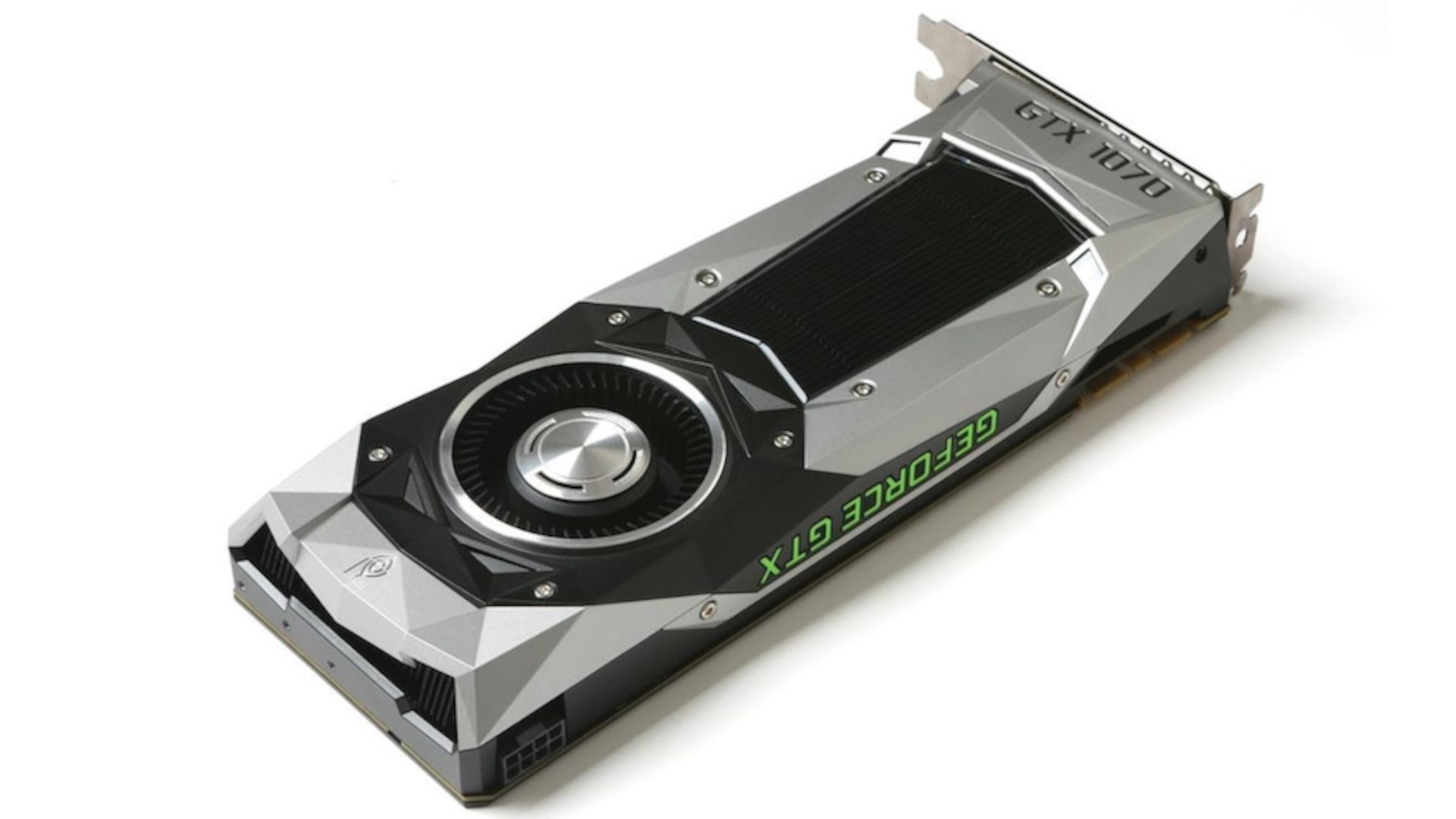 | | |
| --- | --- |
| Name | Geforce GTX 1070 |
| Manufacturer | Nvidia |
| Launch Date | 10th June 2016 |
| Bus Standard | PCI Express 3.0 |
| OpenGL | OpenGL®4.5 |
| Video Memory | 8GB GDDR5 |
| Engine Clock | GPU Boost Clock: 1683 MHzGPU Base Clock: 1506 MHz |
| CUDA Core | 1920 |
| Memory Speed | 8000 MHz |
| Memory Type | GDDR5 |
| Memory Size | 8GB |
| Memory Interface | 256-bit |
| Resolution | Digital Max Resolution 7680 x 4320 |
| Interface | 1x DVI1x HDMI 2.03x DisplayPort 1.4a |
| Maximum Display Support | 4 |
| Dimensions | 26.7 x 11.2 x 4.0 Centimeter |
| Recommended PSU | 450W |
nVidia GTX 1070 Founders Edition Performance & Gaming
With 8GB of VRAM, the nVidia GTX 1070 Founders Edition falls into the "big boys" category. Previously a high-end card capable of maxing out every game, its performance isn't as significantly impacted today. Only a few recent titles, like Cyberpunk 2077, couldn't max out this card at 1080p, but it can still deliver respectable 30+ frames per second, which I consider to be playable.
Because it falls between the pricing point of the RX 580/590 8GB and RX 5600 XT and in terms of performance, this card has no competitors in AMD cards. However, there are newer nVidia cards with GDDR6 like the GTX 1660Ti and GTX 1660 Super that are somewhat more expensive but have about the same performance as this card. After saying that, let's come to a conclusion about who this card is for, who should buy it, and why.
Conclusion
This card costs $200 despite being six years old and, in my opinion, offers more value for your money than the GDDR6 GTX 1060Ti since it has more VRAM, which more recent games require. Additionally, there is the choice to spend a few dollars extra and obtain a GTX 1080 or perhaps an even better RX 5600 XT.
Should you purchase the nVidia GTX 1070 Founders Edition as well? It is definitely worthwhile if you can find it for the same price as other models. The build quality, design, and easily removable backplate are some of this card's benefits. Noise, temperature, and the potential for higher costs than other models are some additional drawbacks.
Who makes nVidia GTX 1070 Founders Edition?
It's a card that Nvidia itself manufactures (or have made for them). not only the GPU chip, but the full card as well, including the cooler, IO shield, and base board.
They used to construct these according to their own basic requirements. I.e., a "reference" card that the other firms can use as an illustration of the bare minimum that needs to be done to adhere to NVidia's design.
The first cards that NVidia produced a board slightly different from the standard design were the 3000 series. primarily to provide a gap for the new cooler they mounted on top to vent air through. To make the board smaller, all the standard reference components are still present, only compressed closer to one another.
nVidia GTX 1070 Founders Edition is made by Nvidia. Usually right around the time of release. Basically so that there would be "something" to purchase when new cards are released. Nvidia and AMD discontinue producing their Founders Editions after their board partners (the Add-in-Board or AiB) companies like Asus, MSI, Gigabyte, etc. start producing their own variations.
Founders Edition is typically considered to be a basic card. built according to the original plan. It used to include a blower-style cooler that could accommodate some pre-built computers with compact form factors. However, it appears that these are no longer sufficient as both Nvidia and AMD have chosen more capable coolers in their most recent cards. Due to their cooler designs, the founders' equipment from the past tended to run hot and loud.
The AiB cards still tend to have a little more power, thanks to improved power circuitry, a cooler that is even more competent, and possibly a BIOS that supports larger boosts. The most recent founders cards, however, are no longer distant from these.
Is nVidia GTX 1070 Founders Edition good for gaming?
With 8GB of memory, the card is still quite strong. Most 2021 games should run at 60+ frames per second on high 1080p settings. The 1070 is fairly energy-efficient, and the majority of brands have built their 1070 correctly so overheating is never a problem even after five years.
Nearly any game you throw at the 1070 will run well on it. In 1440p resolutions, it works best, and at 1080p, it's perhaps a bit much (at least in most games). For the most part, everything works well and is reasonably priced. It's also one of the cards that can use FreeSync monitors thanks to NVidia's driver upgrade, which might be highly advantageous given that FreeSync panels are frequently less expensive than comparable G-Sync models.
By far, it isn't the greatest graphics card available. The 1080 and 1080Ti are both somewhat to significantly faster than a Titan. Naturally, the new 20 series cards are also slightly superior. That 1070 ought should operate similarly to the most recent GTX 1660 non-Ti; there shouldn't be much of a difference.
Since the 1070 lacks ray tracing processors, RT and DLSS will not be available when more and more games begin to use them in 2022. Unlike RT, which is only "for the aesthetic," DLSS is a crucial element in upcoming games with the aim of achieving greater frame rates. As more games use DLSS, the 1070 is likely to see a rather rapid decline in performance. It is not, to put it bluntly, future-proof.
Here are some benchmarks for well-known games to see how this card does:
Battlefield V – 2018 saw the release of the well-known battlefield video game. On high settings in 1080p, the GTX 1070 Founders Edition averages about 80 frames per second.
Assassin's creed odyssey – (2018), 1080p, maximum setting, 60+ frames per second.
Metro Exodus – (2019), this card maintains about 70 frames per second on 
Red dead redemption 2 – 2019 saw the release of an iconic game. Here, this card keeps the frame rate at roughly 55 fps on 1080p high settings.
Doom Eternal – (2020) , 1080p, Ultra settings, 125+ fps
Assassin's Creed valhalla – latest installment in the Assassin's Creed series. When using maximum settings and 1080p quality, this card produces 55+ frames per second.
Cyberpunk 2077 – very challenging game of 2020. High settings, 1080p, and a consistent 60+ frames per second are commendable.
Hitman 3 – 1080p resolution, ultra settings , 90+ fps.
Elden Ring – (2022) , 1080p, ultra settings, 60+ fps.
Dying light 2 – demanding 2022 game. High settings, 1080p, virtually keeping 60 frames per second.

System specs used for this tests are: CPU 11th gen i5, 16GB DDR4 3200MHz , Windows 11, 500GB nvme.
Basically, what these tests show us is that a nVidia GTX 1070 Founders Edition is good for 1080p gaming today. However, newer games will require you to give up details, therefore I would recommend spending more money on a newer card for 4K gaming. However, for 1080p gaming, this card is unquestionably sufficient.
Can nVidia GTX 1070 Founders Edition do 4K?
Watching 4K movies will be possible for sure, but what about gaming?
It plays 4K videos flawlessly. However, it depends on the game if you're playing at 4K. Some games don't need much to run in 4K and can reliably run at >60FPS even with the highest settings. However, unless you lower the quality settings, it won't provide you with sufficient frame rates (60 and above) for AAA games (Battlefield, Crysis, and other expensive stuff) to stop your screen from tearing or stuttering. In many games right now, the 2080Ti offers the top performance at 4k extreme settings.
Several games can even struggle to function at medium or high settings while most will run at 60 frames per second in 4K. However, most will either struggle or fail to reach 60 frames per second under low settings. Nothing below a 1080ti will effectively manage 60 frames per second in 4K at good settings, thus you need one for 4K.

Also depending on the game, for instance, the majority of games released prior to 2018 will undoubtedly run at 4K resolution on reasonable settings, but newer games will undoubtedly have trouble.
So in essence, we can conclude that the nVidia GTX 1070 Founders Edition does 4K in one way—for older AAA games, films, and movies—but that newer games require a newer, more powerful card.
Is nVidia GTX 1070 Founders Edition a silent card?
In comparison to earlier iterations, NVIDIA's new thermal solution promises improved performance and acoustics, but after seeing the results, I'm not so sure. So is nVidia GTX 1070 Founders Edition a silent card?
The card is quite silent when idle, but it doesn't have the idle-fan-off option that almost all board vendors have been adopting for their GeForce 900 cards.
The fan definitely becomes more audible and noticeable during gaming, but not in a bothersome way. The GPU is only somewhat quieter than the GTX 1080 Founders Edition. Noise levels are generally equivalent to those of earlier NVIDIA reference boards, in my opinion. Vendors of custom boards will undoubtedly address this. I already have a few boards here, and the noise level is fantastic.
Overall, I'd say the cooler is the weakest component of the GTX 1070 and GTX 1080. Temperatures are also not great, with the card hitting above 80°C while gaming.
What ports are on nVidia GTX 1070 Founders Edition?
nVidia GTX 1070 Founders Edition ports are:
Three DisplayPorts, a DVI port, and an HDMI port for connecting a display. You will need to use an active converter since, unlike earlier NVIDIA cards, the DVI connector no longer includes the analog signal. Additionally, NVIDIA improved DisplayPort to be approved for version 1.2 and ready for version 1.3/1.4, enabling compatibility for 4K at 120 Hz, 5K at 60 Hz, or 8K at 60 Hz with two cables.
Additionally, the GPU includes an HDMI sound device. Blu-ray 3D movies and HD audio are supported by HDMI 2.0b, which is compatible with this device. HEVC at 10 and 12-bit has been supported by an update to the GPU video encoding unit.
nVidia GTX 1070 Founders Edition
Performance -

98%

Price -

97%

Value -

98%