ASUS Republic of Gamers (ROG) is a well-known brand in the worlds of gaming and high-performance computing. ROG, well known for their high-quality hardware and gaming accessories, has now entered the power supply market with the ROG STRIX 750W Gold Aura Edition Power Supply. This power supply unit (PSU) delivers not just the necessary characteristics for a dependable power source, but also the aesthetics and customization possibilities that gamers and PC fans seek.
In this review, we'll look in depth at the ROG STRIX 750W Gold Aura Edition's design, features, performance, and value proposition. By the conclusion of this detailed review, you'll know whether this PSU is the ideal choice for your gaming rig or high-performance PC build.
ROG STRIX 750W Gold Aura Edition Power Supply Design
The ROG STRIX 750W Gold Aura Edition Power Supply features an eye-catching appearance that is consistent with the ROG brand's aggressive and futuristic look. The power supply unit is predominantly black, with strong highlights in the shape of angular lines and ROG emblems, all of which are lighted by RGB LED illumination that may be customized.
These LEDs may be synced with other ASUS Aura Sync-compatible ASUS Aura Sync components to create a consistent and visually pleasing lighting theme throughout your system.
The power supply is made of steel and high-quality polymers, giving it a robust and long-lasting feel. It is a typical ATX-sized device that should fit nicely in most mid-tower and full-tower cases, measuring 160mm x 150mm x 86mm. The small size is advantageous for cable management since it allows for more area within the case for routing and sorting wires.
In terms of build quality, the ROG STRIX 750W Gold Aura Edition Power Supply stands out with its sturdy design and sense of dependability. The PSU includes a 135mm cooling fan with a twin ball bearing design for silent and efficient performance. The entire design and build quality of this power supply meet the high standards for which the ROG brand is recognized.
ROG STRIX 750W Gold Aura Edition Power Supply Connectivity
The ROG STRIX 750W Gold Aura Edition Power Supply totally modular design is one of its most notable characteristics. This means that all of the wires are removable, allowing for a more orderly and tidy installation. By connecting just the necessary connections, you may decrease clutter within your PC box and enhance airflow, both of which are critical for maintaining ideal temperatures and performance.
The power supply comes with a full collection of cables, including the necessary 24-pin ATX, 8-pin EPS, and 4+4-pin CPU power connections, as well as a variety of PCIe connectors for powering high-end graphics cards. There are also a plethora of SATA and Molex connections for your storage devices and accessories. Each wire is labeled for simple identification, making the installation procedure easier, especially for those who are constructing their first PC.
ROG STRIX 750W Gold Aura Edition Power Supply Performance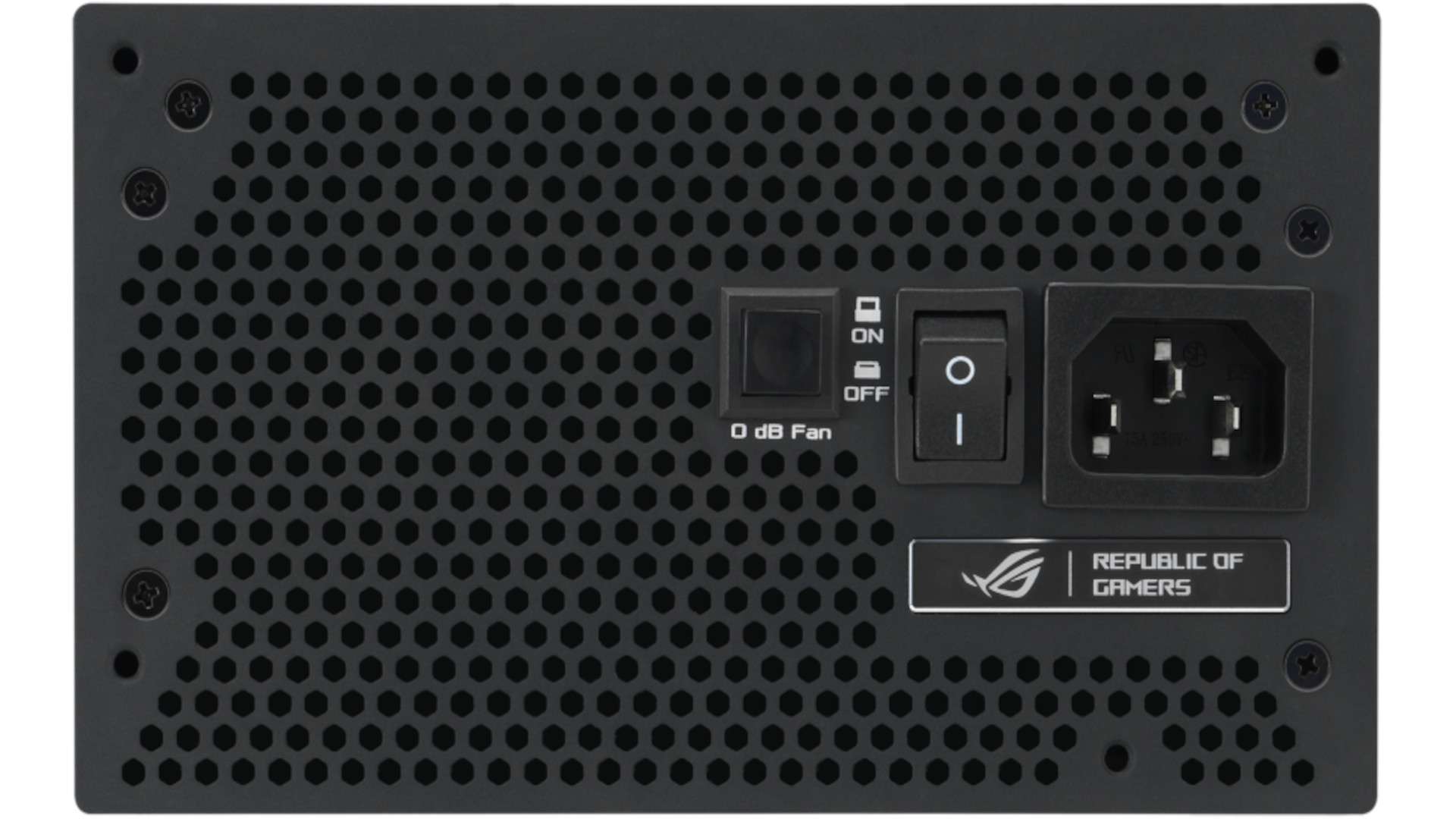 The ROG STRIX 750W Gold Aura Edition Power Supply has a 750-watt rating, which is sufficient for most gaming rigs and high-performance PCs. Its 80 PLUS Gold accreditation distinguishes it, demonstrating that it performs at a high degree of efficiency. Gold-certified power supplies are recognized for converting a considerable part of the electrical power they receive from the wall into useable power for your components, resulting in less energy waste and lower electricity bills.
Efficiency is important not just for the environment, but also for gamers and PC lovers. A more efficient power supply creates less heat, which can help keep your PC case temperature consistent. This is especially important while overclocking and guaranteeing the longevity of your components.
The 80 PLUS Gold certification indicates that this power supply can achieve an efficiency level of more than 87% at 20% load, more than 90% at 50% load, and more than 87% at 100% load. As a result, it is appropriate for a broad range of PC settings, whether you have a basic setup or a high-end gaming rig with several graphics cards.
When it comes to power supply units, performance and dependability are essential. In both of these areas, the ROG STRIX 750W Gold Aura Edition Power Supply excels. It offers reliable and clean power to your components, avoiding the possibility of voltage spikes or power fluctuations that might harm sensitive electronics, thanks to its high-quality components and design.
The 135mm cooling fan runs quietly and efficiently, keeping the power supply cool even under severe loads. ASUS has included a fan control system that changes the fan speed based on the temperature of the power supply, ensuring that it is as quiet as possible when your system is idle or performing light activities.
Furthermore, this power supply has advanced protective methods such as over-voltage, under-voltage, short-circuit, and over-power protection. These security measures are critical for protecting your investment in costly PC components. The ROG STRIX 750W Gold Aura Edition Power Supply is designed to protect your system in the unlikely case of a power surge or electrical malfunction.
Many PC fans are concerned about the noise level of their power supply. A noisy power supply may be quite annoying, especially during prolonged gaming sessions or when you require a peaceful setting for other duties. With its quiet and efficient cooling design, the ROG STRIX 750W Gold Aura Edition answers this worry.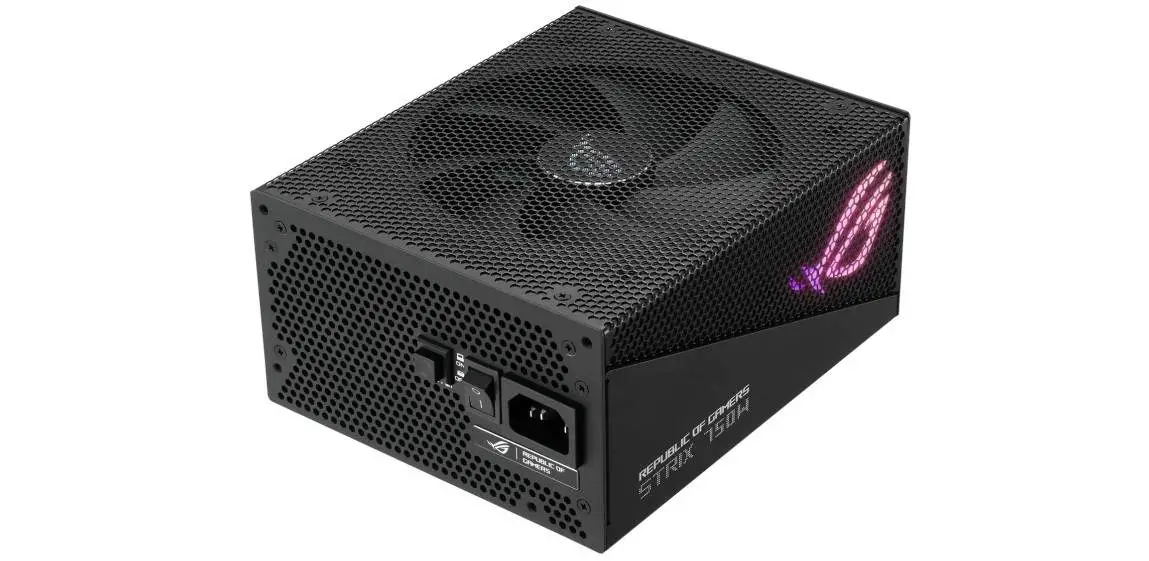 As previously stated, the power supply has a 135mm cooling fan with two ball bearings. This not only extends the life of the fan but also decreases noise levels. The fan runs quietly under modest loads, and even when it does ramp up in response to higher temperatures, the noise is minimal.
ASUS has certainly taken consideration into producing a power supply that not only performs well but also fits in perfectly with a gaming setup. While not a performance feature, RGB lighting may be tweaked to fit the look of your PC build, bringing a touch of customization and beauty to your gaming machine.
ROG STRIX 750W Gold Aura Edition Power Supply Specifications
| | |
| --- | --- |
| Brand | ASUS ROG (Republic of Gamers) |
| Model | ROG STRIX 750W Gold Aura Edition |
| Form Factor | ATX (Standard) |
| Wattage | 750 Watts |
| 80 PLUS Certification | 80 PLUS Gold |
| Modularity | Fully Modular |
| Dimension (LxWxH) | 160mm x 150mm x 86mm |
| Cooling Fan Size | 135mm |
| Fan Bearing Type | Dual Ball Bearing |
| Efficiency Rating | Over 87% at 20% load, Over 90% at 50% load, Over 87% at 100% load |
| Cable Connectors | 1 x 24-pin ATX, 2 x 8-pin EPS (CPU), 4 x 6+2-pin PCIe, Multiple SATA and Molex connectors |
| Protection Features | Over-Voltage Protection, Under-Voltage Protection, Short-Circuit Protection, Over-Power Protection |
| Lighting | ASUS Aura Sync RGB Lighting |
| Compatible Components | ASUS Aura Sync-compatible motherboards, graphics cards, and peripherals |
| Noise Levels | Quiet operation under moderate loads, adjustable fan speed based on temperature |
| Warranty | 5-Year Limited Warranty |
ROG STRIX 750W Gold Aura Edition Power Supply Conclusion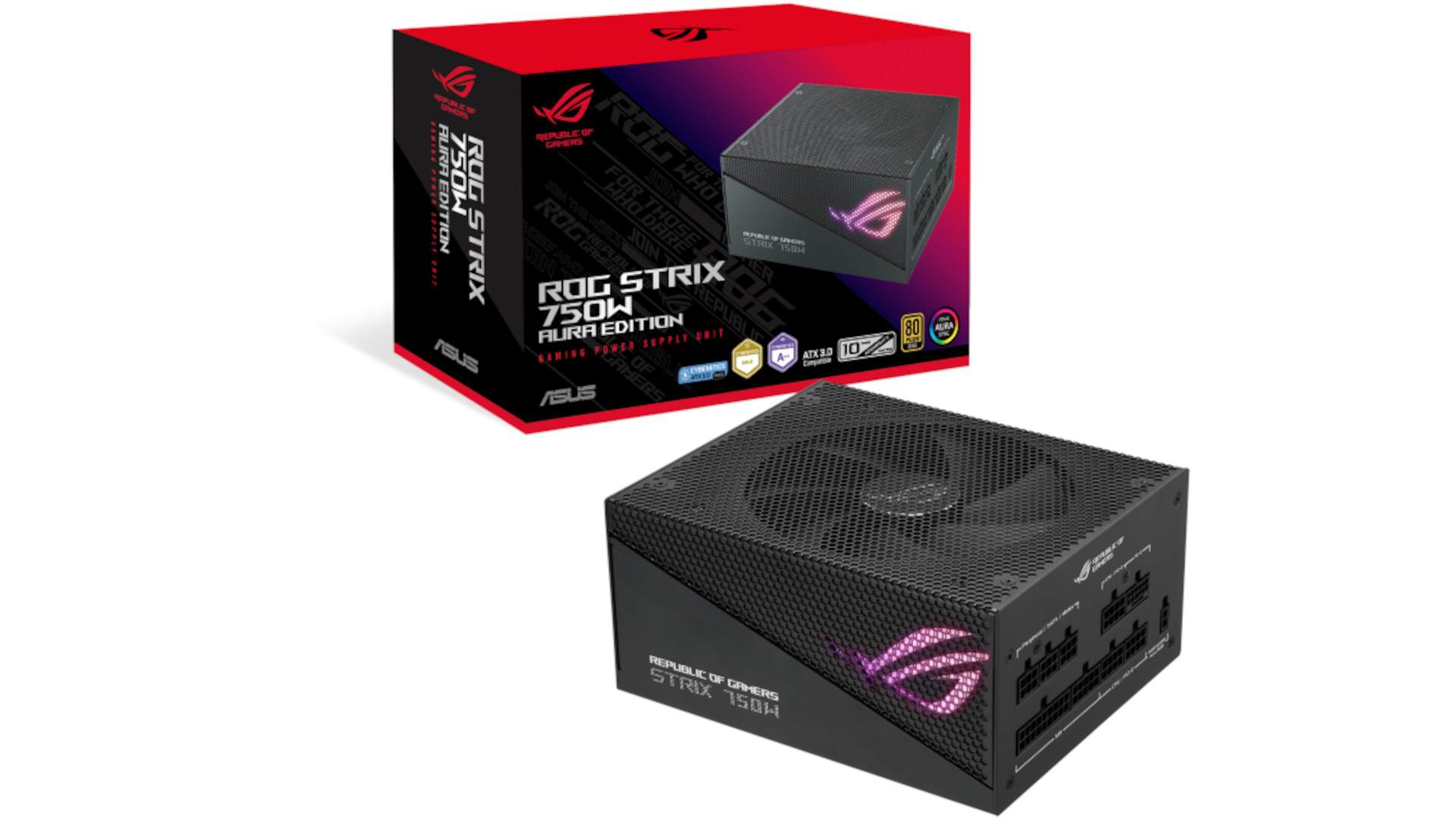 The ROG STRIX 750W Gold Aura Edition Power Supply is marketed as a high-end power supply, and the pricing reflects that. While it is not the most affordable choice on the market, it provides outstanding value for those who value performance, dependability, and aesthetics.
ROG STRIX 750W Gold Aura Edition Power Supply
Performance -

95%

Price -

97%

Value -

96%