The newest Strix Gold Aura Edition power supply from ASUS Republic of Gamers (ROG) are fully modular, support 16-pin PCIe, are compatible with ATX 3.0, and have integrated Aura Sync RGB lighting. There are four different power supply options for the Strix Gold Aura Edition: 750W, 850W, 1000W, and 1200W.
Known for their high-end gaming gear, ASUS' Republic of Gamers (ROG) brand offers this power supply unit (PSU) as part of their high-end lineup. The ROG STRIX 850W Gold Aura Edition Power Supply is engineered to offer power to gaming and high-performance computer configurations with dependability and efficiency.
We'll examine this PSU's design, performance, features, and other elements in-depth in this review to assist you in determining whether or not it's the best option for your requirements.
ROG STRIX 850W Gold Aura Edition Power Supply Design & Efficiency
The stunning look of the ROG STRIX 850W Gold Aura Edition Power Supply makes an immediate impact. ASUS has always excelled in terms of looks, and this power supply is no exception. The case is sleek black with metallic elements and the famous ROG logo on one side.
The mix of brushed and matte finishes gives it a luxury and aggressive appearance, making it an ideal complement for gaming setups with similar design aesthetics. The PSU also has RGB lights that can be synced with other Aura Sync-compatible components to create a visually unified gaming setup.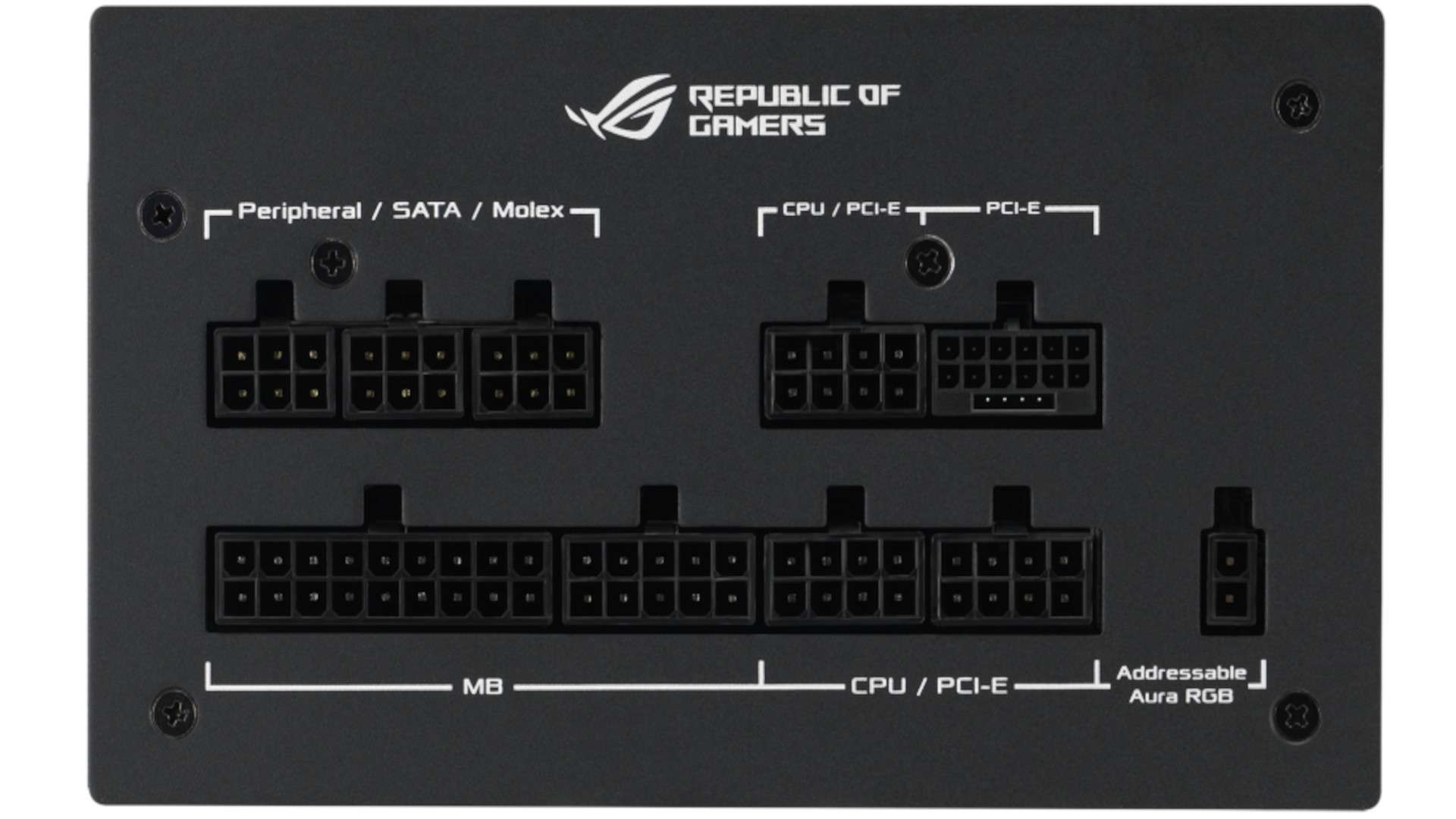 In terms of build quality, the ROG STRIX 850W Gold Aura Edition Power Supply is sturdy and well-made. The enclosure is built of high-quality materials that should last a long period. It also includes entirely modular wires, which not only simplify installation but also contribute to a cleaner, more ordered design. The connections are secure and feel solid, guaranteeing a strong connection.
The ROG STRIX 850W Gold Aura Edition Power Supply is an 80 PLUS Gold certified power supply, indicating that it is extremely efficient. This certification confirms that the power supply performs at a minimum efficiency of 87% at 20% load, 90% at 50% load, and 87% at 100% load. In practice, this translates to less wasted energy, cheaper power costs, and decreased heat production.
When selecting a power source, efficiency is an important issue to consider because it can have a considerable influence on the entire cost of ownership. This PSU's 80 PLUS Gold accreditation ensures its energy efficiency, making it a good choice for both environmentally concerned consumers and those wishing to save money on power expenses in the long term.
ROG STRIX 850W Gold Aura Edition Power Supply Performance
The ROG STRIX 850W Gold Aura Edition Power Supply is built with high-quality components, including Japanese capacitors recognized for their dependability and endurance. This guarantees that your components receive consistent and clean power, avoiding the possibility of voltage spikes or fluctuations that might harm your gear.
This 850-watt power supply is more than capable of supporting high-end gaming systems with several graphics cards, powerful CPUs, and a range of storage devices. It has the power to overclock and run resource-intensive programs. The power supply also offers a powerful +12V rail, which is essential for graphics card and CPU power delivery.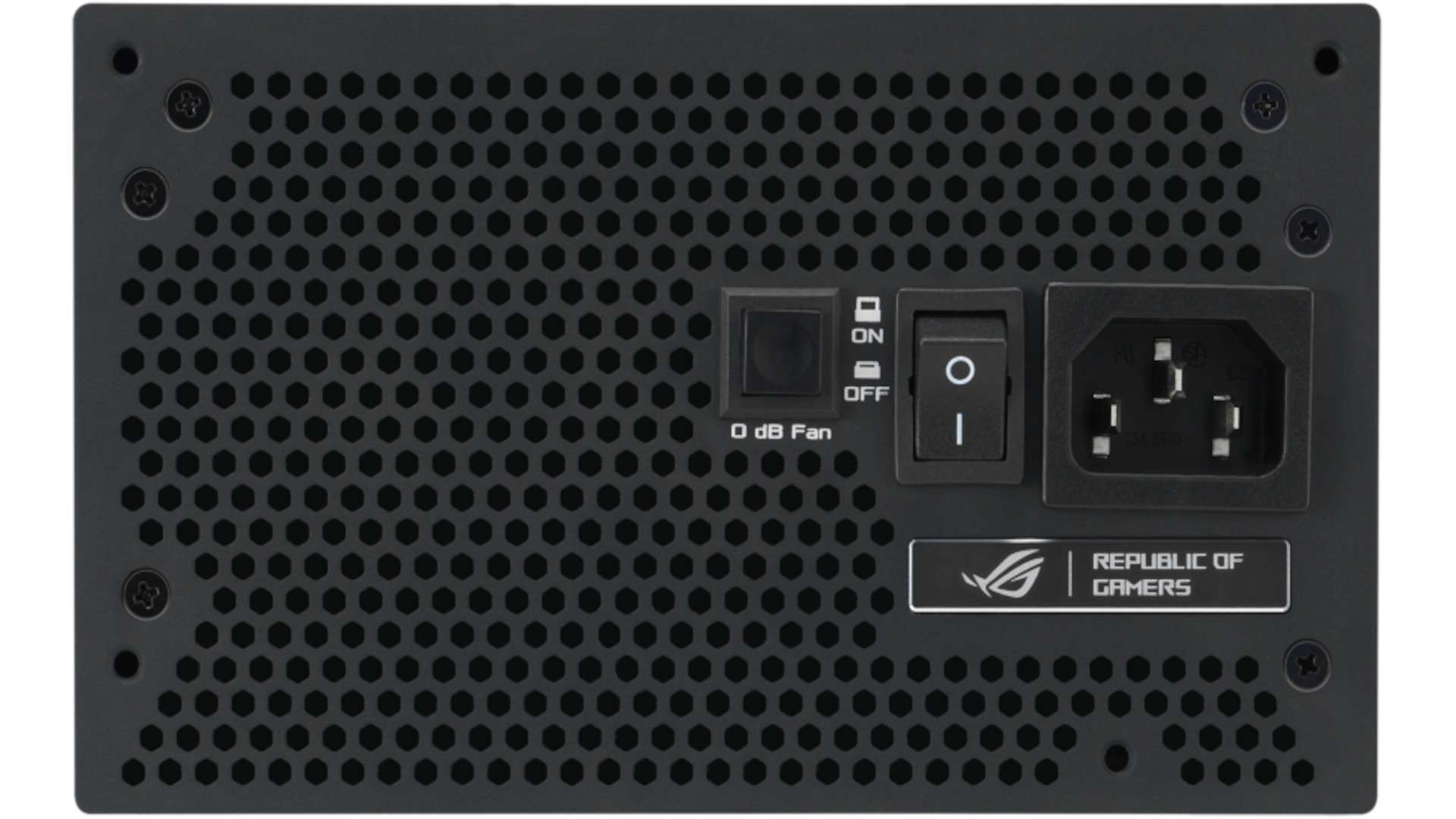 This PSU's 0dB fan mode is a remarkable feature. When the system is running at reduced loads, the fan is turned off, resulting in quiet operation. This is an excellent feature for those who value a peaceful gaming or working environment. The fan only activates when the system reaches a specified load or temperature, ensuring that it remains cool and efficient while minimizing noise.
The ROG STRIX 850W Gold Aura Edition Power Supply fully modular design allows for simple cable management. Builders benefit from modular cables because they may connect just the wires they require, minimizing clutter within the box and boosting ventilation. The cables included with this power supply are of high quality, with a black, flat design that is both useful and visually beautiful.
All of the necessary connectors are supplied, including the 24-pin ATX, CPU power connectors, and a variety of PCIe, SATA, and Molex connectors. The cable lengths are enough for most mid-tower and full-tower cases, and there are even some extra-long cables supplied for big cases or special routing requirements. The connections are designed to fit snugly into the PSU and component sockets, guaranteeing a safe and stable connection.
The ROG STRIX 850W Gold Aura Edition Power Supply has a quiet 135mm fan that is meant to run quietly and efficiently. The 0dB fan mode turns off the fan under low to moderate loads, delivering a quiet experience for everyday chores and less demanding games. Even when the fan is running, it is silent and does not make annoying noises.
The fan speed is dynamically adjusted based on the PSU's temperature and load, so it is not always running at full speed, adding to the power supply's silent operation. This is especially significant for customers who want a silent PC setup because the noise level of the power supply will not interfere with their gaming or work experience.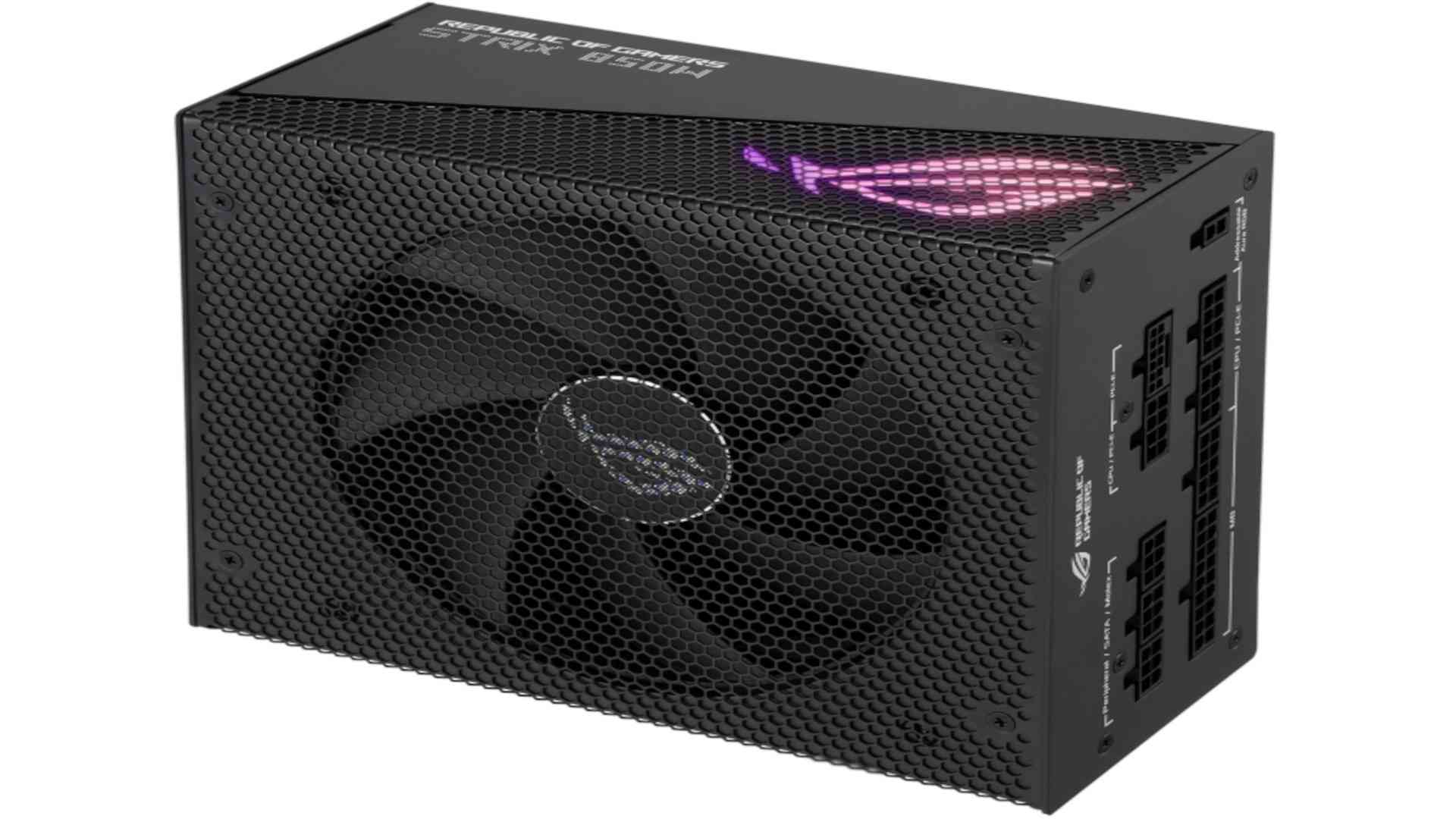 ROG STRIX 850W Gold Aura Edition Power Supply Specifications
| | |
| --- | --- |
| Model | ROG STRIX 850W Gold Aura Edition |
| Brand | ASUS |
| Certification | 80 PLUS Gold |
| Wattage | 850 Watts |
| Fan Size | 135mm |
| Modularity | Fully Modular |
| Cable Design | Flat, Black Cables |
| Main Connectors | – 1 x 24-pin ATX Connector |
| | – 2 x 4+4-pin CPU Connectors |
| PCIe Connectors | 6 x 6+2-pin PCIe Connectors |
| SATA Connectors | 8 x SATA Connectors |
| Molex Connectors | 3 x Molex Connectors |
| Floppy Connector | 1 x Floppy Connector |
| Form Factor | Standard ATX (ATX12V 2.4) |
| Dimensions (LxWxH) | 160 x 150 x 86 mm (6.3 x 5.9 x 3.4 inches) |
| Weight | 1.89 kg (4.16 lbs) |
| RGB Lighting | Aura Sync RGB Lighting |
| Protection Features | OVP, UVP, SCP, OPP, OTP, OCP |
| Warranty | 10-Year Limited Warranty |
| Included Accessories | – Power Cable |
| | – Cable Ties |
| | – Cable Combs |
| Compatibility | – ATX, Micro ATX, Mini-ITX Cases |
| Efficiency | – 87% at 20% Load |
| | – 90% at 50% Load |
| | – 87% at 100% Load |
| Price | Check current pricing from ASUS or retailers |
ROG STRIX 850W Gold Aura Edition Power Supply Conclusion
Finally, the ROG STRIX 850W Gold Aura Edition Power Supply is an appealing option for gamers and enthusiasts looking for a high-performance and visually gorgeous PSU for their gaming rigs. This power supply unit has various benefits that set it apart from the competition, thanks to its beautiful design, superb build quality, and sturdy performance.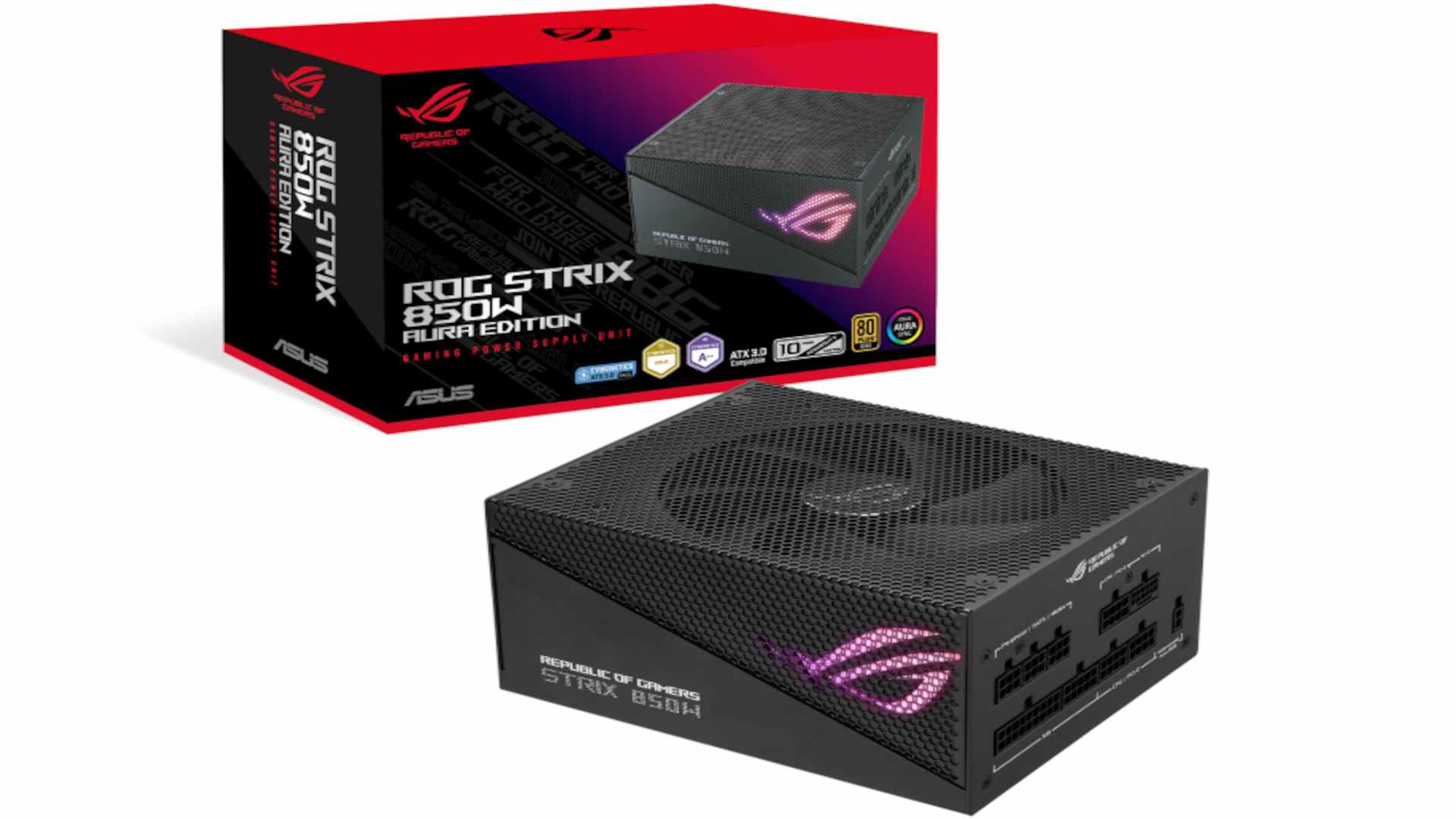 The 80 PLUS Gold accreditation assures that the power supply functions effectively, lowering energy consumption and heat production, resulting in cost savings and a more environmentally friendly gaming setup. Japanese capacitors and a powerful +12V rail offer reliable and clean power supply, shielding your costly components from voltage fluctuations.
ROG STRIX 850W Gold Aura Edition Power Supply
Performance -

96%

Price -

97%

Value -

97%