Power is everything in the realm of game. The performance of your gaming system is determined by the components you select, and the power supply unit (PSU) is frequently overlooked. If you're pushing the limits of gaming and need a lot of power for your system, the ROG THOR 1200P Power Supply from ASUS could be precisely what you're searching for.
In this in-depth review, we'll go over the ROG THOR 1200P's design, features, and performance, as well as why it's a great pick for powering your gaming setup.
The Asus Republic Of Gamers (ROG) product brand is recognized for amazing innovations and high-quality gaming / enthusiast PC component goods, and today we're looking at the first power supply from the Republic of Gamers line, the new ROG THOR 1200P Power Supply.
ROG THOR 1200P Power Supply Design & Build Quality
The ROG THOR 1200P Power Supply is a true powerhouse in both of performance and design. ASUS has painstakingly designed a power supply that not only offers outstanding power but also has a beautiful look that will match any gaming system.
The device has a strong brushed aluminum finish with the characteristic ROG insignia, giving it a sleek and aggressive appearance. Furthermore, programmable RGB lighting accents offer a personal touch and can be coordinated with ASUS Aura Sync for a unified lighting system.
The integrated OLED display is one of the ROG THOR 1200P Power Supply striking design characteristics. This revolutionary feature displays real-time information regarding power usage and fan speed, as well as your personalized logo. The OLED screen is a useful addition that combines function and elegance.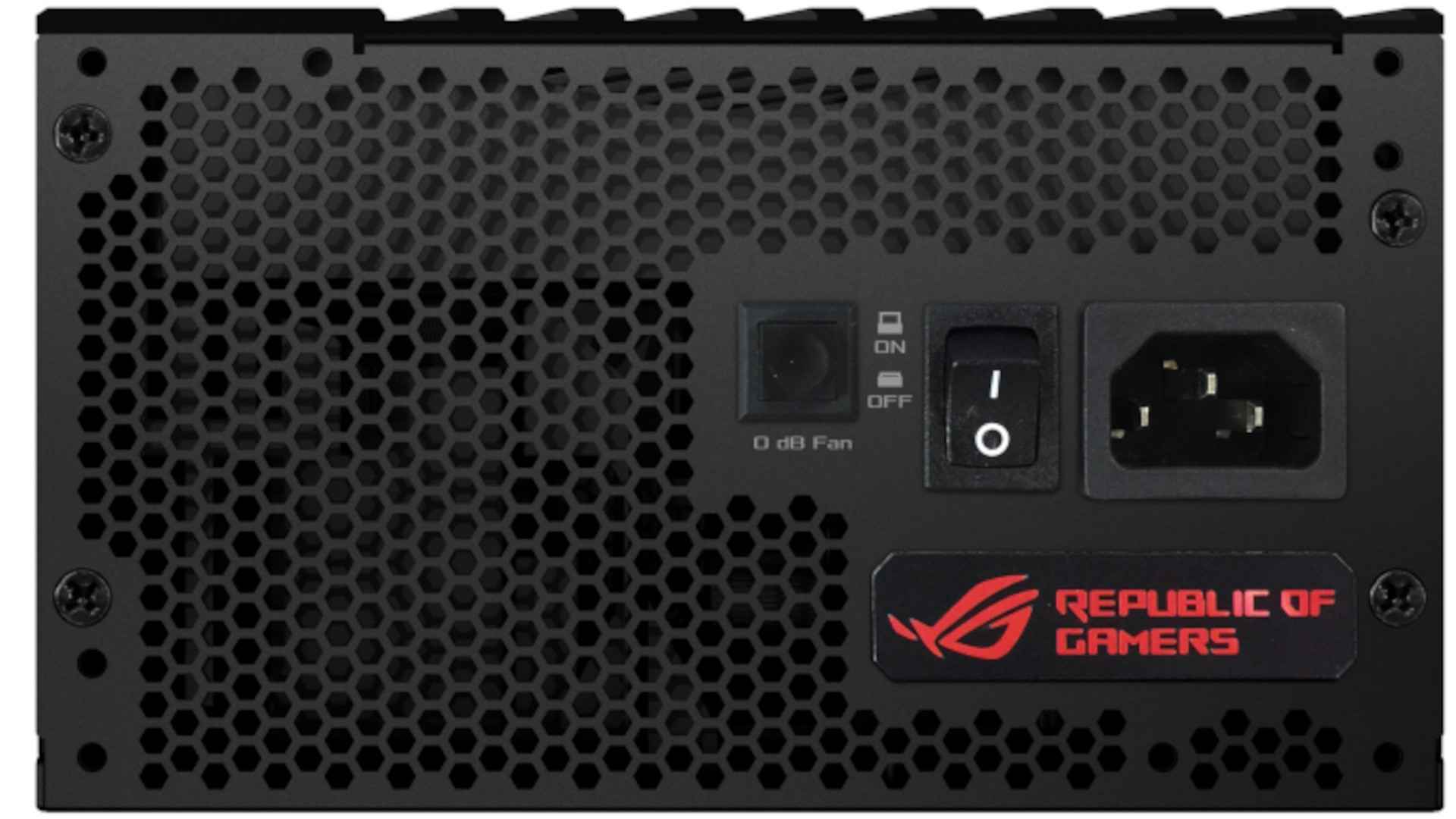 The ROG THOR 1200P Power Supply definitely excels in terms of build quality. This power supply is substantial, weighing in at over 4 kilos, indicating a sturdy build. It emanates toughness and dependability, assuring that it can resist gaming and high power needs.
ROG THOR 1200P Power Supply Packaging
ROG THOR 1200P Power Supply comes in a secure box with ROG graphics, model name, and feature highlights on the front and back. The box contains the ROG THOR 1200P Power Supply, as well as sleeved cables, a power cable, PSU mounting screws, tie-wraps, cable ties, cable combs, and a user manual. ROG has put in a lot of effort to make the PSU look good. The matte black finish and distinctive fan grill give the PSU a premium appearance.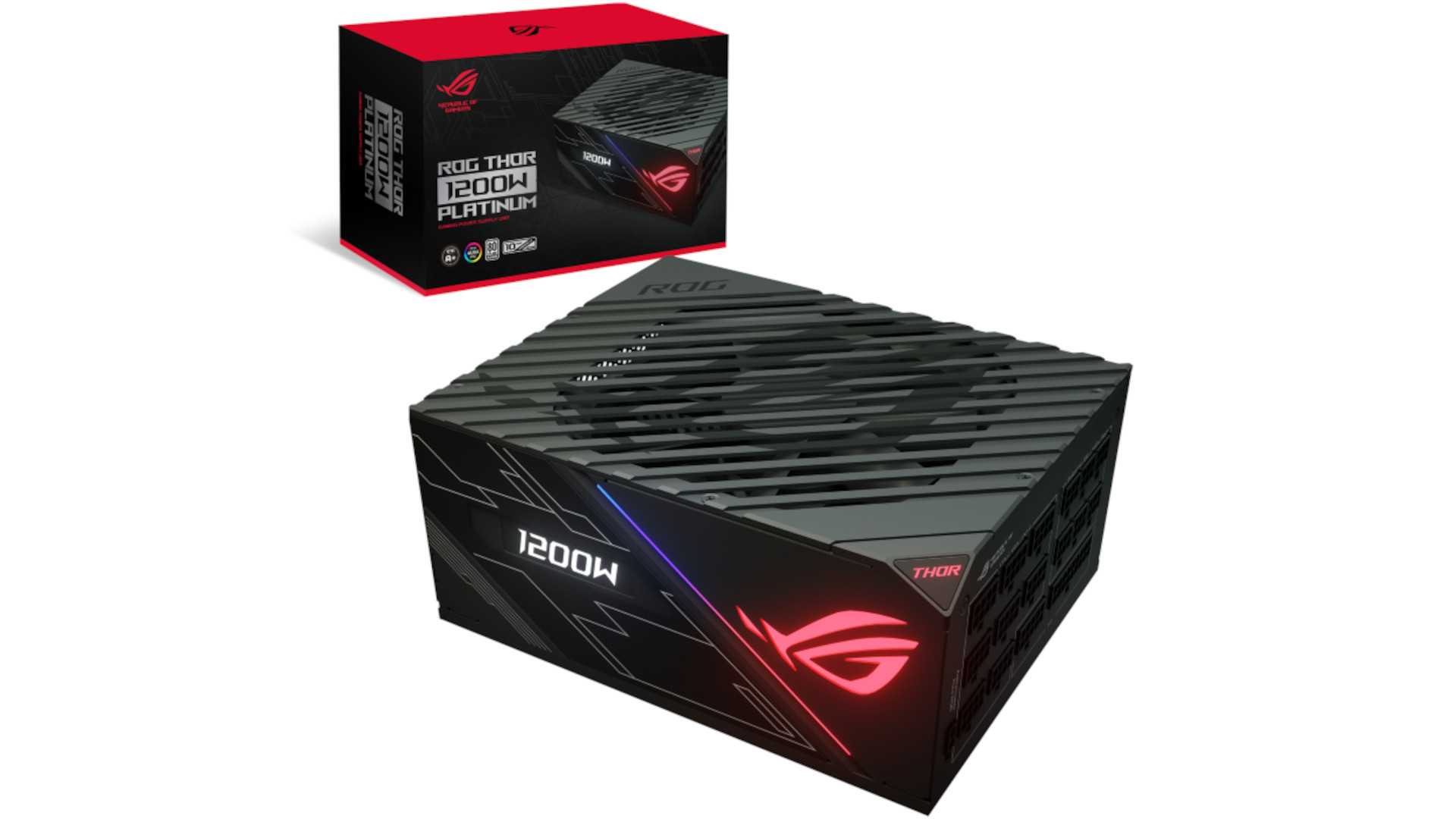 ROG THOR 1200P Power Supply Performance
Now, let's have a look at the ROG THOR 1200P Power Supply performance. This power supply is rated at a whopping 1200 watts, making it ideal for the most demanding gaming systems, such as multi-GPU configurations and high-end CPUs. The THOR 1200P has the power to enable 4K gaming, multimedia production, and aggressive overclocking.
This PSU's 80 PLUS Platinum accreditation is one of its standout characteristics. This denotes outstanding energy efficiency, which decreases not just your power expenditures but also heat creation. As a consequence, your gaming rig runs cooler, quieter, and more effectively, which is critical for maximum gaming performance.
The ROG THOR 1200P Power Supply follows in the footsteps of its forefathers, boasting a fully modular design. This lets you to connect just the wires that are required, reducing clutter and maximizing airflow within your PC box. ASUS offers high-quality braided cables that are not only long-lasting but also visually appealing, improving cable management.
Another area where the ROG THOR 1200P Power Supply shines is fan control. It has a 135mm fan with hybrid fan control, which ensures silent operation at low loads and ramps up only when needed. Even under severe loads, the PSU remained amazingly silent during our thorough testing, adding to a more comfortable gaming experience.
In terms of power output, the ROG THOR 1200P Power Supply is unrivaled. It has excellent voltage management, ensuring a reliable and constant power supply to your components even during strenuous gaming sessions. This leads to speedier gaming and improved system stability, lowering the likelihood of crashes or glitches.
ROG THOR 1200P Power Supply Features 
When it comes to preserving your components, ASUS has left no stone unturned. Overcurrent protection (OCP), overvoltage protection (OVP), undervoltage protection (UVP), short-circuit protection (SCP), over-temperature protection (OTP), and over-power protection (OPP) are all included in the ROG THOR 1200P Power Supply. These precautions guarantee that your power supply and linked components are protected from any electrical threats, giving gamers peace of mind.
The ROG THOR 1200P Power Supply benefits from ASUS' well-known software competence. The power supply includes the ASUS Armoury Crate software, which allows you to monitor and adjust many elements of your power supply's performance. You can check power usage, fan speeds, and modify RGB lighting to match your gaming setup with this simple software interface.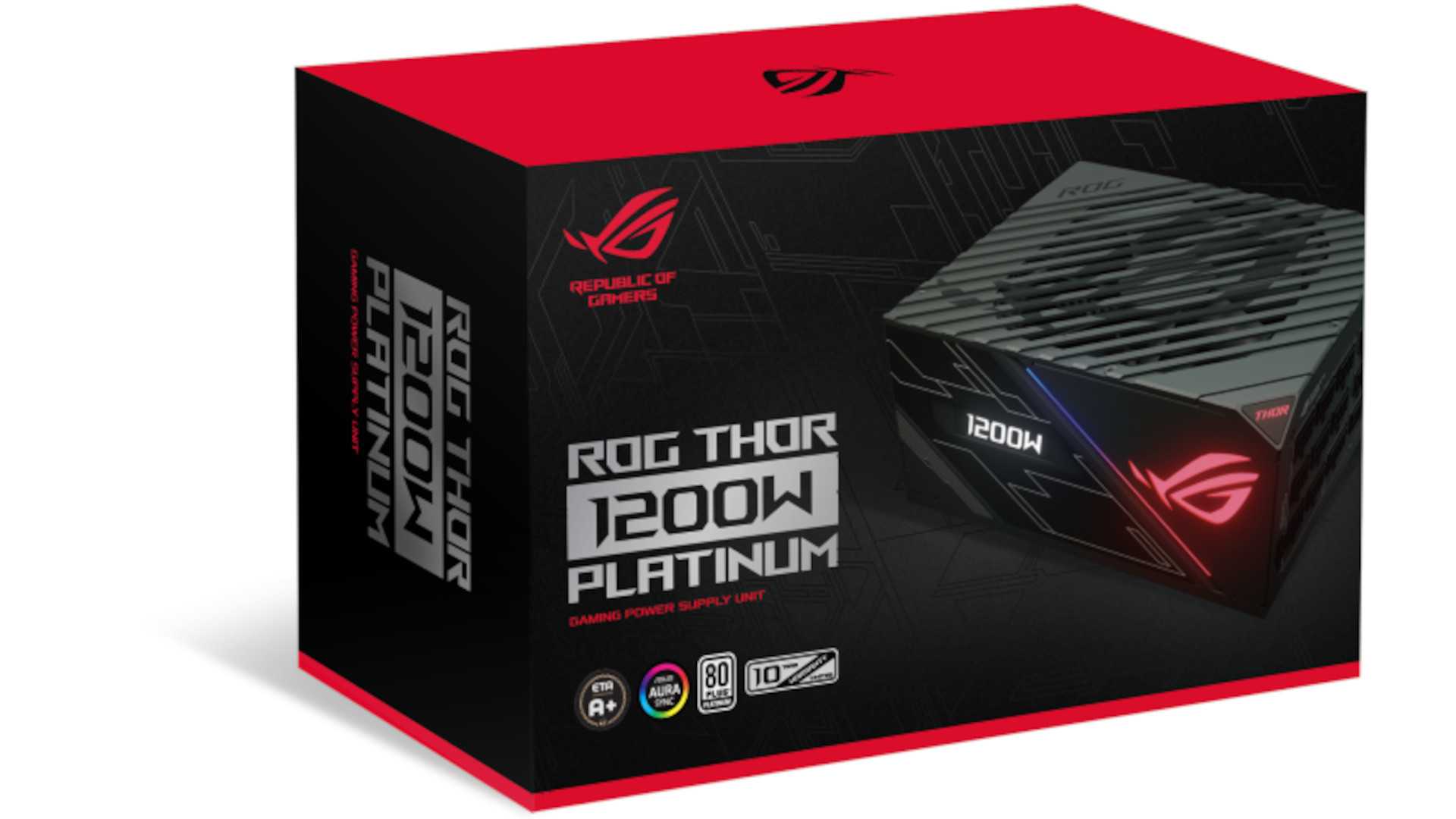 The option to create fan profiles is a very valuable tool. You may choose from predefined profiles like as Silent, Performance, and Turbo, or you can design your own fan curve. With this degree of control, you may strike the ideal balance between cooling and noise, adapting the PSU's performance to your unique requirements.
ROG THOR 1200P Power Supply Specifications
Model
ROG THOR 1200P
Manufacturer
ASUS
Form Factor
ATX
Wattage
1200 Watts
Efficiency Certification
80 PLUS Platinum
Modularity
Fully Modular
Fan Size
135mm
Fan Control
Hybrid Fan Control
OLED Display
Yes
Connectors
– 1 x 24-pin ATX
– 2 x 8-pin EPS
– 8 x 8-pin PCI-E
– 16 x SATA
– 6 x Molex
Protection Features
– Overcurrent Protection (OCP)
– Overvoltage Protection (OVP)
– Undervoltage Protection (UVP)
– Short-Circuit Protection (SCP)
– Over-Temperature Protection (OTP)
– Over-Power Protection (OPP)
Dimensions (L x W x H)
190mm x 150mm x 86mm (7.5″ x 5.9″ x 3.4″)
Weight
4.2 kilograms (9.26 lbs)
Cable Type
Braided Cables
Software
ASUS Armoury Crate
RGB Lighting
ASUS Aura Sync
Warranty
10 years
ROG THOR 1200P Power Supply Conclusion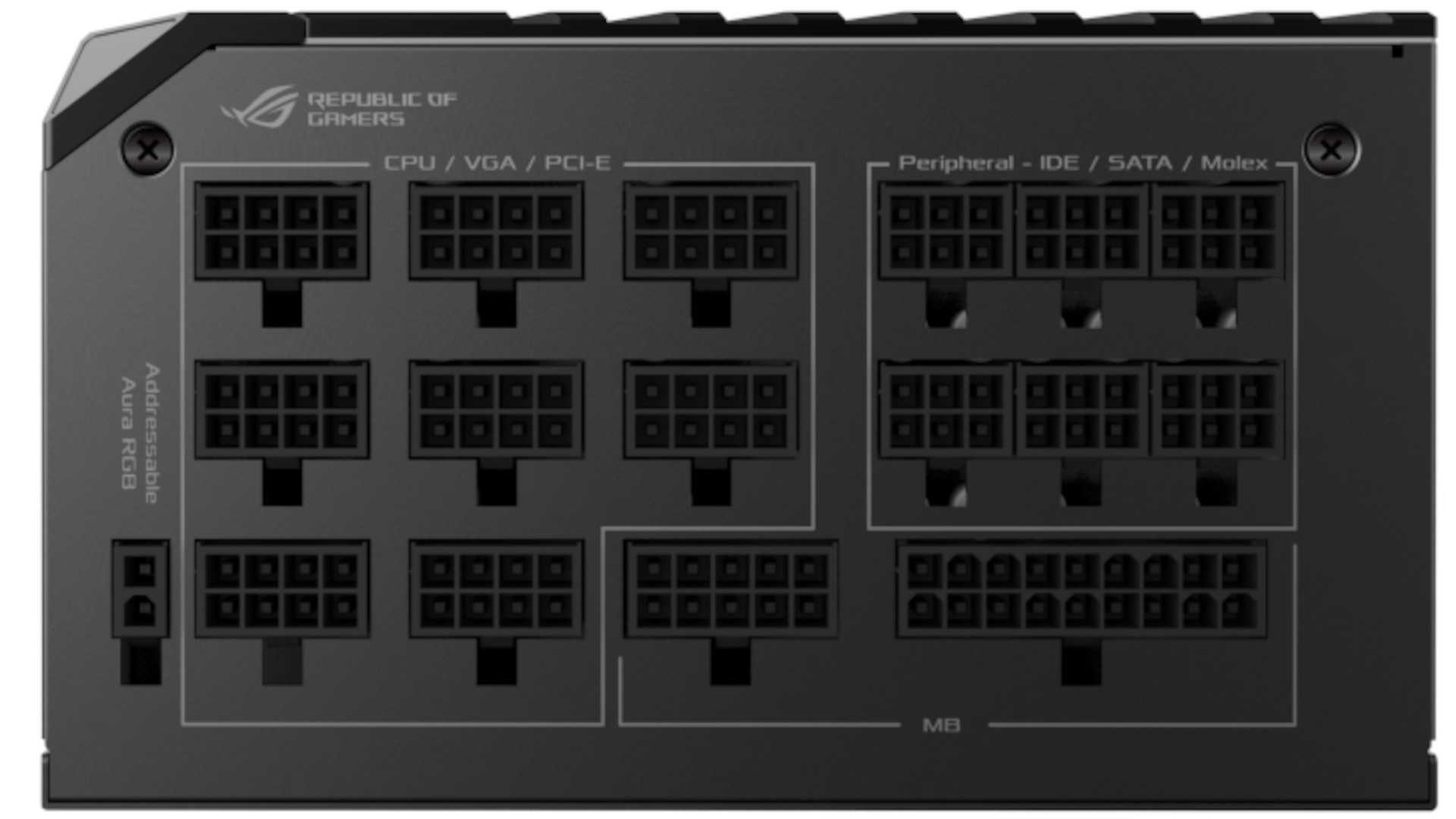 To summarize, the ROG THOR 1200P Power Supply power supply unit checks all the criteria. It combines great appearance and build quality with excellent performance, making it the clear choice for gamers and enthusiasts looking for extreme power in their systems. ASUS has left no place for compromise with features like as 80 PLUS Platinum certification, complete modularity, hybrid fan control, and extensive protection methods.
ROG THOR 1200P Power Supply
Performance -

97%

Price -

96%

Value -

97%