Power is everything in the world of PC gaming. When it comes to constructing a high-performance gaming system, fans recognize the significance of a dependable and efficient power supply unit (PSU). The ROG LOKI SFX-L 1000W Platinum Power Supply from ASUS Republic of Gamers (ROG) is a small yet powerful power supply. We'll look at the features, performance, and overall value of this interesting little giant in our in-depth analysis.
ASUS has launched the ROG LOKI, their latest line of power supplies. The LOKI series uses the SFX-L PSU architecture to satisfy the needs of compact form factor projects. All ROG LOKI models are 80PLUS Platinum Certified, with the exception of the 1200W variant, which is 80PLUS Titanium Certified. Furthermore, the ROG LOKI supports ASUS Aura Sync, is Cybernetics LAMBDA A Noise Level Certified, and is ATX 3.0 compatible with a PCIE 5.0 12VHPWR connection.
ROG LOKI SFX-L 1000W Platinum Power Supply Unboxing & Design and Build Quality
The ROG LOKI SFX-L 1000W Platinum Power Supply comes in a well-designed, compact package that oozes ROG style. Inside, the power supply is securely tucked within foam cushioning, accompanied with a complete user manual and a full set of modular wires. The first thing you'll notice is its small size, which fits the SFX-L form factor. Despite its small size, the power supply radiates quality, with a premium brushed metal finish and the distinctive ROG logo prominently visible.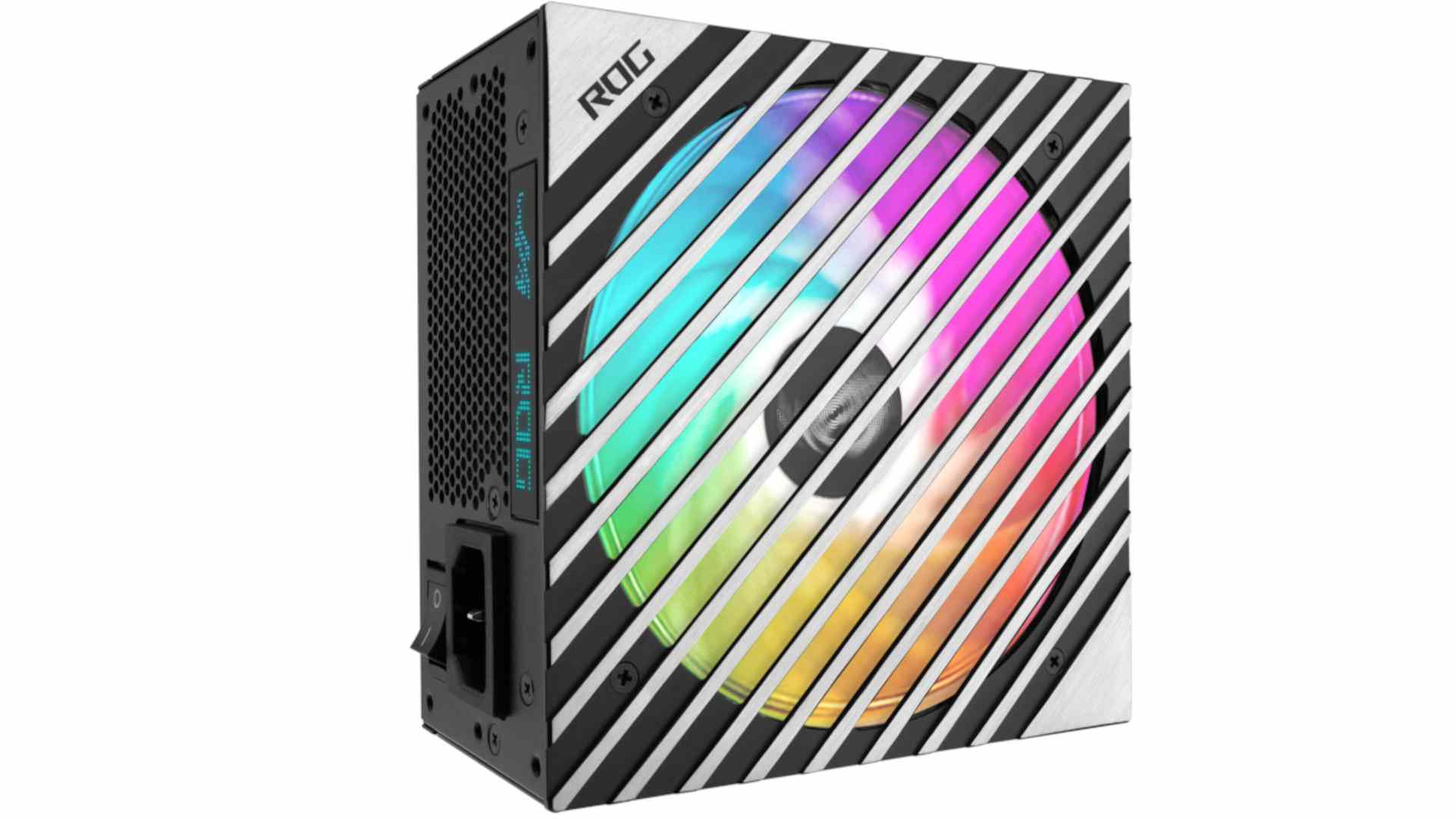 The ROG LOKI power supply unit deviates from the standard SFX design by using the SFX-L form factor, which is significantly bigger at 125mm x 125mm x 63.5mm. Despite the fact that it is still an SFX PSU, the ROG LOKI is intended to reduce space and can fit in typical ITX cases. However, controlling cables may be a little more difficult than normal.
The ROG LOKI SFX-L 1000W Platinum Power Supply is finished in a sleek matte black with mirror-finished elements on both sides. The lighted ROG and Republic of Gamers logos on the sides of the PSU complement the RGB illumination radiating from the fans. The front panel holds all of the modular connections, which are organized in two rows, with the ATX 3.0 12VHPWR port at the top.
With the inclusion of the 12VHPWR connector, the conventional 4 x 8-pin CPU/PCI-E combination on this SFX-L model is reduced to only 3 x 8-pin. The other configurations are comparable to typical SFX PSUs, with the exception of an extra 2-pin AURA ARGB connection at the end.
In contrast to the ROG THOR's braided sleeve cables, the ROG LOKI cables are made of a different material and feature a glossy texture with a soft leathery feel. The texture is similar to that of high-quality dress shoe laces. It should be noted, however, that these cables do not feature cable management combs.
Other extras included in the package include a ROG drawstring cable pouch, a power cord, a user manual, three Velcro cable straps, a packet of cable ties, and an ATX to SFX adapter bracket.
The ROG LOKI SFX-L 1000W Platinum Power Supply meets the most recent power specification requirements and is ATX 3.0 compliant, making it ideal for the most recent GPU generation. The accompanying 16-pin 12VHPWR (PCIe 5.0) connection connects directly to the PSU's specialized 16-pin connector, which can handle up to 600w of power.
ROG LOKI SFX-L 1000W Platinum Power Supply Performance
When it comes to power supply units, performance and efficiency are critical. In this sense, the ROG LOKI SFX-L 1000W Platinum Power Supply does not disappoint.
To begin with, the 80 PLUS Platinum certification assures that this power supply performs with a minimum efficiency of 90% under average loads. This means that it not only provides consistent and reliable power to your components, but it also produces less waste heat, putting less burden on your system's cooling.
The LOKI SFX-L has a single +12V rail architecture, which simplifies power distribution and guarantees that your components receive a consistent and dependable power supply. This is especially critical for high-end gaming systems, since power delivery changes can cause instability and crashes.
Thermal performance is particularly remarkable, due to a silent and efficient 120mm fan that runs silently under normal loads and only ramps up when needed to keep temperatures stable. This fan not only keeps the power supply cool, but it also helps to the general quietness of your PC.
Overvoltage protection (OVP), overcurrent protection (OCP), overtemperature protection (OTP), and short-circuit protection (SCP) round out the ROG LOKI SFX-L 1000W's security features. These protections assist protect your expensive components from power surges or malfunctions.
One of the issues with SFF builds is noise, as restricted space may make maintaining a quiet system difficult. The ROG LOKI SFX-L 1000W Platinum Power Supply achieves a good blend of power and quiet.
The PSU's fan is almost silent under low to moderate loads, providing to a quiet computing environment. Even during heavy gaming sessions, fan noise is modest and easily drowned out by the noise generated by your GPU and CPU fans.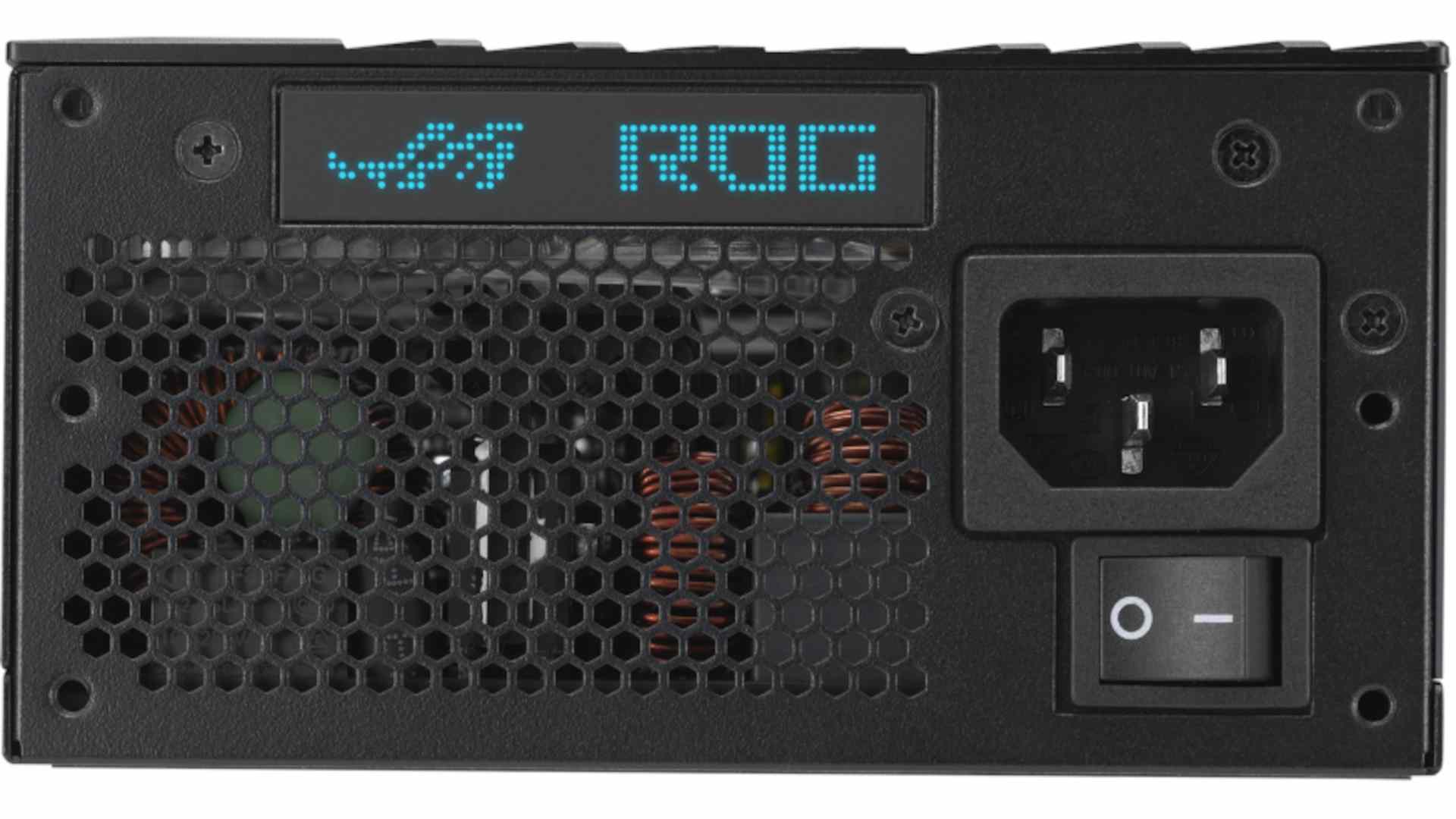 When the system is idle or under mild loads, the semi-passive fan mode allows the PSU to run quietly. It's a considerate addition for individuals who like a whisper-quiet PC experience.
ROG LOKI SFX-L 1000W Platinum Power Supply Specifications
| Brand | ASUS Republic of Gamers (ROG) |
| --- | --- |
| Model | LOKI SFX-L 1000W Platinum |
| Form Factor | SFX-L (Small Form Factor, Long) |
| Certification | 80 PLUS Platinum |
| Wattage Output | 1000 Watts |
| Modular Design | Fully Modular |
| Efficiency | Up to 90% |
| Cooling | 120mm Silent Fan (Semi-Passive Mode) |
| +12V Rail Design | Single +12V Rail |
| Protections | Overvoltage (OVP), Overcurrent (OCP), Overtemperature (OTP), Short-Circuit (SCP) |
| Dimensions (L x W x H) | 130mm x 125mm x 63.5mm (SFX-L) |
| Weight | Approx. 1.45 kg |
| Fan Noise | Varies based on load, Semi-Passive Mode Supported |
| Cable Type | Flat, Black Braided Cables |
| ATX Connector | 1 x 24-pin ATX |
| EPS Connector | 2 x 8-pin (4+4) EPS |
| PCIe Connectors | 6 x 8-pin (6+2) PCIe |
| SATA Connectors | 8 x SATA |
| Peripheral Connectors | 4 x 4-pin Molex |
| Floppy Connector | 1 x 4-pin Floppy |
| Operating Temperature | 0°C to 50°C |
| MTBF (Mean Time Between Failures) | >100,000 hours |
| Warranty | Limited 10-year warranty |
ROG LOKI SFX-L 1000W Platinum Power Supply Conclusion
There are a few points to consider if you can't decide between the ROG THOR and the ROG LOKI. The ROG LOKI SFX-L 1000W Platinum Power Supply may be a better alternative if you have a smaller SFF chassis or desire a more compact PSU at a cheaper cost. The ROG THOR 1000W, on the other hand, may be a better alternative if you have a bigger case or desire a more complex PSU with an OLED display and manual 0 db control. Finally, your tastes, budget, and demands will determine which power supply is best for you.
ROG LOKI SFX-L 1000W Platinum Power Supply
Performance -

96%

Price -

98%

Value -

97%