The ROG THOR 1600T GAMING Power Supply, created especially for gamers and enthusiasts who expect nothing less than the finest for their high-performance setups, is the pinnacle of ASUS' Republic of Gamers (ROG) power supply units.
With a mind-blowing 1600 watts of power output, this power supply unit (PSU) guarantees to provide the steady and dependable power required for the most demanding gaming setups. In-depth analysis of the ROG THOR 1600T GAMING Power Supply will be done in order to determine its strengths, weaknesses, and whether it really is the best power supply for gamers.
The ROG THOR 1600T GAMING Power Supply power supply unit is announced by ASUS. The ROG THOR 1600T GAMING Power Supply is the quietest 1600W power supply, according to ASUS. The 1600W Thor uses gallium nitride MOSFETs, which are more efficient and have lower switching losses than traditional silicon transistors.
This allows it to swing enormous amounts of current without unnecessarily wasting energy. The greatest capacity 80PLUS Titanium model to be added to the ROG THOR Series, which was only recently introduced, is 1600W Titanium.
ROG THOR 1600T GAMING Power Supply Design & Build Quality
With its distinctive look, the ROG THOR 1600T GAMING Power Supply creates a strong impression. ASUS opted for a striking black and deep red look that screams gaming prowess instead of sticking with the conventional black and gray color palettes. Any gaming rig will include it as the center of attention thanks to the ROG and Thor emblems, RGB lighting accents, and additional visual appeal.
The ROG THOR 1600T GAMING Power Supply is known for its excellent construction, which is a hallmark of ASUS. The device has a sturdy steel chassis that helps with heat dissipation while also guaranteeing longevity. It has a fully modular design that makes it simple to customize and handle cables, which contributes to a neat and orderly construction.
The connectors snap into place firmly, minimizing the possibility of unsecured connections that can cause instability when playing video games. Because of the high quality of construction, the PSU can survive the rigors of frequent use, making it a dependable option for gamers.
ROG THOR 1600T GAMING Power Supply Performance & Efficiency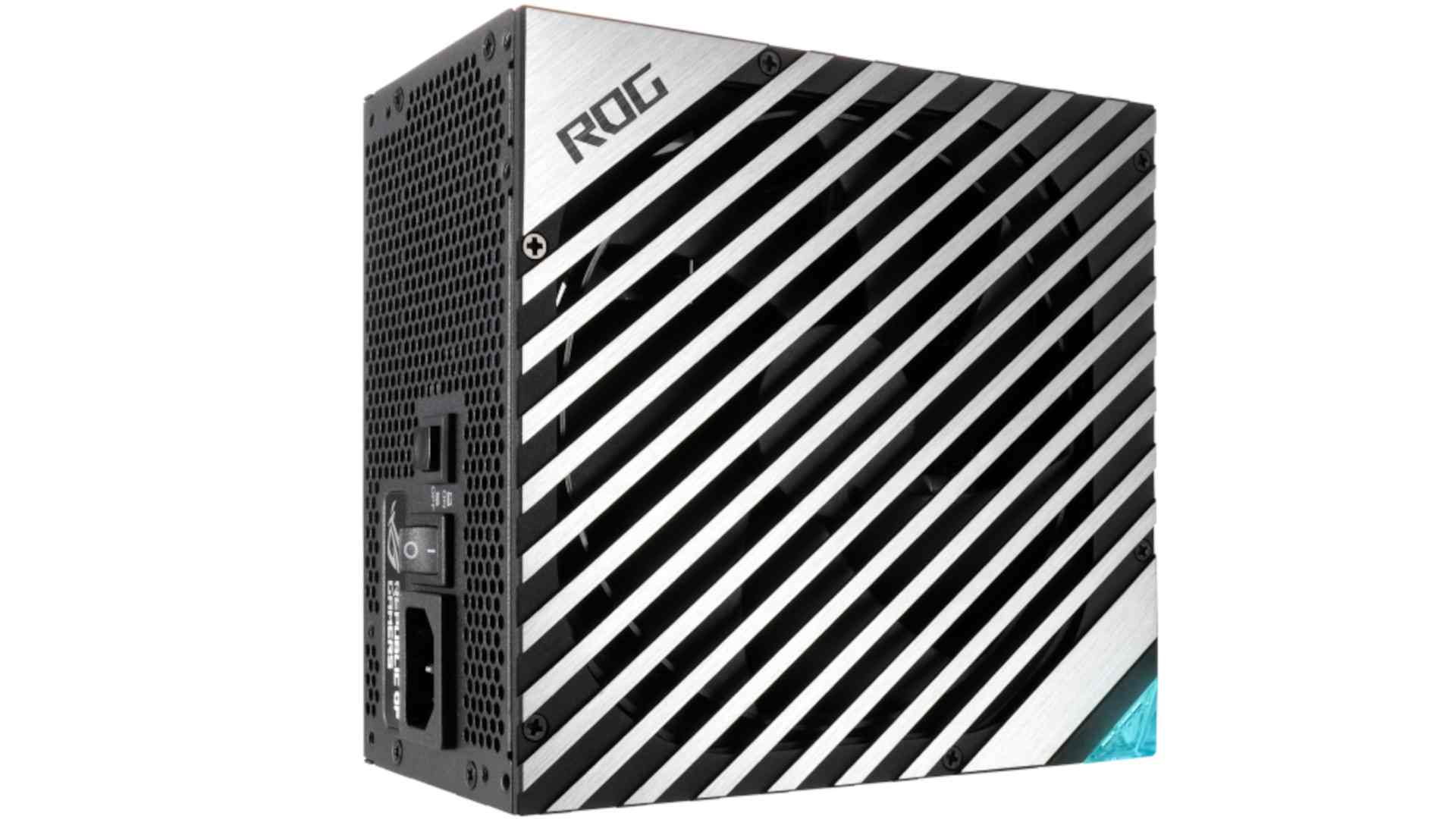 The ROG THOR 1600T GAMING Power Supply is distinguished by its astounding 1600-watt power output. Even the most power-hungry gaming rigs can easily fit numerous high-end graphics cards, overclocked CPUs, and a plethora of peripherals thanks to its enormous power capacity.
The device utilizes a single +12V rail architecture, which ensures even under the most demanding conditions, constant and robust power delivery. It makes sure that the electricity going to your components is clean and dependable, reducing the possibility of voltage fluctuations damaging your gear.
In terms of performance, the ROG THOR 1600T GAMING Power Supply excels. The most demanding gaming setups are readily powered by it, enabling them to run at their maximum efficiency without any power-related limitations. This PSU provides the required power headroom for continuous performance whether you're using resource-intensive programs, playing demanding video games, or creating content.
The efficiency of any high-end power supply is vital, and the ROG THOR 1600T GAMING Power Supply does not disappoint. It has an 80 PLUS Titanium accreditation, which means it has a high efficiency rating of more than 94%. This equates to decreased energy usage and cheaper power costs, particularly for customers who place the highest demands on their gaming systems.
Another advantage of this power supply is its quiet operation. ASUS has fitted it with a big, high-quality fan that runs quietly even under heavy loads. The fan's speed is dynamically adjusted based on temperature, ensuring little noise during low workloads and routine chores.
ROG THOR 1600T GAMING Power Supply Features
ASUS has loaded the ROG THOR 1600T GAMING Power Supply with innovative features designed specifically for gamers and enthusiasts. The power supply has RGB lights that can be linked with other ROG components using ASUS Aura Sync. This function helps you to build a unified and visually attractive gaming environment.
Furthermore, the PSU has superior braided cables, which not only improve looks but also ease wire management. These cables are not only visually stunning, but also long-lasting and simple to install.
In terms of connection, the ROG THOR 1600T GAMING Power Supply includes a 24-pin ATX connector, two 8-pin CPU EPS connectors, several 8-pin PCIe, SATA, and peripheral (Molex) connectors, enabling compatibility with a wide choice of components.
The ROG THOR 1600T GAMING Power Supply has a number of security measures to keep your costly components secure. Overvoltage protection, overcurrent protection, short-circuit protection, and over-temperature protection are among these safeguards. These safety methods prevent your gaming rig from any harm caused by unanticipated power fluctuations or hardware malfunctions, giving you peace of mind while gaming or other professional work.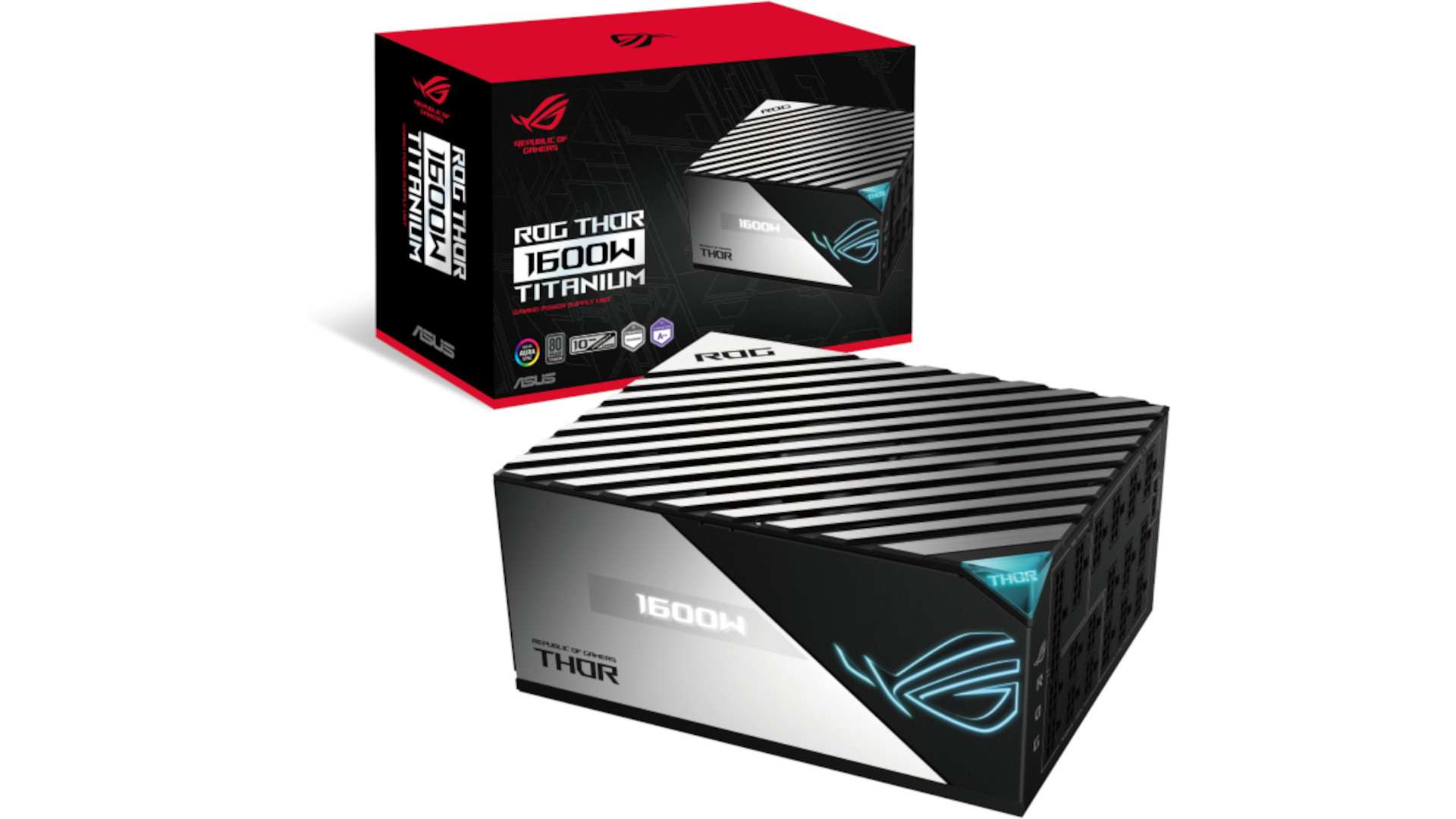 ROG THOR 1600T GAMING Power Supply General Information
Manufacturer
ASUS
Model
ROG THOR 1600T GAMING
Form Factor
ATX
Certification
80 PLUS Titanium
Wattage Output
1600 Watts
Modularity
Fully Modular
Single +12V Rail
Yes
Dimensions
190 x 150 x 86 mm (L x W x H)
Cooling
135mm Silent Fan
RGB Lighting
Aura Sync RGB (Customizable)
Efficiency
Over 94% Efficiency
Cable Type
Premium Braided Cables
Operating Temperature
0°C to 50°C
Protections
Over-Voltage, Over-Current, Short-Circuit, Over-Temperature
MTBF (Mean Time Between Failures)
100,000 hours
Connectors
– 1 x 24-pin ATX
– 2 x 8-pin (4+4) CPU EPS
– 12 x 8-pin (6+2) PCIe
– 16 x SATA
– 10 x Peripheral (Molex)
Warranty
10 Years Limited Warranty
ROG THOR 1600T GAMING Power Supply Conclusion
Finally, the ROG THOR 1600T GAMING Power Supply is a beast of a PSU that caters to the most demanding gaming and enthusiast configurations. With its incredible power output, superb build quality, exceptional efficiency, and innovative features such as adjustable RGB lighting, it exemplifies ASUS's dedication to creating top-tier goods for gamers.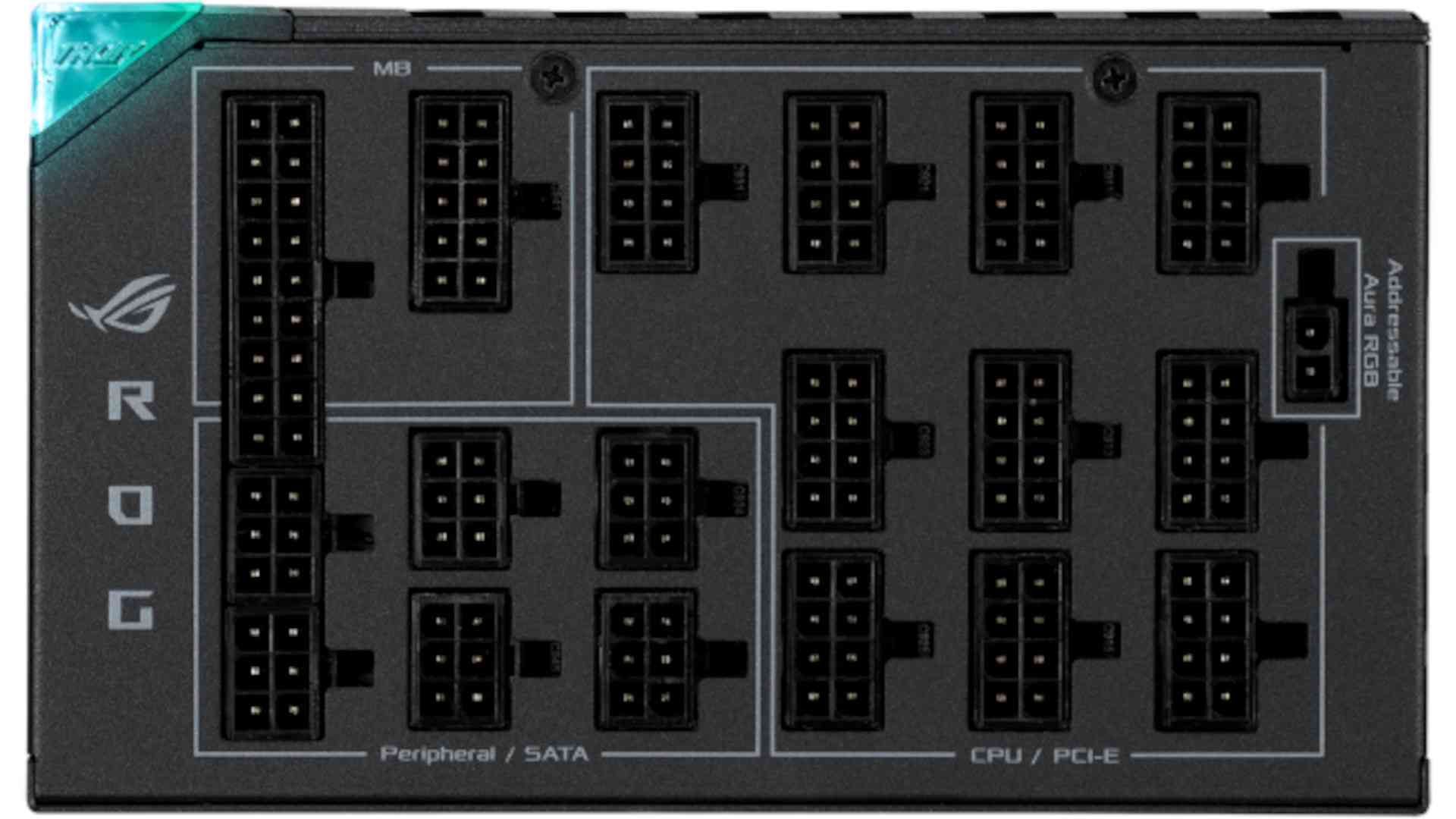 While it is expensive, the ROG THOR 1600T GAMING Power Supply unrivaled performance and premium features make it worthwhile. Its sturdy structure assures endurance, and its efficiency adds to long-term cost savings. Whether you're an ardent gamer, a content producer, or a professional looking for uncompromising performance, this power supply is ready to satisfy your requirements.
ROG THOR 1600T GAMING Power Supply
Performance -

97%

Price -

97%

Value -

97%