Today we're examining the new Samsung 860 Evo 2TB to discover how Samsung enhanced the most popular SSD in the entire world. In order to determine where it stands in our list of the best SSDs, we'll compare it to the current crop of tenacious rivals who inspired the company to finally release a new series.
In some nations, Samsung's EVO series outsells every other SSD by a two-to-one margin due to its enormous popularity. With the new EVO series, Samsung hopes to capitalize on that tested recipe in order to maintain its commanding and lucrative leading position. Samsung adjusts its pricing when rivals get too close to matching its performance, and the company always introduces a faster model when that happens.
Many people believe that Samsung's 800 Pro SATA SSD products are the best available. Due to the superior durability of 2-bit per cell (MLC) flash over TLC, they perform better under heavy workloads. For the majority of consumer workloads, which are often brief and bursty, MLC is overkill. The majority of us work in quarter-mile bursts, more akin to dragsters, rather than in marathon sessions. Because it frequently offers faster burst speeds than the Pro series, the EVO series is a suitable choice for consumer workloads, but that high level of performance only lasts for a brief period of time.
Samsung has historically manipulated the EVO's price to place its products just a little bit above than the competitors. The corporation has a benefit beyond cost since it has internal supply chain control over key components. The EVO typically has better performance, warranty, and endurance standards, but Samsung keeps the pricing close enough that most customers are willing to pay a little more for a better product.
Now that almost every fab is producing high-quality 64-layer 3D NAND on a competitive node, Samsung's advantage in V-NAND technology has diminished. With its fourth generation V-NAND, Samsung has made strides, but the competition has caught up. It's harder to distinguish the 860 EVO from the competition based just on performance because of the fixed restriction of the SATA interface. With the new series, Samsung was able to produce several other outstanding stats, but the cost is not one of them.
Samsung 860 Evo 2TB Specifications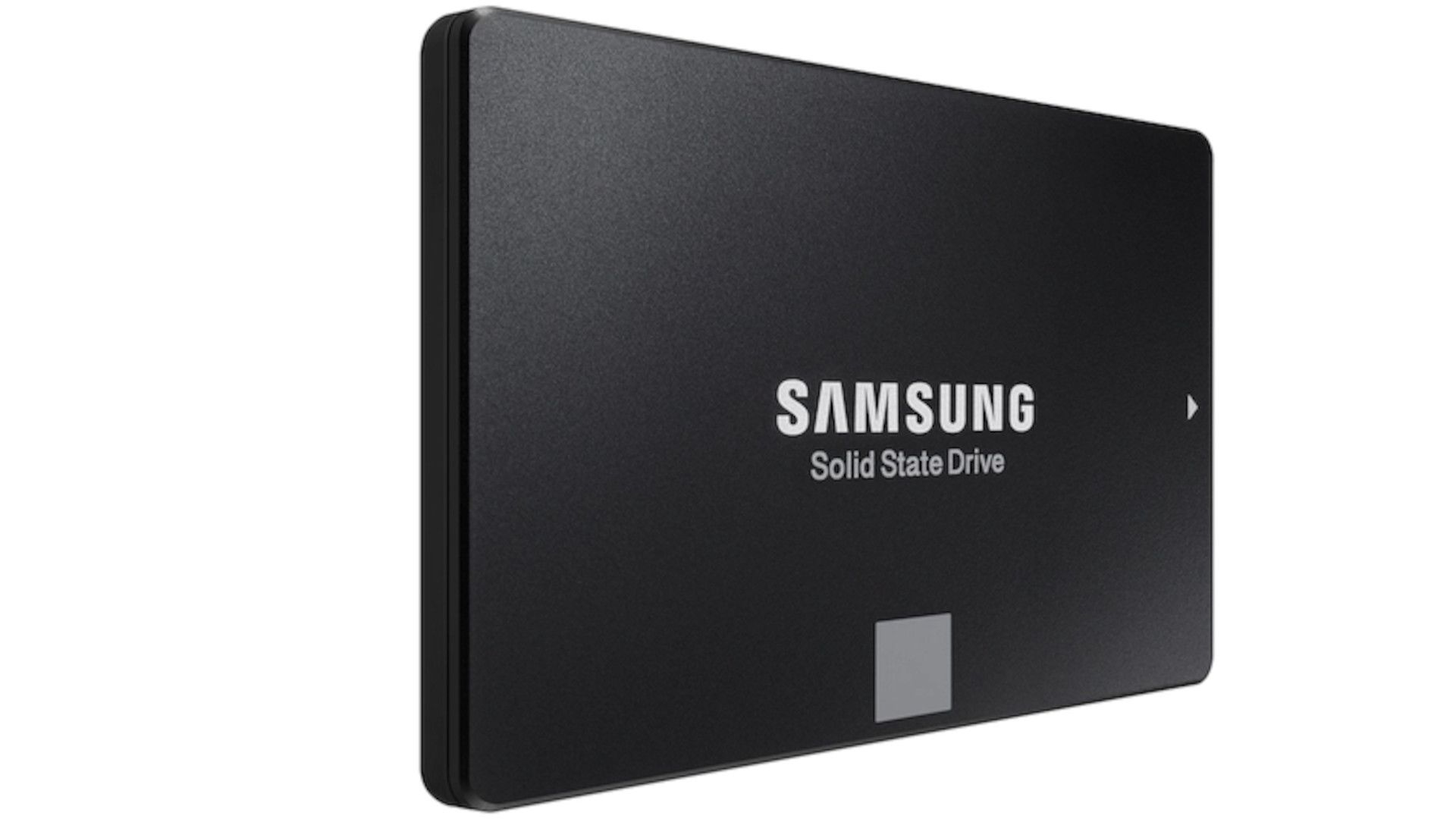 Samsung 860 Evo 2TB will be available in a variety of storage capacities, including a 250 GB, 500 GB, 1 TB, 2 TB, and even a 4 TB model. The 2 TB model of the drive is the sample that has been delivered to our testing facility. The latest 64-layer V-Nand node from Samsung will be used in the 860 EVO series' 3-bit, multi-level-cell, three-dimensional (3D) NAND flash memory. The 860 EVO has faster sequential read (550 MB/s) and write (520 MB/s) capabilities than the 850 EVO despite the SATA interface bandwidth limits. For Client PCs, these enhancements also result in improved random access performance. The largest SSD, the 860 EVO, claims to have improved endurance up to 2,400 TB of Total Bytes Written. Additionally, a legitimate 5-year limited warranty is included. A redesigned MJX controller and several form factors enable significantly greater device interoperability. Without any problems, the 860 EVO fully supports Linux. There are three different form factors for the 860 EVO: 2.5 inch, M.2 2280, and mSATA.
Samsung 860 Evo 2TB is outfitted with a Samsung MJX controller, one of Samsung's most recent iterations of controllers. Since they are all based on an ARM-based controller that is naturally compatible with SATA 6 Gb/s and can be used with the most recent NAND flash memory, revision controllers are actually rather comparable. In some technical white papers, Samsung claimed that the EVO's newest MGX, MHX, and now MJX controllers may deliver greater multi-tasking outcomes under demanding I/O loads and offer more stable performance. An ARM Cortex R4 CPU would serve as the controller's foundation. If Samsung continues to employ the same design, it will have three cores that can each carry out various operations simultaneously, enabling, for instance, the use of one core for reading data, another for writing data, and a third for optimization. And by itself, that fact makes Samsung's claim of improved multitasking more plausible.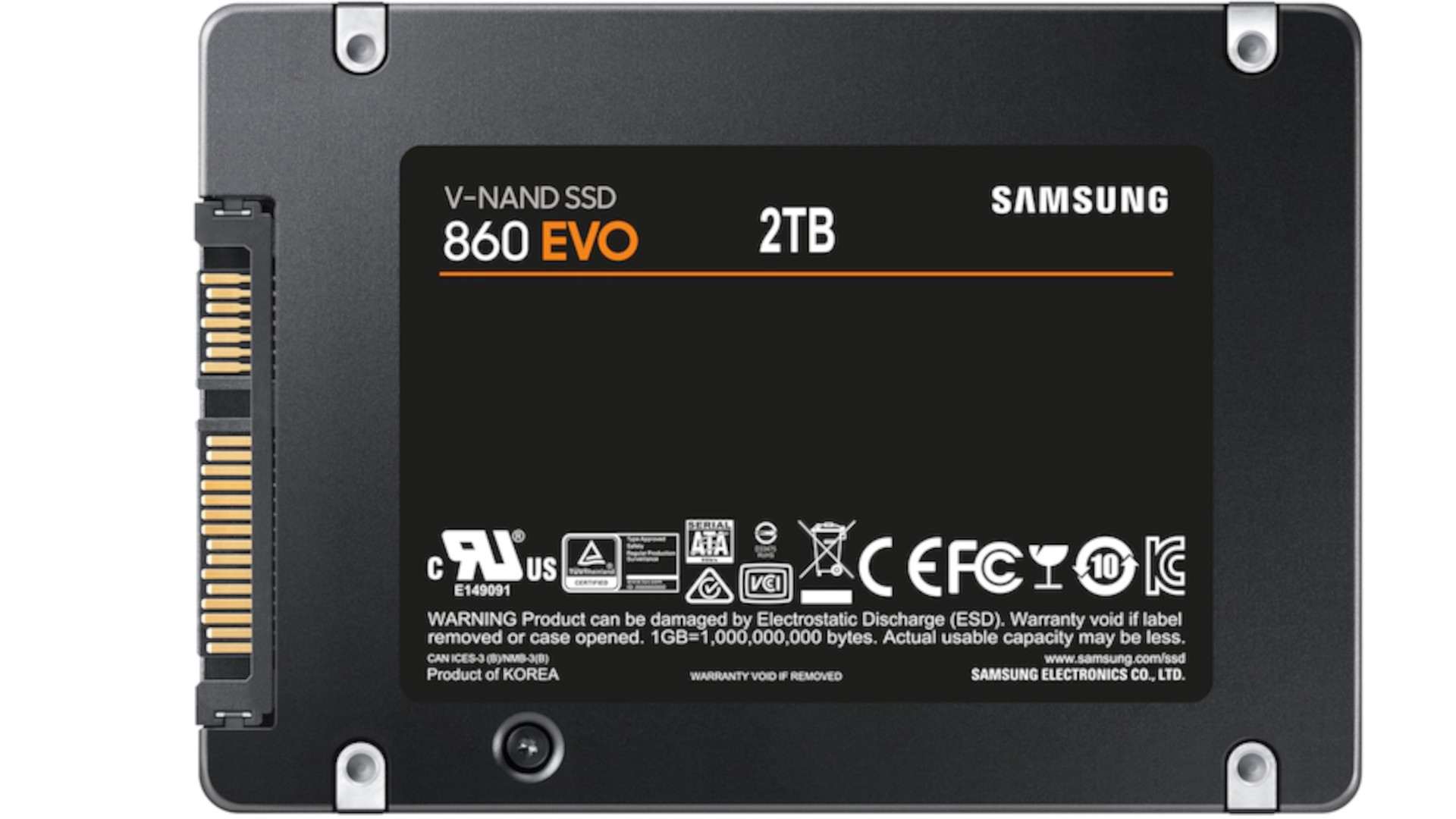 Samsung 860 Evo 2TB Specs
| | |
| --- | --- |
| Form factor: | 2.5-inch |
| Interface: | SATA: 6 Gbps |
| NAND: | Samsung 3D V-NAND 3bit MLC |
| Capacities: | 4TB, 2TB, 1TB, 500GB, 250GB |
| Cache: | 2GB LPDDR4 |
| Controller: | Samsung MJX Controller |
Samsung 860 Evo 2TB Performance
| | |
| --- | --- |
| Seq.Read/Write Speed: | Up to 550/520MB/s |
| Ran.Read/Write Speed (QD32): | Max. 98K IOPS / 90K IOPS |
| Device Sleep: | 2.6 mW for 1TB (Up to 8mW for 4TB) |
| Management SW: | Magician Software for SSD management |
| TBW (Endurance): | 2TB: 1,200 TBW |
| Warranty: | 5 years or up to 2,400 TBW |
Samsung 860 Evo 2TB Performance Tests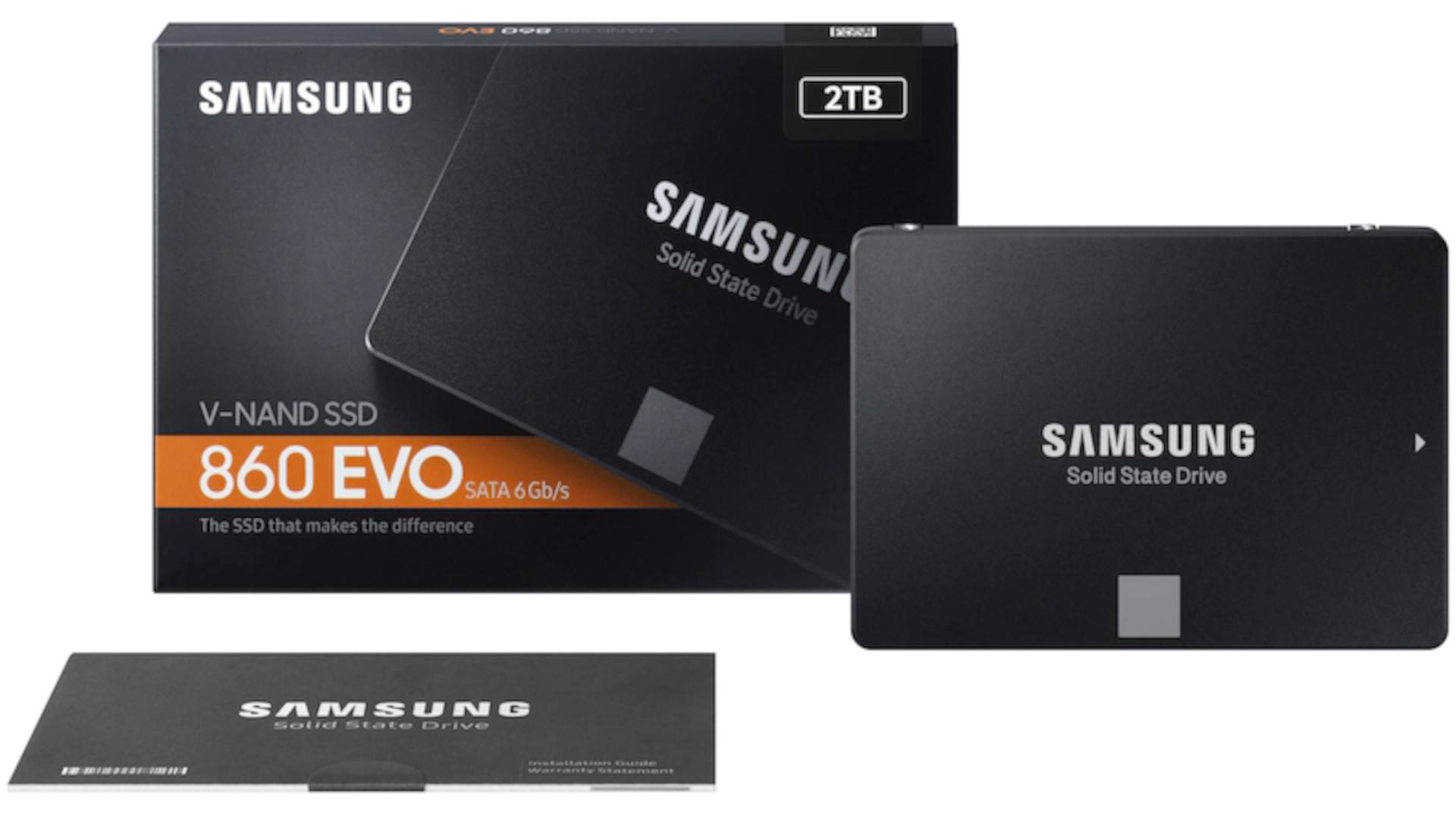 The layout of our random write burst performance test is similar to the random read burst test, except the overall test length is 128MB, and each burst is only 4MB. The 16GB of the drive is used for the 4kB random write operations, which are issued one at a time with no queuing.
The 860 EVO has a substantially better burst random write speed than the 850 EVO, but Crucial's SLC write caches on the MX300 and MX500 are still quicker.
Similar to the sustained random read test, our sustained 4kB random write test covers a 64GB range of the drive in up to one minute or 32GB per queue depth, with up to one minute of idle time between queue levels to allow the drive to cool down and flush write caches.
The Samsung 860 EVO outperforms the competing TLC drives in terms of sustained random write performance, coming in slightly ahead of the 860 PRO. Given that the Crucial and SanDisk 1TB models in this test appear to be at a disadvantage due to their smaller capacities, a more accurate comparison between the 2TB versions of those devices would likely reveal a much smaller advantage for the 860 EVO.
In contrast to the mixed random I/O test, our mixed sequential reads and writes test uses 128kB sequential accesses rather than 4kB random accesses at random locations, and the sequential test is run at queue depth 1. The variety of combinations examined, as well as the time and data transfer constraints, are all the same as before.
The 860 EVO exhibits a small performance regression in the mixed sequential I/O test, placing it just below the typical range for reliable SATA SSDs. A little more of an anomaly on the low side is the Crucial MX500.
The 860 EVO's increase in power efficiency over its predecessor would be highly impressive if it weren't for the 860 PRO. The 860 EVO's efficiency is excellent and far superior to that of the competing standard SATA SSDs, despite being eclipsed by its MLC sibling.
Conclusion on Samsung 860 Evo 2TB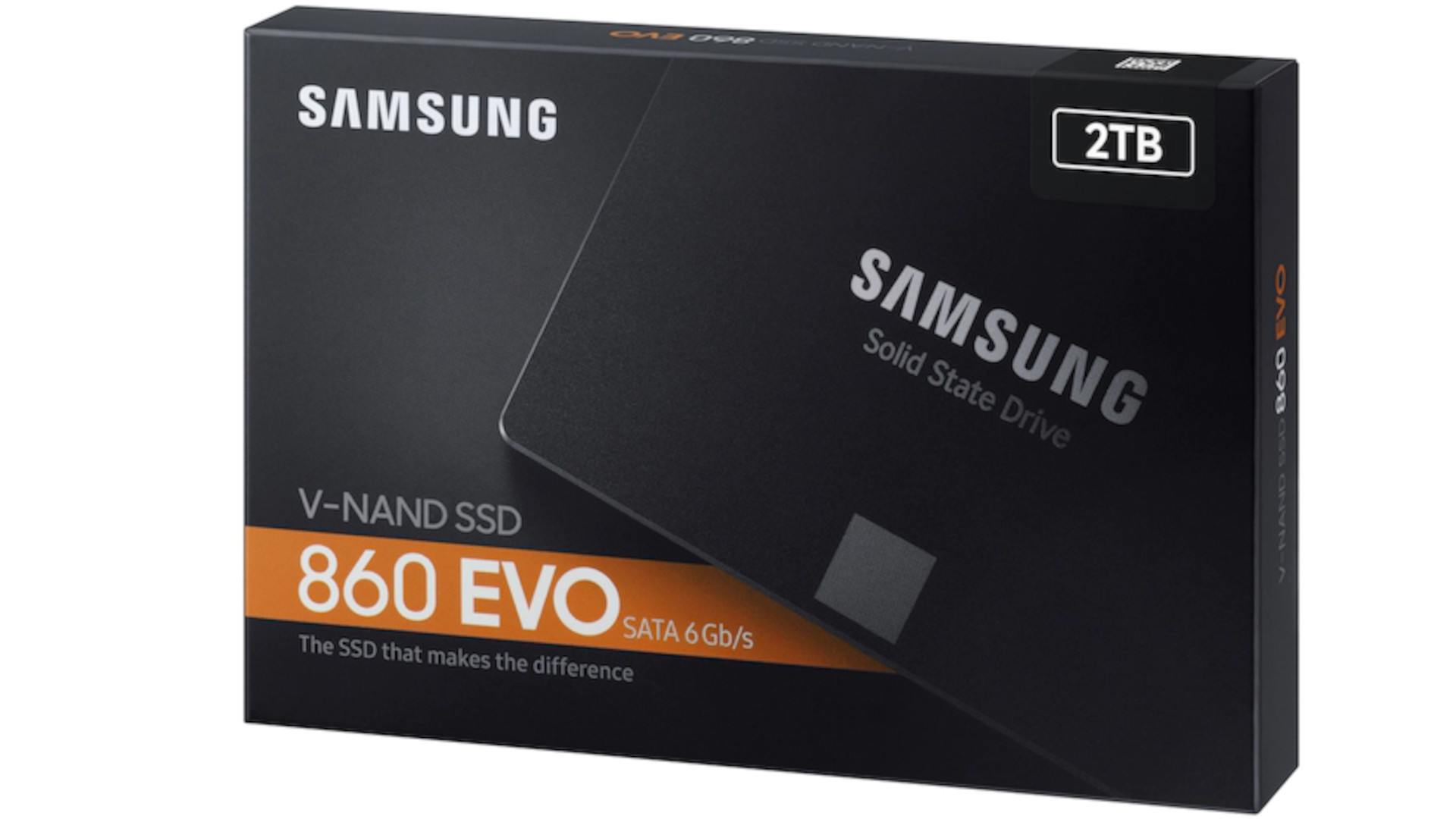 Potential customers can see that there isn't much innovation here by quickly reviewing the specifications. After a year, the cost of the 860 EVO is roughly equal to that of the 850 EVO, thus purchasing the new model won't cost you any extra money. The SATA interface may be more to blame for this lack of innovation than Samsung and its NAND. Although there have been numerous improvements made to this standard interface in terms of speed and capacity, there isn't much more that can be done to increase the performance it can deliver.
Samsung 860 Evo 2TB is overpriced and underwhelming in terms of performance. However, for casual users, the EVO is definitely adequate and might be a choice if prices are aggressive.
Samsung 860 Evo 2TB
Performance -

96%

Price -

96%

Value -

96%