Crucial just forayed into the low-cost SSD market head-on, creating drives like the Crucial BX500 that are designed to draw users based only on price.. The Crucial P1 ($99.99 for the 1TB version we tested) is the company's first PCI Express NVMe SSD, making Crucial a relative latecomer to this industry.
However, that has only been on the front of Serial ATA. The P1 meets the criteria for a low-cost SSD thanks to the usage of 3D QLC NAND flash memory. (One of the first drives to employ this novel sort of memory module was the Samsung SSD 860 QVO, which utilizes the SATA interface.) However, the P1, especially in the capacity tested here, falls far short of the average speed of PCI Express M.2 SSDs in doing so.
Although "PCI Express" and "NVMe" are listed in the specifications, the P1 is more of a pricing play than a speed play. This isn't a deal-breaker for all buyers, but be aware of it.
Crucial P1 3D NVMe PCIe M.2 1TB specifications
The P1 series from Crucial offers sequential read/write throughput up to 2/1.75GB/s and random read/write IOPS up to 250,000/250,000. Performance varies according to the drive's capacity, as mentioned above.
The P1 makes use of Crucial's Hybrid-Dynamic Write Acceleration technology to reach these speeds. Although the P1's firmware is exclusive to Micron, the features it offers are strikingly similar to those of Intel's SSD 660p, which also happens to use the identical parts.
The P1 has an SLC buffer that ingests incoming data to improve performance, like the majority of contemporary SSDs. The implementation of buffering in Crucial works in two steps. The 500GB and 1TB models of the disk have fixed SLC buffer capacities of 5GB and 12GB, respectively.
In addition to the fixed buffer, the drive also features a dynamic buffer that changes in size depending on how much data is being stored inside. Anywhere in the NAND array could have this buffer, which can use up to 14% of the available space. Thus, the 1TB model extends to 150GB, while the 500GB model should have a maximum buffer capacity of about 75GB.
The 2TB model won't be available until November, although the 500GB and 1000GB (1TB) drives are. The MSRPs for the 500GB and 1TB models from Crucial are more than those of the Intel SSD 660p and the majority of SATA SSDs, but they are lower than those of the majority of other NVMe SSDs.
The P1 has a hefty five-year warranty, but endurance isn't up to par for a QLC SSD standards. For every 500GB of SSD storage, the P1 can handle 100TB of data writes, translating to 200TBW for the 1TB variant. That is the same endurance rating as the 660p powered by Intel's QLC.
However, the opposition has raised the bar. Numerous NVMe SSDs in the 1TB class have durability ratings as high as 600TBW. Some SSDs, like the brand-new Corsair MP510, provide better endurance than the P1 by more than eight times. The MX500 from Crucial alone delivers nearly twice the endurance.
The NVMe low power modes are supported by the P1, therefore active power consumption is rated at just 100mW and rises to a maximum of 8W. It also boasts a remarkable 80mW rating for idle power usage. The P1 also incorporates a multi-step data integrity mechanism that guards against data loss and power loss prevention for data that is at rest.
The components are shielded from overheating by Crucial's Adaptive Thermal Protection, and an additional layer of security is offered by the RAIN (Redundant Array of Independent NAND) technology, which offers device-level data redundancy.
The Crucial P1 does not support AES 256-bit hardware encryption, unlike many modern SSDs, such as the Crucial MX500 and Intel SSD 660p.
Crucial P1 3D NVMe PCIe M.2 1TB essential information
| | |
| --- | --- |
| Capacity | 1 TB |
| Form Factor | Single-sided M.2 2280 |
| Interface | NVMe 1.3 PCIe 3.0 x4 |
| Controller | Silicon Motion SM2263 |
| NAND Flash | Micron 64L 3D QLC NAND |
| DRAM | 1GB DDR3 |
| Sequential Read | 2000 MB/s |
| Sequential Write | 1700 MB/s |
| Random Read | 170k IOPS |
| Random Write | 240k IOPS |
| SLC Write Cache (approximate) | 12GB min 100GB max |
| Power Max | 8W |
| Power Idle | 2mW (PS4), 80mW (PS3) |
| Warranty | 5 years |
| Write Endurance | 200 TB |
| MSRP | $219.99 |
Crucial P1 3D NVMe PCIe M.2 1TB Performance & Tests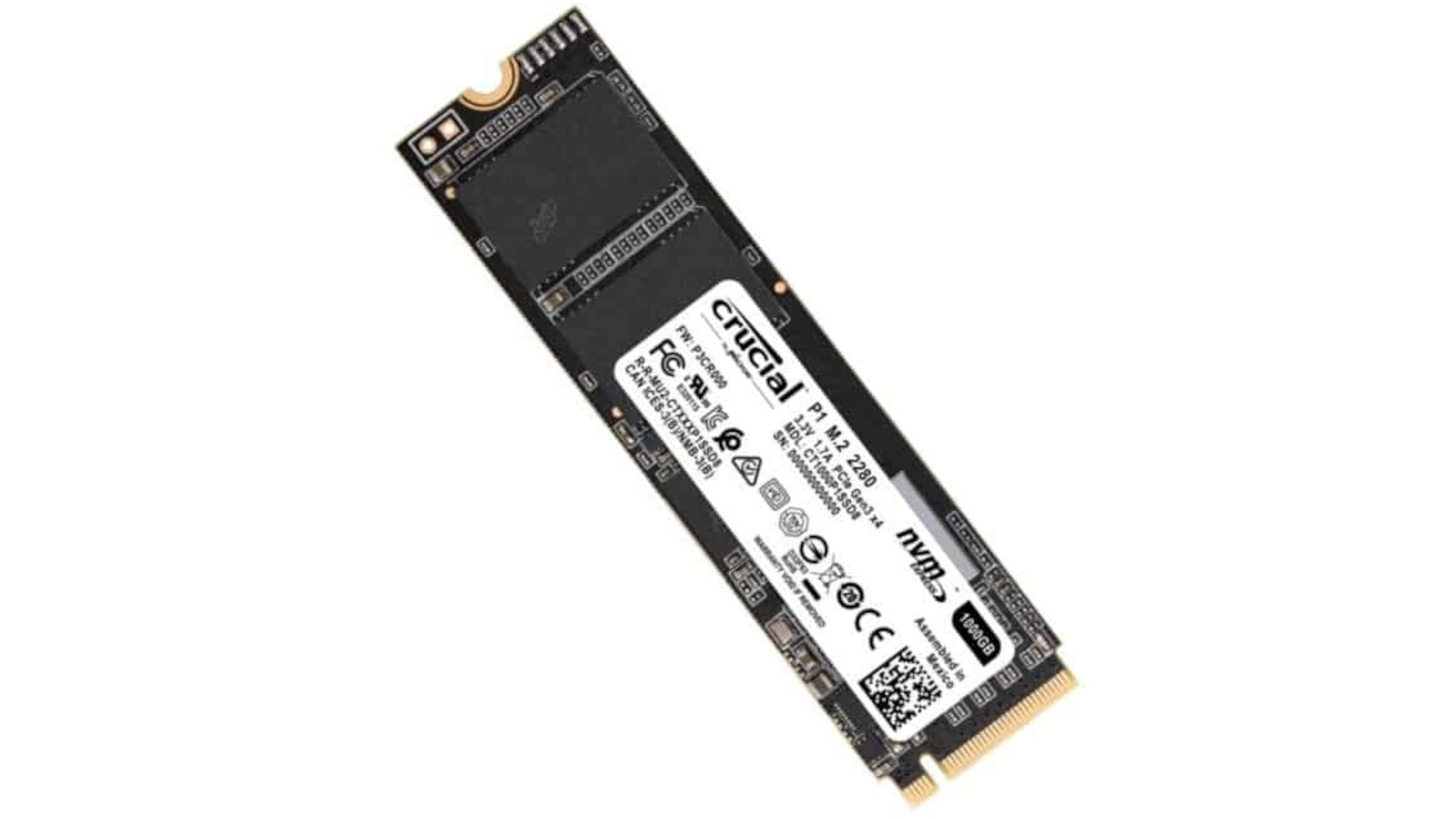 We didn't expect the Crucial P1 to break any records because it is a member of the budget SSD club, and Crucial's stated speeds for this drive created reasonable expectations. But in comparison to other recent PCI Express solutions, we would have wanted to see it perform a little bit better than it did across the majority of our benchmarks.
Despite this, it is still quite quick in comparison to a SATA SSD. The Samsung SSD 970 EVO Plus serves as an example of mainstream PCI Express performance among the SSDs charted below, which are all PCI Express NVMe M.2 drives. The WD Blue SN500 is a PCI Express 3.0 x2, rather than x4, drive that uses less PCI Express lanes and is currently being assessed.
The Storage test in PCMark 8 is the first up, simulating typical disk accesses during operations like photo editing and online browsing. There aren't many differences to note here…
The Crucial P1 performed comparably to the majority of the other drives we evaluated in this area. Nevertheless, no matter which drive is being scrutinized, it's uncommon to observe significant variation in the PCMark 8 Storage test between PCI Express M.2 drives. SATA SSDs often function at one level, PCI Express drives as a whole at another, and so forth.
The Sequential Q32T1 trial of the Crystal DiskMark test is where things started to change.
Crucial P1 3D NVMe PCIe M.2 1TB performed significantly worse than the top PCI Express drives recently tested, with rates of just 1,932MBps read and 907MBps write. The Crystal Sequential tests model the best-case, straight-line transfers of huge data, and in this situation the drive performed poorly.
The write scores were the lowest of our PCIe comparison group, even though these speeds far surpass those of common Serial ATA drives and the read results were not the worst PC Labs has observed among PCI Express drives. Despite this, they are not unexpected; at 1,900MBps for sequential reads and 950MBps for writes, they are in line with Crucial's stated maximums for the drive at the 500GB capacity. (The 1TB version of this drive has a substantially higher estimated write-speed ceiling.)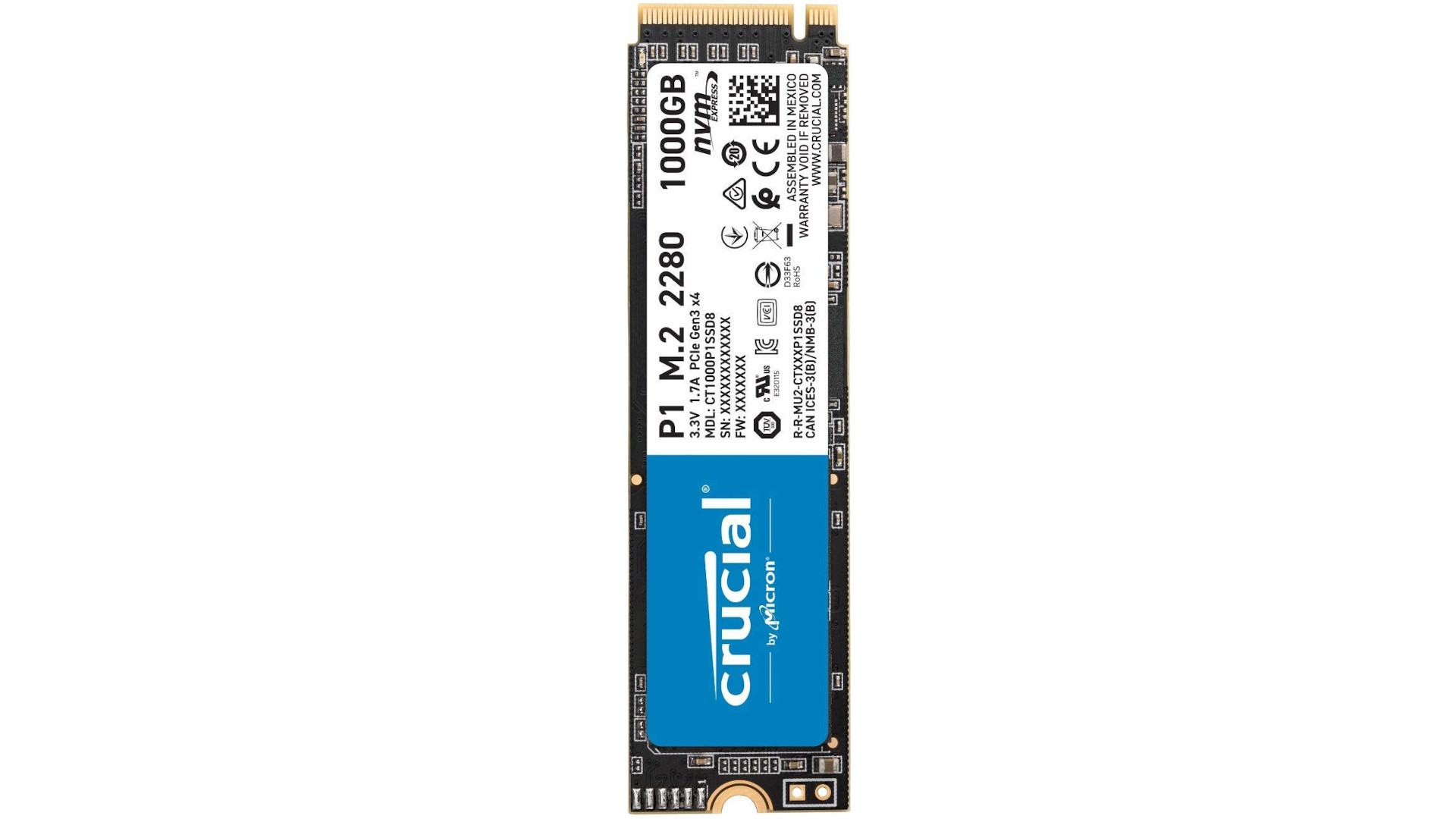 The AS-SSD transfer-test results showed more of the same average, but generally acceptable, outcomes.
In this test, the drive copies a large ISO file, two sizable folders (typical game and program folders), and two sizable files (typical game and program folders) from one point on the drive to another. Similar priced competitors like the Mushkin Pilot just outperform the P1 in this instance when it comes to transferring ISO files, however it holds up well while transferring software files and game folders.
Final Thoughts on Crucial P1 3D NVMe PCIe M.2 1TB
Cost will come down. The P1 is the first inexpensive SSD that allows you to overlook the occasional really sluggish write by saving you enough money. Spend at least an additional $80 on WD's Black SN750 NVMe if you want fast sustained throughput when copying more than 50GB of data (or perhaps 25GB with the 500GB version). Your decision.
Is Crucial P1 3D NVMe PCIe M.2 1TB good?
A solid-state drive (SSD) choice is commonly regarded as being the Crucial P1 3D NVMe PCIe M.2 1TB. Because of its NVMe protocol and PCIe interface, it provides quick read and write rates. The Crucial P1's salient characteristics are as follows:
Speed: Compared to conventional SATA SSDs, the Crucial P1's NVMe technology enables quicker data transfer speeds. The system's performance can be greatly enhanced by its remarkable sequential read and write speeds, particularly when working with large files or loading data-intensive programs.
Size: The Crucial P1's 1TB storage capacity provides plenty of room for your operating system, programs, games, and data. Most users will have adequate room, but you might want to think about your particular storage requirements to see if this capacity works for you.
Modern motherboards and laptops are best suited for the M.2 form factor because it is small and enables simple installation without the need for connections. Additionally, it supports PCIe Gen3 x4 interface, which guarantees optimum speed and bandwidth.
The Crucial P1 uses 3D NAND flash memory, which, in comparison to more traditional planar NAND technology, offers more density and improved longevity. This enhances the drive's durability and dependability.
Price: The Crucial P1 is generally an appealing option for people searching for economical storage improvements because it is reasonably priced for a 1TB NVMe SSD.
Overall, anyone wishing to update their storage to a faster NVMe SSD should select the Crucial P1 3D NVMe PCIe M.2 1TB. It provides reasonable performance, a sizable capacity, and affordable pricing. However, before making a final choice, it's important to weigh your unique requirements and compare it to other available possibilities.
Is Crucial P1 3D NVMe PCIe M.2 1TB good for gaming?
The Crucial P1 3D NVMe PCIe M.2 1TB SSD is a good choice for gaming, yes. This is why:
Speed: Compared to conventional SATA-based SSDs, the Crucial P1 uses NVMe technology, which offers higher data transfer speeds. As a result, the game loads more quickly, levels load more quickly, and there is less stuttering while playing.
Storage Capacity: The Crucial P1's 1TB of storage capacity offers plenty of room for keeping many games. You may install many games thanks to this capacity without having to worry about fast running out of storage.
The Crucial P1 has sequential read rates of up to 2,000 MB/s and sequential write speeds of up to 1,700 MB/s. These speeds help games load more quickly, which can make for a more enjoyable gaming experience.
3D NAND Technology: The Crucial P1's 3D NAND flash memory improves performance and sturdiness. It enables faster data transfer speeds, guaranteeing speedy access to game files.
Performance in General: Upgrading to an NVMe SSD, such as the Crucial P1, can greatly enhance performance in general. A better gaming experience will result from faster loading times, less texture pop-ins, and enhanced responsiveness for games installed on the SSD.
While the Crucial P1 is a fantastic option for gaming, it's important to remember that other factors, like as the hardware requirements of your computer, the particular games you play, and the overall setup of your system, will also affect the performance improvements from upgrading your storage drive. But the Crucial P1 strikes a good mix between price and performance, making it a good choice for gamers.
Does Crucial P1 3D NVMe PCIe M.2 1TB run hot?
Like many other M.2 NVMe drives, the Crucial P1 3D NVMe PCIe M.2 1TB SSD can get warm when in use. However, a number of variables, including as the particular system configuration, ventilation within the computer case, and the strain exerted on the drive, affect whether it runs hot or not.
Due to their faster data transfer rates than conventional SATA SSDs, M.2 NVMe SSDs might produce greater heat. This is due to the fact that they are built to exploit the PCIe interface to maximum performance. Performance improvements may lead to higher power usage and heat production.
Crucial often inserts a heat spreader or label on the Crucial P1 SSD to help vent some of the heat in order to solve any heat concerns. Additionally, some motherboards might come with built-in M.2 heatsinks or specific M.2 heatsink accessories that can help cool the drive even more.
It is advised to keep an eye on the temperature of your Crucial P1 SSD while it is being used if you are worried about it. There are numerous software programs that can give your SSD current temperature measurements. It could be required to enhance the airflow in your system or think about extra cooling options like M.2 heatsinks or fans if the temperature regularly goes above the manufacturer's advised operating temperature range or if you encounter performance problems or instability.
The Crucial P1 may produce some heat, but it is built to function within acceptable temperature ranges, thus under typical operating settings, damage or performance deterioration from the drive alone are unlikely.
What gen is Crucial P1 3D NVMe PCIe M.2 1TB?
Based on PCIe Gen3, the Crucial P1 3D NVMe PCIe M.2 1TB is a solid-state drive. It achieves its high-speed data transmission speeds by utilizing the PCIe 3.0 interface. The Crucial P1 is not one of the PCIe Gen4 drives that have become available in recent years.
It's crucial to remember that an SSD's PCIe generation compatibility is influenced by both the SSD and the motherboard to which it is connected. Therefore, it's crucial to confirm that your motherboard supports the precise PCIe generation needed by the drive before buying any SSD.
Is Crucial P1 3D NVMe PCIe M.2 1TB compatible with PS5?
The PlayStation 5 (PS5) is not officially compatible with the Crucial P1 3D NVMe PCIe M.2 1TB. The PS5 did not support the usage of extra storage using the M.2 slot when it was launched. The PS5's maker, Sony, announced that they would make this capability available in a subsequent system software update.
However, Sony's standards and recommendations laid out in that update will determine the compatibility and support for particular M.2 SSDs. It is advised to consult Sony's official documentation, announcements, or support channels for the most recent details on appropriate M.2 SSDs and the PS5's firmware specifications.
Crucial P1 3D NVMe PCIe M.2 1TB
Performance -

96%

Price -

98%

Value -

97%