The Toughpower GF A3 Gold series has just been released, and Thermaltake, the top PC DIY premium brand for Case, Cooling, Gaming peripherals, and enthusiast memory solutions, is happy to introduce it.  The Toughpower GF A3 is designed to fully handle the latest-generation hardware, including Intel ATX 3.0 compliance, a native PCIe Gen 5.0 12+4pin modular interface, and 80 PLUS Gold efficiency.
This power supply has dimensions of 150 mm (W) x 86 mm (H) x 140 mm (D) and five wattage to pick from: 1200 W, 1050 W, 850 W, 750 W, and 650 W. 
Any high-performance PC construction needs a stable power supply in today's constantly changing technological environment. A well-known name in the computer hardware sector, Thermaltake is recognized for its dedication to provide top-notch power solutions to professionals, enthusiasts, and gamers alike.
This is also true with the Thermaltake TOUGHPOWER GF A3 Gold 850W power supply unit (PSU). We'll examine its capabilities, effectiveness, efficiency, and general appropriateness for demanding computer systems in this in-depth assessment.
Thermaltake TOUGHPOWER GF A3 Gold 850W Unboxing & First Impressions
The Thermaltake TOUGHPOWER GF A3 Gold 850W comes packaged in a robust cardboard box that features the brand's signature aesthetic and product specs. The power supply is carefully wrapped within the box with foam cushioning to avoid damage during transportation. A user manual, power cord, and all installation screws are included with the PSU.
At first sight, the matte black exterior of the PSU emits a luxury vibe, and the construction quality appears solid. On one side, the TOUGHPOWER branding is prominent, while the other side displays a ventilation grille with the Thermaltake logo in the middle. A totally modular design also provides a clutter-free installation process, which contributes to better cable management and enhanced ventilation within the PC box.
The Thermaltake TOUGHPOWER GF A3 Gold 850W PSU has an excellent build quality. The item seems sturdy and well-made, making it ideal for long-term usage. The use of high-quality Japanese capacitors demonstrates Thermaltake's dedication to dependability. These capacitors offer steady power and have a longer lifespan, providing constant performance even under large loads.
The PSU's totally modular design is a unique feature, allowing customers to connect just the connections required to their components, considerably reducing cable clutter. The connections fit tightly, and the bundled wires are of sufficient length to make cable management reasonably simple.
Thermaltake TOUGHPOWER GF A3 Gold 850W Performance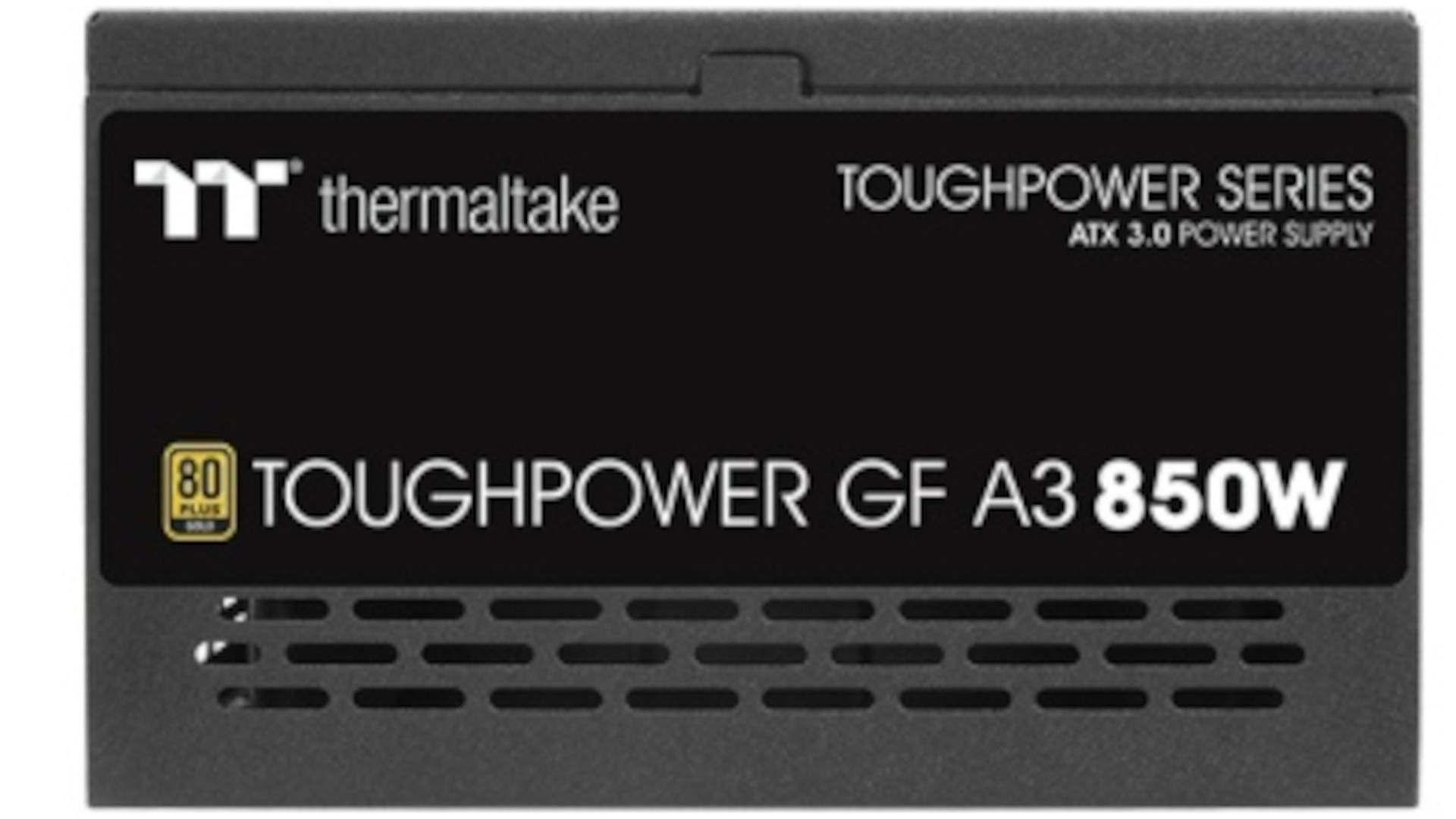 When selecting a power supply, efficiency is critical since it directly affects power consumption and heat dissipation. The 80 PLUS Gold certification ensures that the Thermaltake TOUGHPOWER GF A3 Gold 850W has at least 87%, 90%, and 87% efficiency at 20%, 50%, and 100% loads, respectively. This not only helps to cut power expenses, but it also helps to keep the system cool overall.
The Thermaltake TOUGHPOWER GF A3 Gold 850W PSU outperforms the competition in terms of performance. It ensures constant performance for even the most power-hungry components, such as high-end graphics cards and overclocked CPUs, by providing steady power output across all voltage rails. The PSU displayed low voltage changes during testing, leading to a smooth and stable computing experience.
The Thermaltake TOUGHPOWER GF A3 Gold 850W has a 140mm fluid dynamic bearing fan to keep the internal components cool. This fan achieves a good mix of cooling performance and noise levels. Under normal conditions, the fan runs softly, scarcely audible above the other system components. Even when subjected to severe loads, the fan noise stays within acceptable limits, making it ideal for those who value quiet operation.
The PSU's fan operates in semi-passive mode, which means it is turned off under low loads, reducing noise and extending fan lifespan. When the load exceeds a particular level, the fan engages automatically, delivering optimal cooling when required.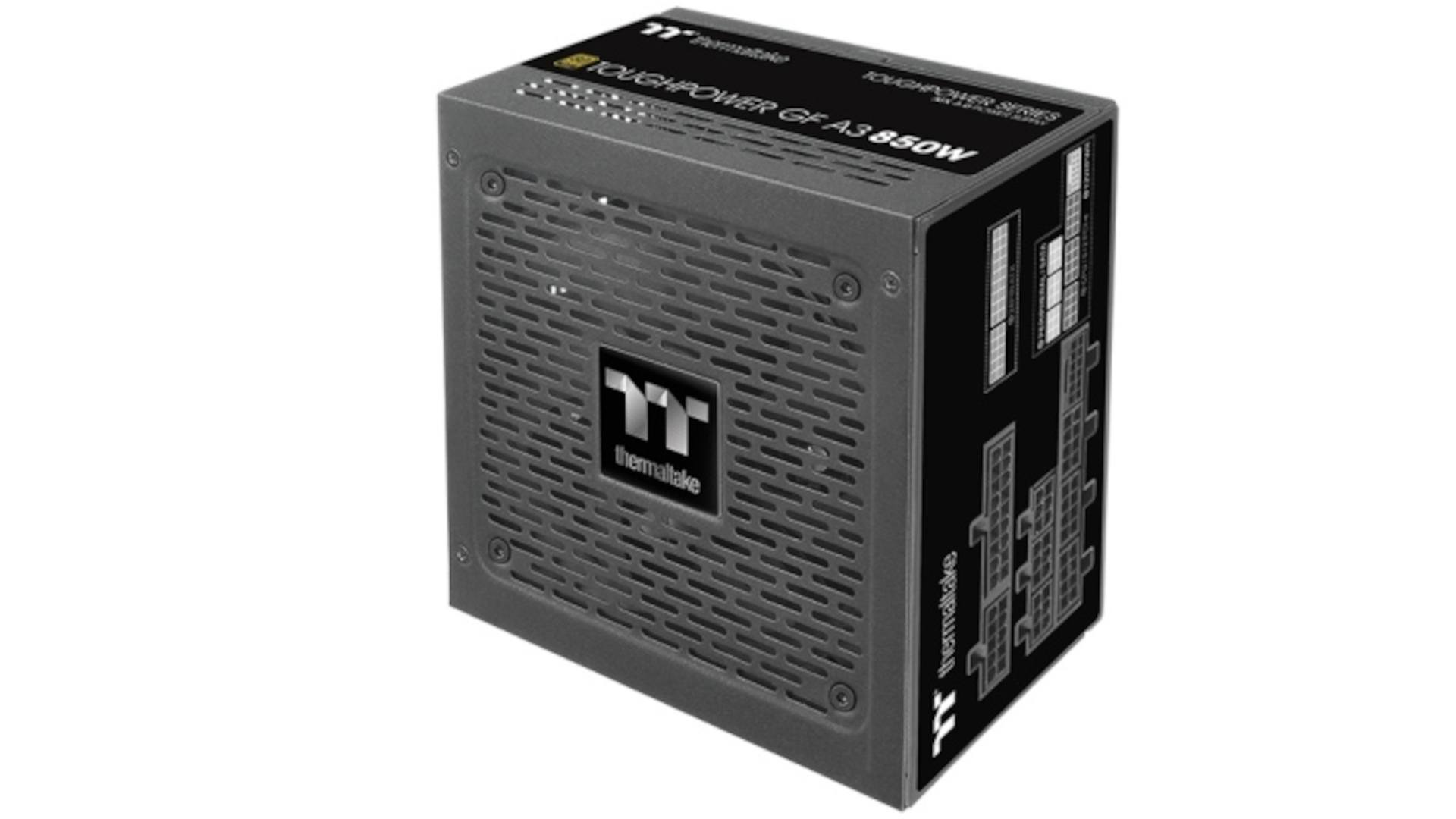 The Toughpower GF A3 Gold series' Smart Zero Fan minimizes unwanted noise while producing great airflow with a 120 mm fluid bearing fan that is exceptionally quiet. The fan is controlled by a physical switch and is designed with our Smart Zero Fan so that it only spins when the load reaches a specific percentage of the power supply. 
Thermaltake TOUGHPOWER GF A3 Gold 850W Specifications
| | |
| --- | --- |
| Model | TOUGHPOWER GF A3 Gold 850W |
| Form Factor | ATX 12V v2.4 and EPS v2.92 |
| Capacity | 850 Watts |
| Input Voltage | 100V – 240V |
| Input Current | 10A – 5A |
| Frequency | 47Hz – 63Hz |
| 80 PLUS Certification | Gold |
| Efficiency | Up to 90% under typical load |
| Fan Size | 140mm Fluid Dynamic Bearing Fan |
| Semi-Passive Mode | Yes |
| Modular Design | Fully modular |
| Power Good Signal | 100 – 500 ms |
| Hold Up Time | > 16ms at 100% load |
| MTBF (Mean Time Between Failures) | 120,000 hours |
| Operating Temperature | 0°C to 40°C |
| Protections | OVP, UVP, OCP, OPP, SCP, OTP |
| Safety Certification | CE/FCC/UL/TUV/RCM/BSMI/GOST-R/CCC/EAC |
| Dimensions (LxWxH) | 160mm x 150mm x 86mm |
| Weight | 2.2 kg (approx.) |
| Warranty | 5 years |
Thermaltake TOUGHPOWER GF A3 Gold 850W Conclusion
For PC enthusiasts, gamers, and professionals looking for a dependable and effective power solution, Thermaltake's TOUGHPOWER GF A3 Gold 850W power supply unit delivers an alluring package. For high-performance setups, its 80 PLUS Gold certification, fully modular design, premium components, and outstanding performance make it a worthwhile investment.
The Thermaltake TOUGHPOWER GF A3 Gold 850W will easily take the strain whether you're constructing a gaming setup, content development workstation, or a potent rendering system. Although it might not be the most affordable choice available, its features and dependability make up for the higher price. The Thermaltake TOUGHPOWER GF A3 Gold 850W PSU is unquestionably a great option for individuals who value dependability, effectiveness, and longevity.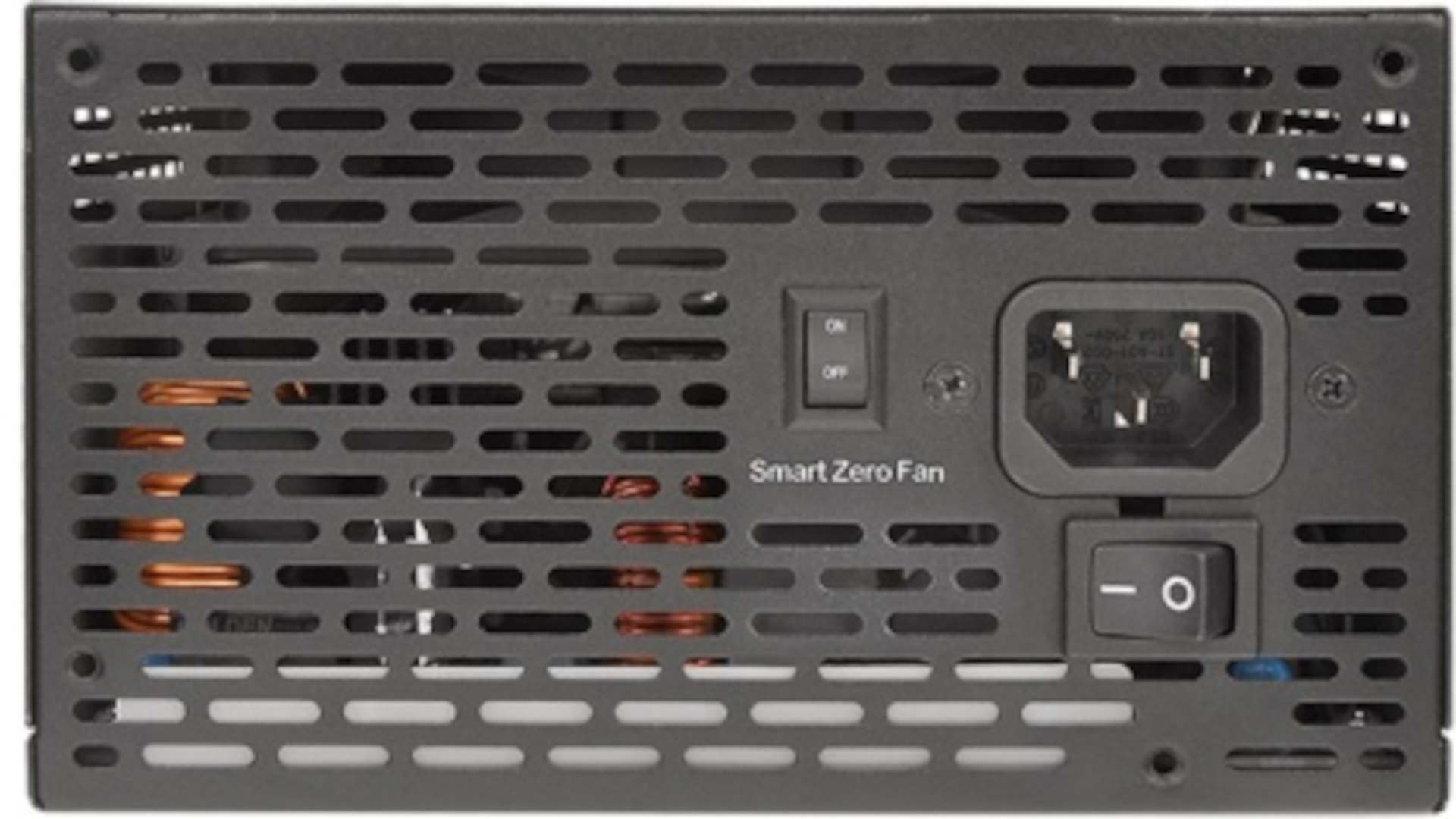 In conclusion, Thermaltake TOUGHPOWER GF A3 Gold 850W  is an 80PLUS Gold unit with the most recent Intel ATX 3.0 specification and the 16-pin PCIe Gen 5.0 power connector. It has a stunning appearance, excellent performance, great on-paper specifications, and features that truly make it a Premium product.
It is unquestionably worthy of your consideration, especially given that it is currently selling for £179.99, which is on the pricey side. However, when you consider what you are getting, you can see why.
Having said that, we wouldn't buy this for ourselves till it dropped to about £150.
Thermaltake TOUGHPOWER GF A3 Gold 850W
Performance -

96%

Price -

98%

Value -

97%