Power supply units (PSUs) and RGB lighting are two key components that define the entire experience in the realm of PC construction. Thermaltake, a well-known company in the PC hardware business, attempted to merge these two components in its Thermaltake Toughpower iRGB PLUS 850W Platinum Power Supply. This detailed review will delve deep into this PSU's capabilities, performance, and RGB lighting integration.
The Thermaltake Toughpower iRGB PLUS 850W Platinum, like its larger siblings with 1050 and 1200W capacity, delivers great performance and a variety of RGB lighting options. Overall, it is a solid power supply with a dependable and contemporary foundation given by Channel Well Technology. If you don't care about the RGB lights, you may also consider the Corsair HX850 and the Seasonic Focus Plus Platinum, both of which have a similar capacity.
Thermaltake's Toughpower Grand RGB series comprises of three models with large capacity, aimed primarily at powerful systems and those willing to invest a bit extra for a high-quality power supply with RGB illumination. Typically, with power supplies, the emphasis should be on investing every penny to increase build quality rather than on aesthetics. However, some consumers prefer their power supplies to appear beautiful, or there would be no market for such devices.
Thermaltake Toughpower iRGB PLUS 850W Platinum Unboxing & Overview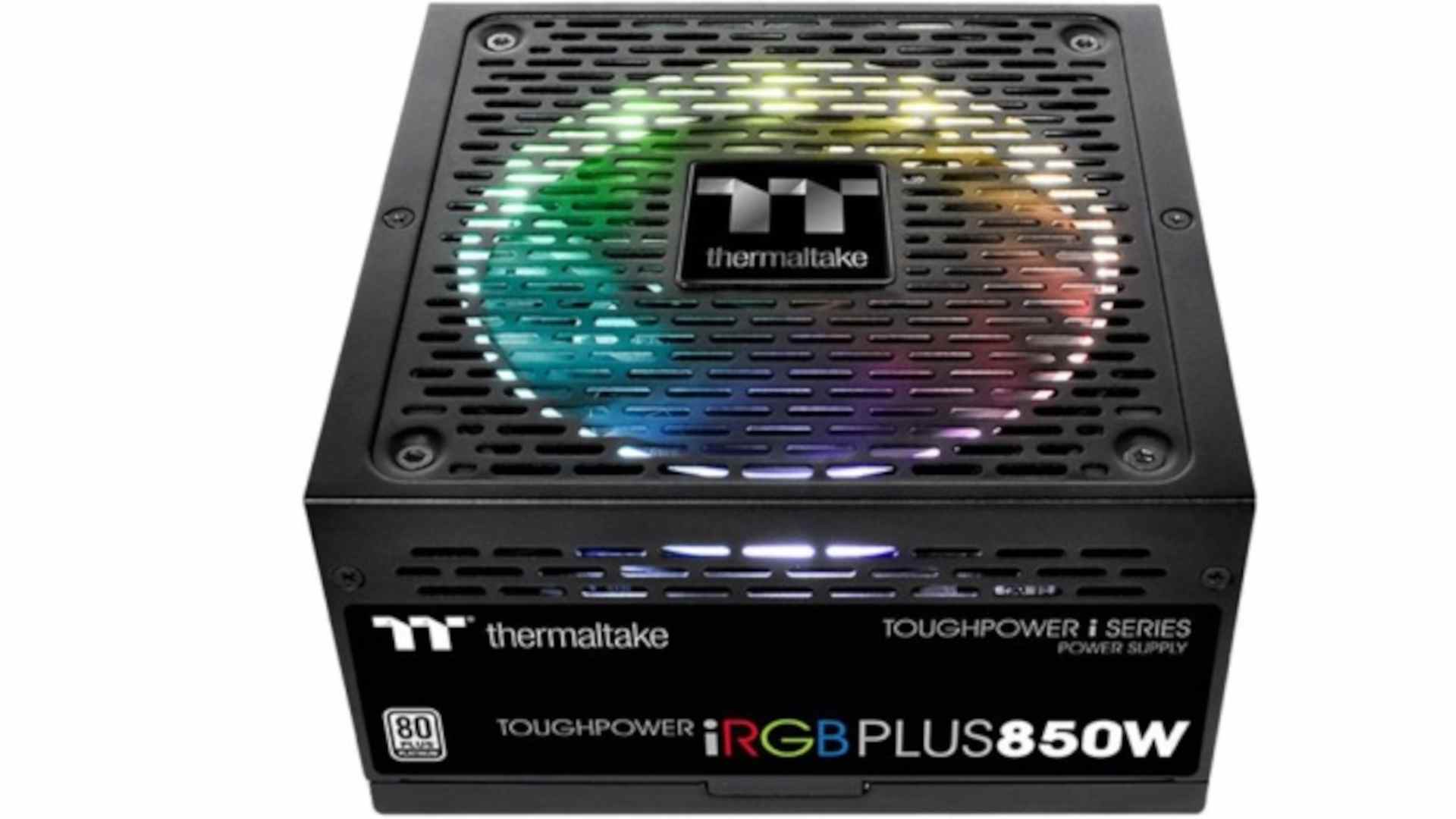 When you open the box, you're met by the PSU itself, which is tightly enclosed in foam cushioning. All of the required cables and accessories are included, neatly packed in separate compartments.
The power supply alone makes an excellent first impression. The matte black surface is accented by minimal branding and a brushed metal plate that holds the RGB lights. Thermaltake has clearly thought about the aesthetics of this power supply, making it appropriate for both performance fanatics and those who appreciate the visual attractiveness of their PC projects.
The Thermaltake Toughpower iRGB PLUS 850W Platinum from Thermaltake is no exception. The item seems sturdy and well-made, with a strong build quality that inspires trust in its dependability. The modular cable architecture improves the overall build experience by enabling clean cable management.
The RGB lighting on the power supply is a unique feature. On one side, a brushed metal panel stores 16.8 million colors and 12 configurable lighting settings. These lighting effects are controllable using the supplied software, allowing you to adapt the lighting to the rest of your RGB-enabled components. The illumination is bright and colorful, bringing a splash of color to your system without being too distracting.
Thermaltake Toughpower iRGB PLUS 850W Platinum Performance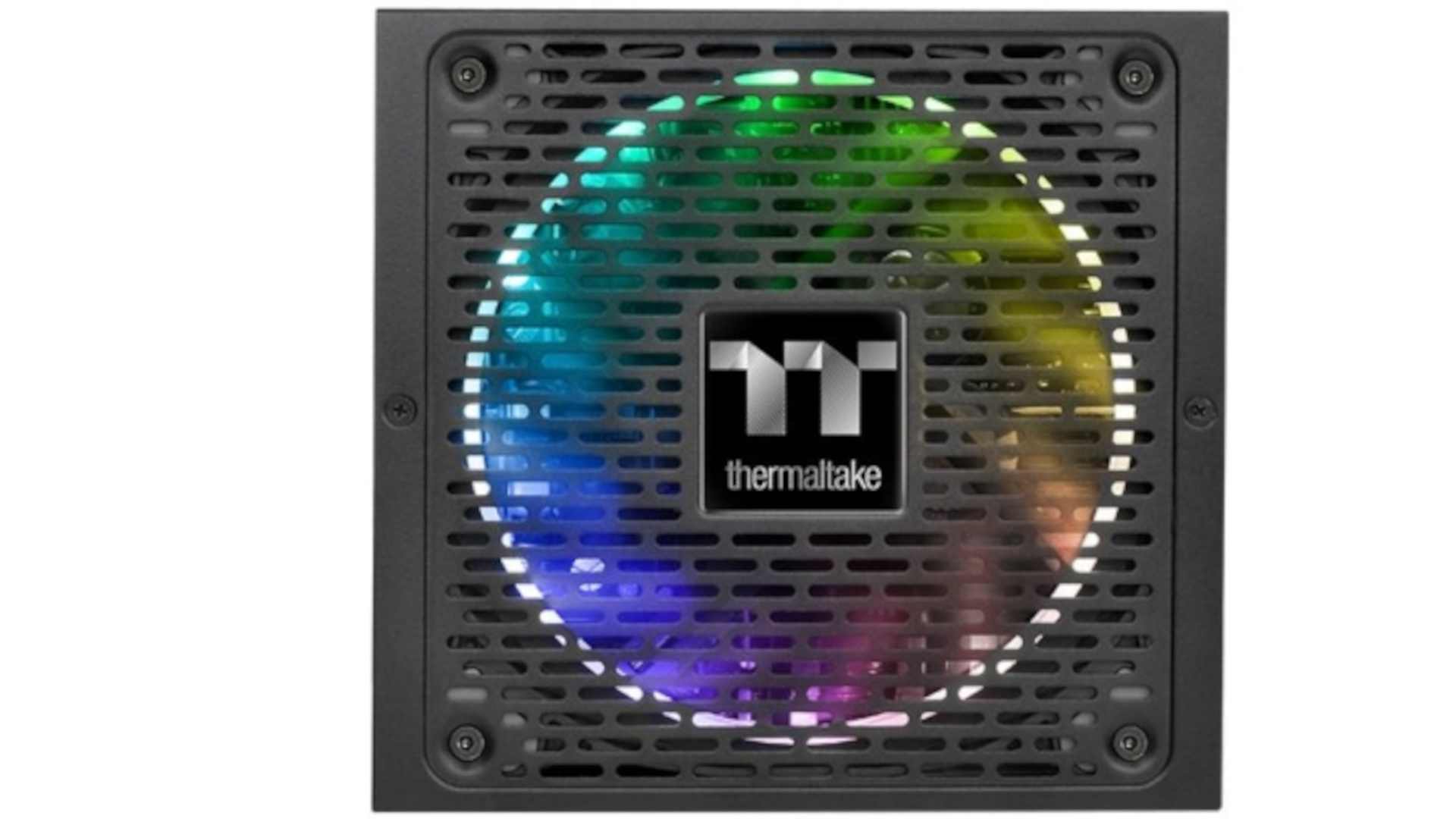 Due to its 80 PLUS Platinum certification, the Thermaltake Toughpower iRGB PLUS 850W Platinum is incredibly energy-efficient. This power supply unit is intended to provide consistent power to your system while reducing heat generation and energy waste. During our tests, the power supply functioned wonderfully, delivering constant and clean power even while under stress.
With a maximum wattage of 850W, this power supply can easily power demanding gaming setups and workstations. It has premium components, such as high-quality capacitors and a strong single +12V rail, which ensures consistent voltage output. This level of performance makes it ideal for gamers and content makers who need a dependable and strong power supply to run their high-performance components.
Furthermore, the Toughpower iRGB PLUS PSU is totally modular, enabling you to connect only the wires you require. This not only makes cable management easier, but it also increases airflow within your PC case, adding to total system cooling.
The noise level of a power supply is typically overlooked until it is no longer present. A quiet 140mm Riing Duo fan is included with the Thermaltake Toughpower iRGB PLUS 850W Platinum. The fan runs at a low RPM during regular operation, guaranteeing near-silent performance. The PSU stayed pretty quiet even under extreme load levels, due to its intelligent fan management.
Thermaltake offers an easy-to-use software solution for managing the RGB lights on the Toughpower iRGB PLUS power supply. You may use the software to select from a number of lighting effects, like as static colors and dynamic patterns, and even sync the lights with other compatible Thermaltake RGB components.
There are several modification options, allowing you to fine-tune the lighting to meet your desired color scheme and aesthetic tastes. Furthermore, the program allows real-time monitoring of the PSU's performance, including temperature and power use, providing you with vital insights into the functioning of your system.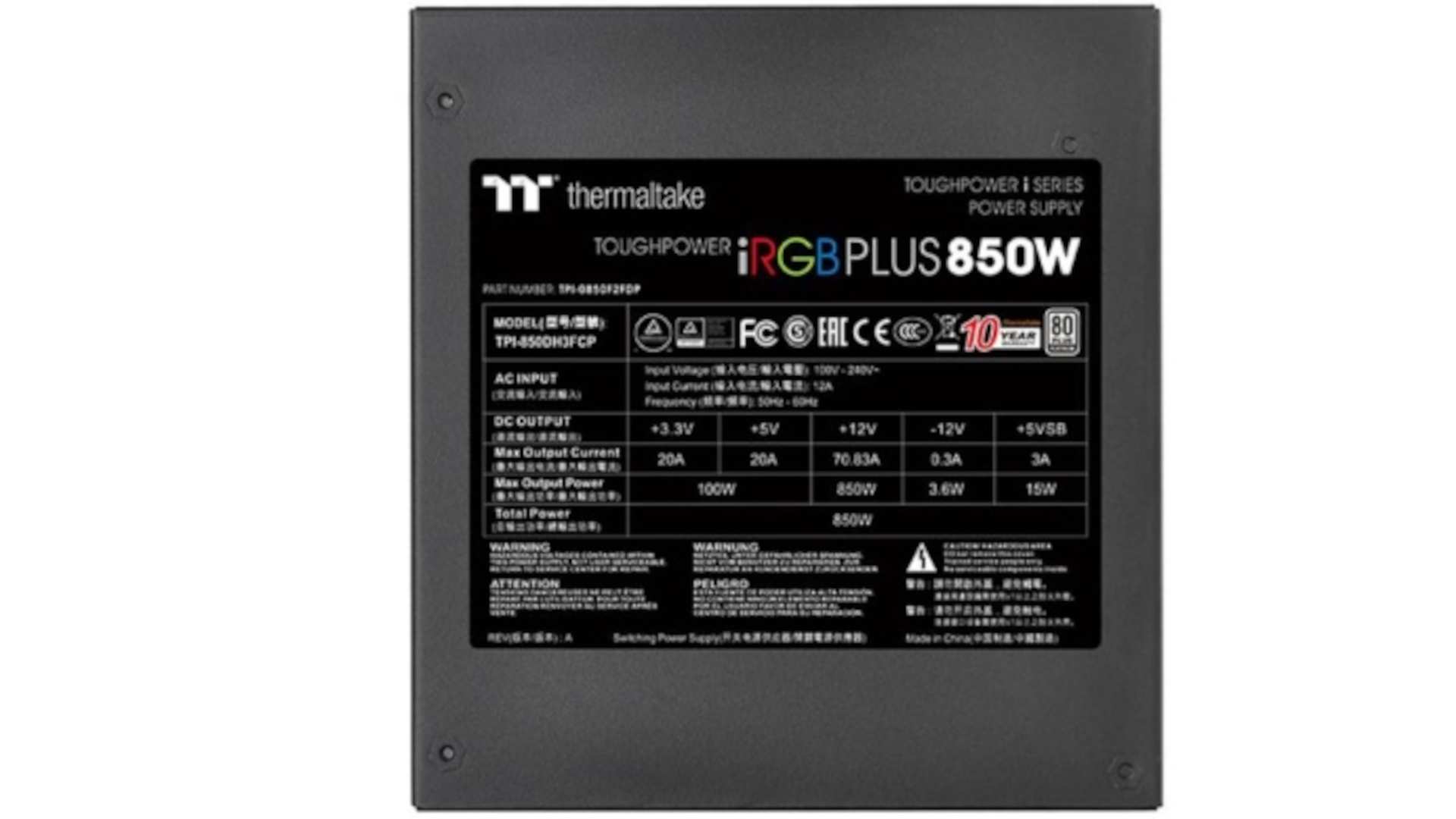 Thermaltake Toughpower iRGB PLUS 850W Platinum General Information
| | |
| --- | --- |
| Model | Thermaltake Toughpower iRGB PLUS 850W Platinum |
| Type | ATX 12V 2.4 |
| Max Output Power | 850W |
| 80 PLUS Certification | Platinum |
| Modularity | Fully modular |
| Dimensions | 150mm x 86mm x 160mm (H x W x L) |
| Input Voltage | 100V – 240V |
| Input Current | 10A – 5A |
| Input Frequency Range | 47Hz – 63Hz |
| Efficiency | 90% typical (at 50% load) |
| Fan | 140mm Riing Duo RGB fan |
| Operating Temperature | 0°C to 50°C |
| Protections | Over Voltage, Under Voltage, Over Current, Short Circuit, Over Temperature, Over Power |
| MTBF | >120,000 hours |
| Certifications | CE, TUV, FCC, UL, CCC, EAC, RCM, cTUVus |
| Connectors | 1 x 24-pin ATX, 2 x 4+4-pin EPS, 8 x 6+2-pin PCIe, 12 x SATA, 4 x 4-pin Peripheral, 1 x Floppy |
| Warranty | 10 years |
| RGB Lighting | 16.8 million colors, 12 lighting modes, customizable via software |
| Software Control | Thermaltake iTAKE Software |
| Cable Length | Flat, ribbon-style cables with varying lengths for flexibility |
| Silent Mode | Fan runs at low RPM for near-silent operation |
| Weight | 2.2 kg (4.85 lbs) |
Thermaltake Toughpower iRGB PLUS 850W Platinum Conclusion
Finally, the Toughpower iRGB PLUS 850W Platinum is a well-rounded, high-performance power supply unit that combines power, efficiency, and aesthetics. It not only provides consistent and clean power to your components, but its adjustable RGB lighting also adds an aesthetically appealing touch to your PC build.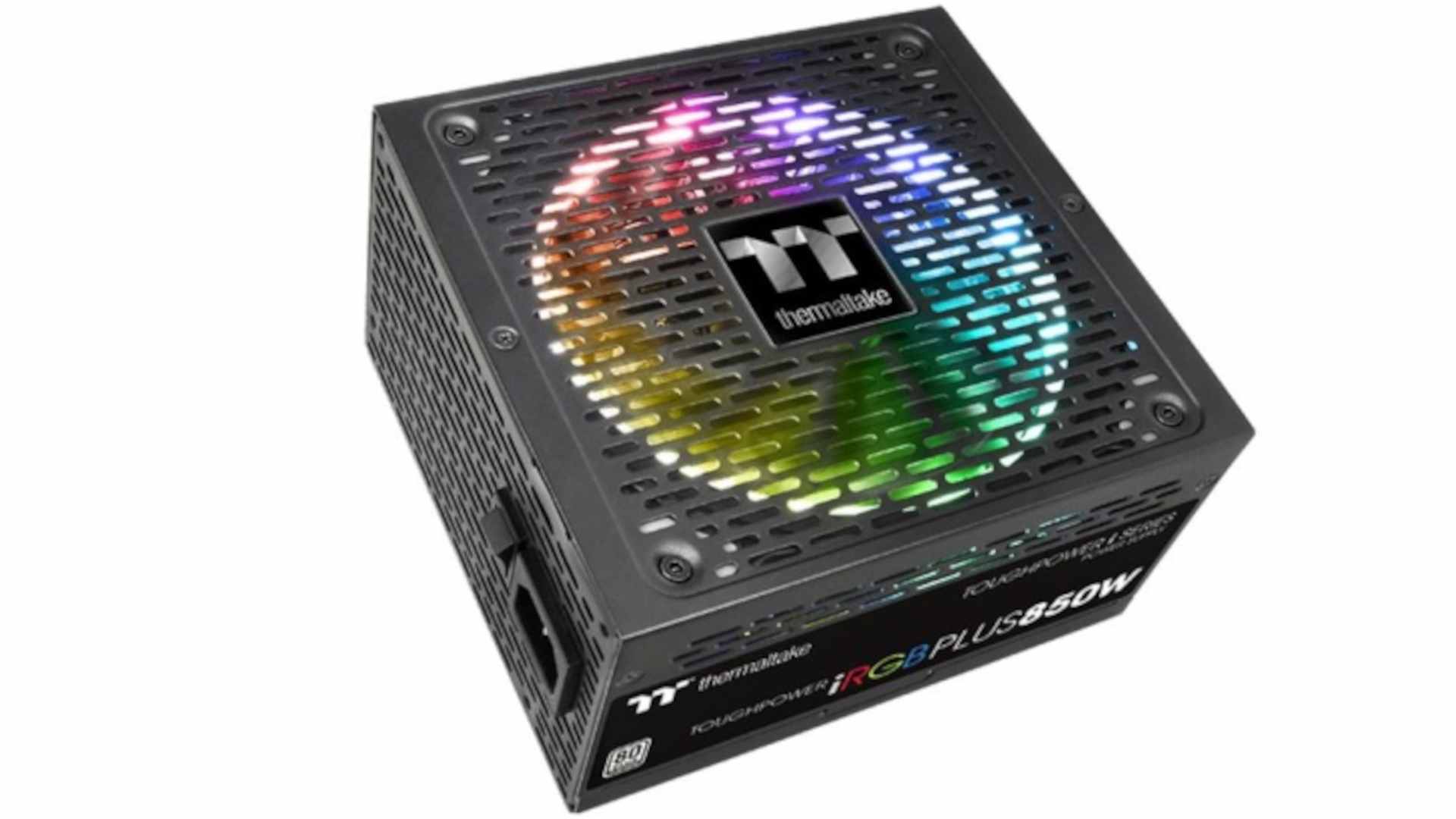 The build quality, modular design, and silent operation add to its allure. Whether you're a gamer seeking for a power supply to fuel your high-end graphics card or a content producer looking for a dependable power source for your workstation, this PSU has you covered.
Thermaltake Toughpower iRGB PLUS 850W Platinum
Performance -

97%

Price -

96%

Value -

97%