One of the most affordable IPS displays available, the AOC Monitor 24-Inch 24B2XHM2 Monitor can be used for almost anything, including office productivity, video consumption, and even light gaming. At this budget, you can't anticipate many extra features, but it does offer a few qualities that will make it stand out from its rivals. Let's see if the AOC 24B2XH excels in image quality, the most crucial component of a monitor.
The AOC 24BXH2 is as basic as monitors come, yet it still performs well. For such a low price, it features an excellent screen that delivers images of a calibre that is more than adequate. I haven't seen much better at this pricing, but you will unavoidably have to pay more if you want or need a larger screen. Simply put, this is a superb cheap monitor.
AOC Monitor 24-Inch 24B2XHM2 Monitor Specifications & Overall
What does the money buy you? The fact is, not much. The AOC Monitor 24-Inch 24B2XHM2 Monitor is only a 24″ monitor; it is neither more nor less. It includes a support that can only be tilted very little forward and backward. The stand is constructed of lightweight, flimsy-feeling plastic that trembles somewhat when you bump it against a desk or poke the screen.
Setup is not that difficult. The base of the stand must be fastened to the monitor with a tiny thumbscrew, as is the case with most inexpensive displays, but that is a simple task. Also, after you've made room for it on your desk, it also has a beautiful appearance. Although the device doesn't have a fancy curved screen, the small bezels on the left, right, and top sides give it an appealing appearance.
Also, it is quite compact, and AOC includes HDMI and VGA connections in the box so you can start using it right away. There is a four-point 100mm VESA installation on the back if you do require height adjustment or wish to place the monitor on a wall.
The AOC Monitor 24-Inch 24B2XHM2 Monitor has one drawback: the power source is not integrated within the display. Instead, you're forced to locate space on or near your desk for one of those awkward external adapters.
The AOC 24B2XH resembles a typical workplace monitor, but it has a much sleeker and cleaner appearance than earlier models. As the entire gadget is matte black, it is almost scratch- and smudge-proof and will seem brand-new for a very long time. Users may mistakenly believe that the display is bigger than it actually is due to its extremely thin bezels.
It doesn't take up much room on a desk because it is one of the most space-efficient devices in its size category. As the chassis is so thin, flush attachment is possible without making it appear excessively protruding when viewed from the side. At a weight of under 6 pounds, the AOC 24B2XH is fairly portable and won't require a reinforced desk.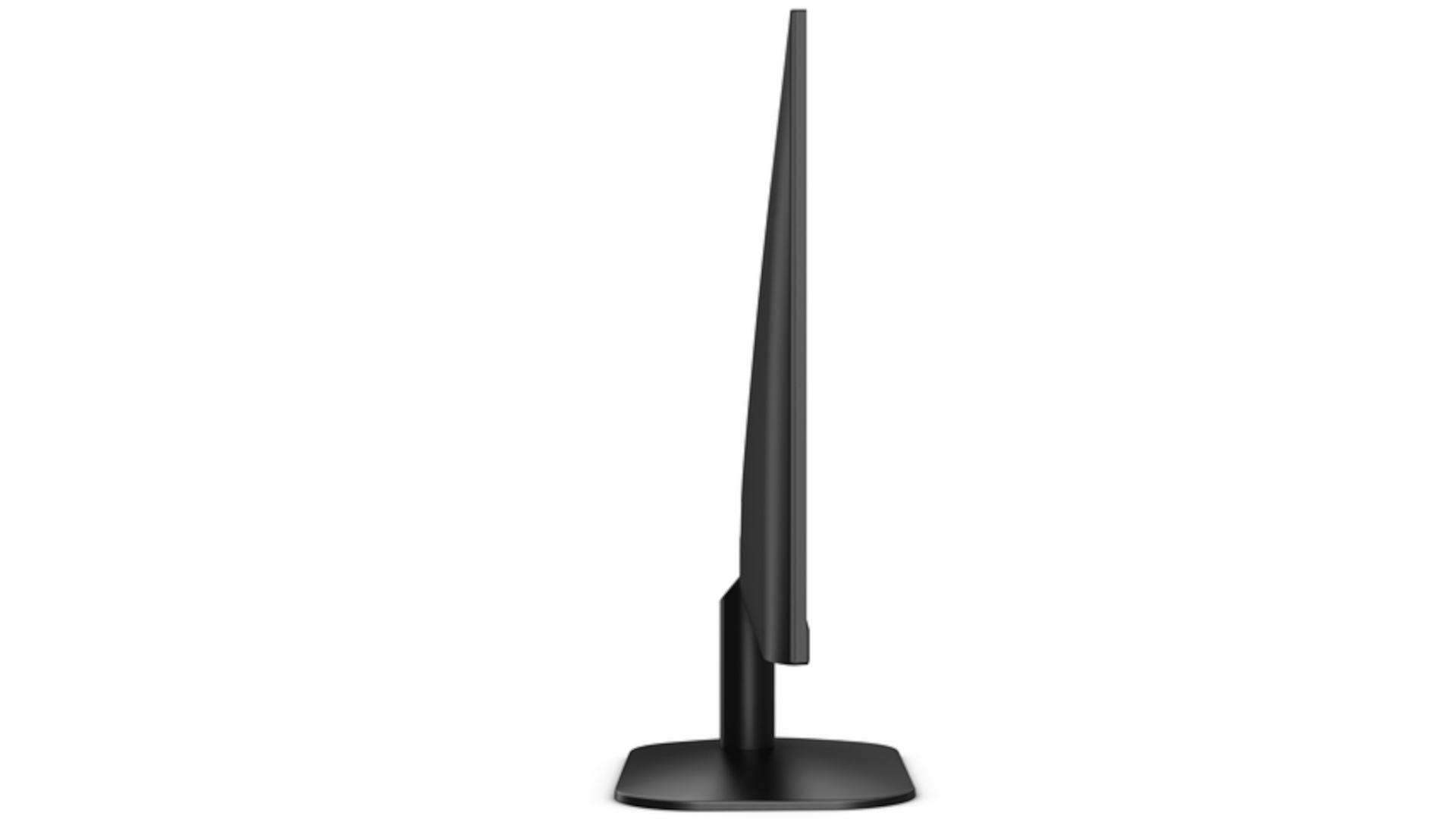 The AOC Monitor 24-Inch 24B2XHM2 Monitor's build quality isn't outstanding because of the thin plastics, which have a brittle or weak feeling. Taking additional care of the display is vital for its longevity because the surfaces feel as though they may break if some force is applied. If you touch the display or type quickly, you may also experience some swaying, although this may be avoided by using a different mount.
Even if the AOC 24B2XH still had OSD buttons, it is difficult to find fault with it at this pricing. While each key has pressed markings on the front, it will be challenging to use them in the dark because they are all blackened out. While it might take some getting accustomed to, in actual use, the user will hardly ever adjust this display.
The AOC 24B2XH's accompanying stand only allows for tilt, which makes it extremely restrictive. Moreover, because of the stand's low center of gravity, the monitor can also wobble. If you just need to buy one display, you could replace this with a VESA mount, although that would make the purchase more expensive. You are limited to using the stand that comes with the majority of monitors in this price range since they lack VESA mounts.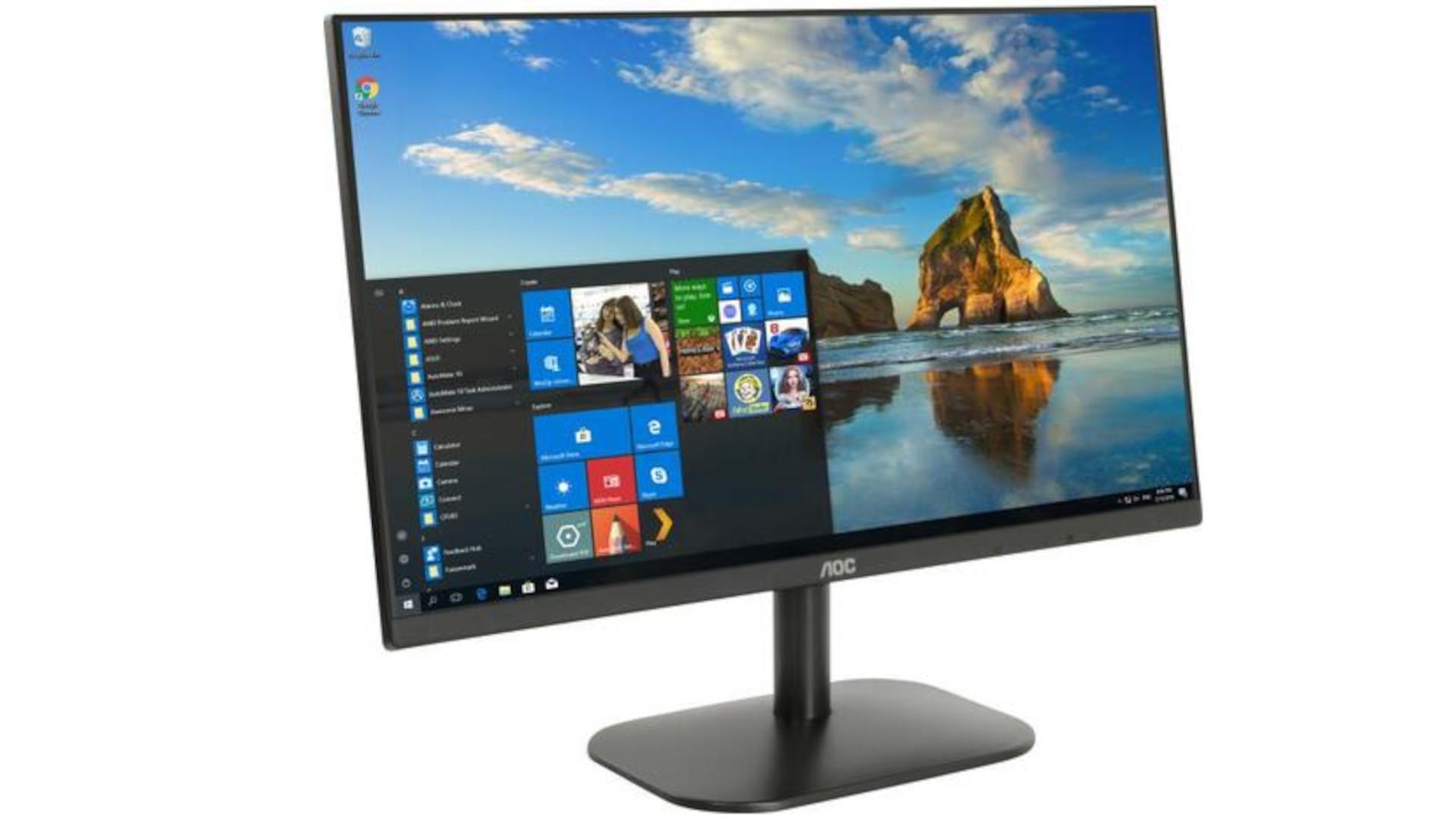 Also, we've seen displays that are as thin as the AOC 24B2XH without the bolt holes for the simple reason that the chassis is unable to sustain the weight and strain the mount will put on it. The fact that this device works with aftermarket arms is a major benefit, especially considering how well suited it is for multi-display setups. Therefore, we can only advise investing the extra money if you intend to do that or if the wobbling really bothers you.
AOC Monitor 24-Inch 24B2XHM2 Monitor General Information
| | |
| --- | --- |
| SCREEN SIZE (INCH) | 23.8 |
| BEZEL TYPE (FRONT) | 3-sided frameless |
| PANEL RESOLUTION | 1920×1080 |
| PANEL TYPE | VA |
| REFRESH RATE | 75Hz |
| DISPLAY COLOURS | 16.7 Million |
| FLICKER-FREE | ✓ |
| BLUE LIGHT TECHNOLOGY | Low Blue Light |
AOC Monitor 24-Inch 24B2XHM2 Monitor Image Quality
Simply put, great. In fact, I'm not sure you can get much better image quality than the AOC 24B2XH for less than £100.
The IPS screen on this monitor is mostly to blame for the excellent visual quality. At a resolution of 1,920 x 1,080, it isn't the highest resolution, but it is crisp enough that jaggies are undetectable at close viewing distances. Unlike to TN panels, you may watch the screen from a variety of angles without experiencing color shifting or fading, whether they be vertical or horizontal.
Also, the monitor functioned well in each of our testing. Peak brightness is 272cd/m2, which is ideal for most businesses or classrooms and about equivalent to most monitors in this price range.
AOC Monitor 24-Inch 24B2XHM2 Monitor Conclusion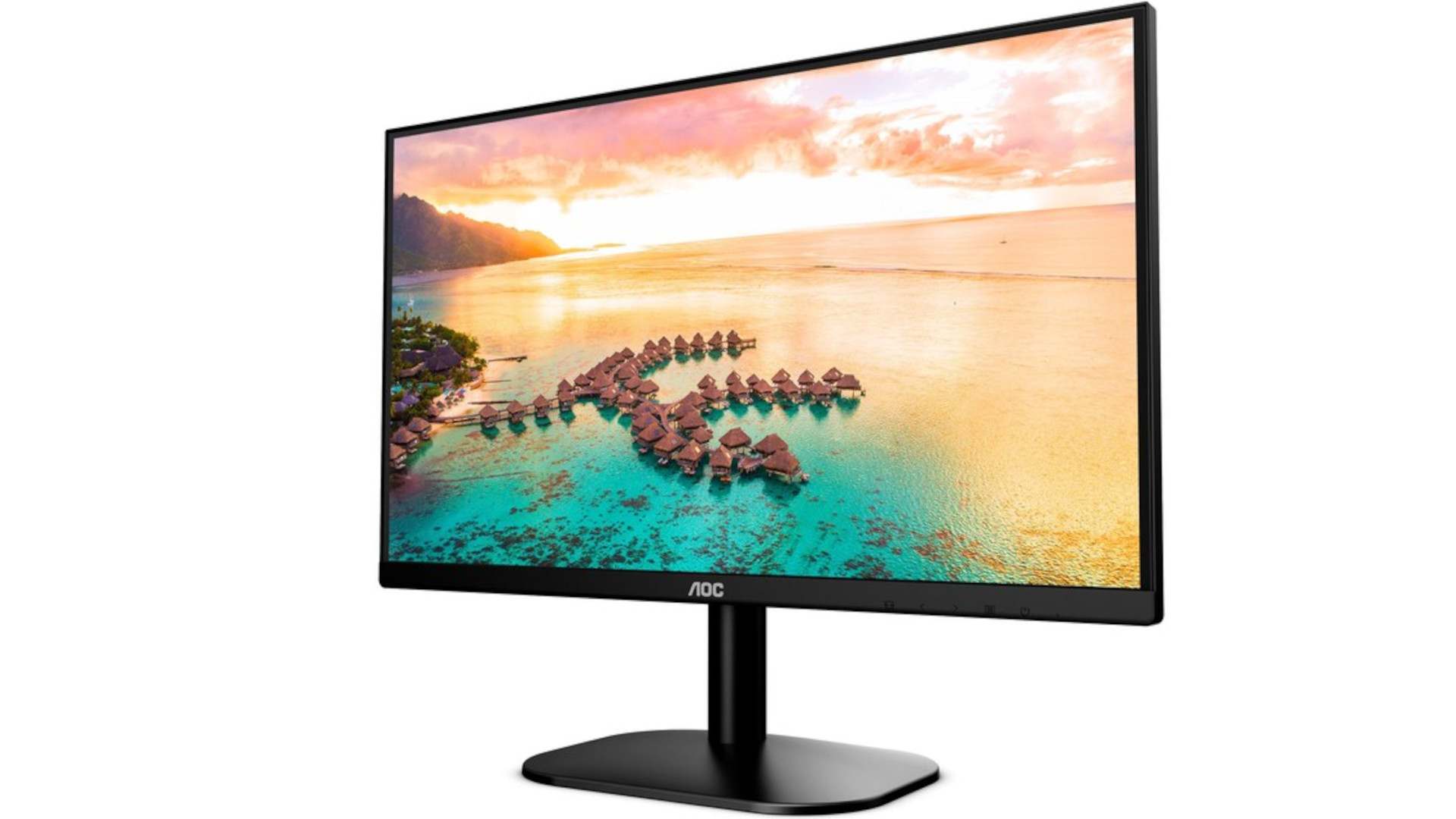 Due to the coronavirus outbreak, prices and availability are always fluctuating, but if you can get your hands on one of these screens on Amazon for the advertised price, you'll be getting a fantastic deal.
Even while the AOC 24B2H lacks frills like USB-C connection or a height-adjustable stand, it excels in critical areas. It is a wise decision to use it as a second monitor for your home office or study.
AOC Monitor 24-Inch 24B2XHM2 Monitor
Performance -

98%

Price -

98%

Value -

98%