We are now moving on to the B560 chipset reviews after reviewing the Z590 Motherboards to see what it has to offer if you want to upgrade to an Intel 11th Gen CPU. Every time a new CPU is introduced, MSI always offers a wide selection of motherboards to meet the demands of the majority of users.
Whether you want to dip your toes in the water or go all-out fanatic, MSI typically has a motherboard for you. You'll be glad to hear that MSI has a sizable ecosystem of products if you decide to go completely MSI for your build. MSI offers a wide range of components, from motherboards to GPUs to displays and cabinets.
The B560 boards from Intel are unquestionably worth a look, it is official. The last-generation B460 boards were generally uninteresting, especially when it came to having to operate memory at slower rates. Then stop! Although CPU overclocking is still restricted, we are happy that 2021-era RAM is now properly supported.
MSI MPG B560I Gaming Edge WiFi Motherboard Review Specifications
The MSI MPG B560I Gaming Edge WiFi Motherboard is its only mini-ITX at the moment on B560, and it comes with a combination of features from its Performance Gaming line and very high-end controllers. The back panel cover, power delivery heatsinks, and one M.2 heatsink are all included in the design front's all-black PCB with metallic grey heatsinks. A single 8-pin 12 V ATX input powers the CPU, while a 24-pin 12 V ATX motherboard power input powers the motherboard.
One full-length PCIe 4.0 x16 slot is located down the board's bottom, and it has enough storage space for the mini-ITX form size. One PCIe 4.0 x4 M.2 slot, one PCIe 3.0 x4/SATA M.2 slot, and four straight-angled SATA ports, which enable RAID 0, 1, 5, and 10 arrays, are in charge of the storage. The MSI MPG B560I Gaming Edge WiFi Motherboard has two memory slots with a capacity of up to 64 GB and support for DDR4-5200 memory, offering adequate memory support.
One USB 3.2 G2 Type-C, one USB 3.2 G2 Type-A, and four USB 2.0 ports are provided by MSI on the back panel. There are three 3.5 mm audio ports powered by a Realtek ALC897 HD audio codec, along with an HDMI 2.0b and DisplayPort 1.4 visual output pair for customers wishing to use Intel's integrated UHD graphics. A Realtek RTL8125B 2.5 GbE controller serves as the networking component, while Intel's most recent AX210 Wi-Fi 6E CNVi chip offers wireless and BT 5.2 connection.
The MSI MPG B560I Gaming Edge WiFi Motherboard is a mid-range board that falls between a premium and a budget model. Although we have seen prices around $160 for it in the US as of the time of writing, its Australian price of $309 feels excessive when compared to MSI's own well praised Tomahawk, which is only ten dollars more.
However, there are rarely many ITX alternatives available, therefore it's common to see a relative price premium.
MSI MPG B560I Gaming Edge WiFi Motherboard General Information
| | |
| --- | --- |
| Model Name | MPG B560I GAMING EDGE WIFI |
| CPU Support | Supports 10th Gen Intel® Core™ Processors,11th Gen Intel® Core™ Processors,Pentium® Gold and Celeron® processors |
| CPU Socket | LGA 1200 |
| Chipset | Intel® B560 Chipset |
| Graphics Interface | 1x PCIe 4.0 x16 slot |
| Display Interface | Supports 4K@60Hz as specified in HDMI 2.0b, DisplayPort 1.4 – Requires Processor Graphics |
| Memory Support | 2 DIMMs, Dual Channel DDR4-5200 (OC) |
| Storage | 1x M.2 Gen4 x4 64Gb/s slot, 1x M.2 Gen3 x4 32Gb/s slot, supports Intel® OptaneTM Technology 4 x SATA 6Gb/s |
| USB ports | 2x USB 3.2 Gen 2 10Gbps (1 Type-A + 1 Type-C), 3x USB 3.2 Gen 1 5Gbps (2 Type-A + 1 Type-C), 6x USB 2.0 |
| LAN | Realtek® RTL8125B 2.5G LAN |
| Wireless / Bluetooth | Intel®Wi-Fi 6E AX210, Bluetooth 5.2 |
| Audio | 8-Channel(7.1) HD Audio with Audio Boost |
MSI MPG B560I Gaming Edge WiFi Motherboard Tests
As with the other 500-series boards, we tested the MSI MPG B560I Gaming Edge WiFi Motherboard with a Core i9 11900K. Even while it's doubtful that many people will combine a 11900K with a B560 board, if it can handle the most demanding CPU, it definitely earns a thumbs up from us.
The little MSI delivered the required performance. On multithreaded benchmarks, it seemed to lag a little bit, but that's probably due to power management more than any fundamental flaws. The Gaming Edge performed well in the gaming tests at the other end of the range.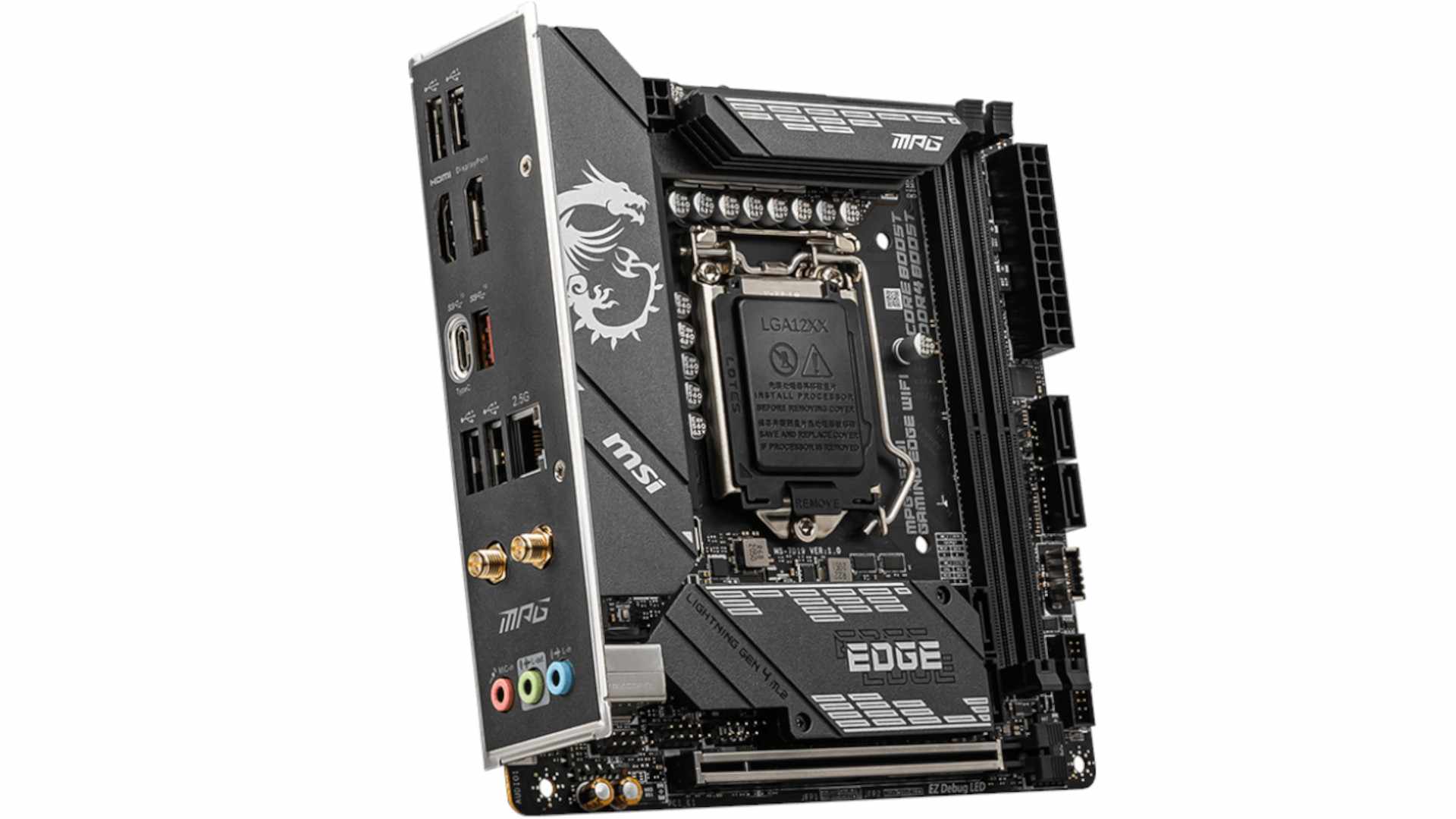 B560 boards do not support CPU overclocking, although the BIOS does support Adaptive Boost with a Core i9 processor. However, we decided not to run it since we believe this is not the right board to hammer out 300W AVX loads. For testing, we used DDR4-3600, which is an excellent sweet spot for the Gear 1 ratio, with our Team memory. While 4000MHz also performed nicely, doing so required switching the board to Gear 2.
MSI MPG B560I Gaming Edge WiFi Motherboard Conclusion
But even at this pricing, I still think the board falls short. Other than the networking side, the I/O is poor and, due to its simple VRM, it works best with an i3 or i5 CPU. The VRM is not at the level we'd expect from a top tier ATX B560 board, but it is still better than some of the heatsink-less junk seen on entry level boards. Although this specific small MSI is a good option if you must go the ITX route, we still wish it could provide more.
If you don't intend to overclock, Intel's B560 chipset makes a lot of sense. MSI sees value in developing a mini-ITX board that can support the newest CPUs equipped with PCIe 4.0 technology.
The B560i Gaming Edge WiFi, which costs roughly £150, performs admirably in our battery of tests, despite the absence of a full-fledged all-core turbo.
More significantly, the board is weak in comparison to its closest rivals. It is not as excellent as, instance, the Asus ROG Strix B560-I Gaming since it lacks 20Gbps USB, has few ports, and lacks the most recent audio codec.
For MSI to be a good purchase, the price must be reduced below £130. Any additional features infringe on boards with superior feature sets.
MSI MPG B560I Gaming Edge WiFi Motherboard
Performance -

97%

Price -

98%

Value -

98%