In this article, I give you my BenQ PD3220U 32″ 4K monitor review with specs included. When BenQ offered this monitor on the market, I really had to make a review of it. Because it's a 32-inch 4K wide gamut Thunderbolt 3 monitor for the Mac and also for Windows.
For Mac people who are looking for Thunderbolt 3 ports (obviously your MacBook Pros have nothing but Thunderbolt 3 ports), there's not a lot of selection out there. Apple's own Pro XDR $5,000 display with a stand that costs an additional $1,000 and then the wall mount is $200 more, it's kind of crazy expensive.
The LG ultra-fine display that Apple has been selling also, the first-gen had its foibles and the second-gen is 27-inch in this 5K though, but it's not 32 inches and it costs a bit more.
All things considered, this monitor BenQ PD3220U has a pretty decent price. Its list price of $1199 for the 32-inch, and there is also a 27-inch model that's $999 and has a lot of features for the money. How good is it? We're gonna look at it now.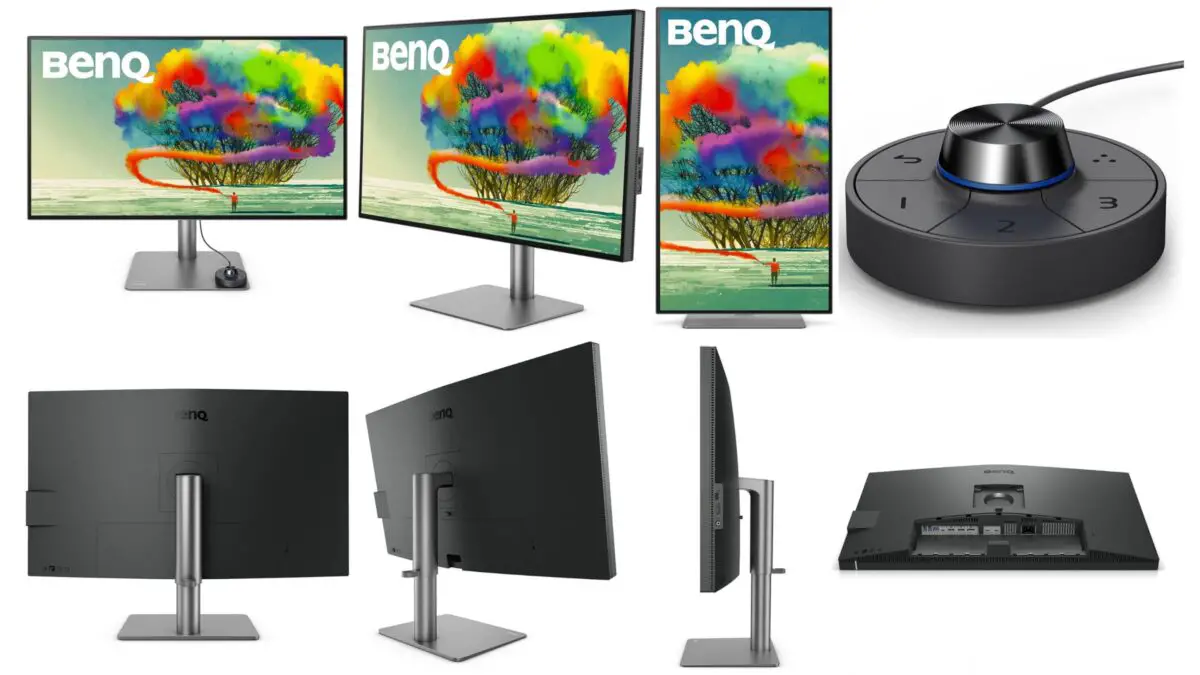 So, these monitors are for those who are looking for something higher end but obviously not to the $5,000 range. Let's say you do photo editing, video editing perhaps professionally so you want something that's wide gamut, and you want something that's high resolution, and you want 4K, and you want something that's (this is unusual at this price point) true 10-bit color not 8-bit plus FRC this is true 10-bit color and no PWM.
Well, this is what BenQ PD3220U 32″ 4K Monitor has. This is a 60 Hertz monitor, so it's not really intended for gaming at super-high frame rates. But then again, the target audience is more towards the Mac not the hardcore gaming people with gaming laptops. You could use it for that too.
Should you wish to also use it with something that does not have Thunderbolt 3 you can do so. In fact, they include both the DisplayPort cable and an HDMI cable in the box. Plus there is the USB cable so the USB ports will still function as a USB hub on the monitor.
BenQ PD3220U 32″ 4K Monitor has built-in stereo speakers that are pretty shockingly mediocre. Oh well, I use external speakers I can't say they're that much better than the MacBook Pro speakers. I did also test this with the Asus ZenBook Pro Duo which has Thunderbolt 3 and it worked fine there.
This isn't just a monitor though, it is functionally a Thunderbolt 3 dock. It supports daisy-chaining of monitors. There's a second Thunderbolt 3 out so you can plug in an additional Thunderbolt 3 monitor if you wanted to. As 3 USB A ports 3.1 on here we have USB C Gen 2 also.
On the side, mounted along with one of the USB A ports, which is really handy sitting on to reach behind the monitor, there's a headphone or speaker jack as well. And there's even a vanity cover for the rear ports which you don't want to take on and off.
You've got pretty much everything you want here. You have HDMI in the back, DisplayPort as well so you can plug in different kinds of additional monitors. The only thing that we don't have here is Ethernet.
it can also charge the Mac and I'm using the 15-inch MacBook Pro which requires 87 watts of charging power and it charges just fine, it doesn't lose juice.
Like a lot of more expensive monitors, there's not an external power brick. The power supply and all the Thunderbolt redox stuff and all that is built into the monitor so it's not particularly light, let me tell you. But, the nice thing is, it's just a power cord that plugs in the back.
The monitor stand is included and it's a good metal stand. It's got a lot of weight to it. It telescopes up and down, stays put where it should, it has tilt, and it even has rotation should you wish to use this in portrait mode. And, it's got a VESA mount style mount on the back so, if you do want to just VESA mounted instead, you could.
Another interesting thing that they did on the rear right-hand side as you're looking at the monitor, there are the usual OSD controls for controlling monitor settings and a little joystick. And if you're like me, you probably hate those fiddly little buttons and you can't even see that because we're on the back. You don't have to care about that because it comes with the G2 puck, as they call it.
G2 puck is a little rotary controller with buttons on it so it makes it really easy to do your OSD control settings you're probably missed your contrast, your color profiles… There are quite a few color profiles here.
And you can quick-set what some of the buttons do like there's a built-in MacBook Profile so it kind of matches the MacBook display profile, and it really does. So you just hit one of those buttons and you can do that. If you want to switch to Adobe RGB you can program another button to do that.
You've also got DCI-P3 settings, you've got a low blue light setting, you've got ones for animation which basically amps up the darks without bringing the lights up as well so you don't have overexposed areas.
And, they even have a splits kind of profile going on so if you want to have Adobe RGB on one side and sRGB on the other, for whatever reason, you can do that. I don't need that but, maybe you do. Anyway, you've got a lot of profiles.
BenQ PD3220U 32″ 4K monitor also comes with a bunch of ICC color profiles. It's important that you choose the ICC color profile that matches whatever you set in the OSD settings.
They also have some desktop software if you prefer doing that but really it only replicates everything that the built-in monitor controls do with that G2 puck. I personally think that less software on the monitor is always better but this is fine too.
In terms of color profiles, you have full sRGB coverage and in fact, we check that and it's true. They claimed 95% of the P3 color gamut and it did close to that. And, they don't talk about Adobe RGB much, which is a shame because a lot of people who buy higher-end monitors are doing photography for print or magazines, you get the idea what sort of thing.
And with the Adobe color profile activated and the adobe setting set on the monitor, it did manage 93% of Adobe RGB, which is pretty darn good at this price point and for a monitor this size.
In terms of brightness, it's 300 nits. There are brighter displays like LG's 5K ultrafine display hits 500 nits, Dell's ultra-sharp monitors also hit 500 nits but those ultra shot monitors are not Thunderbolt 3 monitors so there's that.
it does support HDR 10 as well if you're into HDR content if you want to plug it into your ps4 or something like that when you're gaming you can do that. It comes with color calibration from the factory, they do a pretty decent job though, if you mix and match those ICC color profiles as I said with the monitor settings you can even throw off those color accuracy settings so make sure to do that they have both Kalman and Pantone certification on the monitor.
Conclusion
I like BenQ PD3220U 32″ 4K monitor because for the price you're getting a lot here. I know it's not a cheap monitor but compared to say the $500 LG monitors I've been using 4K ones meant for Windows and Mac and all that sort of thing, this one blows out the water in terms of sharpness, in terms of color gamut, it's just really nice.
Also, for those who are using it with a Mac a lot of the third-party monitors that are not particularly meant for Mac's and they have problems with power management, for example, the Mac goes to sleep the monitor goes wonky, that sort of thing, none of those problems here that I've had with some other monitors that are not and for Mac.
So there you have it, that's the BenQ HDR, a 32-inch monitor, also available in a 27-inch size if you prefer it a little bit smaller and I think it's a lot of bang for the buck. I mean there aren't a lot of Thunderbolt 3 monitors out there and even you know especially Mac compatibility done as well as this but if you're really looking to step up your game for your photo editing your video at any whatever it is you want wide color gamut or saying this is actually beautiful to look at and huge they've done a really good job here.
BenQ PD3220U 32″ 4K monitor
Performance -

95%

Price -

93%

Value -

94%