2014 tests were conducted on the GDP-750C variant of Chieftec's E-90 series. Despite being the only one of three concurrently released models to be displayed in Russian retail at the time, it made a positive impact. The younger model, Chieftec GDP-550C A90 Power Supply, became reasonably priced and accessible around a year ago, but it was not generally utilized until a little while later when GDP-650C went on sale.
We chose to learn more about this PSU for a number of reasons, but the first was that it was intriguing: is the newer model much different from the earlier one, and has the platform used to create this series changed?
In terms of their variety of sources and situations, Chieftec has been the subject of our discussion for the last year. In the previous two assessments, which discussed the Taiwanese manufacturer's sources, we concentrated on models in the entry-level market with prices under 40 $.
The star of our test today is a source with great efficiency (over 90% at 50% charge), semi-modular connection, and a maximum power of 550W. This time, we made the decision to examine a little more demanding source.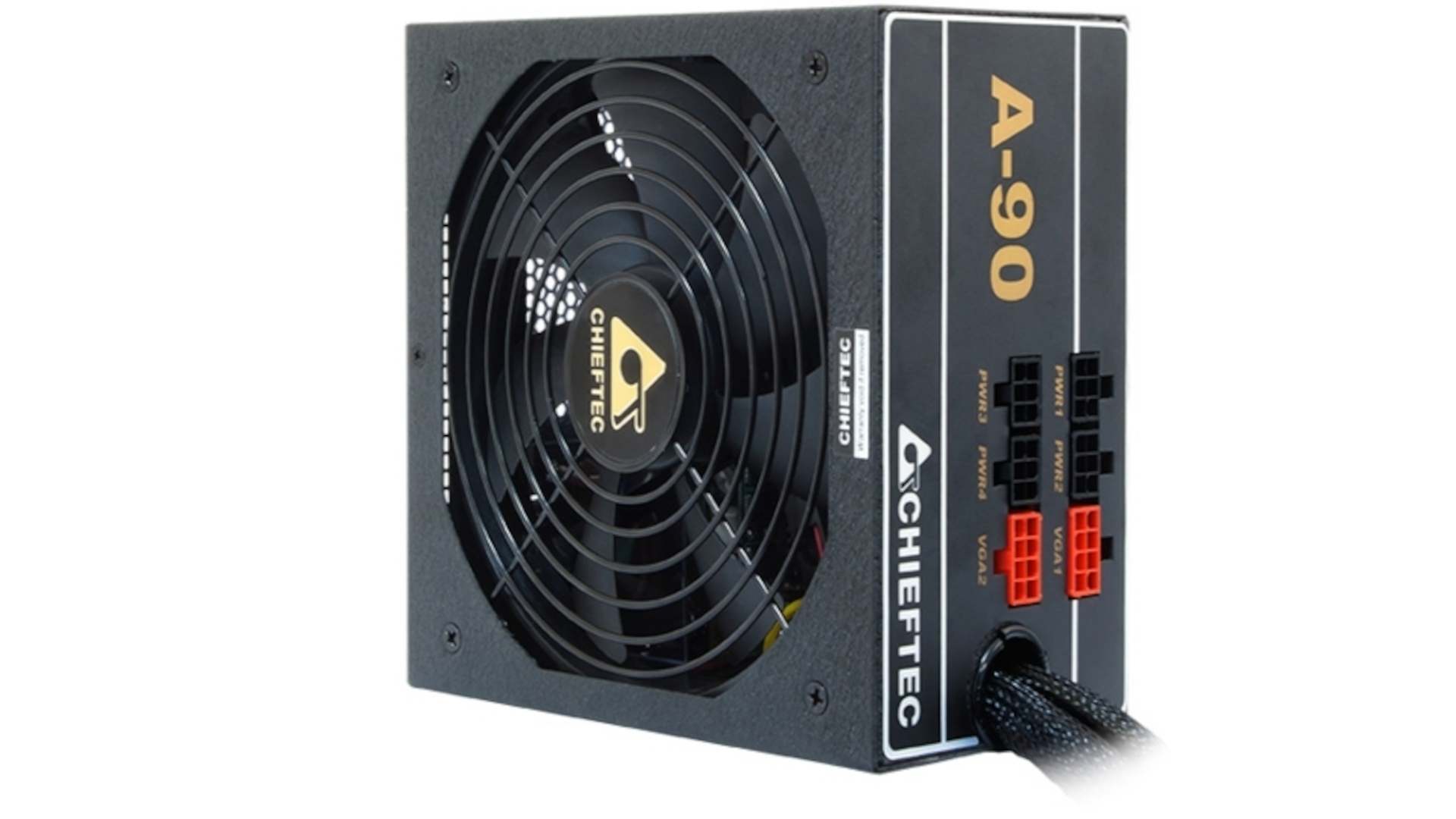 Even if the Chieftec GDP-550C A90 Power Supply satisfies the requirements for 80PLUS Gold certification, we won't find this officially acknowledged; instead, the maker has resorted to an artifice, placing a similar emblem on the package.
The Chieftec GDP-550C A90 Power Supply may not have acquired certification since this efficiency can only be attained at a voltage of 230V, much as Chieftec may not have filed for such a certification to maintain a little cheaper pricing. Since how the source performs in the tests ultimately affects the user, let's go on and see what is contained in the box.
Chieftec GDP-550C A90 Power Supply Packaging
The retail packaging for the Chieftec GDP-550C A90 Power Supply is a box composed of not too thick cardboard, but when closed, the double-walled side walls provide the box a good amount of stiffness.
The casing of the power supply is matte black with a moderately coarse texture that offers excellent resistance to scratches and fingerprints. The power supply is 160 mm long, therefore it can be put in the majority of market-available cases, including some tiny variants. Remember that when attaching the cables to the power supply, a specific location for the connections put into the PSU is necessary. As a result, you should plan on an installation size of around 170-180 mm, which may decrease compatibility with tiny cases.
Chieftec GDP-550C A90 Power Supply Characteristics
The Yate Loon D14SM-12 120mm fan is the one used in the Chieftec A-90. According to the manufacturer, it can run at a maximum speed of 1400 rpm while drawing 0.7A and producing a maximum sound level of 29dB. Despite the fan's excellent acoustic qualities, I can't say the same about its dependability because the bushing bearing is not the ideal choice for a source.
For the Chieftec GDP-550C A90 Power Supply, Chieftec utilizes a CWT platform that is widely used in mainstream sources and is integrated by many manufacturers due to its great efficiency.
The +3.3V and +5V rails are derived from the +12V line using DC-to-DC converters mounted on a single PCB and positioned vertically, which increases both efficiency and voltage stability. Two sets of M3004D and M3006D transistors, which lack heatsinks, do the actual conversion. We find polymeric capacitors (solids) on the DC-to-DC PCB, which is encouraging for dependability over time because they have electrical properties that are better than the electrolytic counterparts.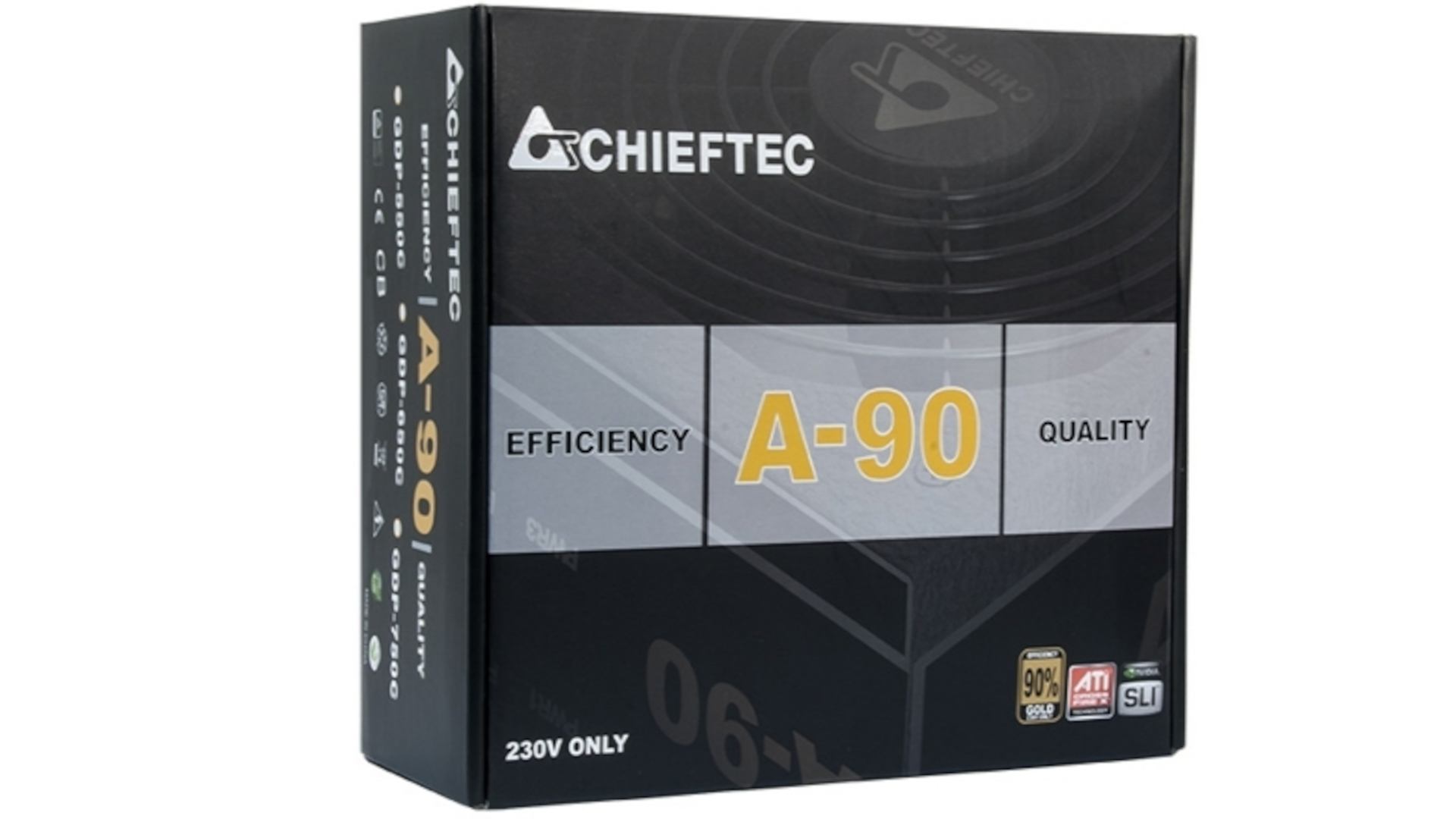 All of the electrolytic capacitors employed have 105 oC operating certification; the primary capacitor was made by Elite, while the secondary capacitors were made by CapXon and are from the GF, LZ, and KF series. Despite the fact that I myself would have chosen Teapo capacitors as the very minimum required, the construction and level of detail are within the requirements for the price range to which this source belongs.
It should be noted that this model may contain different capacitors depending on the batch and availability; other colleagues have experienced different combinations of Enesol, CapXon, or AISHI in the primary and secondary. It appears that we were fortunate to discover CapXon on the secondary market alone.
While the rest of the cables in the model we tested are modular—a PCI-Express cable with two 6+2-pin connectors (55 cm + 10 cm), six SATA connectors, three 4-pin MOLEX connectors, and one FDD connector—the model we tested offers the user two fixed cables, the 24-pin ATX connector and a 4+4-pin one for powering the processor.
It is encouraging that we have not experienced the issues with too short cables and inadequate connections that were mentioned in the versions evaluated in the past. In this instance, the cables' length and connection arrangement are appropriate for a 550W power supply. The GDP-550C, however, only operates at 230V, eliminating compatibility with 115V in order to cut costs.
Chieftec GDP-550C A90 Power Supply Specifications
| | |
| --- | --- |
| Model | A90 550W |
| Article no. | GDP-550C |
| EAN code | 4710713230828 |
| Weight (Net/Gross) | 2.1kg / 2.51kg |
| AC Input | 200-240V / 4.0A |
| Frequency | 47 – 63Hz |
| +5V | 20A |
| +3,3V | 20A |
| +5V & +3,3V combined | 110W |
| +12V1 | 45A |
| +12V2 | – |
| +12V1, +12V2 combined | 540W |
| P.F. | >0,9 |
| -12V | 0,3A / 3,6W |
| +5VSB | 2,5A / 12,5W |
| Maximum Power | 550W |
Chieftec GDP-550C A90 Power Supply Conclusion
Currently, the Chieftec GDP-550C A90 Power Supply costs between 50 and 60 $. The source is lovely and quiet, and the fact that it only operates on 230V and lacks formal 80PLUS certification does not necessarily hinder the buyer in Romania. It behaved well in our testing.
The usage of capacitors with doubtful quality and batch-dependent variance is the one factor that detracts from the source's performance. We were unable to obtain such assertions from a reasonable source, though.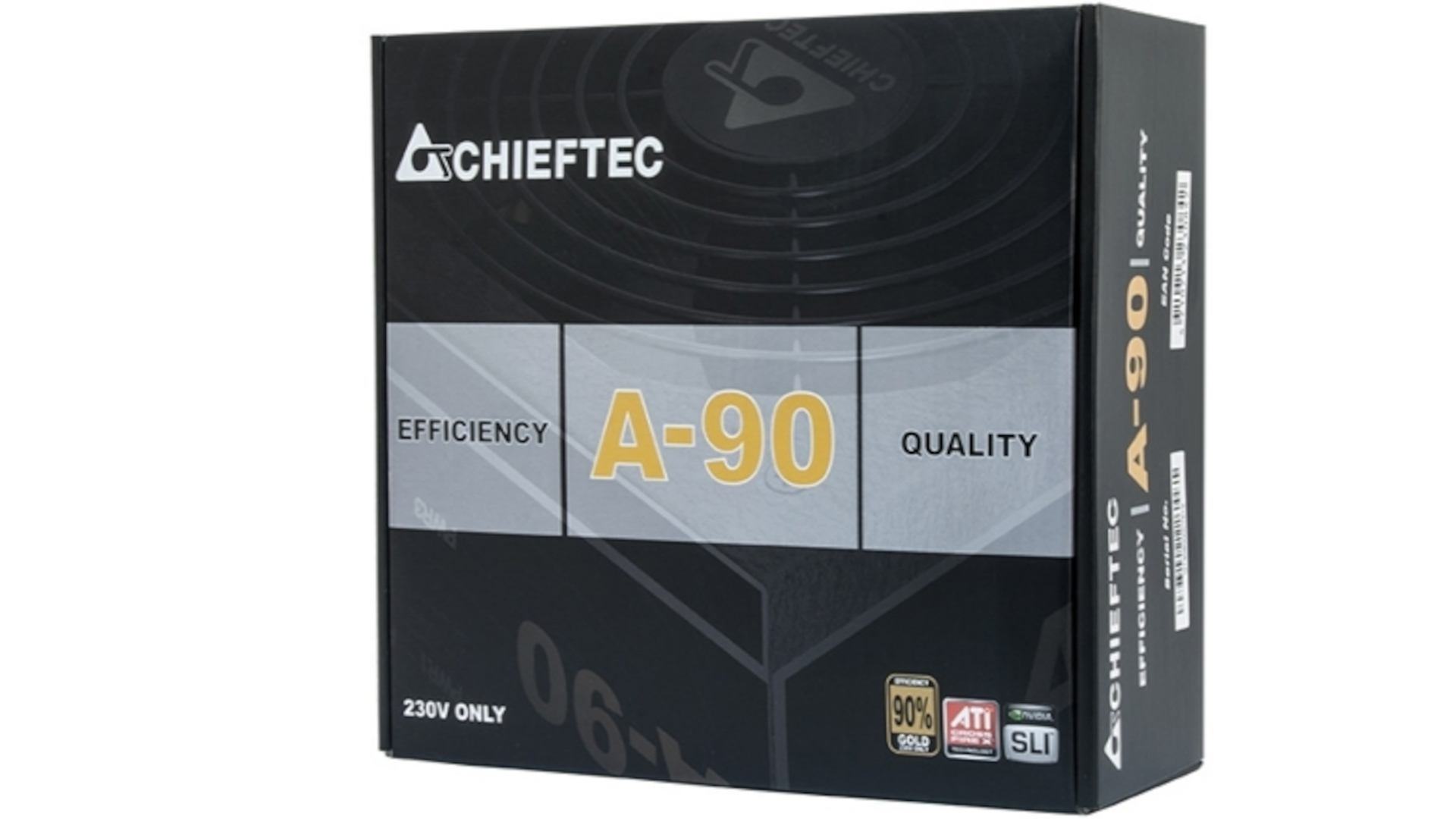 Overall, I had a positive impression of Chieftec's source, and when I examined our retailers' offerings in this price range, I discovered that only Segotep had models with the same efficiency and power. Of course, because I haven't tried them, I have no idea how it operates or what capacitors I use.
Reputable manufacturers have 350–400W sources in this price range, with 500–600W supplies often falling between 350–400 lei. As a conclusion, I can say that while the Chieftec GDP-550C A90 Power Supply is a reliable source, it is not flawless. If we do not have a significant budget at our disposal, it may be a decision worth considering.
Chieftec GDP-550C A90 Power Supply
Performance -

97%

Price -

98%

Value -

98%