DEEPCOOL company is more well-known for producing chassis, coolers, and fans.DQ750-M, a 750 Watt device with an 80 Plus Gold certificate that received the "Recommended" designation, back in 2018. The DQ850-M-V2L was the second one, and it was examined in 2020. It included features like a 10-year warranty (rather than a 5-year warranty), but on the flip side, it was somewhat noisy under low-to-mid load. The following Deepcool device, this time with lower watts, gets in our hands.
We recently had the chance to review Deepcool goods, therefore we requested PSUs in the lower price range. The DEEPCOOL DE600 Power Supply is the PSU that we are evaluating today in the budget class.
This PSU is designed for budget-conscious PC consumers and includes features 120 mm fan, heavy-duty black flat cables, and, most importantly, a 5-year guarantee from DEEPCOOL.
This power supply comes in a standard cardboard box with black text, revealing its price right away.
The qualities of this product are used from many angles. The manufacturer tried to be sneaky by claiming that this power supply is 600 watts, but in reality, that is only its highest load.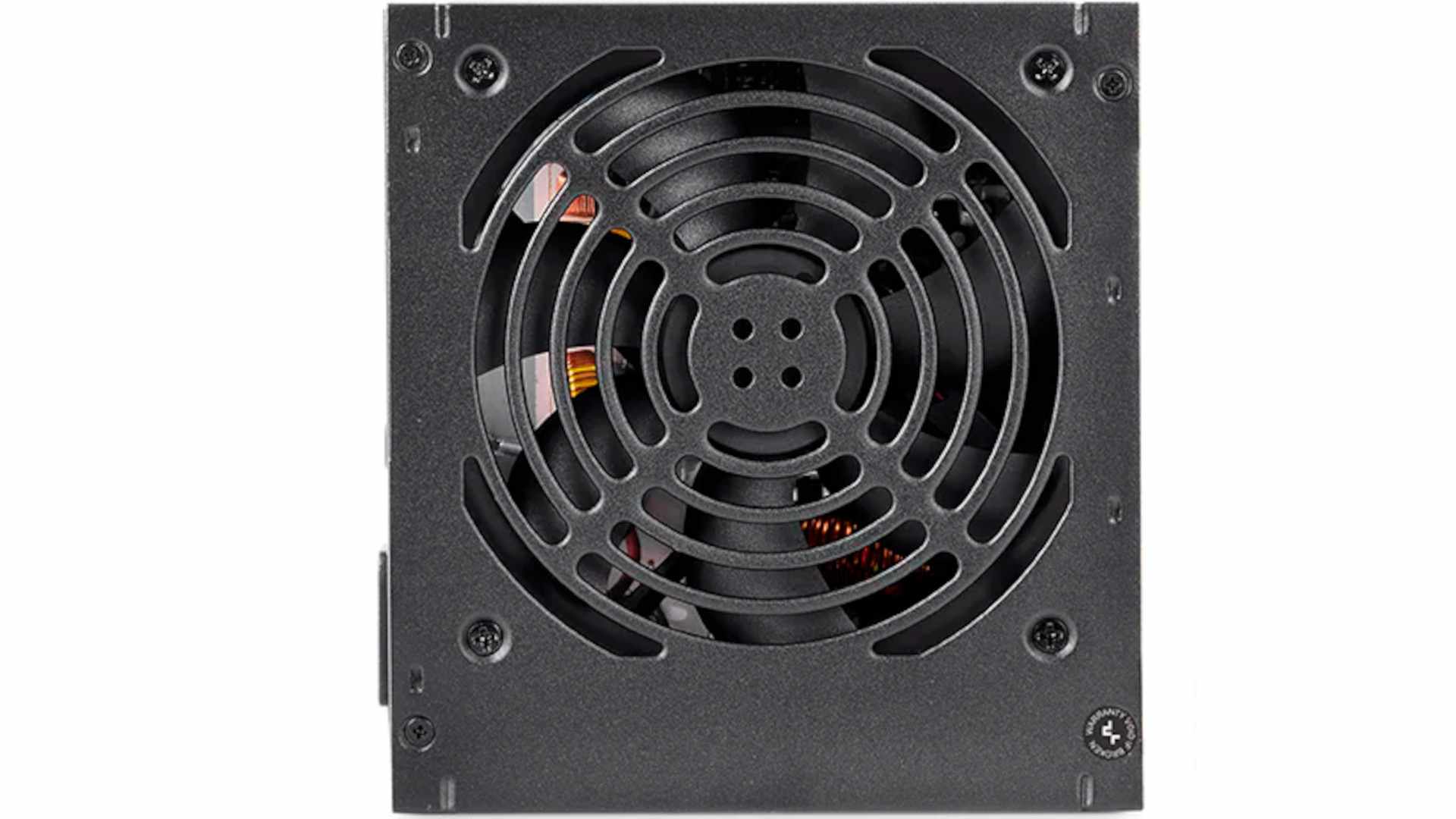 DEEPCOOL DE600 Power Supply Specification & Performance
SPECS
| | |
| --- | --- |
| MODEL | DE600 |
| BRAND | DEEPCOOL |
| TYPE | ATX 12V V2.4 |
| WARRANTY | 5 Year Warranty |
| Output Capacity | 600W |
| Input Voltage | 160~240V |
| Input Current | 4.0A |
| Input Frequency Range | 47~63Hz |
| Fan Size | 120mm silent fan |
| Power Good Signal | 100-500ms |
| Hold Up Time | >16ms |
| Protection | OVP / UVP / SCP / OPP |
| Operation Temperature | 0~40°C |
| Regulatory | CE |
| MTBF | 100,000 Hours |
| EAN | 6933412798903 |
| P/N | DP-DE600US-PH |
| Connector | Main Power Connector (24Pin)×1 EPS 12V Connector 8(4+4)Pin PCI-E (6+2)Pin×2 SATA×3+4pin Peripheral×1 4pin Peripheral×2+SATA×1 |
| Dimension (L X B X H) | 150×140×86mm (W X L X H) |
| USD | 35 |
| 80 PLUS Certificate | No |
| Backlighting | No |
| Wire braiding | Yes |
Let's next go over the cables. They are fairly thin and flexible by themselves. The only 24-pin motherboard cable is 50 cm long and braided.
All of the wires in the processor power cable's 4-plus-4-pin circuit come from the power supply, albeit some manufacturers save an extra 4-pin duplicate from the primary one. The cable is 60 cm long.
The first accessory cable contains four connectors: one Molex, three SATA, and a Molex at the end. The cable is 80 cm long to the extreme connector, and there is 10 cm between each connector.
The device contains three connectors: two Molex and one SATA, with the SATA connector at the end of the cable. The cable is 70 cm long to the extreme connector, and there is 10 cm between each connector.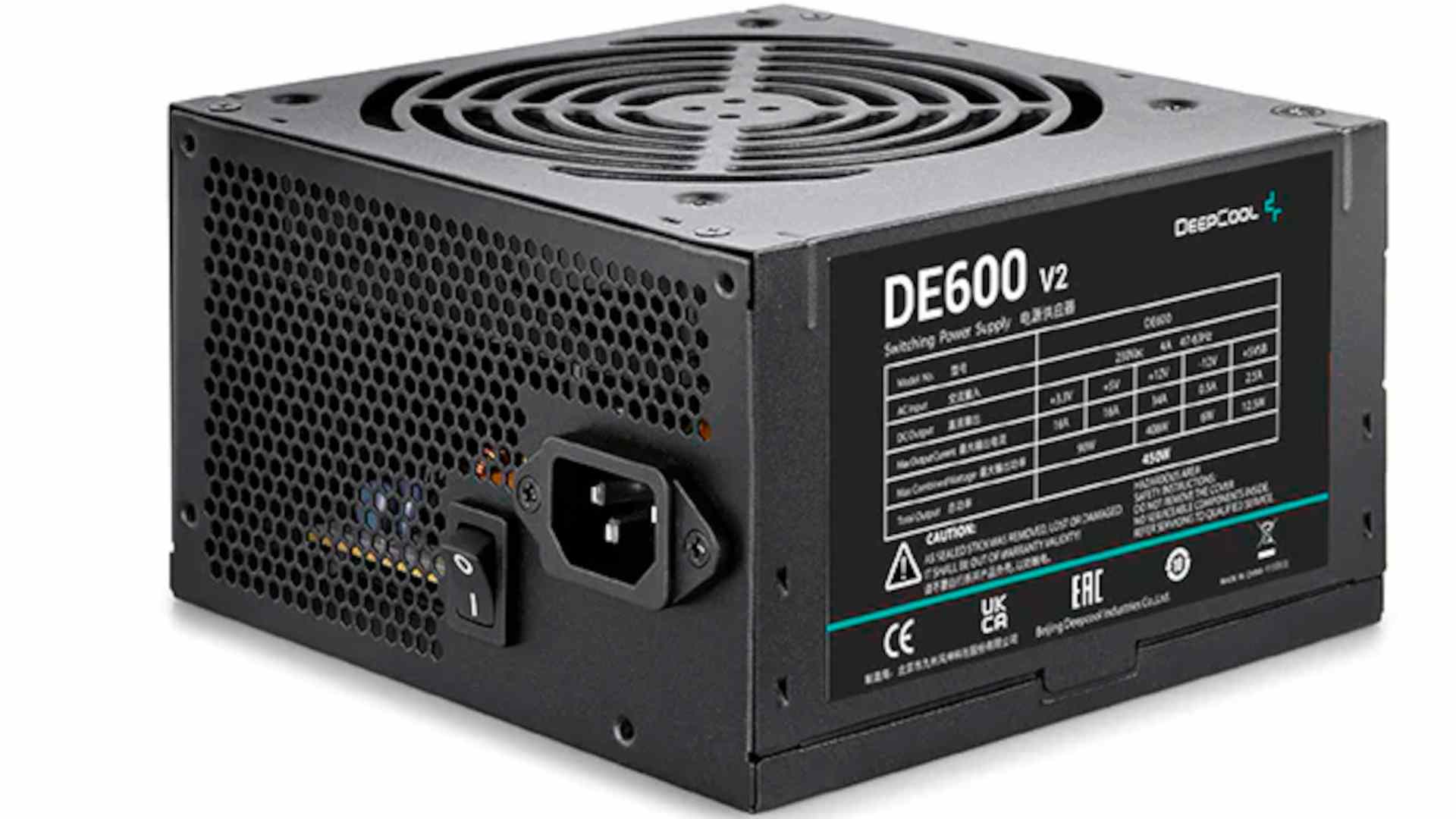 The additional power line for the video card typically includes a 6 + 2-pin circuit, but in this case, like with other manufacturers, it was spared, and the extra 2-pin connects in parallel to the main connector. 50 cm is the length of it.
The CWT as OEM offers a great PCB design for the DEEPCOOL DE600 Power Supply. The PSU uses DC-DC conversion for 5v and 3.3v and has a full-bridge LLC architecture. PSU has excellent Japanese bulk capacitors as well.
The primary high voltage DC rectifier and switching components, as well as all the necessary parts for EMI mitigation, are positioned on a substantial heatsink.
Copper shielding is used to make DC-DC conversion modules.
Without any overclocking, the DEEPCOOL DE600 Power Supply handled the above gaming setup at 1080p medium settings with ease. Since 500Watts is the bare minimum needed for this kind of combination, I was, to be completely honest, stretching the limitations of this PSU.
I manually adjusted the load in Amps on the 12V first rail, 12V second rail, 5V, and 3.3V rail to mimic a 100%, 80%, 50%, and 20% load in order to test the PSU on my Active load test. Since this PSU only has one 12-volt rail, I divided the load between the two 12-volt loads on my tester in half.
Throughout the course of the test, a continuous 0.5amp load was applied to both the -12V and 5V supplies.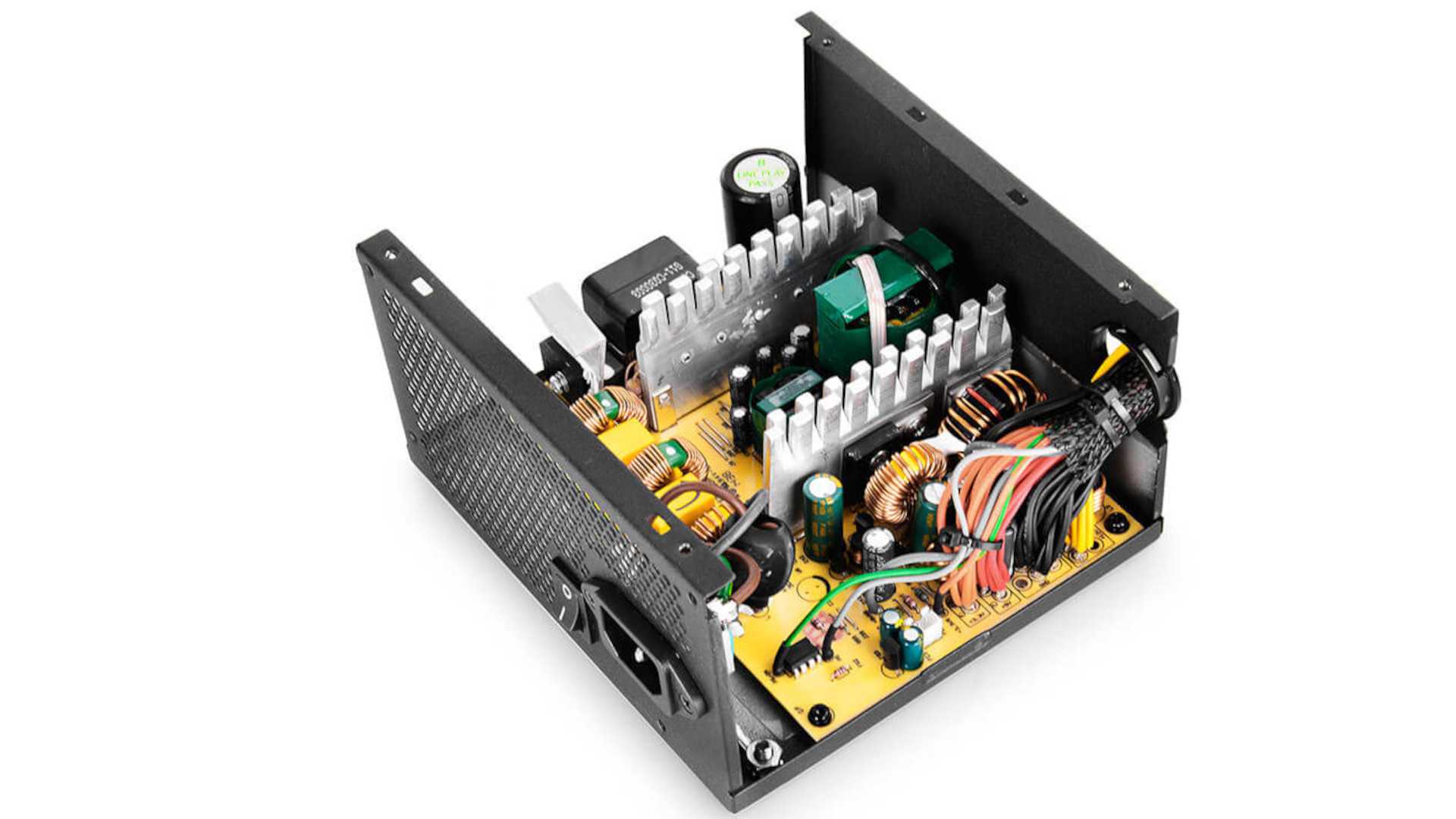 Although my tester's maximum theoretical load handling capacity is somewhere around 1500W, due to the safe operating area (SOA) features of MOSFETs and the heatsinks' thermal load handling capabilities, my tester can only take up to 1300W. I also put a thermal controller out of concern for safety, and it will switch the linked PSU off if the temperature rises above SOA guidelines.
When trying to pull more power during the test, the PSU automatically shut off, demonstrating how effectively the overload protection was functioning.
CABLES AND CONNECTORS
| | |
| --- | --- |
| Main power connector | 20+4 pin |
| Connectors for the power supply of the processor (CPU) | 1x 8 pin |
| Video card power connectors (PCI-E) | 1x 6+2 pin |
| Number of 15-pin SATA connectors | 4 |
| Number of 4-pin Molex connectors | 3 |
| Main power cable length | 500 mm |
| Processor power cable length | 600 mm |
| Number of 4-pin Floppy connectors | 4 |
Final Thoughts on DEEPCOOL DE600 Power Supply
In our tests, the DEEPCOOL DE600 Power Supply demonstrated nice efficiency, clean power supply, good voltage stability, and perfect compliance with specifications. However, even if it has 600 W, I wouldn't install a system on it that uses more power than 500 W because 500 W is its maximum power.
How could it be improved? The manufacturer could add in-line capacitors to further minimize ripple, raise the number of PCIe ports to six, reduce the size of the branding on both sides, provide full-power performance at 50°C, and rationally include some Velcro ties in the package. These criticisms are what ultimately prevent a recommendation from being made, especially in light of the competition at a price point of 40$.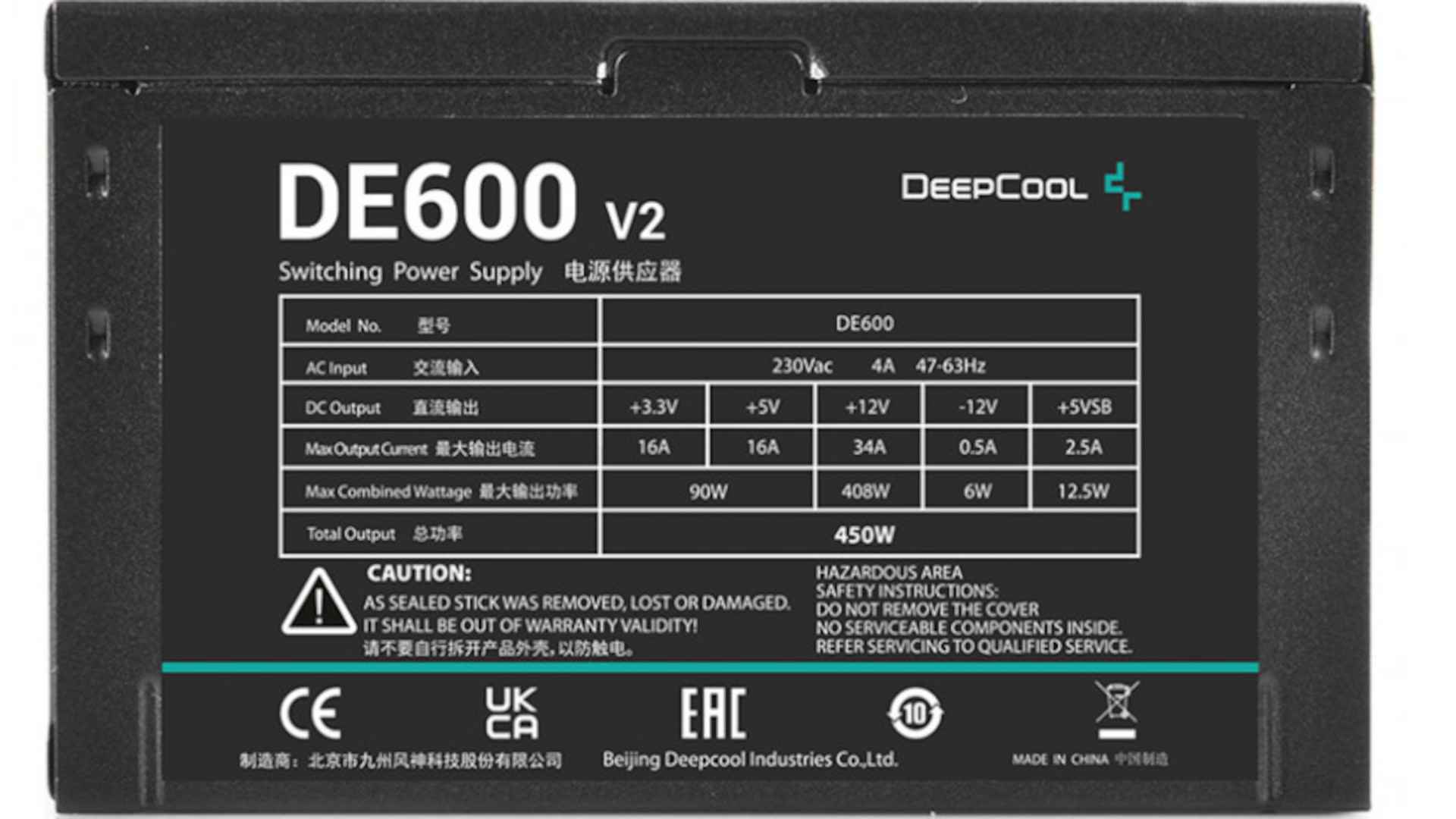 As a result, DEEPCOOL DE600 Power Supply is a suitable budget-friendly alternative to Aerocool VX power supplies, however, its low price is felt throughout the entire unit because at least they did not skimp on the warranty, which is offered here for three years. I suggest you choose the DN500 Nova 500W model from the same Deepcool if there is an option to spend more.
Is Deepcool DE600 Power Supply enough for Ryzen CPU?
Because the Deepcool DE600 Power Supply lacks a gold certification and has a power outage of roughly 500W, it is sufficient for some low to medium range systems that don't require a lot of power. As was previously stated, the power wattage requirements depend not only on the CPU but also on other components of your system. Deepcool DE600 Power Supply is enough thought would be perfect fit for some lower end system.
So, as an example, let's use a system with a Ryzen 3200G processor and an RX 570 GPU.
Yes. It will perform well.
Naturally, get 500W at 80+ Bronze or, if possible, 80+ Gold.
In any case, 600W is more than sufficient.
Here is an estimate for a setup that meets your specifications for a 3200G and RX 570.
Desktop motherboard
One AMD Ryzen 3 3200G processor
CPU Vcore: 1.1V at 1250 MHz.
CPU usage is 90%.
4 × 8GB DDR4 modules for memory
GPU: 1 AMD Radeon RX 570 video card
1168 MHz for the core, 1750 MHz for the memory, and one M.2 NVMe SSD and one SATA SSD for storage.
2 SATA 7.2K RPM drives for storage
Additional Device: Two USB 3.0 Hardware
Additional Device: 4 USB 2.0 Hardware
1 standard keyboard, please
One standard mouse Mouse
Utilization of the computer: 16 hours per day, 4 x 120mm fans. 8 hours a day for gaming, video editing, and 3D rendering
Monitor: three 24″ LED displays
Results:
Wattage at Load: 328W
Wattage suggested: 378W
Furthermore, even with a reasonable overclock, your power output would only reach, say, 425W.
But once more, kindly obtain a Bronze rating of at least 80.
Hope this was useful.
Is Deepcool DE600 Power Supply enough for an Intel CPU?
Same things we said about Ryzen applies for Intel. This PSU isnt enough for some higher end card and CPU's but surely you can use it to build some medium end system. We can say that Deepcool DE600 Power Supply is enough for around 500-550W requirements at most, cause it lacks certificate.
So for example let's take i7 10700k and which GPU can you pair with it.
Well, that depends on the other components you use and the specific GPU you choose. A 650 watt PSU is often advised for a GPU comparable to an RTX 2080 Ti, which consumes roughly 279 watts of peak power. You don't say anything about any additional gear. 600 watts might be plenty for a CPU and a single GPU. A 2080 Ti will only utilize about half at peak draw, leaving little room for peripheral overhead.
If the Core i7-10700k was overclocked, it could consume 250 watts on its own, leaving about 50 watts for storage, fans, an AIO or CPU cooler, RGB lighting, and other accessories. If you start adding a lot to the case, a 600 watt PSU might not be enough to keep you going. NVidia recommends a 750 watt minimum for the RTX 3080, so I would probably go with a 650 watt minimum, but it depends on exactly what hardware you are contemplating.
The best course of action is to decide what you might place inside the case right now and use a PSU calculator from your preferred technical source to get a suggested wattage. The good news is that GPUs are becoming increasingly potent per watt consumed, so if you size based on what you want or need now, a similar tier GPU in two or three years will likely utilize similar amounts of power. The RTX 3080 is estimated to consume 348 watts when used for gaming, compared to 289 watts for the 2080 Ti. Just keep in mind that despite using 20% more power, the 3080 is around 24% faster than a 2080 Ti.
Can you do overclocking with Deepcool DE600 Power Supply?
On this PSU, overclocking might be possible depending on the GPU and CPU. GTX 1080 is an example. 
Well, a single card may draw up to 250 Watts, according to tests on my EVGA 1080Ti SC2. On their website, 280Watt is the highest one available. The usual i5 or Ryzen 5 setup will require 180 Watts for the motherboard and CPU, for a total of 360 Watts. Add in 1 SSD for 7 Watts, an HDD for 10 Watts, and an optical drive for an additional 10 Watts. 387 Peak Watts… For best performance, you usually want 75% of Peak or 50% of Average, thus 600 Watts is plenty! 
However, Deepcool DE600 Power Supply doesn't actually deliver 600W of power, it might be possible to overclock alternative cards with lesser power consumption.
Deepcool DE600 Power Supply rating
The Deepcool DE600 Power Supply is rated without certification, placing it in the lower tier of PSUs. Its output is more like 500W than 600W, but given the price, it can be a good PSU in some circumstances where you don't truly need more power than 500W.
Compatible with ATX 12V V2 from Intel. supports a broad input voltage range (160-264V AC), enabling the system to deliver stable performance even in unstable conditions. With PWM Functionality, 120mm Fan Functions for Over Current Protection (OPP), Short Circuit Protection (SCP), and Low Voltage Protection (UVP) Longer Cable Supports Cable Management In The Center Tower Housing Excellent Value For Money And High Reliability With At Least 100,000 Hours MTBF. The Deepcool DE600 Chipset Is Intelligent And Eco-Friendly, Consuming Just 0.3 W When Off. meets ErP requirements. CircuitShield? OPP, OVP, UVP, and SCP.
What connectors are on DEEPCOOL DE600 Power Supply?
DEEPCOOL DE600 Power Supply connectors are:
Main Power Connector (24Pin)×1
EPS 12V Connector 8(4+4)Pin
PCI-E (6+2)Pin×2
SATA×3+4pin
Peripheral×1 4pin
Peripheral×2+SATA×1
The DEEPCOOL DE600 Power Supply performed admirably in our tests, displaying decent efficiency, a clean power supply, high voltage stability, and flawless spec compliance. Its maximum power is 500 W, therefore even if it has 600 W, I wouldn't install a system on it that consumes more than that amount of power.
How may it be made better? The producer might increase the number of PCIe ports to six, decrease the size of the branding on both sides, provide full-power performance at 50°C, and logically incorporate some Velcro ties in the package in addition to adding in-line capacitors to further reduce ripple. Given the competition at a price point of $40, these complaints are ultimately what preclude a recommendation from being made.
DEEPCOOL DE600 Power Supply
Performance -

96%

Price -

97%

Value -

97%