DEEPCOOL was founded in 1996, with headquarters in Beijing and a plant in Shen Zhen. They began by making cooling systems for desktops and servers for its OEM partners. DEEPCOOL has now expanded and now offers a wide range of consumer grade items like as cases, coolers, power supplies, and fans to mention a few.
DEEPCOOL has established a distribution network in around 70 countries throughout the world, making it easier for individuals to acquire their items, whether online or at a local merchant. They are committed to satisfying their customers' ever-changing cooling demands. They wish all of their clients a "cool life," which is also their tagline.
Today I'll be looking at the DeepCool PK550D Power Supply from their power supply line. It has a 500W output and an 80PLUS bronze rating to assist guarantee customers get the power they require. It also has a two layer EMI filter to assist decrease electromagnetic interference and a PWM 120mm fan.
DeepCool PK550D Power Supply Overview & First Impressions
Looking at the front of the box, we can see the DEEPCOOL logo in the upper left corner, with a backdrop image of the power supply. Across the center, we can see that the DeepCool PK550D Power Supply should be inside the box, as well as the 'Enjoy your cool life' motto. Along the bottom are all of the ratings and highlighted aspects that DEEPCOOL intended to draw buyers' attention to.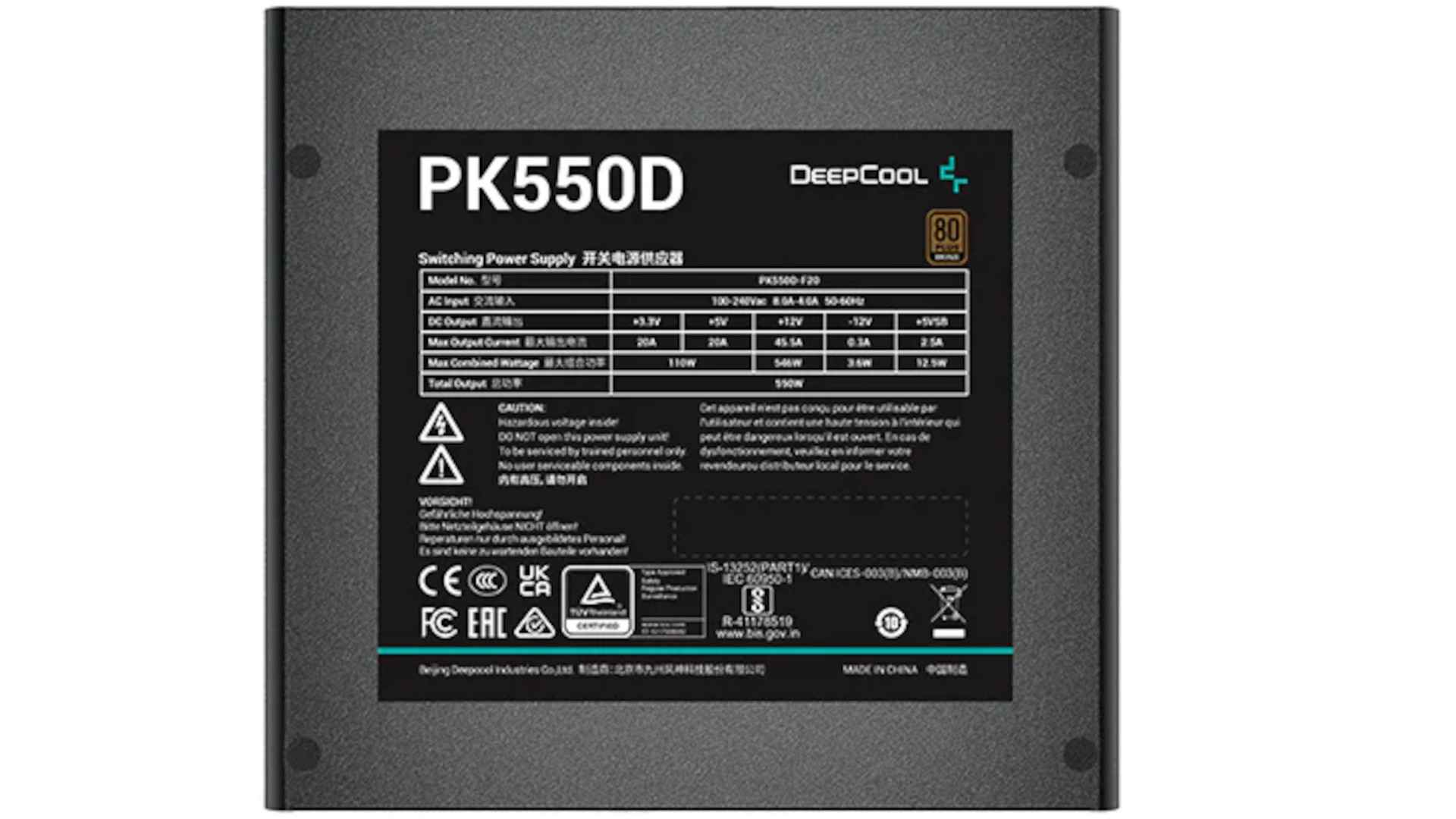 On one side of the box, there are representations of all the connections, as well as the number of each that the DeepCool PK550D Power Supply has.
All of the output information, as well as the dimensions, are on the other side of the box.
Opening the box reveals that the DeepCool PK550D Power Supply main body is protected by air-filled chambers, while the power cable is kept separate.
Aside from the DeepCool PK550D Power Supply power supply, the packaging contains the power cable, screws, and a warranty card with a quality certificate.
Taking the DeepCool PK550D Power Supply out of its box, we see the identical picture from the front of the box on one side. If you install the DeepCool PK550D Power Supply with the fan looking upwards, you will see this image.
This is what you will see if you put your power supply with the fan pointing down, as most people do. While the data is useful, it is not required for the power supply. If you have a gorgeous windowed case, you probably don't want this on the inside. DEEPCOOL, in my view, should have just put their logo or motto here, or both.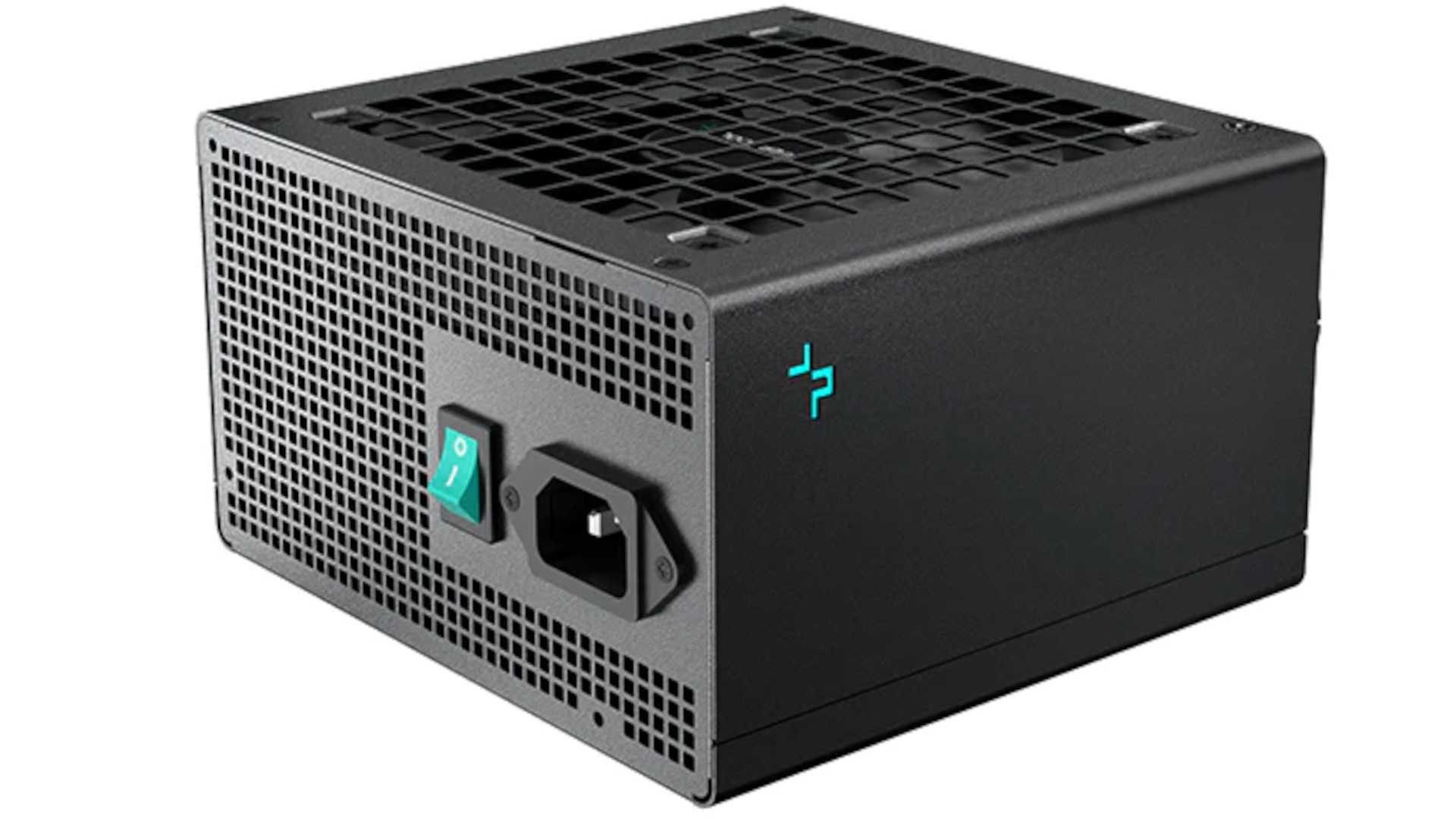 When we look at the DeepCool PK550D Power Supply from the top, we can see the transparent fan, which has a blue LED light. Also, if you notice the little label in the upper right hand corner of the PSU or the DeepCool PK550D Power Supply itself, this is the warranty invalid if removed sticker that is covering one of the screws used to disassemble the PK550.
In terms of connections, the majority of them are pretty lengthy and should suit most cases; we have:
1 EPS ATX12V (4+4Pin) x 1 PCI-E (6+2Pin) x 2 SATA x 5 Peripheral (Big 4Pin molex) x 3
There should be enough connections for a system that requires this wattage of power supply.
DeepCool PK550D Power Supply Tests & Performance
Because we do not yet have access to an ATE load tester, a multi-meter is used to demonstrate the performance of each power supply on the 3.3v, 5v, and 12v rails. Although we cannot do full load testing, we can offer relative information on variance and fluctuation of current and ripple on the rails, which is essential and indicative of power supply quality.
Voltages will be measured using a multimeter, and AC power drawn from the wall will be measured with a power monitor. For the idle test, the system will simply be booted up and allowed to run into Windows, and the readings will be collected after 5 minutes, when the power demand has leveled out.
A mixture of IBT and Furmark will be used to load and apply power to the power supply in order to put as much strain on the power supply as feasible. After 10 minutes, the readings will be collected, and the CPU will be overclocked to 4.5GHz to guarantee maximum strain. Depending on the power of the power supply, numerous graphics cards might be utilized depending on how well I believe the power supply would handle such a load.
As you can see, the measurements are all inside the ATX-specified limits. While DEEPCOOL isn't well-known for its power supplies (yet), this one does have an 80PLUS bronze rating, thus these results are to be expected and should put any concerns about the DeepCool PK550D Power Supply performance to rest.
DeepCool PK550D Power Supply Specifications
| | |
| --- | --- |
| Type | ATX12V V2.4 |
| Product Dimensions | 150×140×86mm (W x L x H) |
| 80PLUS Certifications | Bronze |
| Fan Size | 120mm |
| Fan Bearing | Hypro Bearing |
| Topology | Active PFC+DC to DC |
| Capacitors | Taiwan capacitor |
| Power Good Signal | 100-150ms |
| Hold Up Time | ≥16ms(80% Load) |
| Efficiency | ≥85% Under Typical Load(50% Loading) |
| Protection | SCP,OPP,OTP,OVP,OCP,UVP |
| Operation Temperature | 0 – 40 °C |
| Regulatory | CB/CE/FCC/CAN ICES-003(B)/NMB-003(B)/ TUV-RH/CCC/UKCA/EAC/RCM/BIS |
| Erp Regulation | ErP 2013 |
| MTBF | 100,000 Hours |
| EAN P/N | 6933412711933 R-PK550D-FA0B-CN6933412711940 R-PK550D-FA0B-AU6933412711957 R-PK550D-FA0B-EU6933412711964 R-PK550D-FA0B-JP6933412711971 R-PK550D-FA0B-UK6933412711988 R-PK550D-FA0B-US6933412711995 R-PK550D-FA0B-AR6933412712008 R-PK550D-FA0B-BR6933412712015 R-PK550D-FA0B-WO6933412712022 R-PK550D-FA0B-BP |
DeepCool PK550D Power Supply Conclusion
Starting with performance, which is a bit of a challenge for us right now because we don't have a suitable ATE load tester, it performed within its specs. Looking at our voltage data, we can see that it came dangerously near to exceeding the limit a number of times, but happily it never exceeded the ATX limits and so did not fail. While the fan wasn't the loudest I'd ever heard, I could certainly hear it, especially when it was fully loaded.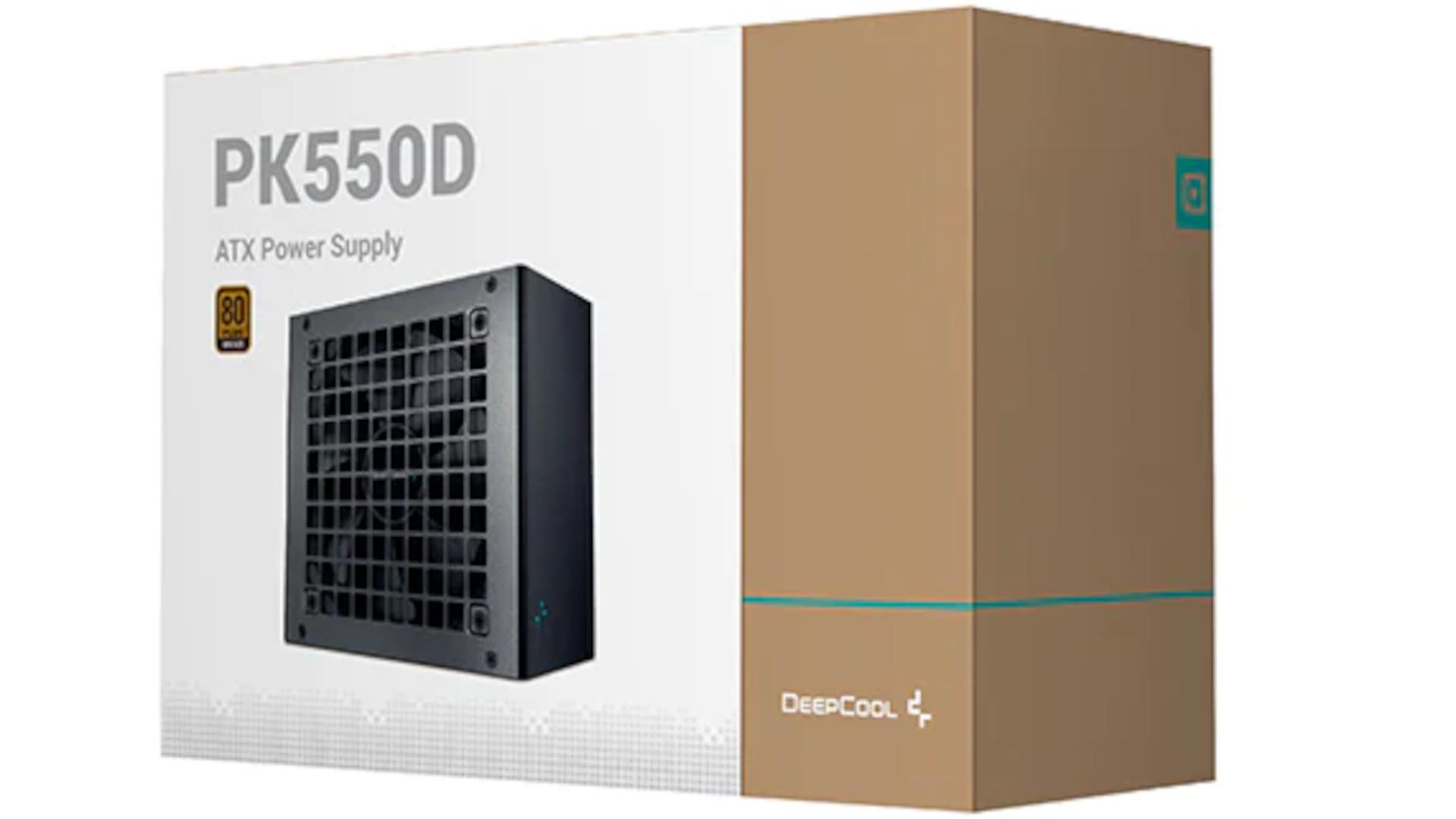 Moving on to the design, it is similar to that of a smaller ATX power supply. My issue with the design is all of the unnecessary information that is plastered on the sides of the power supply itself. This smells to me like low-quality, cheapo power supplies that aren't worth utilizing.
If you have a great build and a case with a window, or if you have the side panel off, you don't want all of the lettering on the side of the PSU to be visible. As previously stated, I believe it would have been far better with simply a great logo and perhaps the DEEPCOOL phrase immediately beneath or anything along those lines.
When it comes to the pricing, you receive a reliable 80PLUS Bronze certified power supply for $49.99. Too many times, I've seen someone choose a non-branded/certified power supply, just to have it come back to haunt them.
They say "buy low, buy twice," and this is certainly true. The only other issue is that if you buy a low-cost power supply and it fails, you risk damaging other components as well. That being said, the PK550's pricing is reasonable, as $50 is around the usual price for a branded 550W PSU.
DeepCool PK550D Power Supply
Performance -

97%

Price -

97%

Value -

97%