EVGA is a business that was established in 1999 and is well-known in the field of DIY computers for its high-performance motherboards, video cards, and other parts. Power supplies have recently been added to EVGA's product lineup, which of course piques our curiosity today. The N1 series is one of the power supply lines that EVGA currently offers.
We bought this power supply ourselves at a nearby retailer while it was on sale in order to conduct this assessment. EVGA 100-N1-0650-L1 Power Supply, the company's largest power supply in the N1 series, is under evaluation. Although it also has a 750W and a 550W capacity, the one we are reviewing today is the top rated. On EVGA's website, the MSRP for this power supply is listed as $69.99. It's created in collaboration with HEC.
One of the first businesses in the consumer SMPS industry to be established was HEC Group (Heirochi Electric Corporation), also known as Compucase Enterprise CO LTD. It was established in 1979. HEC had transitioned into case manufacture by 1989, and in 1997 it started making SMPS.
The HEC brand, the CompuCase brand, and the Cougar brand are all retail arms of HEC, making it one of the industry's largest SMPS manufacturers today.HEC has formerly provided power supply for Antec, Thermaltake, Xigmatek, and other manufacturers in addition to its own. HEC has traditionally been recognized for its entry- to mid-level products, but with the introduction of some of its more recent models under the Cougar brand, it has entered the market for high-end enthusiasts.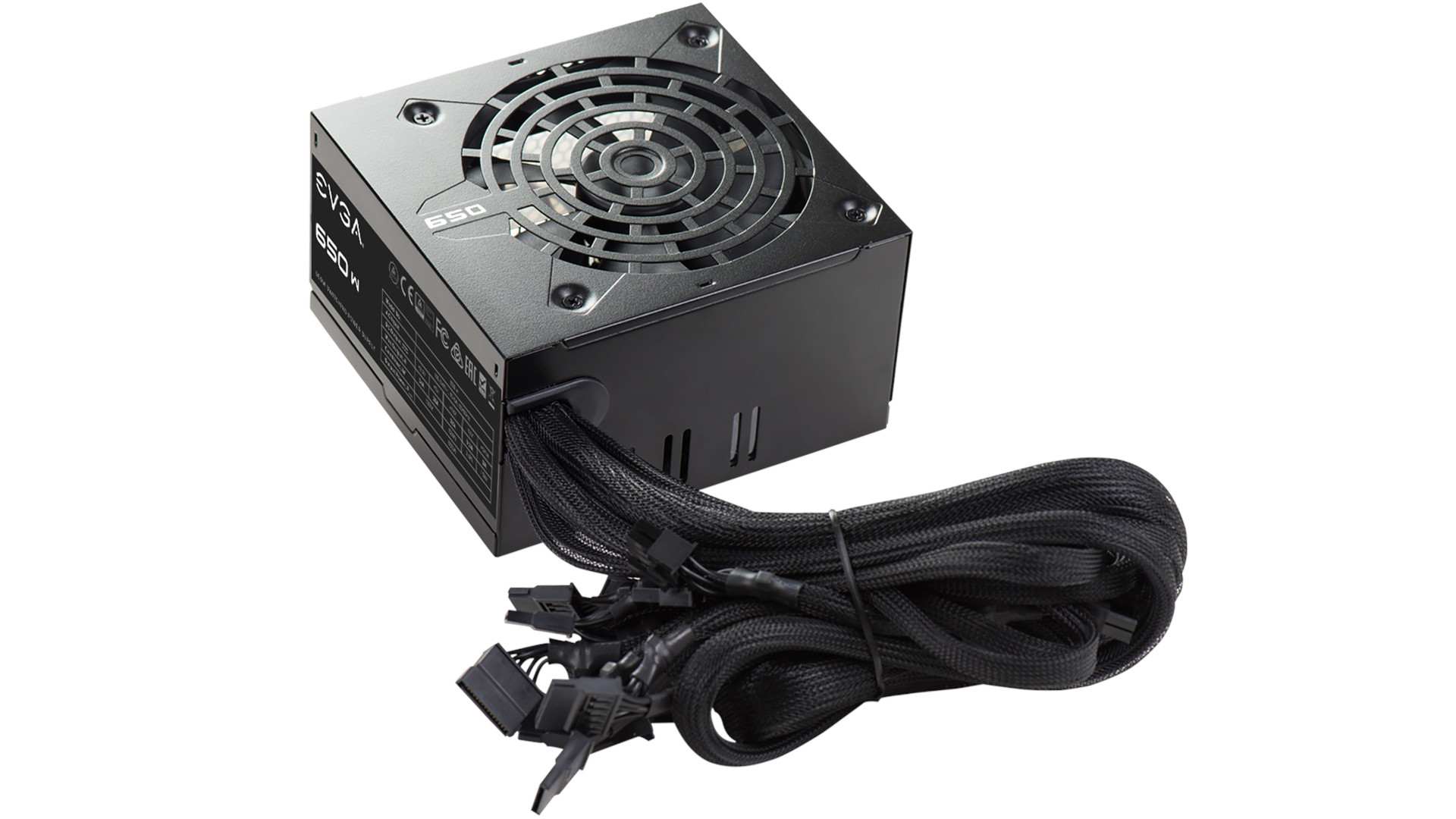 EVGA 100-N1-0650-L1 Power Supply Specs & Performance
The EVGA 100-N1-0650-L1 Power Supply is a low-end power supply with poor efficiency, a noisy fan, and low-quality internal components. It also has poor overall performance. However, it was able to supply at full load at 36 degrees Celsius, and while the hold-up period is higher than what the ATX specification calls for, its transient response at 12V is acceptable.
Its construction is subpar, and because OCP is improperly set, you should be careful not to overload its +12V rail. This is clearly not material for our list of the top power supply options, and you should purchase a Corsair CX650 or CV650 in its instead. If you have additional funds, you should also consider the comparable capacity Cooler Master MWE Bronze.
There are three products in the EVGA N1 range, with outputs ranging from 550W to 750W. These PSUs don't have any modular cables because they are intended for the mass market, and they can supply their full power at a low ambient temperature of 25 degrees Celsius, according to EVGA. High-end PSUs can often operate continuously at full power at 50 degrees Celsius. However, they do it by using more expensive, higher-quality components than EVGA and HEC did for the N1 models.
The 650 N1 is capable of supporting a powerful graphics card, such as the Nvidia RTX 3070, theoretically, but I would advise against it because it only has two PCIe ports connected on a single cable that uses tiny 20AWG gauges. If you spent a lot of money on a good GPU, you need pay a little extra to buy a reliable power supply. It is not a smart idea to purchase a PSU with the money left over after paying for all the other system components.

The tables below contain more precise and thorough details regarding the EVGA 100-N1-0650-L1 Power Supply.
CABLES
| | |
| --- | --- |
| ATX Cable | 1x 550mm |
| EPS Cable | 1x 600mm |
| PCIe Cable | 1x 550mm, 670mm |
| SATA Cable | 2x 450mm, 570mm, 690mm |
| Four-Pin Peripheral Cable | 1x 450mm, 570mm, 690mm (f) |
| Floppy Adapter | 1x 120mm |
| AC Power | 1x 1200mm (m) |
| Modular Cable Type | No |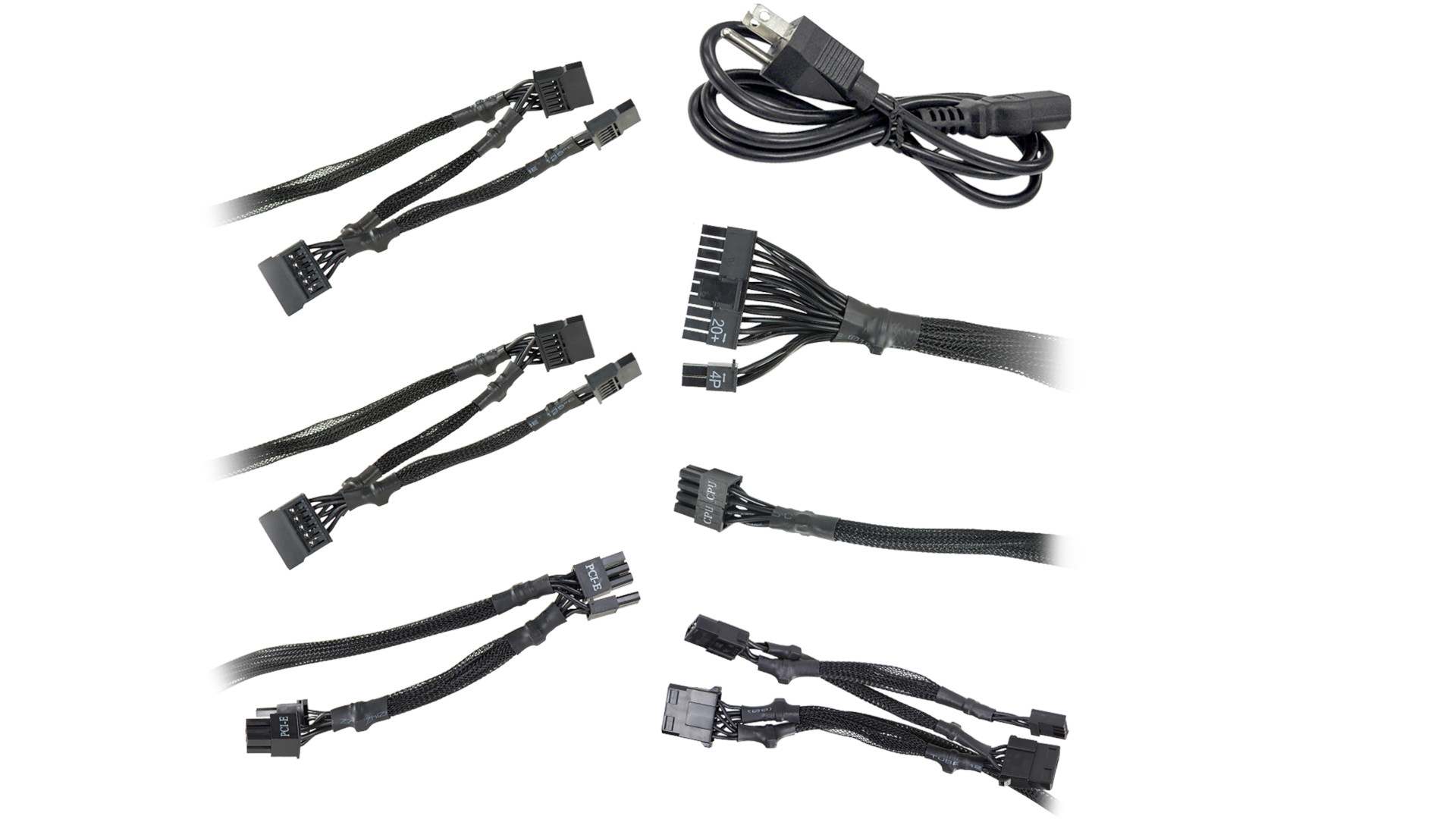 CONNECTORS
| | |
| --- | --- |
| 24 Pin ATX | 1x |
| EPS (CPU) | 1x 8pin (4+4) |
| PCIe | 2x 8pin (6+2) |
| SATA | 6x |
| Four-Pin Peripheral | 3x |
| Floppy | 1x |
DETAILS
| | |
| --- | --- |
| Operating Temperature | 0° to 25° C |
| Japanese Capacitors | No |
| ECO Mode | No |
| MTBF | 100,000 Hours |
| Net Weight | 4.22 lbs |
| Size | 85mm (H) x 150mm (W) x 140mm (L) |
| Approvals | TUV, CB, CE, FCC, RCM, cTUVus, BSMI, CCC, WEEE, RoHSCompliance with ErP Lot 6 2013 Requirement |
| Fan Size / Bearing | 120mm Sleeve Bearing |
SPECS
| | |
| --- | --- |
| Manufacturer (OEM) | HEC |
| Max. DC Output | 650W |
| Efficiency | 80 PLUS White, ETA-S (82-85%) |
| Noise | LAMBDA-S+ (35-40 dB[A]) |
| Modular | ✗ |
| Intel C6/C7 Power State Support | ✓ |
| Operating Temperature (Continuous Full Load) | 0 – 25°C |
| Over Voltage Protection | ✓ |
| Under Voltage Protection | ✓ |
| Over Power Protection | ✓ |
| Over Current (+12V) Protection | ✗ |
| Over Temperature Protection | ✓ |
| Short Circuit Protection | ✓ |
| Surge Protection | ✓ |
| Inrush Current Protection | ✓ |
| Fan Failure Protection | ✗ |
| No Load Operation | ✓ |
| Cooling | 120mm Rifle Bearing Fan (DWPH EFS-12E12H) |
| Semi-Passive Operation | ✗ |
| Dimensions (W x H x D) | 150 x 85 x 140mm |
| Weight | 1.76 kg (3.88 lb) |
| Form Factor | ATX12V v2.4, EPS 2.92 |
| Warranty | 2 Years |
CONCLUSION ON EVGA 100-N1-0650-L1 Power Supply
This EVGA 100-N1-0650-L1 Power Supply is a low-end model that may be reasonably priced. However, given their poor performance and efficiency, you should think about spending a little extra money to acquire a Bronze unit rather than a White one. Thankfully, the age of group-regulated PSUs is over.
Because the high over current protection at 12V and the highly set over power protection might quickly destroy this power supply at elevated operating temperatures, it is unfortunate that the protective mechanisms don't function adequately. At least there is the over-temperature protection that every power supply needs. High EMI emissions, which can harm any electronics equipment in the same network, were yet another letdown.
We are perplexed as to how this device is being offered in a number of places, including Europe, where EMI emissions are supposed to be under certain limitations or the product won't even be approved for import. However, the majority of manufacturers may receive EMI assessments from third-tier labs or simply test Golden samples to get around this problem. In addition, we purchased the sample for our evaluation because EVGA did not supply it; so, it is the same thing a typical buyer would discover in a store.
EVGA 100-N1-0650-L1 Power Supply is a great illustration of what you get when you skimp on the power supply. You might have a potent CPU and a very high-end graphics card. Still, if the power supply doesn't offer steady and clean rails, these two will be dependent on it and obviously be impacted. It is strongly advised to utilize a high-quality PSU rather than a cheap one, even for lower-end systems.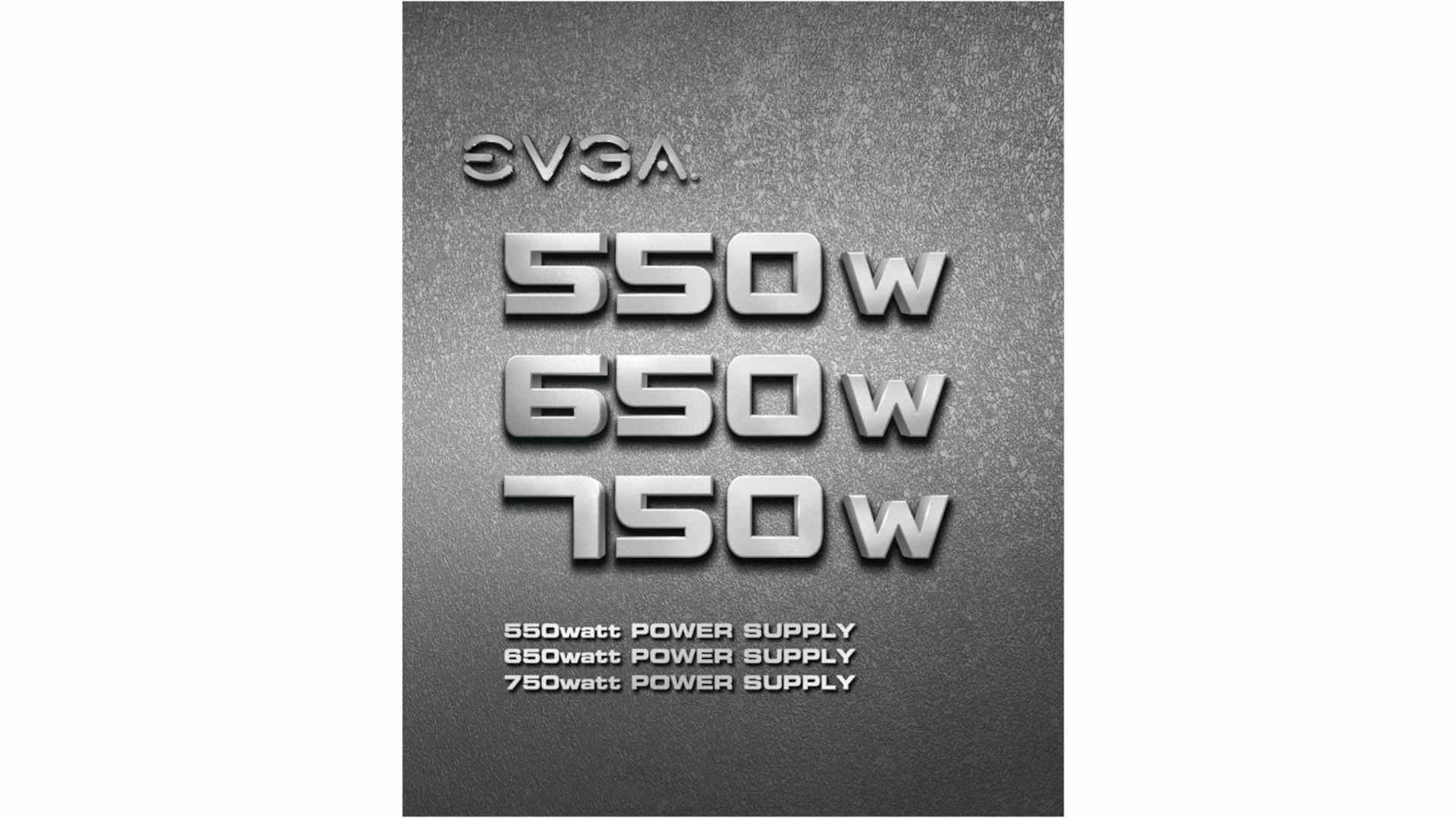 Right now, there aren't many possibilities if you're seeking for an inexpensive 650W power supply because prices are so high. In some cases, the Corsair VS650 and CV650 cost the same as the EVGA 650 N1, while the Corsair CX650 is an even better choice. Look at the Cooler Master MWE Bronze 650 or the Corsair CX650F if you want to choose a high-end Bronze unit.
Is EVGA 100-N1-0650-L1 Power Supply enough for Ryzen CPU?
Because it is from the EVGA brand, we know it is made of high-quality components and is a dependable power supply. So, as stated in the previous review of another PSU, you must calculate the power wattage of the system and add that number to see if this PSU is capable of running that system. However, 650W should be sufficient for most gaming systems without any special overclocking potential.
So let's give one example of gaming build. Under load, the ryzen 7 3800x can consume up to 126 watts, while the rtx 3070 can consume up to 220 watts. Unless you have an absolute ton of extra stuff in your case, you'll probably have around 380-400watts max system power draw under load; even then, you might hit 460watts if you loaded up on dozens of mechanical hard drives, dozens of RGB strips, a dozen case fans, plugged in a couple usb faster chargers to USB 3/type c ports, and so on. Only the CPU and GPU consume a significant amount of power. The rest mostly use watts in the single digits.
For efficiency reasons, you want to be around 80% wattage utilization of the PSU, and a 600w would be closer, but a 650 isn't bad. So we can confidently state that the EVGA 100-N1-0650-L1 Power Supply is enough for a variety of Ryzen builds.
Is EVGA 100-N1-0650-L1 Power Supply enough for an Intel CPU?
As previously stated, the same is true for Intel CPUs. There are various Intel CPUs, for example, the i3 latest generation is one of the least power hungry CPUs on the market. However, the i9 latest generation is one of the most power hungry.
For example 650W can get you to Captain Insane-O levels of overclocked hardware.
You can probably hit 700W in ridiculous torture testing with an RTX 3080 Ti and a 11900K overclocked to 5.2GHz, but nothing that represents reality.
A i5-11600K with an RTX 3070 would be an excellent "mid-range" build in my opinion. With some malicious effort, you could overclock this combo to 425W. However, a working wattage of 315W is more in line with actual power use, with brief spikes up to perhaps 375W. So we can say that the EVGA 100-N1-0650-L1 Power Supply is enough for most builds, but it also depends on the GPU, as the RTX 3090, for example, requires a lot of power and would likely require at least 750-800W.
Can you do overclocking with EVGA 100-N1-0650-L1 Power Supply?
It is dependent on what you are overclocking and the rest of your system.
Before overclocking, the rated TDP of a desktop processor that can be overclocked is typically in the 95-125W range, but peaks can be a bit higher. When you overclock, the peak power consumption can reach 200W. Even higher figures are possible if you push it to its limits, which will necessitate a very robust cooling solution. AMD once produced a desktop processor with a TDP of 220W, the FX-9590.
When looking at HEDT processors (Intel Extreme Edition or AMD Threadripper) with a large number of CPU cores, the figures can get even higher. A Threadripper 2990WX has a TDP of 250W, which can be increased by overclocking. (Once again, you'll need a serious CPU cooler to get rid of all that heat.) At 255W, the rare Core i9-9990XE is in the same neighborhood.
That's it before you put the rest of the system together. The graphics card or cards consume the most power (even more than an overclocked CPU). An RTX 2080 Ti's rated power consumption is 250W, but most cards (including the Founders Edition) are overclocked and consume even more power. A factory-overclocked RTX 2080 Ti consumes around 300W on average, with peaks reaching 325W or so. Because of the additional RAM, an RTX Titan would consume slightly more power.
Finally, the motherboard, disk drives, and any other cards you may have plugged into your system use energy. The rest of the system is unlikely to consume more than 50W unless you have a system with multiple spinning hard drives.
Unless you're aiming for overclocking records, EVGA 100-N1-0650-L1 Power Supply should be sufficient for a system with a desktop CPU, even if overclocked, and any single graphics card. (During record runs with liquid nitrogen cooling, CPU power draws of up to a KILOWATT have been reported.) If you're doing a build with a HEDT processor, dual graphics cards (let alone three or four as in a cryptocurrency mining rig), and/or a lot of storage, you'll need to go bigger.
EVGA 100-N1-0650-L1 Power Supply rating
The EVGA 100-N1-0650-L1 power supply is rated white. It is a good buy for a new build or system upgrade. It has 650W total output and a powerful single +12V rail to support your high-end graphics card and CPU. A quiet but intelligent auto fan keeps your power supply running at peak efficiency. Furthermore, the comprehensive protection protects all of your components from power anomalies, so you can buy and use this EVGA power supply with complete confidence.
This is an EVGA low-end power supply that may be affordable. Nonetheless, with such poor performance and efficiency, you should consider paying a little more and getting a Bronze unit rather than a White. Thankfully, the era of group-regulated PSUs has passed.
It's unfortunate that the protection features don't work well, because the high over current protection at 12V and the highly set over power protection can easily kill this power supply at higher operating temperatures. At the very least, there is over-temperature protection, which is essential in any power supply. Another disappointment was the high EMI emissions, which could affect any electronic device in the same network.
What connectors are on EVGA 100-N1-0650-L1 Power Supply?
EVGA 100-N1-0650-L1 Power Supply connectors are :
ATX connector 20+4 pin (560mm) – 1 cable/1 connector
4+4 pin EPS12V (620mm) – 1 cable/1 connector
6+2 pin PCIe (560mm+120mm) – 1 cable/2 connectors
SATA (450mm+120mm+120mm) – 2 cables/6 connectors
4-pin Molex (450mm+120mm+120mm) / FDD (+120mm) – 1 cable/3 connectors
All cables are fixed, and the number of connectors provided is adequate for a mainstream power supply. Although all cables are adequate in length, the distance between all peripheral connectors is short. Furthermore, it is a disgrace to use thin 20AWG gauges on PCIe and SATA connectors when the ATX spec recommends at least 18AWG.
EVGA 100-N1-0650-L1 Power Supply
Performance -

96%

Price -

95%

Value -

96%