It occurred to me how things have changed for desktops after I recently purchased a 1000W PSU to make sure I have enough power to run a new GPU and, hopefully, an improved CPU and motherboard. A 1000W PSU was once considered overkill for machines not attempting to run multiple GPUs, however, this is no longer the case with modern hardware.
Nevertheless, there are still many excellent low-power components available, so for those setups, keep an eye out for PSUs around 500W. That is why checking out THERMALTAKE Smart 500W Power Supply, especially at $50, is an excellent idea. As you can see, it doesn't rank highly for effectiveness or overall performance, but it does for the sound generated, so bear that in mind when you're purchasing.
Testing high-end PSUs is simple—everything goes as planned, so my highly expensive equipment, especially my priceless power analyzers, are likely to survive the test without a scratch. However, the majority of customers choose far less expensive models than expensive PSUs. The THERMALTAKE Smart 500W Power Supply, which has 600 W and 700 W siblings, is one of the most well-liked power supply units. There are two versions of the Smart line—one for countries that only accept 230 V and one for the US that accepts 115 V. I am unable to comment on the hardware-specific differences between the two since I do not own the 115 V version.
Why this PSU is so reasonably priced is instantly clear because of the double-forward topology on the primary side and passive rectification and group regulation on the secondary side. Given that the Corsair CX450 and CX550 PSUs both utilize contemporary platforms, they cannot be compared.
The THERMALTAKE Smart 500W Power Supply's other features don't appear to be that noteworthy either. Other than the power cord, of course, it doesn't have any modular cables. It only receives the base certification (80 PLUS Vanilla, ETA-Standard, and LAMBDA-Standard+) on the 80 PLUS and Cybenetics scales. The 40°C temperature rating for continuous maximum load delivery, the five-year warranty—quite a lengthy one for this platform—and the affordable pricing are this PSU's assets.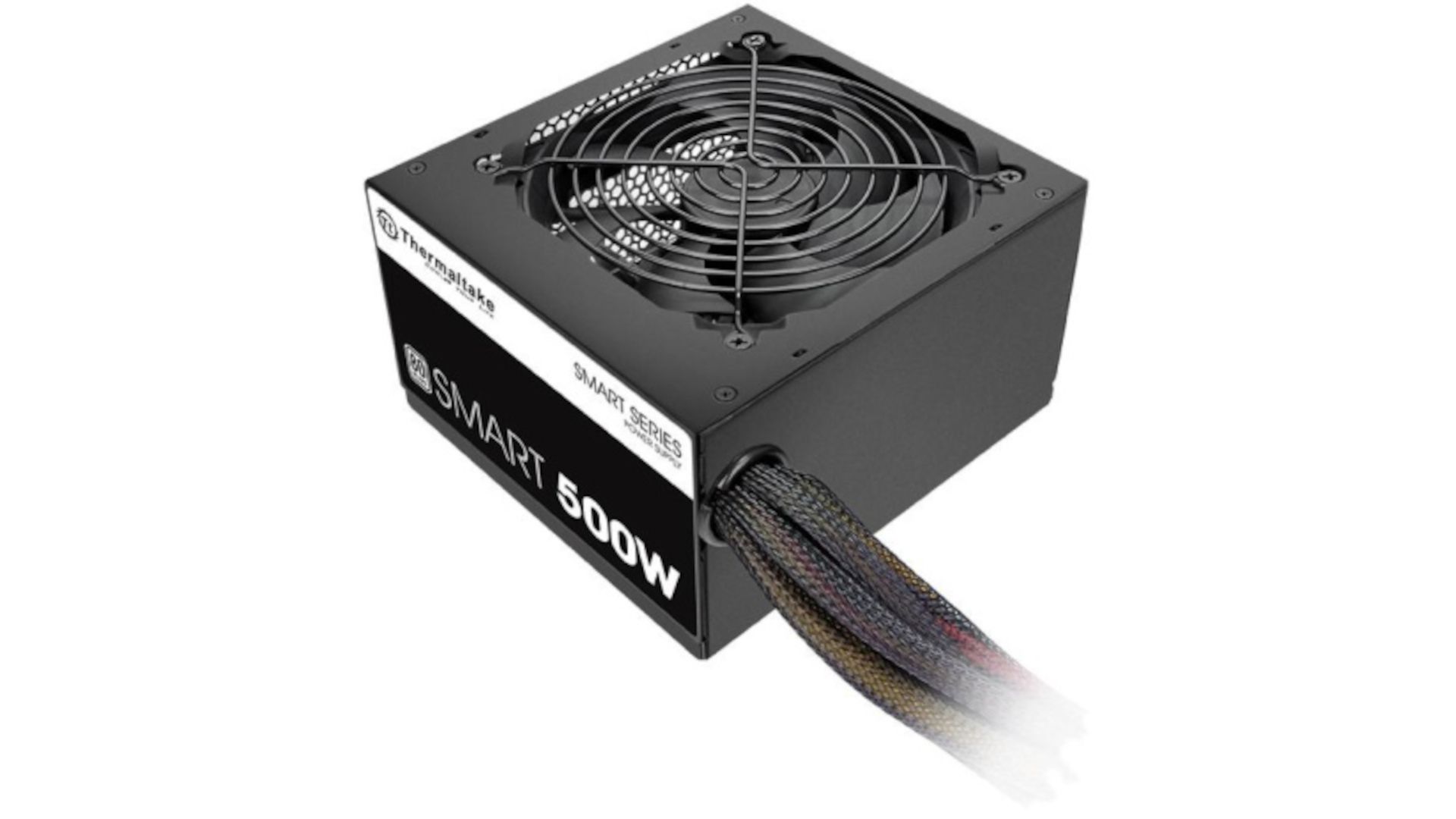 THERMALTAKE Smart 500W Power Supply Specs & Performance 
The single +12V rail in this Thermaltake Smart RGB power supply produces 420w through one rail.
All of the wires come pre-attached to the power supply and cannot be uninstalled because it is a non-modular power supply. Despite this, you are given a good selection that ought to work with most systems. Of course, it is always recommended to double-check to make sure you will have enough for your build.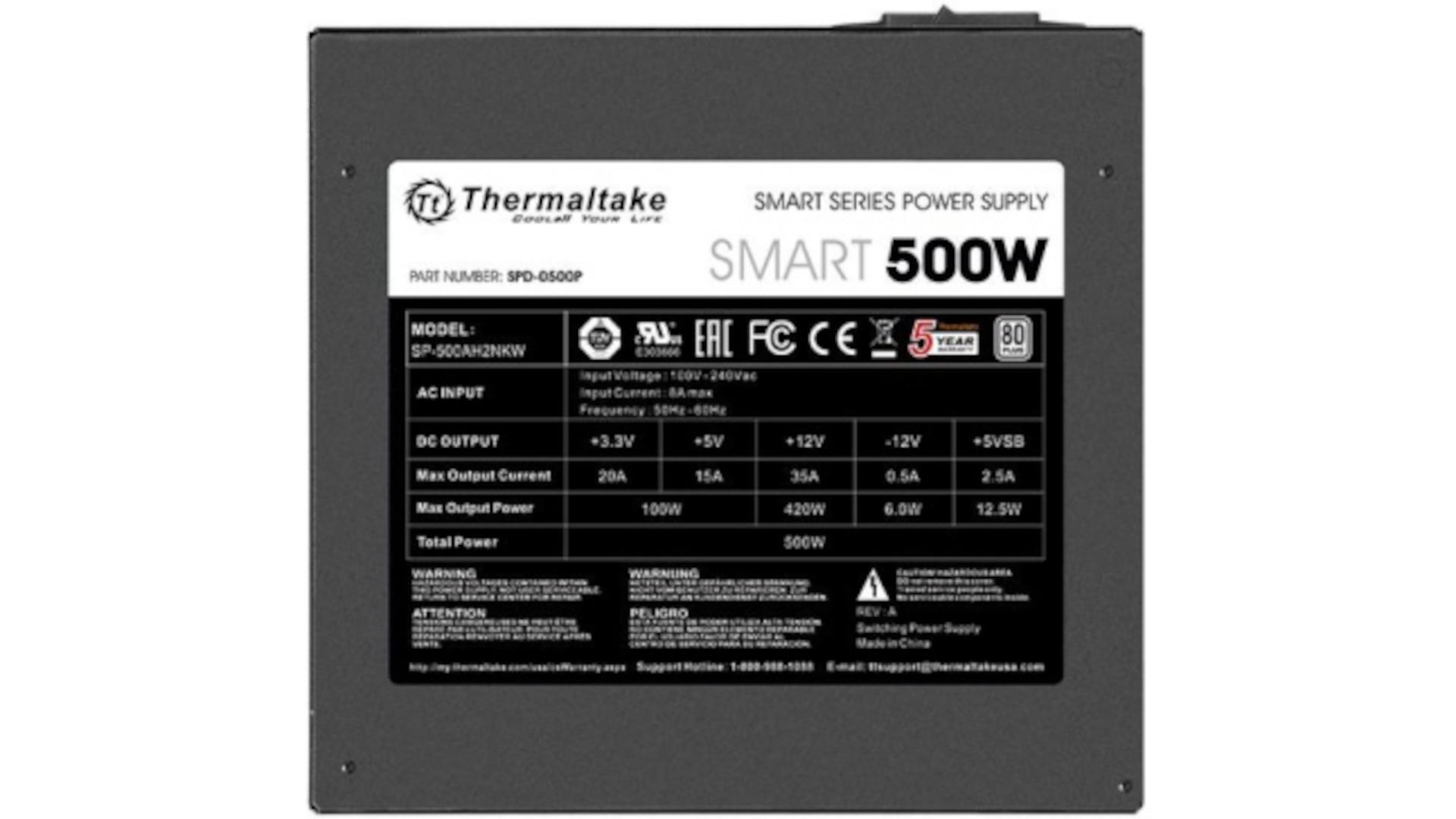 SPECIFICATION
| | |
| --- | --- |
| P/N | PS-SPD-0500NPCW-W |
| WATTS | 500W |
| RGB FAN | No |
| FORM FACTOR | ATX |
| TYPE | Intel ATX 12V 2.3 |
| COLOR | Black |
| OPERATING TEMPERATURE | 5℃ to +40℃ |
| COOLING SYSTEM | 120mm Fan: 1800 R.P.M. ± 10% |
| EFFICIENCY | 82-86% efficiency @ 20-100% load |
| MTBF | 100,000 hrs minimum |
| PFC (Power Factor Correction) | Active PFC |
| POWER GOOD SIGNAL | 100-500 msec |
| HOLD UP TIME | 16msec (minimum) within 60% load |
| INPUT CURRENT  | 8A max |
| INPUT FREQUENCY RANGE | 50 – 60 hz |
| INPUT VOLTAGE | 100-240 Vac |
| OPERATING HUMIDITY | 20% – 85%, non-condensing |
| STORAGE TEMPERATURE | -40℃ – 55℃ |
| DIMENSIONS (W x H x D) | 150 x 85 x 140 mm |
| WEIGHT | 1.41 kg (3.11 lb) |
| WARRANTY | 5 years |
| Price at Time of Release | £53 (UK), €55 (EU), $55 (USA) |
CABLES AND CONNECTORS
| | |
| --- | --- |
| ATX connector 20+4 pin (530 mm) | 1 |
| 4+4 pin EPS12V (620 mm) | 1 |
| 6+2 pin PCIe (530 mm+150 mm) | 2 |
| SATA (520 mm+150 mm) / 4-pin Molex (+150 mm) | 2 / 1 |
| 4-pin Molex (520 mm) / SATA (+150 mm+150 mm) | 1 / 2 |
| SATA (520 mm) / 4-pin Molex (+150 mm+150 mm) / FDD (+150 mm) | 1 / 2 / 1 |
| AC Power Cord (1400 mm), C13 coupler | 1 |
The five-year guarantee, Kaby Lake support—meaning it should function properly with imbalanced loads on its rails—and the incredibly quiet fan with a sleeve bearing are all mentioned on the box.
The AC power cord and the mounting bolts for mounting the PSU to the chassis are the only components of the package that are useful.
Even though there are no modular cables, the cable-exit hole at least has a grommet around it.
Given that this PSU is not modular, the primary ATX cable ought to be a little bit longer, at least 550 mm. Since two EPS connectors would be unnecessary on a device with such restricted capabilities, there is just one, as expected. There are sufficient more connectors, and 150 mm between them is the ideal distance. Although switching from the FDD connector to a 4-pin Molex would be preferable, many system integrators prefer the Berg connector, which is why low-end PSUs sometimes come with one.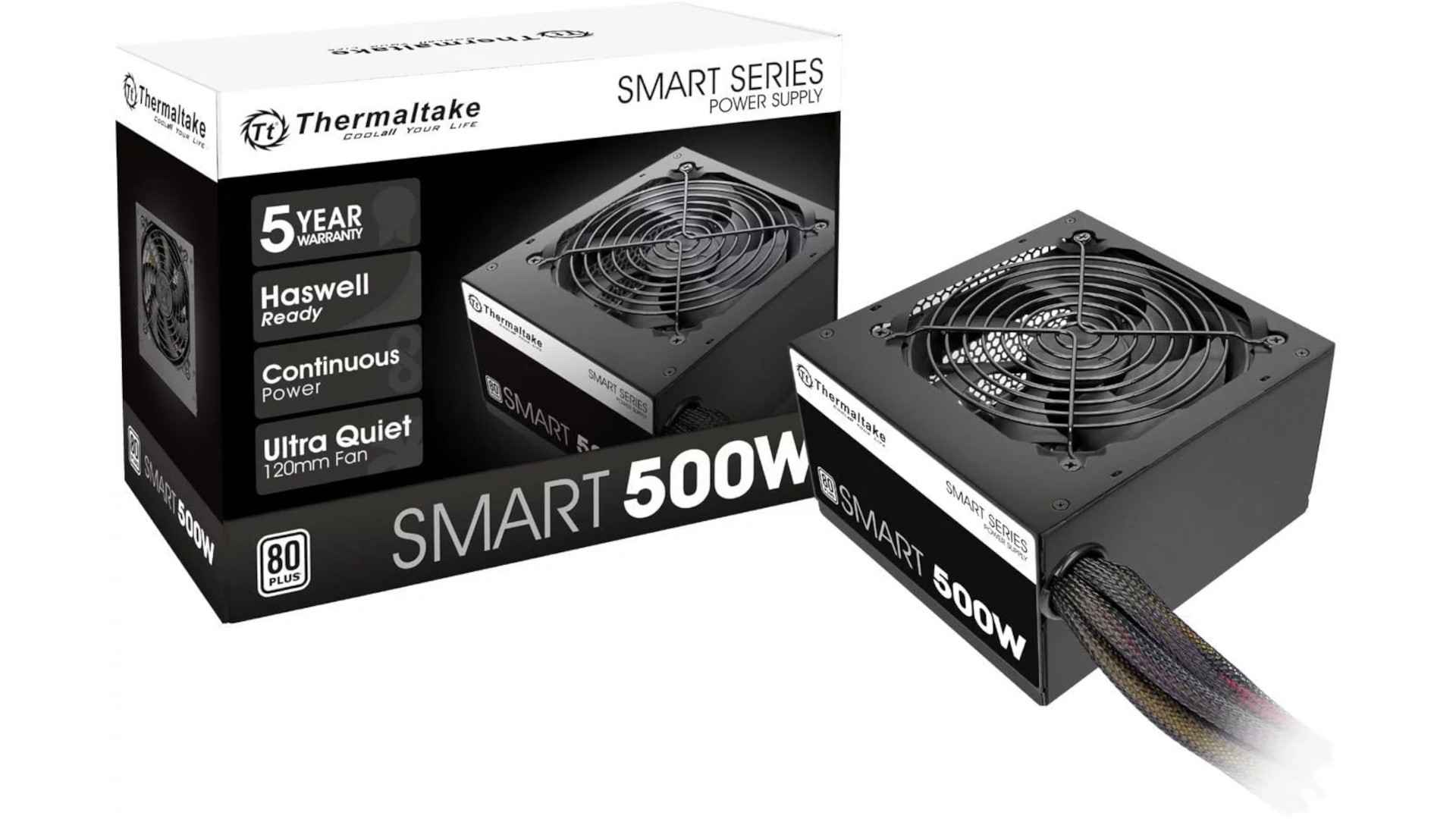 PROTECTION FEATURES
| | |
| --- | --- |
| OCP | +12 V: 51.2 A (146.29%), 11.148 V+5 V: 24.8 A (165.33%), 4.750 V+3.3 V: 28.6 A (143%), 3.273 V5VSB: 4.8 A (192%), 5.011 V |
| OPP | 579.85 W (115.97%) |
| OTP | Yes (138 °C @ +12V heat sink) |
| SCP | +12 V: Yes+5 V: Yes+3.3 V: Yes5VSB: Yes-12 V: Yes |
| PWR_OK | Accurate but lower than 16 ms |
| NLO | Yes |
| SIP | Surge: MOVInrush: NTC |
At high operating temperatures, the fan-speed profile is aggressively modified in an effort to control the thermal load.
Fan speed is high even at normal temperatures. If you have noise sensitivity, THERMATAKE Smart 500W Power Supply will be challenging to handle because it typically sits in the 40-45 dBA zone at loads above 300 W.
CONCLUSION & FINAL THOUGHTS
Given its low cost, THERMALTAKE Smart 500W Power Supply appears to be a winning formula because it is extremely well-liked in all markets. Nevertheless, everything has a price. Expect reduced noise production, better efficiency, and good performance in this instance since you get what you pay for. On the other hand, this product comes in first for noise output but comes in last for total performance and average efficiency. Similar in platform, the Corsair VS450 exceeds the Smart 500 across the board in terms of overall performance, average efficiency, and average noise output.
I applaud HKC's efforts to create a very cost-effective platform, which is something we shouldn't overlook, but the end product is poor. The usage of a more modern platform as opposed to a dated one with a double forward topology and group regulation would have been much better.
The five-year warranty, which is only as long as it is because its platform won't be put through as much with 230 V input instead of 115 V input, is a positive aspect of THERMALTAKE Smart 500W Power Supply. It also passed all of my tests, including the evaluation of its protection features, which is where many PSUs, even high-end ones, fail. Additionally, the quantity of connectors offered is acceptable, and it is wonderful to see that the peripheral connectors are spaced sufficiently apart. However, in large setups, somewhat longer ATX and EPS cords would assist prevent compatibility concerns.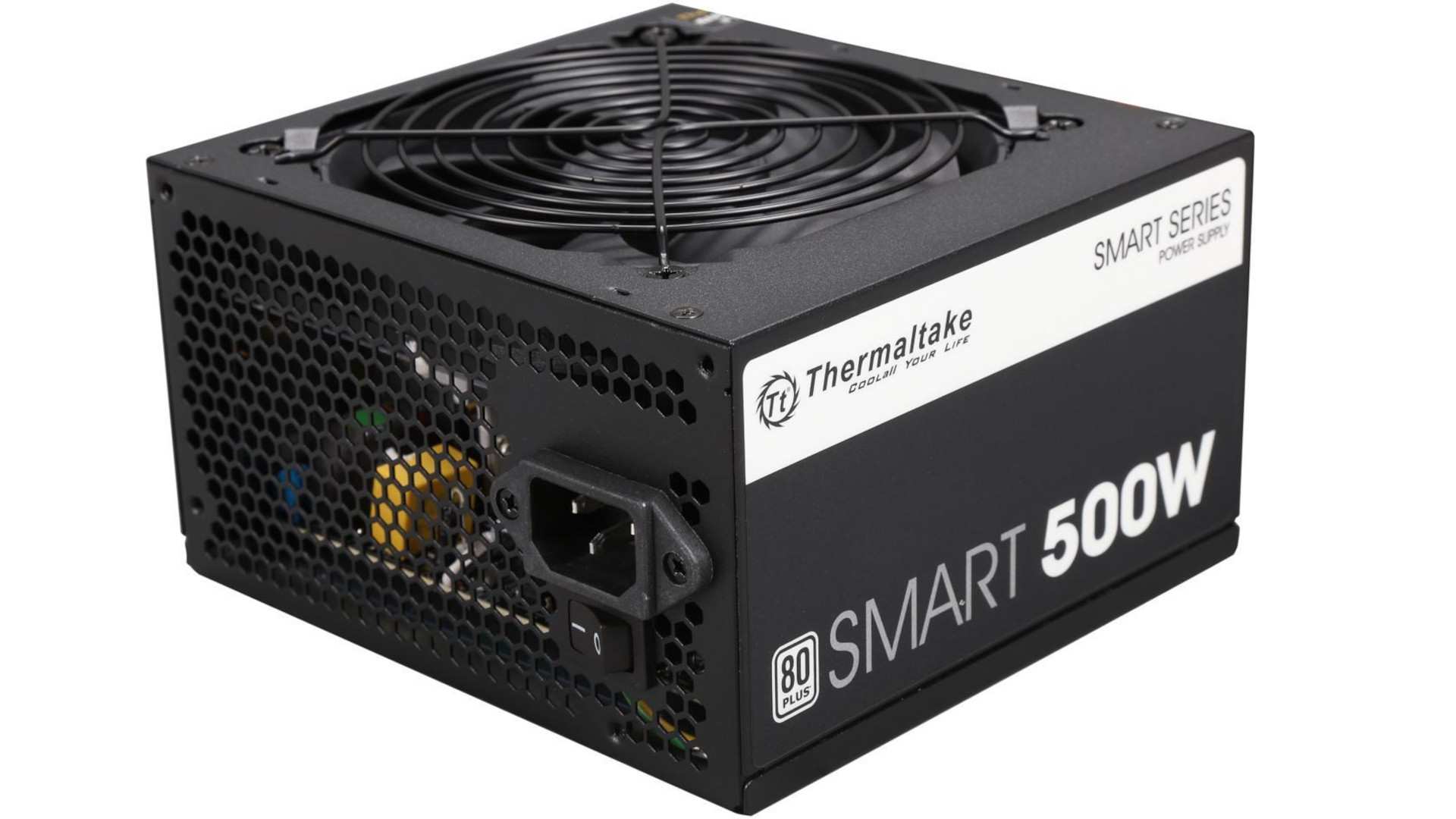 I'll grant it our Budget prize, but I can only suggest it for entry-level systems with low energy requirements. You would be better off choosing a Corsair CX or CXM PSU or a Cooler Master MWE if you need something more sophisticated for a mid-range system and money is your top concern. It is high time Thermaltake updated this series, at the very least adding DC-DC converters.
THERMALTAKE Smart 500W Power Supply
Performance -

98%

Price -

98%

Value -

98%