In this article, I give you my Lenovo Yoga C940 14″ review with specs included. I have both colors here to show you with both the full HD and the 4k display (see next image below). The C 940 is the refresh of Lenovo's popular Yoga 360-degree convertible-hinge laptop.
Quick specs go as follows – 14-inch display, we have Intel tenth generation ice-like CPUs with intel iris graphics onboard. It's a little thinner and a little lighter than the predecessor that already was thin and light though. Also, we have a garaged pen which means the pen fits into a little silo and is rechargeable there so you won't lose it.
Other neat stuff we're gonna look at next. First, let's clear the confusion in naming. So, the Lenovo Yoga C940 14-inch is obviously a 14-inch Ultrabook and there is a C940 15-inch version. It's confusing why don't call that the C950 but, it is what it is. That one goes up against the Dell XPS 15 and has 45-watt CPUs and has NVIDIA GTX 1650 graphics. It's a very different kind of machine sort of that mobile workstation thing going on.
Likewise, this one 14-inch C940, the straight ultrabook, goes up against the Dell XPS 13 2-in-1 the HP Spectre x360 13-inch, and those sorts of laptops.
We have Intel ice-lake 10th gen CPUs inside. Core i5 and Core i7 are available. Both of the tested models are with the core i7. The Core i5 has Intel iris graphics just like the core i7, it's the G4 version of the CPU for those who do keep track of those technical specifications.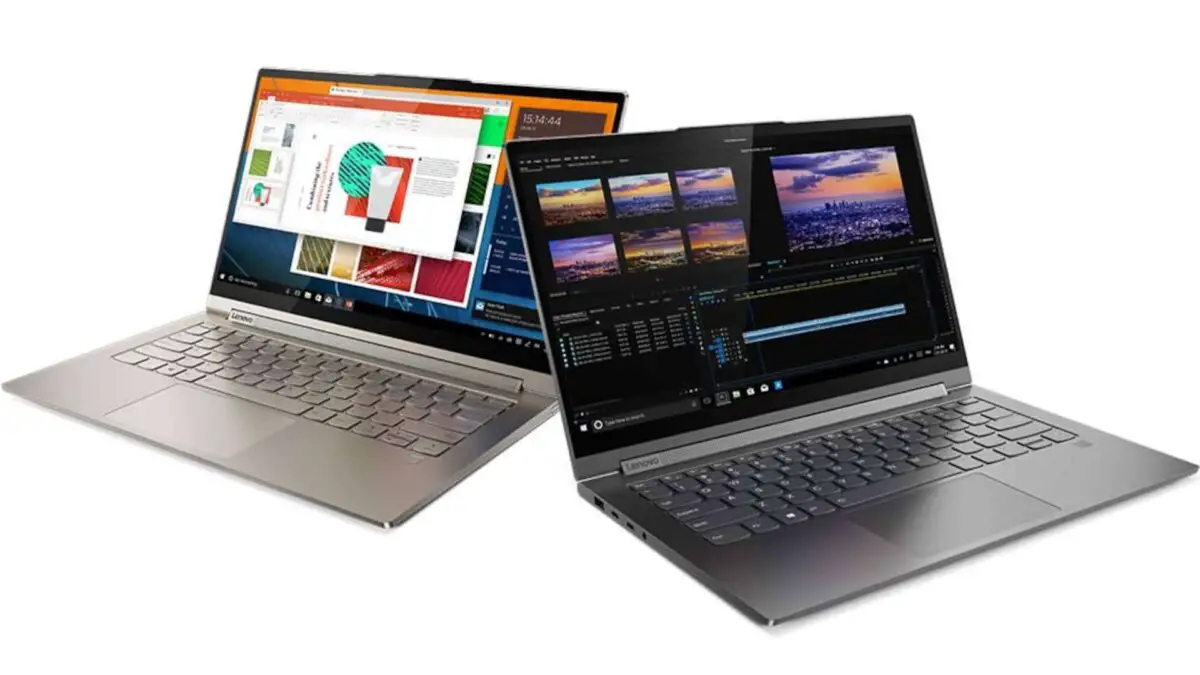 The soundbar, which is one of the neat things about the Yoga series, is redesigned, it's a one-piece bar now. So, there's a soundbar basically between the keyboard area and the display so music fires at you. And, it rotates so, even if you put it in a different position like tint mode or stand mode, you get the idea, you'll still hear audio coming at you. And, there are two additional up-side speakers and there are four speakers total that are down-firing as well.
As you might guess, audio is better than average for an ultrabook. This is not gonna replace your home stereo system but it's not kind of sound like most laptops do it but sounds pretty decent with some bass, some stereo separation, you get the idea.
For displays, there are two display options. We have the full HD IPS and the 4k IPS. There's no only option for this Samsung is the only one making laptop OLED panels right now there any would make a 14 inch so there goes that one. But I don't mind that because this long to be said for IPS including pretty good battery life and whites that are fairly white.
I wrote more about the display metrics of both of those in detail below. But suffice to say they're both quite good but my one complaint is very glossy, plenty of glare off-angle particularly on the full HD model because it's not quite as bright. You'll notice it almost the milky look to it off-angle only. I wish they would cut down a bit on that.
The laptop has a very nice keyboard with good key travel for a thin ultrabook nice tactile feel it's very good. This is a Wacom 80s pen and you can use the included pen which is kind of on the small side but the good news is it's rechargeable and has a silo to live in so you won't lose it or you can use a bigger Lenovo ThinkPad active pen for example.
Any Wacom 80s pen is gonna work for this. I like it quite well it's better than HP's implementation of intrigue active pen technology in terms of fluidity a pressure and less line jitter I find. if you're thinking about using this for art it's more enjoyable. It's you competing pretty well with the Surface Pro line which has a very good entry pen implementation. So it's not just that enterings bad but Wacom consistently pretty good and it's also the technology that Dell uses.
Connectivity is pretty good on this. We have two Thunderbolt three ports for two gigabits per second and a USB a 3.1 gen2 port. It's nice to have that so-called legacy USB-A port so you don't have to get dongles right away just to use something like a USB mouse you get the idea. Of course, there is a headphone jack on this too.
That compares similarly to the HP Spectre x360 13-inch and the Dell only has USB-C ports / Thunderbolt 3. e have USB-A. We have Wi-Fi 6 onboard as well, a fingerprint scanner, and the usual unibody aluminum design with a removable bottom panel which will show you so you can check out the internals.
RAM you can get up to 16 gigs in this low-powered DDR4 Ram. It is soldered on the board so get it with the amount that you want can upgrade it afterward. You have an m.2 nvme SSD that is upgradable, Wi-Fi soldered on will show you again that internals.
There's a 60-watt-hour battery and it comes with a 65W fast charger. Battery life is gonna vary depending on which resolution you choose. Which is part of the reason why Lenovo sent us both review loners so we could experience battery life on both of them.
And honestly the 4k IPS display is in bed. It does do better than only in general for battery life and I was able to get seven to eight hours with 115 it's a brightness and light productivity and streaming video use. And add about three hours on two to three hours for the full HD models.
So yeah Full HD isn't that bad actually given the fact that the screen isn't that huge and it will save you on battery. Now speaking of those displays Lenovo says that the full HD model is 400 nits and the 4k display is 500 nits with an HDR 400 rating on it.
And both displays are actually quite pleasing other than the glare that I complained about. The full HD model doesn't have quite as wide a color gamut but really it's not a bad looking display. It's your typical premium Ultrabook with full srgb coverage and about 75% of Adobe RGB.
The rest of the metrics aren't are a little bit weirder but in terms of the color accuracy it wasn't that bad overall. The 4k display though hitting about 85% of Adobe RGB is pretty impressive. And for some reason we couldn't get a color accuracy graph on that.
Our color immanent got confused by the display but eyeballing it and looking at the other metrics of the color room and our measured it is quite good. So if you're if you're a serious photo and video editor you probably want that 4k display on that wider color gamut for seeing more detail on-screen with less zooming and a little bit more color you get the idea.
It's certainly prettier to look at but the full HD is not a terrible offering either. In terms of performance it's good. It's an Intel tenth generation CPU quad-core whether you go with Core i5 or the core i7. It's an incremental improvement in terms of CPU performance from Intel eighth generation 15-watt Ultrabook CPUs.
Remember there was no ninth Jennifer 15 watt Ultrabook CPUs which just jumped. But the Intel iris plus graphics does add some punch. And you'll notice it even if you're doing so I'm using Photoshop and certainly it'll let you play some casual and older games that you really didn't find playable before with regular Intel HD graphics.
So that's the pardon the pun plus there. Now this has the performance modes on it by default on Lenovo Vantage's settings version of the balanced mode. If you put in hyper for it's mode it will use more power and it will TDP up from the 15 watts to 25 and sometimes even 41 so you can get some more performance out of it.
Of course you'll get more heat and you'll get more noise there are two fans here but generally speaking it does not get noisy and it's really well managed in terms of how hot it gets to the touch. The bottom for example it doesn't get burning hot nice.
They did a very good job of cooling here and I really didn't see any egregious thermal throttling. Pretty much in line with what you would expect from an ultrabook these days. It's good stuff they've done a nice job. Lastly for those of us who are paranoid about webcams while it does have a privacy switch is really hard to see.
It's right the little piece of plastic that you can grab onto at the top edge of the display bezel. And that will actually slide a door over the webcam. So you are definitely safe there nobody can see what you up to in the bedroom or anywhere else.
To get inside well the good news is you've got four Torx t4 not t5 screws that are visible and you remove those. But then ah there's more. You have two ala HP Spectre pull off this strip. Now happily it comes off pretty easily and then these little plastic tines that keep it in place so you're not reliant on the adhesive which did stay in place.
So yank that off start from a corner pull it up pop it out and then there's gonna be Philips head screws here. Three of them hiding so you're gonna have to unscrew those and then it's pretty easy to take it off. So remove the metal bottom cover and here's our battery taking up most of the space as per usual.
The bottom firing speakers are here. Again this has four two watt speakers two in the sound bar to hear. Our little fans for cooling let's see dual fans in an ultrabook with integrated graphics so good that.
Here's our soldered Wi-Fi card this is the m2 SSD and is upgradable you can remove that so that's good should you ever have data loss at least you can take the SSD out say if the rest of the laptop boom dies on you.
And RAM is soldered on board so order it with the amount that you want because you can't upgrade it afterwards. So that's a Lenovo yoga si 940 both colors both resolutions. So as well never done a good job yes they have. It's really getting hard to pick a good convertible now because all the offerings on the market from the major manufacturers are so strong.
But well another bring so the table here is obviously a little bit bigger display. It so the usual thirteen point three inches you do get fourteen inches. The garaged pen is a nice touch. And a keyboard that's really comfy that one goes up against Dell because their XPS 13 two and one Maglev keyboard is you know a little weird a little short travel. There you have it.
Lenovo Yoga C940 14″
Performance -

95%

Price -

94%

Value -

95%