In this article, I give you my Lenovo Yoga C940 14″ review with specs included. I have both colors here to show you with both the full HD and the 4k display (see next image below). The C 940 is the refresh of Lenovo's popular Yoga 360-degree convertible-hinge laptop.
Quick specs go as follows – 14-inch display, we have Intel tenth generation ice-like CPUs with intel iris graphics onboard. It's a little thinner and a little lighter than the predecessor that already was thin and light though. Also, we have a garaged pen which means the pen fits into a little silo and is rechargeable there so you won't lose it.
Other neat stuff we're gonna look at next. First, let's clear the confusion in naming. So, the Lenovo Yoga C940 14-inch is obviously a 14-inch Ultrabook and there is a C940 15-inch version. It's confusing why don't call that the C950 but, it is what it is. That one goes up against the Dell XPS 15 and has 45-watt CPUs and has NVIDIA GTX 1650 graphics. It's a very different kind of machine sort of that mobile workstation thing going on.
Likewise, this one 14-inch C940, the straight ultrabook, goes up against the Dell XPS 13 2-in-1 the HP Spectre x360 13-inch, and those sorts of laptops.
We have Intel ice-lake 10th gen CPUs inside. Core i5 and Core i7 are available. Both of the tested models are with the core i7. The Core i5 has Intel iris graphics just like the core i7, it's the G4 version of the CPU for those who do keep track of those technical specifications.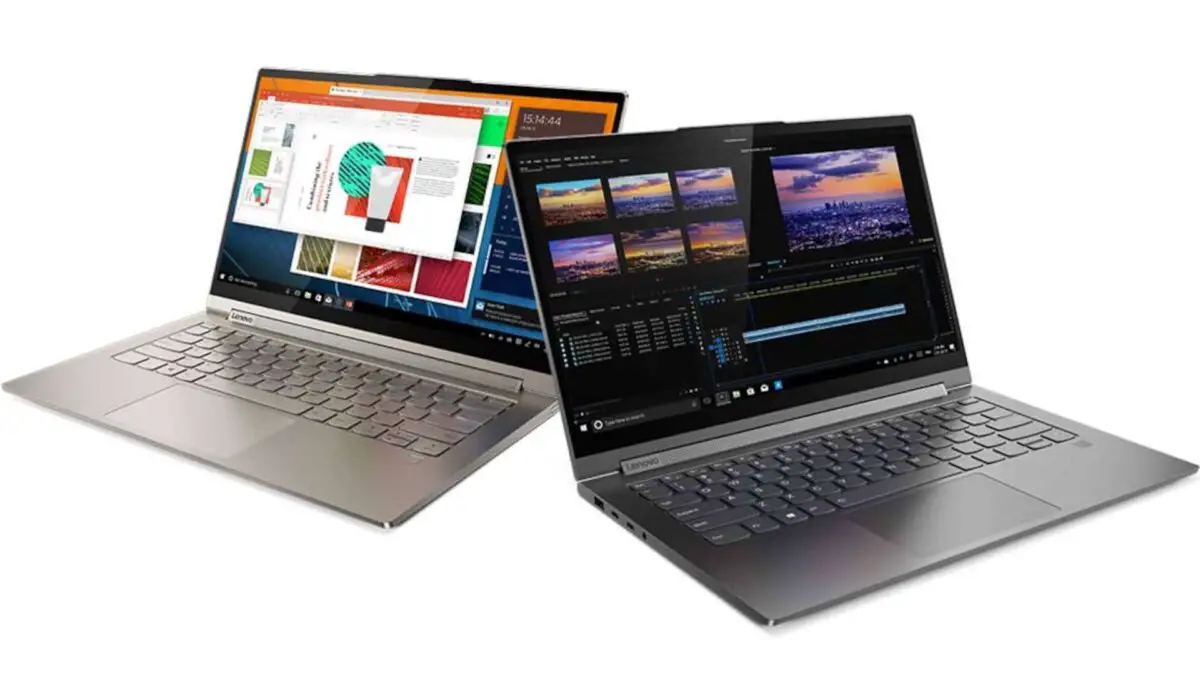 The soundbar, which is one of the neat things about the Yoga series, is redesigned, it's a one-piece bar now. So, there's a soundbar basically between the keyboard area and the display so music fires at you. And, it rotates so, even if you put it in a different position like tint mode or stand mode, you get the idea, you'll still hear audio coming at you. And, there are two additional up-side speakers and there are four speakers total that are down-firing as well.
As you might guess, audio is better than average for an ultrabook. This is not gonna replace your home stereo system but it's not kind of sound like most laptops do it but sounds pretty decent with some bass, some stereo separation, you get the idea.
For displays, there are two display options. We have the full HD IPS and the 4k IPS. There's no only option for this Samsung is the only one making laptop OLED panels right now there any would make a 14 inch so there goes that one. But I don't mind that because this long to be said for IPS including pretty good battery life and whites that are fairly white.
I wrote more about the display metrics of both of those in detail below. But suffice to say they're both quite good but my one complaint is very glossy, plenty of glare off-angle particularly on the full HD model because it's not quite as bright. You'll notice it almost the milky look to it off-angle only. I wish they would cut down a bit on that.
The laptop has a very nice keyboard with good key travel for a thin ultrabook nice tactile feel it's very good. This is a Wacom 80s pen and you can use the included pen which is kind of on the small side but the good news is it's rechargeable and has a silo to live in so you won't lose it or you can use a bigger Lenovo ThinkPad active pen for example.
Any Wacom 80s pen is gonna work for this. I like it quite well it's better than HP's implementation of intrigue active pen technology in terms of fluidity a pressure and less line jitter I find. if you're thinking about using this for art it's more enjoyable. It's you competing pretty well with the Surface Pro line which has a very good entry pen implementation. So it's not just that enterings bad but Wacom consistently pretty good and it's also the technology that Dell uses.
Connectivity is pretty good on this. We have two Thunderbolt three ports for two gigabits per second and a USB a 3.1 gen2 port. It's nice to have that so-called legacy USB-A port so you don't have to get dongles right away just to use something like a USB mouse you get the idea. Of course, there is a headphone jack on this too.
That compares similarly to the HP Spectre x360 13-inch and the Dell only has USB-C ports / Thunderbolt 3. e have USB-A. We have Wi-Fi 6 onboard as well, a fingerprint scanner, and the usual unibody aluminum design with a removable bottom panel which will show you so you can check out the internals.