The X570 chipset has maintained its position as the best on platforms based on Socket AM4 for more than three years. The letter S was added to the labeling in 2021 by motherboard makers, who also introduced fundamentally new products and fresh changes based on it.
The 570-series' traditional iterations had active CO (often, a little fan dissipated heat from the system logic), but the 570S line only offers passive alternatives. The functioning and design were also impacted by modernization (somewhere there were high-speed USB ports, additional RJ-45 sockets, etc.).
Gaming durability is the focus of MSI's MAG series. impressive VRM specifications while keeping a reasonably agreeable price.
When examining the new X570S line of motherboards, it is important to keep in mind that they share many similarities with their two-year-old X570 powered predecessors.
The replacement of the chipset cooling system is the primary distinction and the driving force behind the launch of the new X570S series of boards.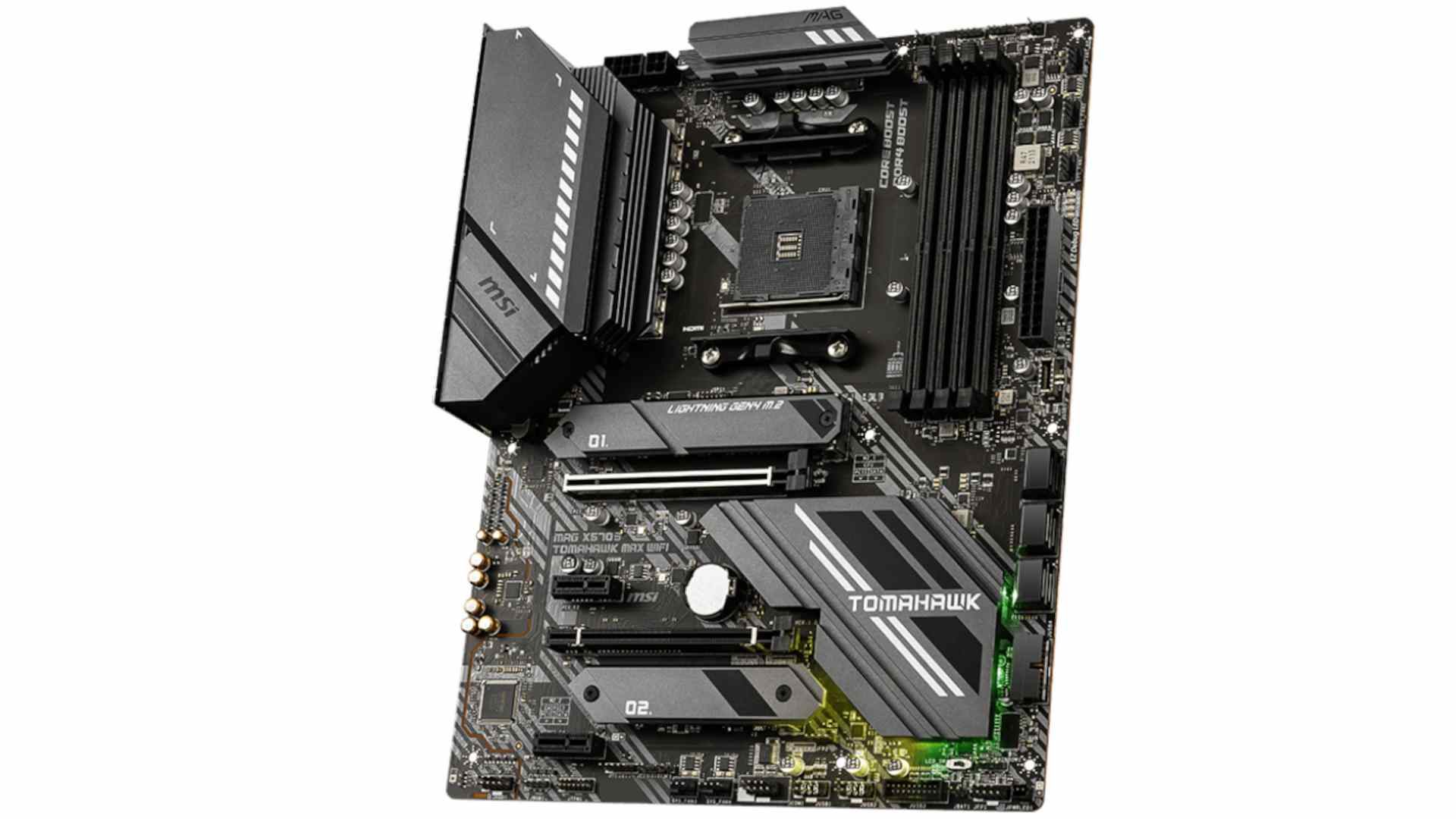 Chipsets are now passively cooled, resolving the 2019 anomaly that PCIe 4.0 had placed on manufacturers. There are no longer any fans on chipsets.
Fortunately for all of us, manufacturers used this opportunity to covertly implement numerous more improvements.
MSI MAG X570S Tomahawk Max WiFi Motherboard Specifications & Overall look
As you might expect, MSI MAG X570S Tomahawk Max WiFi Motherboard is an update of the X570 Tomahawk WIFI. The X570S variant, which costs $289.99 and eliminates the chipset fan from the prior board, is a convincing choice to base your entry-level or mid-range AMD Ryzen-based system on. It provides consumers with the most recent audio and Wi-Fi features as well as competent (but not upgraded) power supply.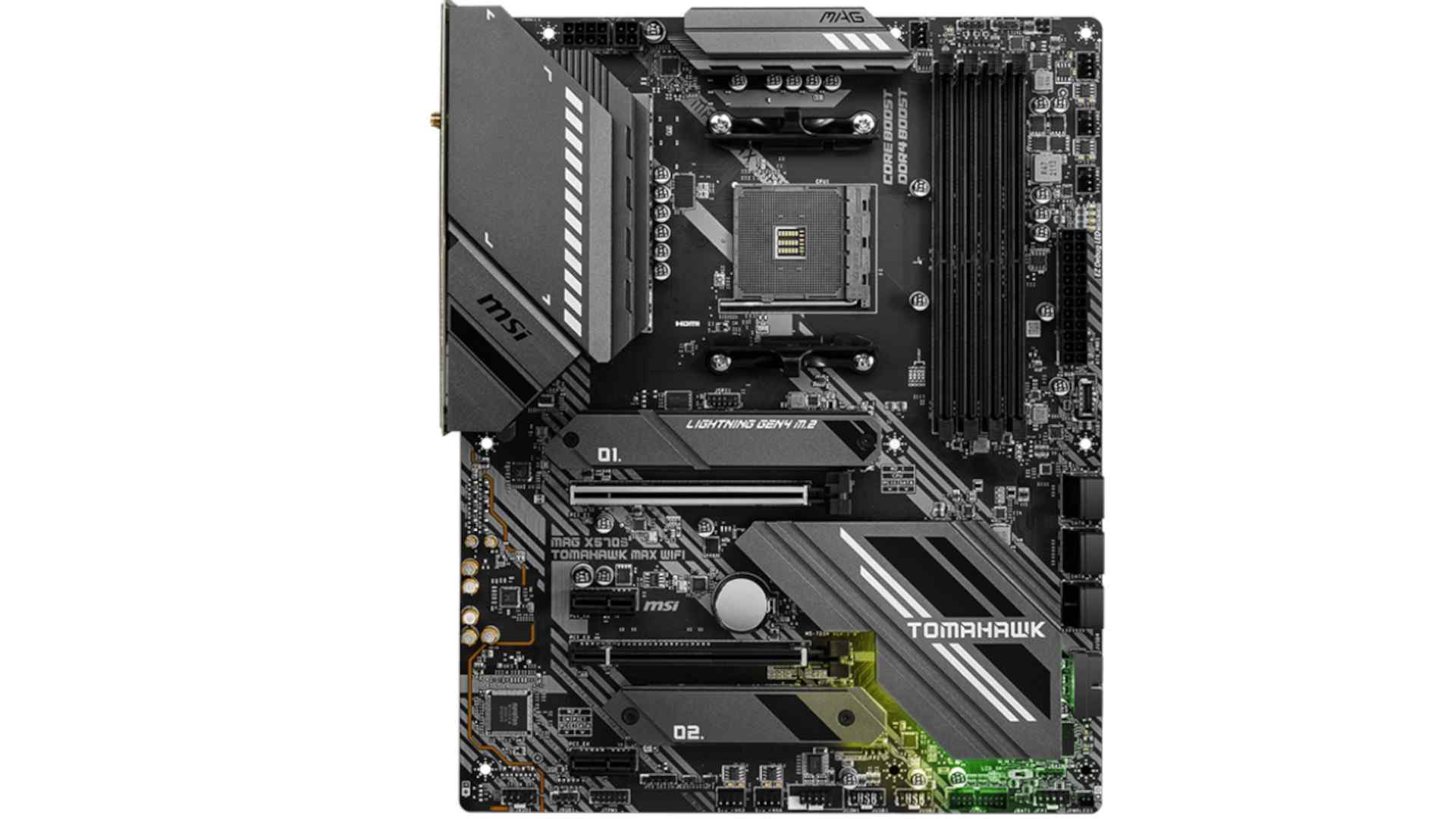 A 14-phase VRM with 60A MOSFETs that can push even our top-of-the-line AMD Ryzen 9 5950X to the edge of ambient cooling is available for a little under $300. Additionally, the board features enough USB ports for most users and a high-end Realtek 4000-series audio codec. Although it lacks a 3.2 Gen2x2 (20 Gbps) connection, most users won't find this to be a deal-breaker.
With a Wi-Fi 6E card and a fast 2.5 GbE port carried over from the X570 model, the X570S Tomahawk MAX also features the newest in wireless technology. Additionally, there are several storage options, including six SATA connectors and two PCIe 4.0 M.2 sockets. Overall, the board compares favorably to its competitors and offers a well-rounded solution in the budget/mid-range X570(S) market.
MSI MAG X570S Tomahawk Max WiFi Motherboard is with six layers that has been reinforced with a 2 ounce thicker copper plate for improved conductivity and isolation. a must to ensure robust PCIe 4.0 functionality and strong signal separation.
When compared to the X570 Tomahawk Variant, the 2 ounce plating is a new addition.
Additionally, it will improve audio quality and VRM heat dissipation. Undoubtedly a very strong base for a powerful and long-lasting motherboard.
There are just conventional components and ports on the MSI MAG X570S Tomahawk Max WiFi Motherboard, along with a potent power subsystem (12 + 2) that is cooled by a large radiator (diagnostic lights and even an on/off backlight key).
By the way, passive CO that has been diluted on the chipset warms up reasonably even on an open stand (the finger burns instantly). Was it worthwhile to give up the tiny fan, which only occasionally operated but kept the temperature within reasonable ranges?
MSI MAG X570S Tomahawk Max WiFi Motherboard General Information
| | |
| --- | --- |
| Model Name | MAG X570S TOMAHAWK MAX WIFI |
| CPU Support | Supports AMD Ryzen™ 5000 Series, 5000 G-Series, 4000 GSeries, 3000 Series, 3000 G-Series, 2000 Series and 2000 GSeries desktop processors |
| CPU Socket | Socket AM4 |
| Chipset | AMD X570 Chipset |
| Graphics Interface | 2x PCIe 4.0 x16 slots Support AMD CrossFire™ Technology |
| Display Interface | Support 4K@60Hz as specified in HDMI 2.1 – Requires Processor Graphics |
| Memory Support | 4 DIMMs, Dual Channel DDR4-5100 (OC) |
| Expansion Slots | 2x PCIe 3.0 x1 slots |
| Storage | 2x M.2 Gen4 x4 slots, 6x SATA 6Gb/s ports |
| USB ports | 5x USB 3.2 Gen 2 10G (3 Type-A + 2 Type-C) 6x USB 3.2 Gen 1 5G (6 Type-A) 6x USB 2.0 |
| LAN | 1x Realtek® 8125B 2.5G LAN |
| WiFi / BT | Intel® Wi-Fi 6E AX210, Bluetooth 5.2 |
| Audio | 8-Channel (7.1) HD Audio with Audio Boost 5 |
MSI MAG X570S Tomahawk Max WiFi Motherboard Performance & Software
When it came to performance, the Tomahawk readily blended in with the other boards we've tested, consistently chopping away at most tests. It did not outperform any benchmarks and remained quite consistent throughout the tests.
Its PCMark 10 suite score, which was above average virtually everywhere, was its finest performance. AIDA memory latency, which was the worst we've seen in a while, was the worst outcome. Our other experiments, however, did not reveal this difference. Aside from that, it did well in the Far Cry: New Dawn and 3DMark tests. Overall, our power-hungry 5950X worked nicely with the MSI MAG X570S Tomahawk Max WiFi Motherboard.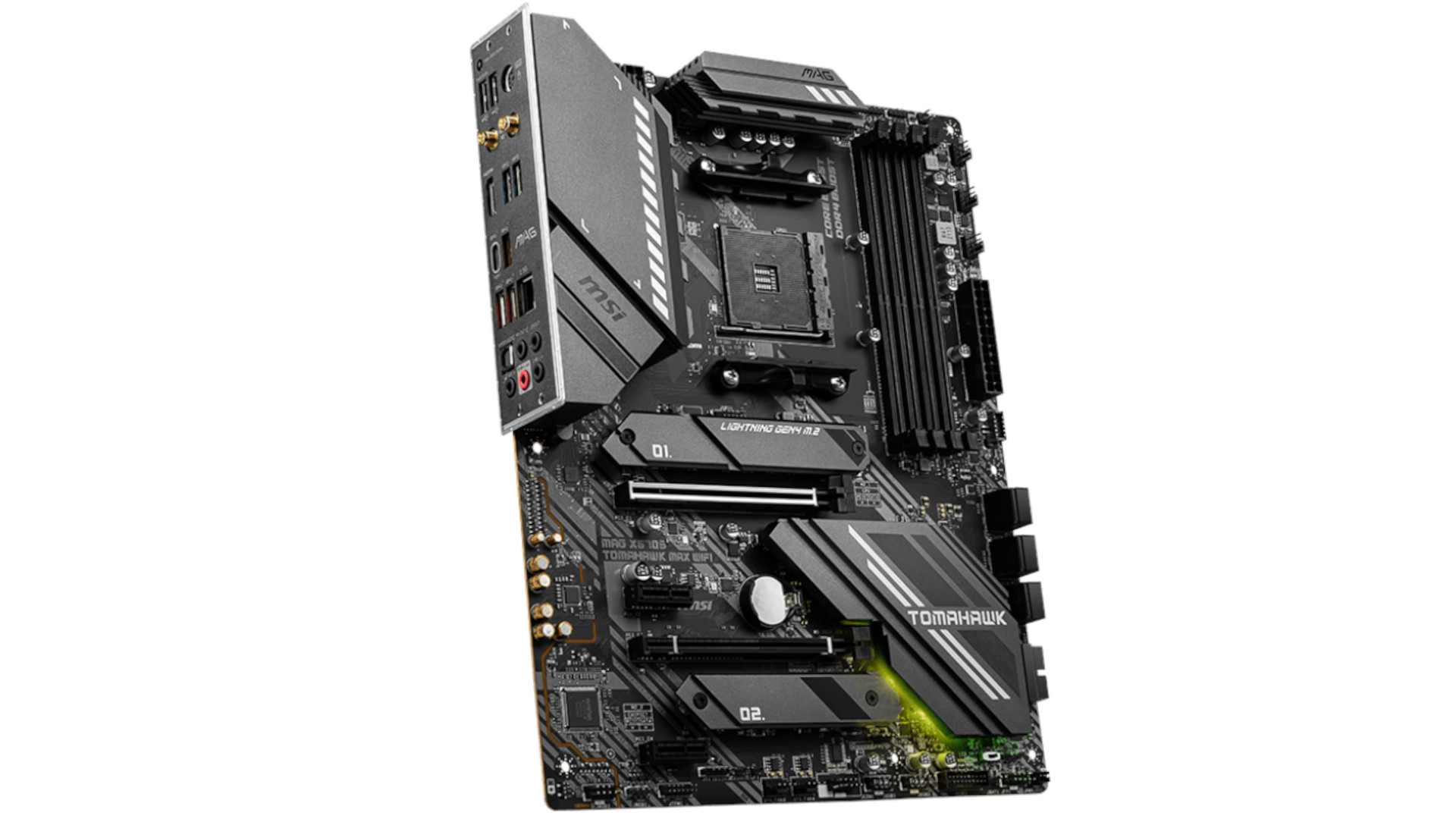 Additionally, we had no problems overclocking the processor to 4.4 GHz while utilizing about 1.25V. Despite not being the most durable we've encountered, the VRMs handled the overclocked CPU with no trouble. Memory overclocking was equally simple: After inserting the additional 2x8GB DDR4 3600 sticks and turning on XMP, we were ready to go.
MSI has modified the software it offers. In the past, we had a number of separate programs to modify the system. However, they have been transferred to an all-in-one program called MSI Center. Many of the tools MSI provides are housed in the new Software, which serves as a central repository.
These include, among others (for a complete list, check the images below), Mystic Light (RGB control), AI Cooling (change fan speeds), LAN Manager (manage the NIC), Speed Up (for storage), and Gaming Mode (auto-tune games). The User Scenario program is where you may manually change parameters, such as CPU clock speeds and voltage, RAM timings, and more. It contains a few defaults for system performance.
MSI MAG X570S Tomahawk Max WiFi Motherboard Conclusion
Because it is a top-of-the-line item, the MSI MAG X570S Tomahawk Max WiFi Motherboard cannot be inexpensive. Even if the passive CO utilized here is highly heated and the board doesn't include anything unusual or novel (in relation to interfaces, functionality, etc.).
In 2022, there won't be as many reasons to select a profile product due to MSI MAG X570S Tomahawk Max WIFI and the fact that more and more affordable motherboards are Ryzen 5000 CPU compatible.
MSI MAG X570S Tomahawk Max WiFi Motherboard
Performance -

96%

Price -

97%

Value -

97%