Any gaming system that wants to operate at a higher level must have proper power management and distribution. With the C series, NZXT's new line of PSU gear, they are moving in the right path. We'll go through what makes the NZXT C750 Gold Power Supply the best option for future generations in our assessment.
A top-performing sector for the gaming community is NZXT. They are highly renowned throughout the world for their premium gaming accessories and peripherals. Around the world, professional gamers use some of their items.
The truth is that even a contemporary workstation for solving arithmetic problems, watching videos, or working on scientific projects typically uses 400–500 watts. A system with a top-end AMD Threadripper/EPYC or Core i7/i9 will need roughly 350 W, or "from the socket," if your computer performs most of its computations on the CPU. Depending on the graphics card model, the usual consumption in PCs with three GPUs can be close to 600W. It is unlikely to make sense to pay too much for a power supply that will only be 600-900 W ideal for such installations.
Brands like NZXT, CoolerMaster, and Thermaltake no longer produce or develop power supplies in today's globalized society; instead, they use the production facilities of Seasonic, FSP, or Delta, and no one will ever disclose in advance which platform this or another line of power supplies is intended for. The "80 Plus" type of accreditation given to this power supply is the only option for selecting a power supply in terms of quality. Cheap Chinese do not even receive a silver medal, therefore in an effort to sell them, a new "80 Plus" certificate without the prefix "Silver," "Gold," or "Platinum" was produced specifically for them.
With that, let's get started.
NZXT C750 Gold Power Supply Specs & Performance
The Seasonic Focus Plus Gold platform, which the NZXT C750 Gold Power Supply we're examining is based on, has the capability to turn off the fan at low load, making the power supply completely silent. The fan kicks on when the load increases to 350 W to prevent component overheating, and the power supply returns to quiet mode when the load lowers once more. This mode is activated in the most dependable way possible: using a button on the wall outside the PSU.
With ETA-A and LAMBDA-S efficiency and noise certifications, the NZXT C750 Gold Power Supply is an 80 Plus Gold certified power supply from Cybenetics. With up to 450W loads, it isn't one of the quietest 750W power supplies, but customers who are sensitive to noise won't be bothered by it. However, for customers that need minimal noise output, the Corsair RM750x and RM750, the Asus ROG Strix 750, and the XPG Core Reactor 750 are better options. It is quite high because the total performance is comparable to that of the Seasonic Focus Plus Gold 750. The C750, however, cannot take the top spot in our list of the finest power supplies because this is a competitive area.
The C750 is NZXT's mid-range model in the C series. Because the 750W category is so well-liked by customers and provides enough power to assemble a powerful gaming system with 8-core Intel or 12-core AMD processors and Nvidia RTX2070/2080 or AMD 5700XT graphics cards, we had to examine the C750 since we had already evaluated the C850 and the C650. If you intend to use many high-end graphics cards, you should seek for a power supply with a minimum 1000W capacity to ensure that you won't run into any power problems.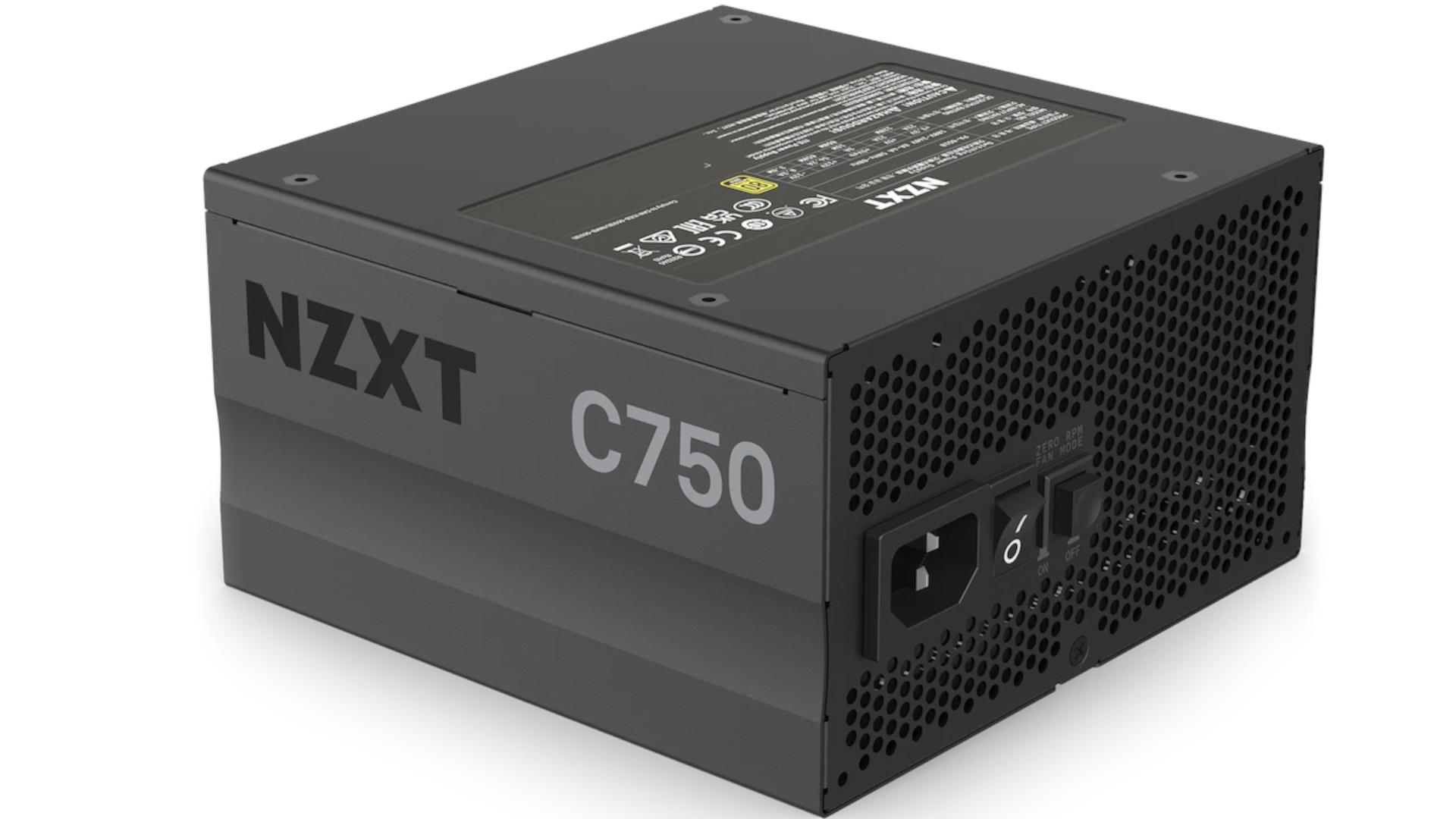 The NZXT C750 Gold Power Supply, like its siblings, runs on the same platform as the Seasonic Focus Plus Gold, so we anticipate solid performance and adequate levels of efficiency. Aside from not supporting the alternate sleep mode, which enables the system to rapidly wake up from sleep, this platform isn't adjusted to allow for more than 70% efficiency at extremely modest loads (2% of the PSU's maximum rated capacity). Since there are now no mainboards on the market that can support the latter, it doesn't seem all that surprising. Nevertheless, you should consider the long term when you get a new power supply because the PSU is a part you could utilize in a variety of projects.
Let's display the most crucial specifications in the following tables.
CONNECTORS FOR OUTPUT
| | |
| --- | --- |
| 24-pin ATX power | 1 |
| 4+4-pin CPU power | 2 |
| 6+2-pin PCIe power | 6 |
| SATA power | 6 |
| Peripherals | 6 |
CABLE SPECS
| | |
| --- | --- |
| 24-pin ATX power | 600 mm, Nylon sleeving |
| 4+4-pin CPU power | 700 mm, Nylon sleeving |
| 6+2-pin PCIe power | 650 + 150 mm, Nylon sleeving |
| SATA power | 500 + 150 mm |
| Peripherals | 500 + 150 mm |
FAN SPECS
| | |
| --- | --- |
| Dimensions | 135 x 135 x 25 mm |
| Speed | 0-2300 ± 10% RPM |
| Airflow | 93.02 CFM (Tpy.) |
| Noise | 44.5 dBA max |
| Bearing | Fluid Dynamic Bearing (FDB) |
GENERAL
| | |
| --- | --- |
| Manufacturer (OEM) | Seasonic |
| Max. DC Output | 750W |
| Efficiency | 80 PLUS Gold, ETA-A (88-91%) |
| Noise | LAMBDA-S++ (30-35 dB[A]) |
| Modular | ✓ (Fully) |
| Intel C6/C7 Power State Support | ✓ |
| Operating Temperature (Continuous Full Load) | 0 – 50°C |
| Cooling | 120mm Fluid Dynamic Bearing Fan (HA1225H12F-Z) |
| Over Voltage Protection | ✓ |
| Under Voltage Protection | ✓ |
| Over Power Protection | ✓ |
| Over Current (+12V) Protection | ✓ |
| Over Temperature Protection | ✓ |
| Short Circuit Protection | ✓ |
| Surge Protection | ✓ |
| Inrush Current Protection | ✓ |
| Fan Failure Protection | ✗ |
| No Load Operation | ✓ |
| Warranty | 10 Years |
NZXT C750 Gold Power Supply CONCLUSION
Thanks to the excellent Seasonic platform it makes use of, the NZXT C750 Gold Power Supply competes head-to-head with the other two models in the range. Even though it can't match the performance of the stiff competitors in this category, the complete package is alluring. The new C750 and C650 models from NZXT also come with two EPS ports, making them compatible with all high-end CPUs and mainboards.
The C750's aggressive fan speed profile at higher loads and operating temperatures is its biggest drawback. The Seasonic Focus Plus Gold 750W, which uses the same platform, has the same issue. It appears that in order to loosen up the fan profile, larger heat sinks are needed, something that Asus accomplished with its ROG Strix 750W model.
A different choice would be to employ better main switching FETs, but this would have a significant impact on the cost of production. This was demonstrated in the DeepCool GamerStorm DQ-M V2L 850W, where CWT was compelled to implement a vigorous fan speed profile in order to let the poor primary switching FETs to operate at lower temperatures.
The Corsair RM750 and RM750x, the XPG Core Reactor 750, and the Asus ROG Strix 750 are all worthy alternatives to the NZXT C750 Gold Power Supply if noise output is a major concern for you.
NZXT C750 Gold Power Supply
Performance -

97%

Price -

96%

Value -

97%