The newest Strix Gold Aura Edition power supply from ASUS Republic of Gamers (ROG) are fully modular, have ATX 3.0 compatibility, 16-pin PCIe support, and integrated Provide Aura Sync RGB lighting. Strix Gold Aura Edition power supplies are available in 750W, 850W, 1000W, and 1200W models.
A high-performance, premium power supply unit (PSU) for gamers, PC enthusiasts, and professionals looking for the best efficiency and dependability is the ROG STRIX 1200W Gold Aura Edition Power Supply.
This power supply unit, made by the well-known gaming hardware manufacturer ASUS, promises to give outstanding power and a distinctive look that goes well with your gaming setup. We'll examine the design, performance, efficiency, and special Aura RGB lighting system of the ROG STRIX 1200W Gold Aura Edition PSU in our comprehensive review, among other important characteristics.
ROG STRIX 1200W Gold Aura Edition Power Supply Design & Connectivity
The sleek, aggressive look of the ROG STRIX 1200W Gold Aura Edition Power Supply makes a big impression. It looks strong and futuristic thanks to its black, brushed metal body with sharp edges and the ROG logo clearly visible on the side. The construction quality is excellent, and the use of premium materials guarantees long-term dependability and durability.

The 180mm length of the power supply can make it somewhat longer than certain typical power supplies. It should, nonetheless, fit snugly in the majority of full- and mid-tower cases. For those with small cases, the size could be an issue, so be careful to confirm compatibility before making a purchase.
The ROG STRIX 1200W Gold Aura Edition Power Supply wide range of connection choices and connectivity are among its best features. It may be used with even the most demanding gaming setups because it comes with a vast choice of cables to handle a wide range of components. Only the wires you require may be connected thanks to the modular design, which clears up clutter and enhances ventilation within your PC box.
Numerous cable types, including SATA, PCIe, and CPU power connections, are included in the bundle. These are excellent cables that reach every component in a full-sized case because of their length. The addition of cable combs, which may keep your construction appearing neat and tidy, further facilitates cable management.
ROG STRIX 1200W Gold Aura Edition Power Supply Performance & Efficiency
Your high-performance components will receive dependable and consistent power from the ROG STRIX 1200W Gold Aura Edition Power Supply. It provides an exceptional degree of energy efficiency, transforming more power from the wall into useable power for your components thanks to its 80 PLUS Gold accreditation. This guarantees that your components receive clean, constant power while also resulting in decreased energy use and utility costs.
For the majority of gaming systems, even those with powerful graphics cards and many SSDs, the 1200W capacity of this PSU is more than sufficient. Demanding tasks like gaming, creating content, and overclocking are easily handled by the PSU. It is a prudent long-term investment because of its large wattage capacity, which leaves opportunity for future improvements.
Because of the power supply's single +12V rail architecture, your components will always have a steady source of power. This lowers the possibility of overloading any one rail and does away with the requirement for load balancing.
Your components will have an additional layer of safety in the event of unanticipated power spikes or faults thanks to the protection features, which include OVP (Over Voltage Protection), SCP (Short Circuit Protection), UVP (Under Voltage Protection), and OCP (Over Current Protection).
In order to keep a power supply unit operating steadily, efficient cooling is essential. A large, silent 135mm cooling fan is included with the ROG STRIX 1200W Gold Aura Edition Power Supply. The purpose of this fan's design is to maximize airflow while minimizing noise. The fan runs almost silently when used normally, and it doesn't make much noise even when it's operating at a high load.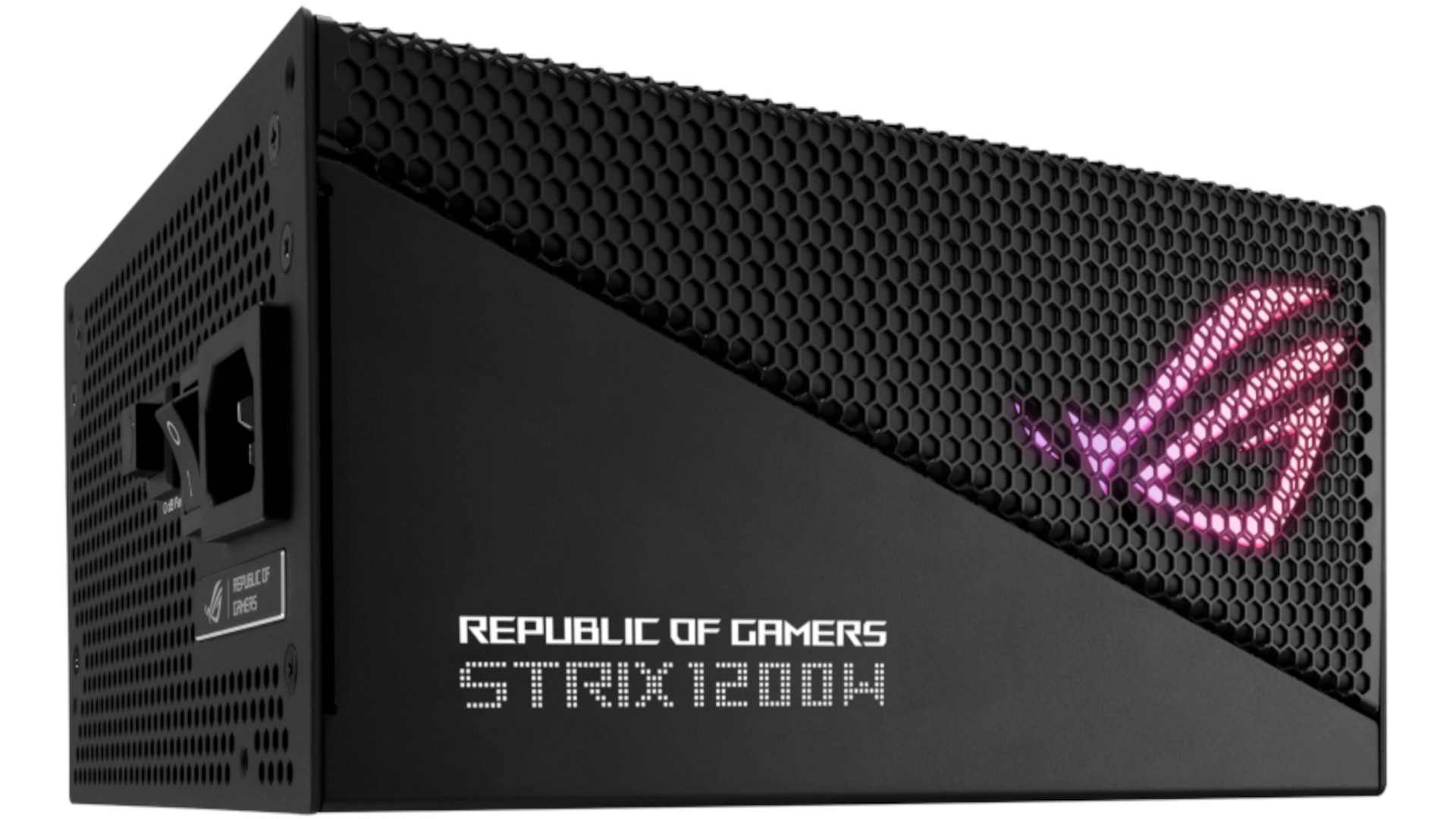 The PSU's thermal sensors regulate the fan speed in accordance with the interior temperature. In addition to ensuring effective cooling, this dynamic fan control lowers wear and tear on the PSU and increases its lifespan. Another noteworthy feature is the 0 RPM fan mode. The fan stays fully off when the PSU is running at low to moderate loads, which helps to ensure whisper-quiet operation.
One unique aspect of the ROG STRIX 1200W Gold Aura Edition Power Supply is the Aura RGB lighting system. The power supply from ASUS features RGB lighting that can be adjusted, and you can synchronize it with other Aura-compatible parts including graphics cards, motherboards, and peripherals. Your PC setup is enhanced visually by the RGB lighting, which also creates a distinctive gaming ambiance.
With ASUS's Aura Sync software, which provides a variety of color and lighting effects, you may regulate the RGB lighting. A pleasing color scheme may be created by coordinating the lights with other Aura Sync-compatible fixtures. The Aura RGB lighting system offers a wide range of customization choices, allowing you to achieve a modest, static lighting configuration or a spectacular, dynamic lighting display.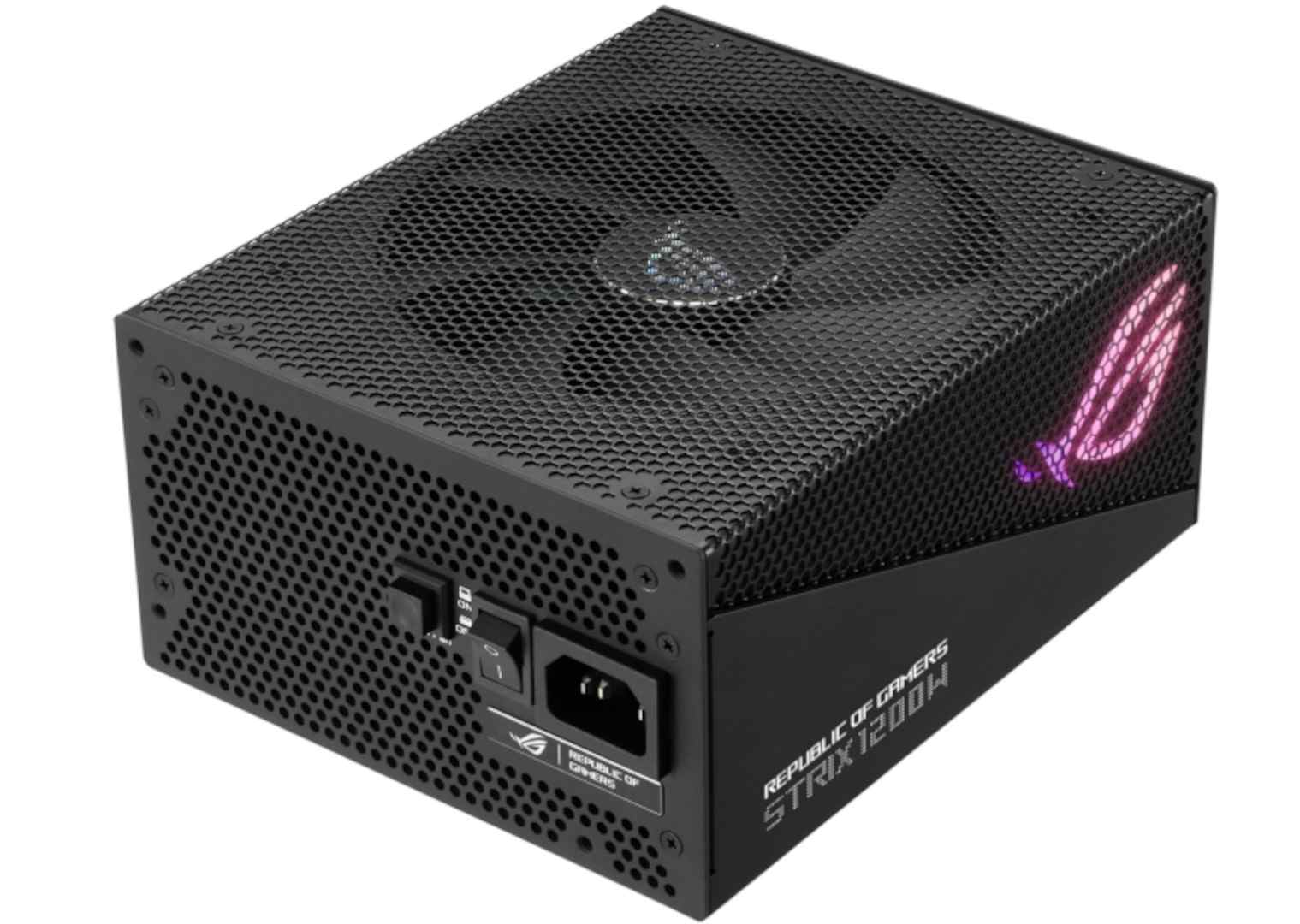 ROG STRIX 1200W Gold Aura Edition Power Supply Specifications
Model Name
ROG STRIX 1200W Gold Aura Edition
Wattage
1200W
80 PLUS Certification
80 PLUS Gold
Form Factor
ATX
Dimensions (L x W x H)
180mm x 150mm x 86mm
Weight
2.4 kg (5.3 lbs)
Efficiency
Up to 90% efficiency
AC Input Voltage
100-240V
AC Input Frequency
50-60Hz
Modular Design
Fully modular
Cooling Fan
135mm quiet cooling fan with zero RPM mode
Fan Control
Intelligent thermal sensors
Single +12V Rail
Yes
Protection Features
OCP, OVP, UVP, SCP
Connectors
– 1 x 24-pin ATX main power connector
– 2 x 8-pin (4+4) CPU connectors
– 8 x 6+2-pin PCIe connectors
– 12 x SATA connectors
– 6 x 4-pin peripheral connectors
– 2 x Floppy connectors
Aura RGB Lighting
Yes (compatible with ASUS Aura Sync)
Warranty
10 years
ROG STRIX 1200W Gold Aura Edition Power Supply Conclusion
A powerful addition to ASUS's ROG portfolio, the ROG STRIX 1200W Gold Aura Edition Power Supply has outstanding performance, superior efficiency, and an eye-catching style. Because of its 80 PLUS Gold accreditation, reliable power delivery to your components is maintained while energy consumption and heat production are minimized through effective power conversion. connection management is a snap thanks to the modular design and wide range of connection choices, and the cooling system keeps your PC operating silently and coolly.
The Aura RGB lighting is this PSU's most notable feature; it not only gives your build a distinctive visual element but also syncs with other Aura-compatible components to produce a seamless lighting experience. A good option to consider if you're searching for a high-end power supply that excels in both performance and design is the ROG STRIX 1200W Gold Aura Edition Power Supply.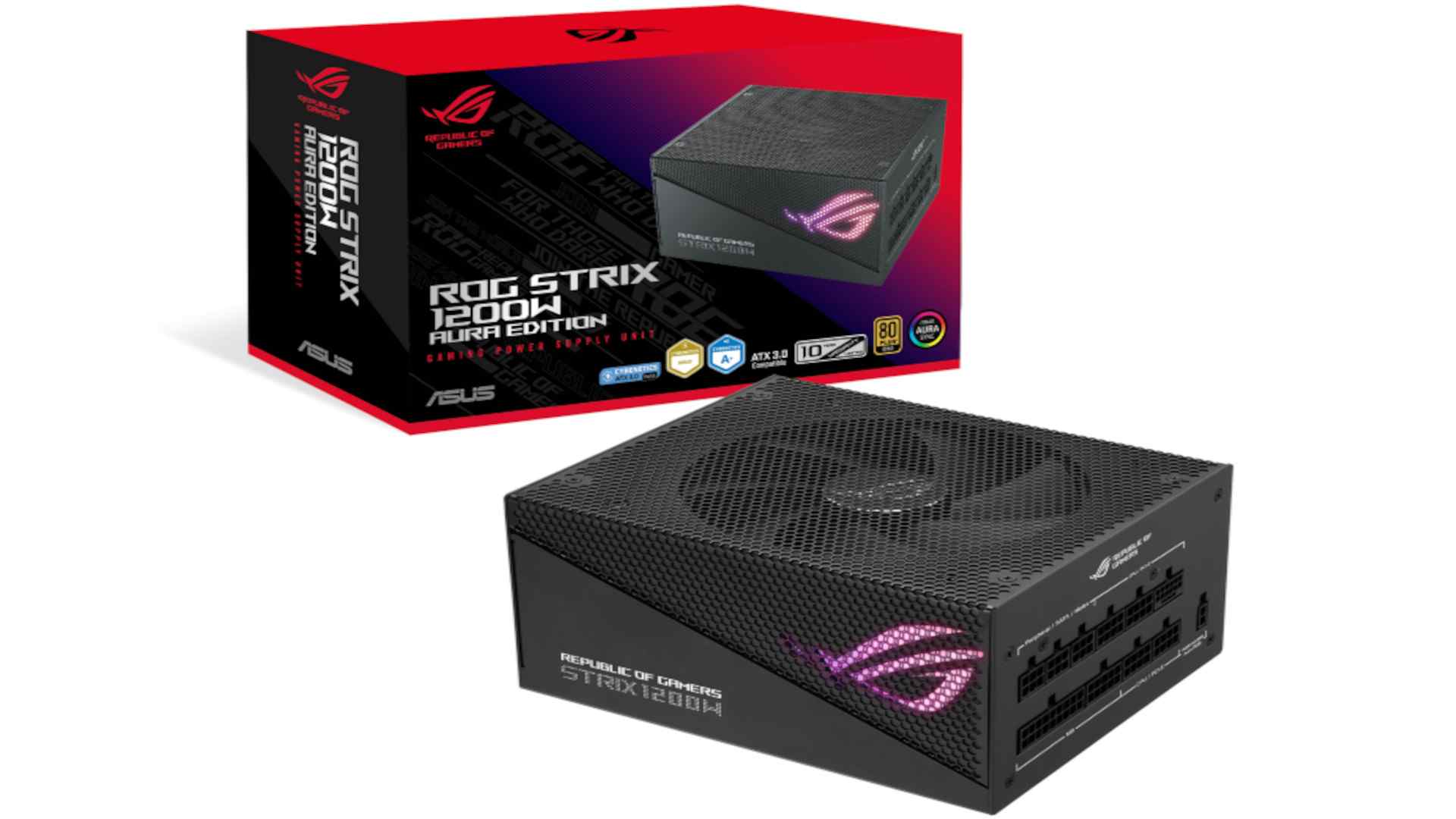 The premium build quality, outstanding performance, and Aura RGB lighting system make it an appealing alternative for gamers, content makers, and PC enthusiasts that want the best for their rigs even though the price point may be on the higher side. With this outstanding power supply unit, ASUS has once again proven its dedication to quality and innovation in the world of gaming gear.
ROG STRIX 1200W Gold Aura Edition Power Supply
Performance -

96%

Price -

93%

Value -

95%