There are several reasons to purchase a computer monitor, including creating a PC, expanding your laptop's functional area, or providing additional visual workspace. You may choose from products made by companies like LG, ViewSonic, Dell, Samsung, MSI, and many more. My Apple MacBook Pro only has a 14-inch screen, so I've been searching for the ideal monitor to go with it. With all the video editing, photography, and website design I do, I just need to be able to see more things, larger. The Sceptre 24-Inch E248W-19203R Monitor was the result of some recent narrowing down of options that are quite well-liked on Amazon.
Right now, a new PC gaming display is a great purchase. There are a ton of games available, many of which have excellent graphics, and Sceptre offers are frequently available. When you're playing, high-quality visuals are crucial, and the gaming monitors that are occasionally supplied with PCs are fairly bad. A monitor, in addition to a laptop, may be beneficial for gaming.
Sceptre 24-Inch E248W-19203R Monitor Specifications & Design
Because of its narrow border bezels and silver metallic cabinet, the Sceptre 24-Inch E248W-19203R Monitor looks amazing on any desktop. Indeed, this is the second monitor in this price range with a metallic design, while competitors costing nearly twice as much still utilize archaic plastics. The cabinet is supported by a stand with a stabilized spherical base.
The 24-inch TN panel can display full HD (1080p) video since it features a 1920 by 1080 resolution and a 16:9 aspect ratio. A 5-microsecond gray-to-gray (G-to-G) Response Time, a peak brightness of 250 cd/m2, a refresh rate of 75 Hz, and a dynamic contrast ratio of 20,000:1 are other attributes that are comparable to those of most budget monitors.
A VGA port, two HDMI connectors, a headphone jack, and an AC power jack are also included on the back of the cabinet. Although the On-screen menu lacks the advanced six color modifications seen in more costly gaming monitors like the Asus ROG Swift PG258Q, it still has a decent array of visual options. The Standard setting for the modifications provides the greatest overall image because the other alternatives are either too dark or too bright.
The Sceptre 24-Inch E248W-19203R Monitor is a stylish 24-inch monitor that employs Twisted-Nematic (TN) panel technology to produce a clear FHD picture with broad viewing angles and adequate grayscale reproduction. It is intended for everyday chores like web browsing, reading email, and watching online movies.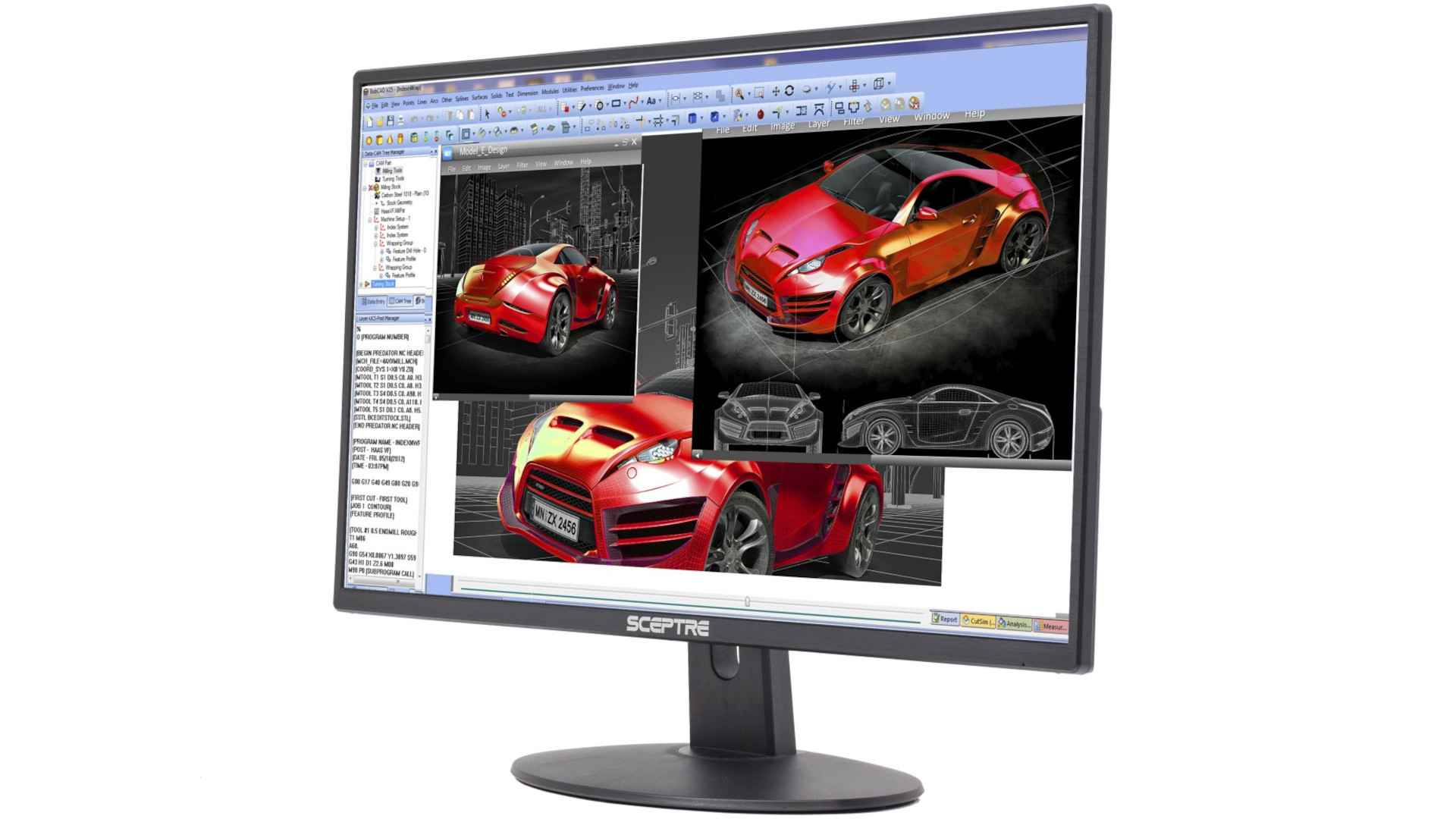 It's a fantastic value for a medium-sized monitor at the price, but the HP VH240a provides greater performance for around the same price, along with an IPS panel, ergonomic adjustments (height, tilt, and pivot), and additional features.
Specs are:
Size of screen: 24 inches
Resolution of the screen: 1920 by 1080 pixels (1080p FHD)
75 Hz Refresh Rate
Size: 5.77 lbs (2.62 kg)
Dimensions: 21.6 inches by 7 inches by 15.8 inches.
Sceptre 24-Inch E248W-19203R Monitor Display Information
| | |
| --- | --- |
| Active Screen Size | 23.8" Diagonal Viewable |
| Panel Type | VA (Vertical Alignment) |
| Native Resolution | 1920 x 1080 |
| Refresh Rate | Up to 75Hz Refresh Rate |
| Aspect Ratio | 16:9 |
| Response Time | 8 ms (G-to-G) |
| Pixel Pitch | 0.2745mm (H) x 0.2745mm (V) |
| Contrast Ratio | 3,000:1 |
| Brightness (Typ.) | 250 cd/m² |
| Anti-Flicker | Yes |
Sceptre 24-Inch E248W-19203R Monitor Features
| | |
| --- | --- |
| Color Temperature | Warm, Normal (Default), Cool, User |
| On Screen Display Control (OSD) | Quick Start, Picture, Color, System |
| Picture Presets | Standard, User, Movie, Eco, FPS, RTS |
| Game Presets | FPS and RTS |
| OSD Supported Languages | English (Default), French, Spanish , Chinese |
Sceptre 24-Inch E248W-19203R Monitor Dimensions
| | |
| --- | --- |
| With Stand (inches, W x H x D) | 21.59″ x 15.87″ x 7.02″ |
| Without Stand (Inches, W x H x D) | 21.59″ x 12.71″ x 1.28″ |
| Carton Box Dimension (inches, W x H x D) | 23.88″ x 3.75″ x 15.50″ |
| Net Weight with Stand (lbs) | 6.37 lbs |
| Net Weight without Stand (lbs) | 5.77 lbs |
| Gross Weight (lbs) | 9.17 lbs |
Sceptre 24-Inch E248W-19203R Monitor Image Quality
A high static contrast ratio of 3,000:1 is provided by the Sceptre 24-Inch E248W-19203R Monitor VA (Vertical Alignment) panel. As a result, you get rich, inky blacks that are immersive, especially in low-light environments.
Furthermore, it has a peak brightness of 250 nits, which is modest in comparison to most modern LED-backlit monitors but more than adequate for general illumination.
The screen might not be able to effectively reduce glare if you have an extremely bright room or you want to position the monitor next to a window without blinds or curtains.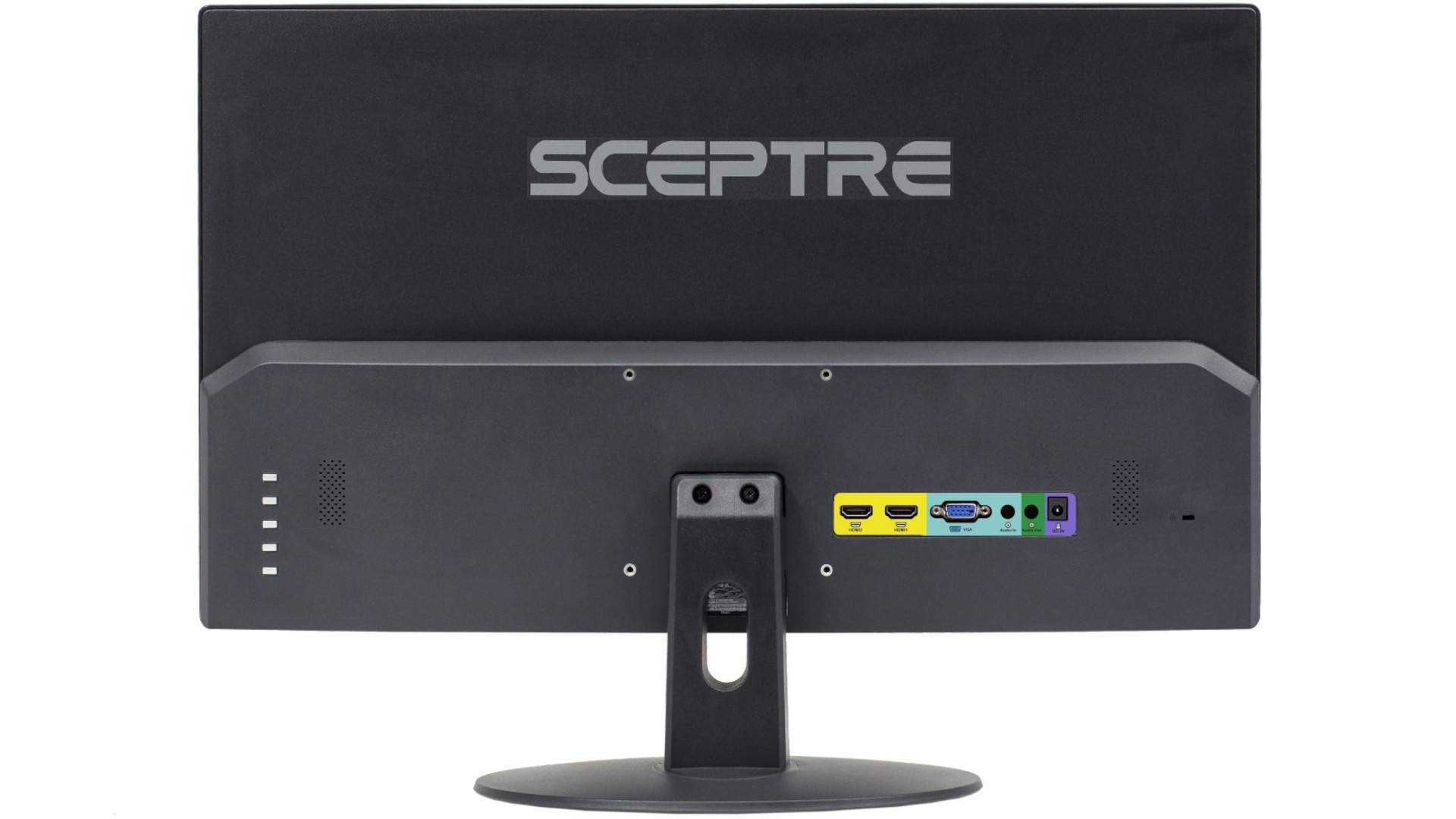 The bulk of web material and video games will be appropriately represented since the Sceptre E248W-19203R display covers 95% of the sRGB color space, which is the standard and most widely used color space.
The sRGB gamut coverage ranges from 95% to 100%, although there isn't much of a difference unless you're working on a project that requires precise color reproduction. However, due to their viewing angles, VA monitors shouldn't even be utilized in this situation.
There are noticeable gamma and saturation shifts while viewing the screen at an angle, despite the fact that you obtain noticeably broader viewing angles than with TN panel displays. It's not a problem for playing video games or watching movies, but if you want consistent professional-grade color accuracy, you should acquire an IPS monitor.
The Sceptre 24-Inch E248W-19203R Monitor employs temporal dithering to give 16.7 million colors (6-bit + 2-bit FRC), which is also important to note. Due to how difficult it is to detect unless specifically looking for it in specific test patterns, most users won't be affected by the occasional 30Hz flicker that can result from this.
Moving on, the monitor sports a 1920 x 1080 pixel Full HD screen resolution. That translates in a pixel density on its 23.8′′ viewable screen of 92.56 PPI (pixels per inch). You receive a considerable amount of screen space, along with text and details that are rather crisp.
Sceptre 24-Inch E248W-19203R Monitor Conclusion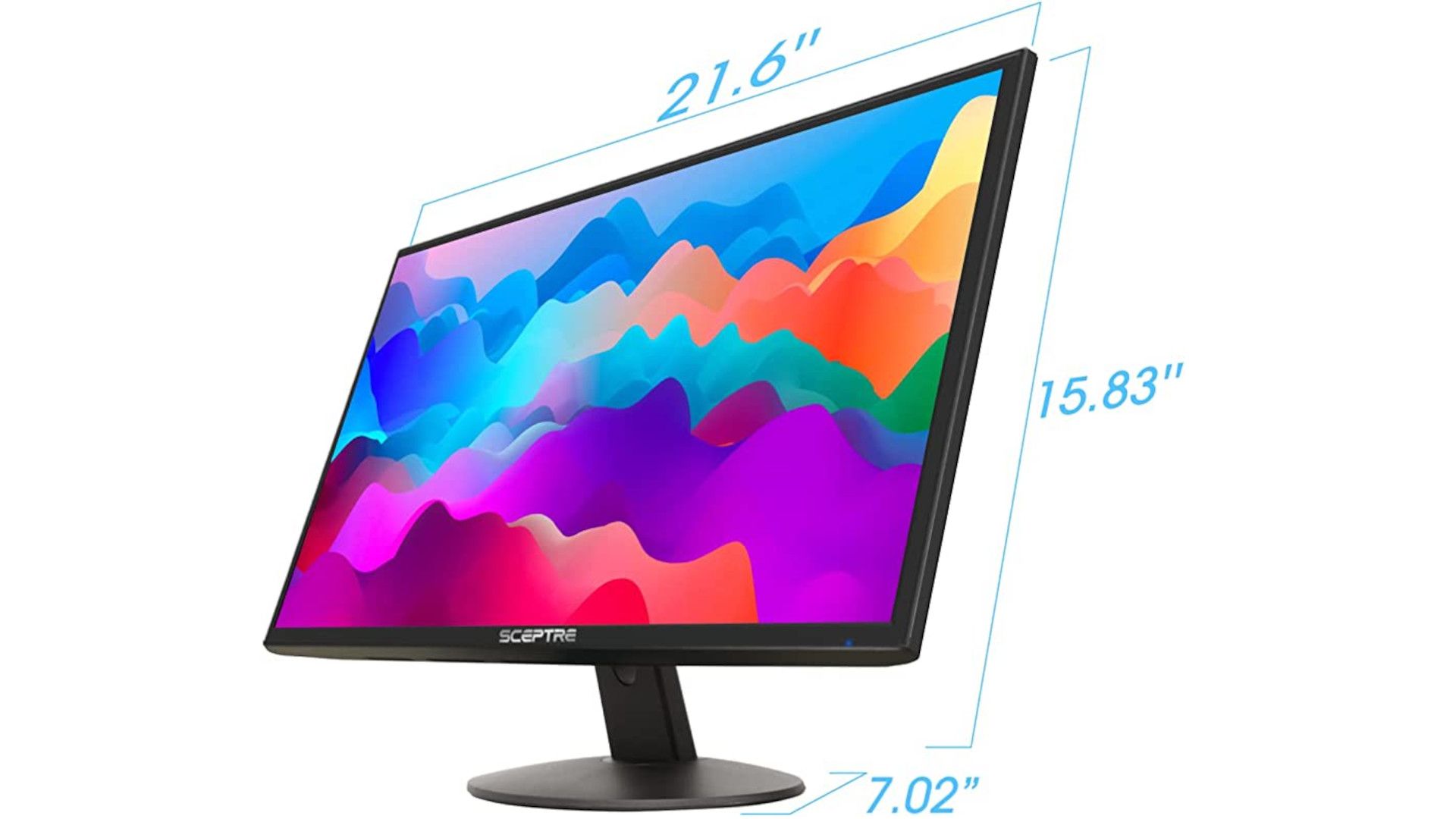 Sceptre 24-Inch E248W-19203R Monitor is an excellent choice for individuals on a tight budget seeking for a medium-sized display that offers dependable performance at an inexpensive price. Its metallic thin-bezel design provides a smooth viewing surface, allowing two or more monitors to be placed side by side. This Sceptre monitor is an excellent choice if all you need is a 24-inch, moderately priced, well-designed display.
Sceptre 24-Inch E248W-19203R Monitor
Performance -

96%

Price -

97%

Value -

97%