The power supply unit (PSU) sometimes gets overlooked when assembling a high-performance gaming or workstation PC in favor of flashy graphics cards and potent processors. It's crucial to keep in mind that the PSU, which supplies all of your system's components with stable and clean power, is its beating heart.
With the Thermaltake Toughpower iRGB PLUS 850W Gold, your PC's cosmetics will be enhanced by configurable RGB lights in addition to superb power supply. In order to assist you in deciding whether this power supply is the best option for your project, we'll examine the features, performance, advantages, and disadvantages of it in detail in this review.
The Thermaltake Toughpower iRGB PLUS 850W Gold, like its larger siblings with 1050 and 1200W capacities, provides excellent performance and a wide range of RGB lighting options. Overall, Channel Well Technology has produced a good power supply that is outfitted with a dependable and contemporary foundation. You can also look at the Corsair HX850 and the Seasonic Focus Plus Platinum with a similar capacity if you don't care as much about the RGB lighting.
Thermaltake Toughpower iRGB PLUS 850W Gold Features & Overview
As its name suggests, the Thermaltake Toughpower iRGB PLUS 850W Gold has a maximum power output of 850 watts. The majority of enthusiast- and gaming-level PCs, including those with premium graphics cards and several storage drives, can operate at this power. Its efficiency, which can reach 90% efficiency under typical load levels, is indicated by the "Gold" designation. This will eventually result in lower electricity bills and less energy wasted as heat.
This PSU's entirely modular design is one of its most notable qualities. It enables you to just connect the wires you actually need, minimizing cable clutter and enhancing ventilation inside your case. This facilitates installation and makes the build cleaner and more orderly. To further improve cable management, the set of premium flat and ribbon-style cables is included in the package.
The adjustable RGB lighting on the power supply is referred to as iRGB PLUS in the product name. Twelve addressable RGB LEDs are included in the Toughpower iRGB PLUS 850W Gold PSU, and they can be coordinated and controlled using the RGB PLUS software from Thermaltake. To establish a consistent lighting theme for your PC, you may choose from a variety of lighting effects, colors, and even sync it with other Thermaltake RGB components.
Thermaltake has integrated a 140mm RGB fan to keep the PSU cool while it is in use. This enhances the aesthetic appeal of the device in addition to assisting in maintaining ideal operating temperatures. Under light to moderate loads, the fan runs quietly, and the RGB lights may be tailored to fit the aesthetic of your system.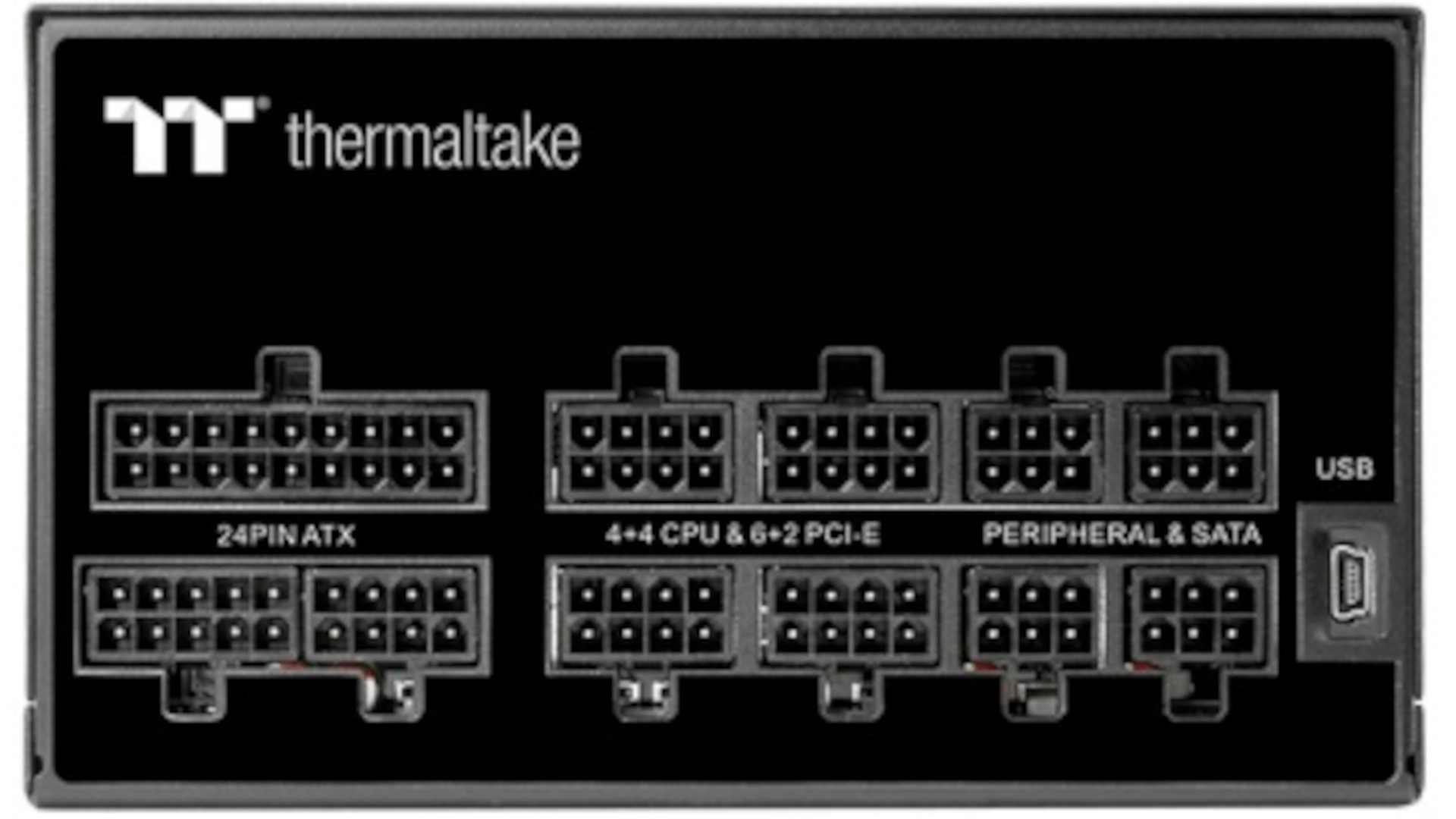 Another noteworthy aspect of this power supply is the usage of premium Japanese capacitors. Japanese capacitors are renowned for their dependability and lifespan, which helps to increase the PSU's overall toughness and stability. This is especially crucial for a portion that is essential to the operation of your overall system.
A single +12V rail is used in the Thermaltake Toughpower iRGB PLUS 850W Gold design to deliver a steady and dependable power supply to your components. High-end CPUs and graphics cards require consistent power supplies to perform at their peak, thus this is extremely important.
The PSU has a Smart Zero Fan feature, which ensures silent operation when your system is idle or working on light tasks by keeping the fan off during low to moderate loads. Only when necessary will the fan turn on, thereby reducing noise.
Thermaltake backs the Thermaltake Toughpower iRGB PLUS 850W Gold with an astounding 10-year warranty, demonstrating their trust in the product's quality. This lengthy guarantee duration gives piece of mind and demonstrates the PSU's endurance and dependability.
Thermaltake Toughpower iRGB PLUS 850W Gold Performance
The basic goal of any power supply is to provide clean and consistent power to your components, which the Thermaltake Toughpower iRGB PLUS 850W Gold excels at. Its single +12V rail architecture guarantees that power-hungry components like GPUs and CPUs receive stable voltage. The PSU consistently produced steady voltages during testing, even under severe loads, which is critical for system stability and durability.
The Gold accreditation indicates that this power supply is very efficient. In practice, this leads to cheaper power expenditures and decreased heat output. Under ordinary loads, the 90% efficiency is outstanding, implying that less energy is lost as heat. Because of the reduced heat generation, the fan will be quieter during regular operation.
During low to moderate loads, the Smart Zero Fan function performs an outstanding job of keeping the PSU quiet. The fan only activates when necessary, and even then, owing to the 140mm fan design, it is relatively quiet. Even under stress, we found that noise levels were considerably below acceptable standards throughout our tests.
Thermaltake Toughpower iRGB PLUS 850W Gold General Information
Model
Thermaltake Toughpower iRGB PLUS 850W Gold
Wattage
850 Watts
80 PLUS Certification
Gold (Up to 90% Efficiency)
Modularity
Fully Modular
Dimensions (L x W x H)
150mm x 86mm x 160mm
Fan Size
140mm RGB Fan
RGB Lighting
12 Addressable RGB LEDs
RGB Control
Thermaltake RGB PLUS Software
Japanese Capacitors
Yes
Single +12V Rail
Yes
Smart Zero Fan
Yes
Protection Features
OVP, UVP, OCP, OPP, SCP, OTP
MTBF (Mean Time Between Failures)
120,000 hours
Warranty
10 Years
Connectors
– 1 x 24-Pin ATX
– 2 x 4+4-Pin EPS (CPU)
– 4 x 6+2-Pin PCIe (GPU)
– 8 x SATA
– 3 x 4-Pin Peripheral
– 1 x Floppy
Operating Temperature
0°C to 50°C
Weight
2.31 kg (5.09 lbs)
Thermaltake Toughpower iRGB PLUS 850W Gold Conclusion
The Thermaltake Toughpower iRGB PLUS 850W Gold is a feature-rich and powerful power supply with exceptional performance and aesthetics. Its premium components, fully modular architecture, and programmable RGB lighting make it an appealing option for gamers and PC enthusiasts wishing to construct a high-end system with a personal touch.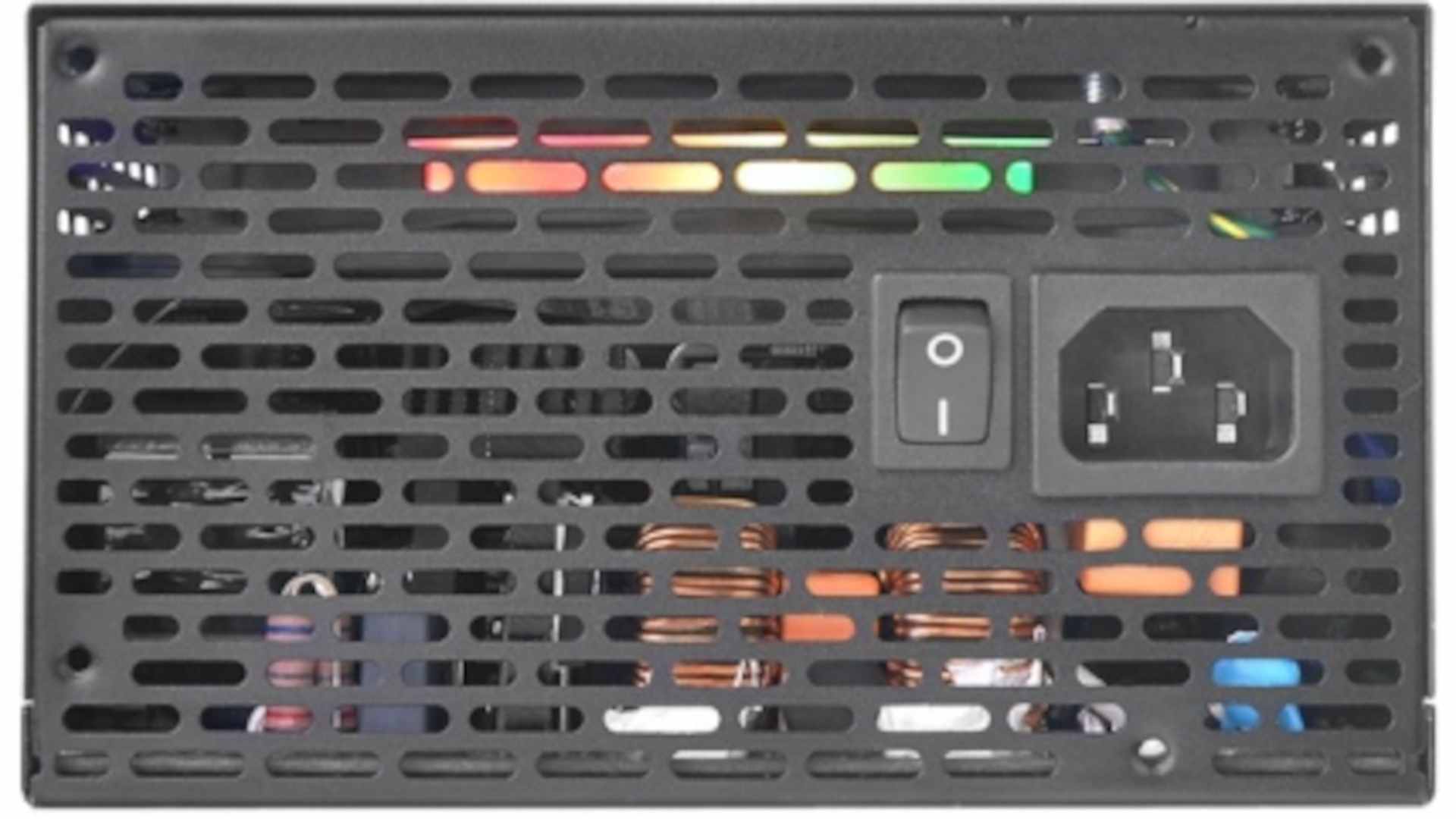 While it is expensive, the 10-year guarantee and efficient functioning make it worthwhile.
Thermaltake Toughpower iRGB PLUS 850W Gold
Performance -

96%

Price -

98%

Value -

97%