In this article, I give you my HP EliteBook 820 G1 review with specs included. This is an HP Business Ultrabook with a 12.5-inch display. It is available with Windows 7 or Windows 8 operating system. And, here's the neat thing about it, it's actually a really nice looking machine. Usually, business ultrabooks are pretty bland but HP brings a lot of their consumers' styling here.
EliteBook is HP's business line of machines and they're a nicer line of business machines on the market. Technically, this is the EliteBook 820 G1. Somehow G1 seems to get tacked on to a lot of the EliteBook names.
The first thing you're gonna notice about it is its size of 12.5 inches. So it's not really huge and 12.5 inches is the new 13 inches maybe for business ultrabooks. The Lenovo ThinkPad X240 is also 12.5 inches, for example, the Dell XPS 12 (2013) is 12.5 inches, and so on.
HP EliteBook 820 is not the skinniest laptop you've ever seen in the world but there's a good reason for it that I will discuss later in this review. But, it still got some styling to it. It has a matte magnesium alloy lid that looks pretty good with the blacked-out HP logo. So, it's not too ultra flashy there.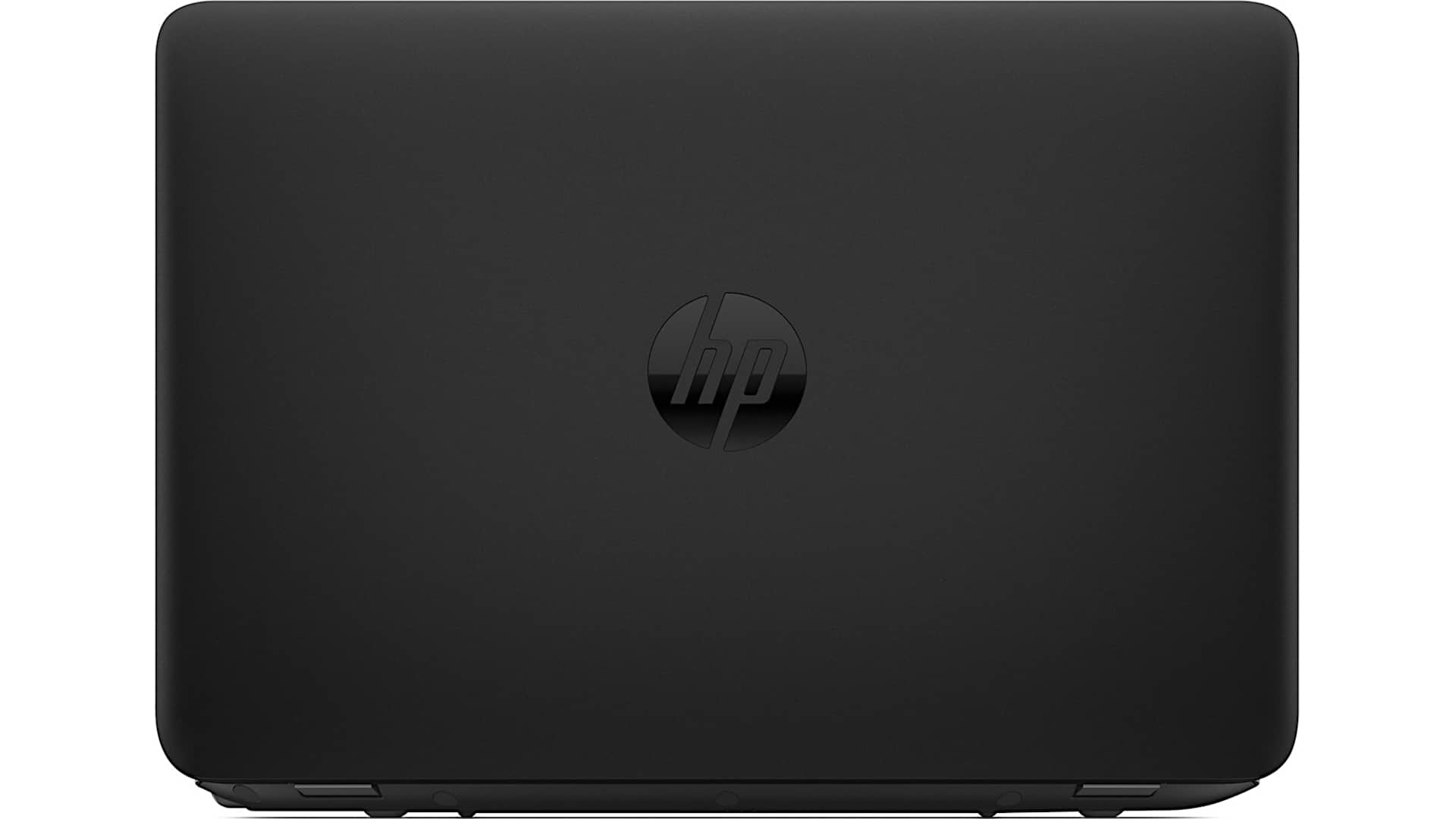 On the sides, you can notice its different color and the complex lines here is kind of a nice accent so it's not just a simple black box. For business machine it is good-looking.
Again, it is not super skinny but why is that? Well, here's the neat thing. Usually, on an ultrabook, you can never get inside. Even on a ThinkPad X240, you got to unscrew a whole lot of Phillips head screws. Well, HP is built differently. On the bottom side, there is a release switch to open the whole bottom panel and see everything.
The battery is removable and there are two different battery capacities. I have the 46-watt-hour battery in here and I can pop that easily using little release latches. It's not a traditional style removable battery nut it is still swappable.
Next, there is a two-and-a-half-inch SATA hard drive. You can get this with a conventional spinning hard drive or an SSD drive.
It has the flash cache which is clearly labeled. HP really expects IT departments to actually open these up and work on them so it's nice, there's no guessing what the heck these things are. So if you want a spinning conventional hard drive and a 32GB caching drive there is an M.2 slot for that.
Next, it has a wide-area LTE networking, if you want that option. Wi-Fi card is dual-band Intel N 7260 Wi-Fi. Lastly, two RAM slots labeled DIMM2 on a 12.5-inch machine. You're lucky if you even get one, RAM often sits just soldered on a motherboard.
Everything's pretty clearly labeled here so you can figure things out. I have a 4 GB machine with one 4 GB DIMM. There's a fan also reachable in case you want to blow it out and clean it up.
So, that's why it's a bit thicker, to allow access to internals. I know a lot of people are more interested in consumer line notebooks but most love to have things like easily upgradable internals and more ports. For some people, the business notebooks really might be a better choice, especially something like this HP EliteBook 820 G1.
Inside this thoroughly modern Ultrabook, there are 4th generation Intel Haswell Ultrabook 15 watt CPUs. You can choose between Core i3, i5, or i7. You can get ones with V-pro or without.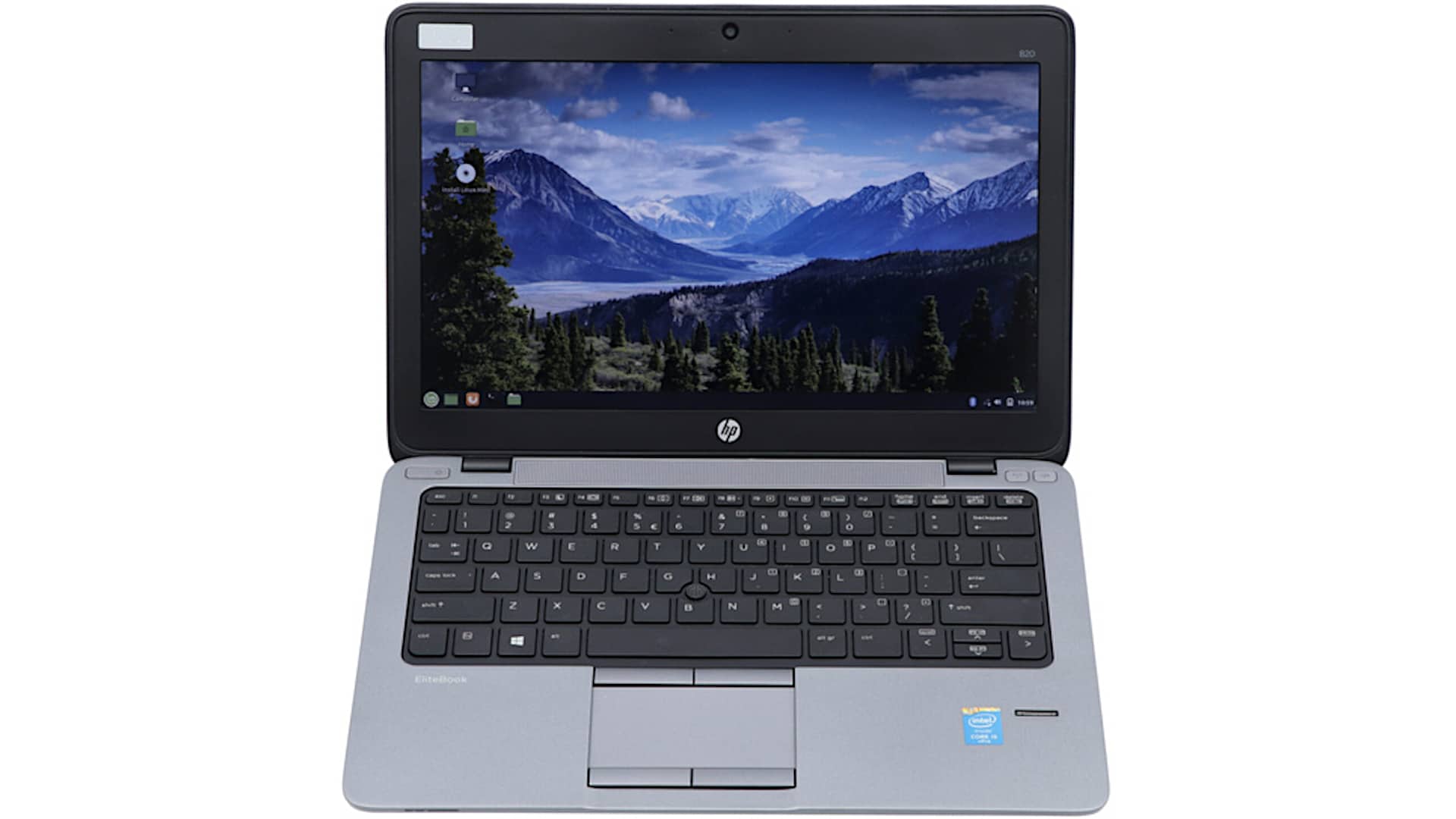 Inside of my HP EliteBook 820 G1 is an Intel i5 4200U dual-core clocked at 1.6 gigahertz. As mentioned previously, I have 4 GB of RAM and a 180 GB Intel SSD. You can get it with a variety of different SSDs or a 500 GB 7200 RPM spinning hard drive with or without the flash cache.
Now, in terms of ports, there's a lot of ports on this thing. Obviously, there are some ventilation cutouts too. It is a fairly cool quiet machine. Ultrabooks usually are quiet. This one has room for cooling inside so this is not a noisy machine at all, you can bring it to a library or so.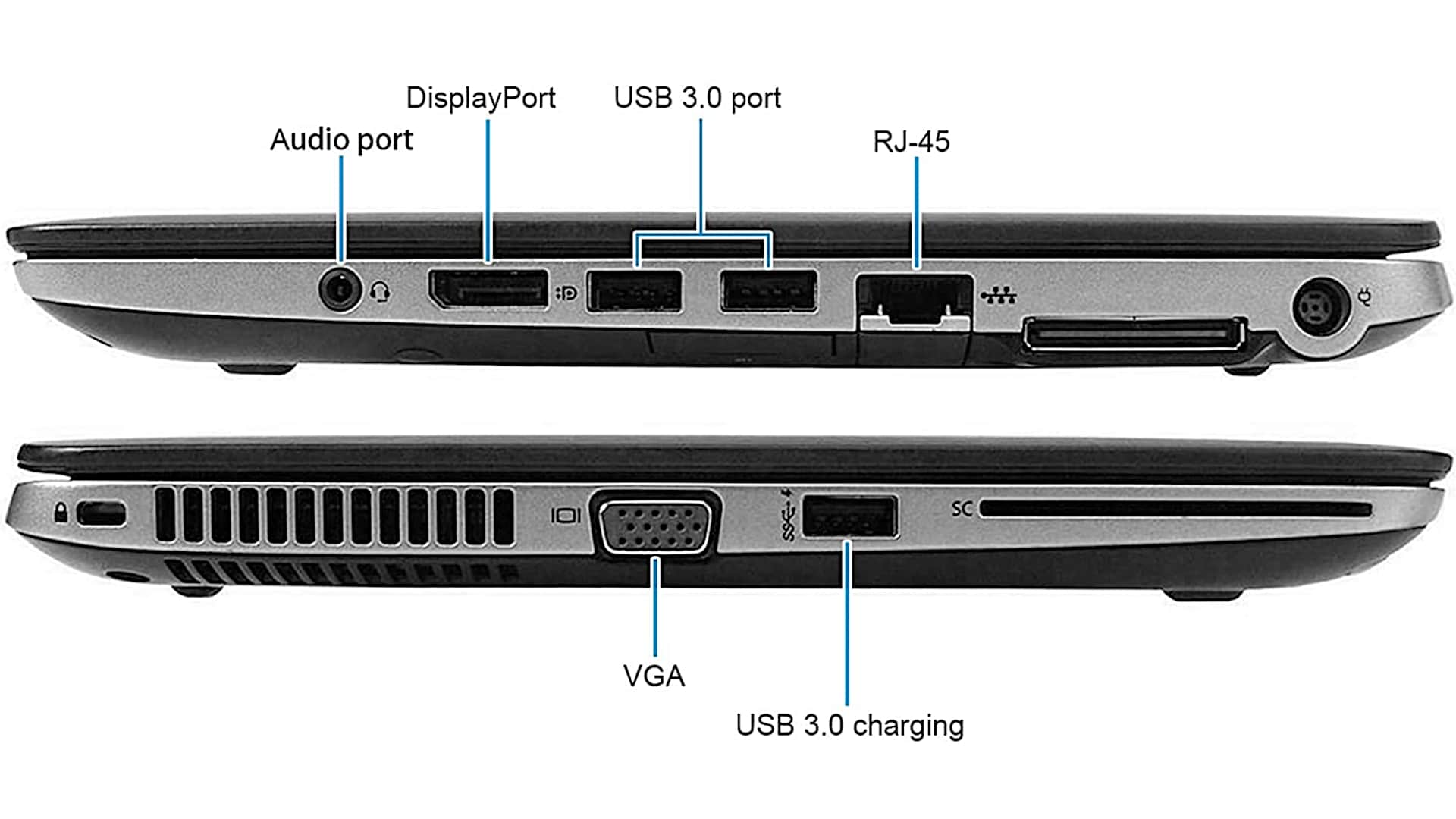 On the left side, there is a lock slot, ventilation cutouts, VGA port (handy for people and businesses that still have legacy VGA monitors and projectors), USB 3.0 port with charging, and a smart card reader (business folks know what that is the rest of you can just ignore that slot).
Indicator lights are on the front side for sleep, charge status, that sort of thing. On the right side, there is a 3.5-millimeter combo audio jack, a full-size Displayport for higher resolution monitors, two more USB 3.0 ports, a Gigabit Ethernet port, an SD card reader (with an SD plastic dummy), a charging connector, and a docking connector.
This actually works with HP's dock, being a business-oriented machine. Business people like docks, so you can take this away then bring it right back to your desk and just plug in the dock connector to have everything working at once.
Let's not forget, on the backside, there is a usual HP logo (Hewlett Packard) just like consumer machines. So, an attractive package, particularly well configured when it comes to ports, especially considering its 12.5 inches and 2.94 pounds, that's not bad.
HP EliteBook 820 is robustly made, MIL-Spec according to HP. It feels strong enough, it doesn't flex, anything like that. You drop it and nothing much happens to it, not that I'm saying you should be slamming this thing around but it's pretty sturdy.
The charger is very compact. It is a 25-watt charger with usual plenty of cord on it. So, it's easy to use and not much heavy to carry around. Again, it is good for a lite business laptop.
About the display, we have the good and the bad news. This is 1366 by 768 display, this is not a touchscreen, there is no touchscreen option that I have found on this. There is a higher quality panel option available. I have the base quality level.
The nice thing about this is it's matte so you're not getting a whole lot of glare there. The bad thing is you can see how it appears and disappears. The viewing angles aren't super wide, they're not hideous, we've seen certainly worse things than this.
Color saturation is okay, not superb on this. Sadly, a lot of business machines get shortchanged on display quality. This would be one where the display is okay but not great. Again, that does count for a lot and you can go for the higher quality display options. They are still 1366 by 768 which for a lot of business users, let's face it, is perfectly acceptable.
HP EliteBook 820 you can get with Windows 8 or Windows 7, it's up to you. I got the one with Windows 7. So, for those of you that still prefer Windows 7, there it is. And hints that the lack of a touchscreen makes sense here because on Windows 7 the touch experience really wasn't paramount like it is in Windows 8.
Unlike the ThinkPad X240, the display does not go all the way back. I don't mind it and it never caused me any problems with that.
HP does a good job of keyboards generally speaking. This one is nice and firm it does not flex a whole lot. It has backlighting which is a little bit hard to see in good lighting but in dark is very useful.
In short, it is a nicely laid out keyboard, very comfortable, everything's where you expected it to be.
Top row buttons include FN keys, multimedia functions, volume, there's even a microphone on/off button, and other business-oriented kinds of stuff.
On the top right corner, there is a wireless on/off and a mute button, usually important to business users. On the opposite side (top left corner), we have a power button. In between is a speaker grill/mesh.
You will notice the track pointer in the middle of the keyboard. As ever, HP is trying to steal away Lenovo ThinkPad customers into that end. Those people are used to having the embedded trackpoint nub with dual sets of buttons above and below the trackpad.
Now, Lenovo has moved over to the buttonless trackpad design on most of their laptops but this still has the functionality of all these buttons around the trackpad. The physical clicky buttons are gone. These are very soft buttons. Some manufacturers have very stiff track pads and very stiff keyboards but this is very soft.
Key travel on this is not super high, it's not quite up there with some of the better ThinkPad keyboards or even Dell keyboards.
It's not a terrible keyboard but I would just like a little more travel for it to feel comfortable. And, the keys aren't really concave they're just flat and they're not shaped in any way. In short, it's a very competent keyboard but it's not the best of the best.
And now for comparison because obviously, these two are direct competitors. We have the Lenovo ThinkPad X240 and our HP EliteBook 820 G1.
They're about the same size. The screen quality is different. These are both 1366 by 768 panels. The HP is seriously matt and there's a common anti-glare coating on Lenovo.
The Lenovo has a more pleasing screen, it's just got that nice IPS screen look. You start out with a better screen on Lenovo without having to upgrade as you do with the HP, which isn't the end of the world.
The keyboard difference is in key height. The Lenovo definitely has a better keyboard but you do get that buttonless trackpad that does drive some people absolutely crazy.
Lenovo of course opens up flat for those of you who need to do that kind of thing. And if we close them up, they have about the same footprint just a very different idea of styling between these two.
Both have rigid designs. The ThinkPad is using carbon fiber on the top and a roll cage and magnesium for the top cover as well. HP uses all metal on the outside.
Prices are about the same for both. The ThinkPad X240 doesn't get quite as inexpensive for the base model but for normally configured (with Intel i5 4200U or 4300U, 4 GB of RAM, and an SSD drive) you're looking at about the same price.
HP EliteBook 820 G1 has quite a few security features. Again, it's a business-oriented machine and it should. It has a fingerprint scanner on the bottom right. It's a friendly location for right-handed people.
This laptop is equipped with a trusted platform module inside. It has BIOS protection and HP Trust Circles. This is actually a software feature where only people who are in your contacts list can actually access files on this computer. So, it's a way to try to stop hackers from stealing data off of your drive.
Now inside this is an ultrabook just like you would expect. A full windows 64-bit again your choice of windows 7 or windows 8. If you get one get it with windows 7 t actually windows 8 with downgrade rights to windows 7. So here we have IE web browser and let's test out video playback so you can see what that looks like and so we can hear the speakers.
So we'll look at our Galaxy Note pro 12.2 review. Speed is perfectly good 1366 by 768 so you're not seeing a whole lot on the screen at a time if you're used to full HD display but most business users for business users they're not. 720 even a 50% violence pretty not bad at all for a business notebook.
If you're gonna be giving powerpoint presentations with audio or anything like that the speakers are actually pretty darn tolerable on this. And HP does have a good heritage and putting nice speakers in laptops thanks to their commercial line of end meet laptops and so on.
And in addition to dual band Wi-Fi in here an optional W an LTE 4G if you want. You have Bluetooth 4.0 inside. As you saw you can get you have to dim slops so you can go for gigs eight gigs of ram in theory. You should be able to go up to 16 gigs of ram.
You can go up to a core i7 still gonna make you LV Ultrabook cpu so you're looking at the core i7 – 45 or 46 hundred you. And if you want to go up to that and then say we wanna get an SSD drivers while you're looking at around $1,400 or so. SATA battery life.
Is you saw we have the 46 watt hour the larger battery option both of those are inside under the bottom cover there. And so far we've been managing between seven seven and a half hours on a charge which isn't bad. It's not a wildly bright display and it's not high resolution so that certainly isn't a drag on this.
And this is an ultrabook with ultrabook cpus and Intel HD 4400 integrated graphics. Probably with some stronger power management you could push this even a bit farther with the higher capacity battery. So that's not too bad at all. Terms of benchmarks it scores pretty much like what you would expect from a ultrabook. PC mark 7 4018.
Now we see 45 to 4900 often on the core i5 so that's a little bit lower but that's also because it's running Windows 7 – and it has the Intel 180 gig SSD. Which is a fine SSD but not as fast as some of the newer ssds that are available. W prime it computed PI in twenty four point eight seconds and pretty par for the course. Maybe teeny bit slow but not bad.
Geekbench 3 2395 single core and multi-core 46 47. That's actually quite a strong score they're good on Geekbench 3. Now let's check out the SSD score next. And here's how crystal disk mark benchmark scored the SSD drive. Not bad the right speeds are not phenomenally high on this particular drive. Again you have a couple of different SSD drive options or obviously it's pretty easy to pop the driver of your choice in there.
So all in all it's a very competent little laptop Ultrabook. Portable not bad looking sturdy lots and lots of ports a docking station option. Price is pretty reasonable sometimes Business Machines can really really be expensive. This one isn't bad at all. The only thing that it kind of hurts is the display quality.
But again you can opt for the higher quality panel. You're still not getting the touchscreen but at least it'll look better and you won't be getting full HD. Again business users and the twelve and a half inch machine maybe they don't crave that as much and it's a perfectly usable resolution Universal waldra sharp.
So that's the HP EliteBook 820 available now. Again starting at around eight hundred seventy four dollars nice round number there. But as configured about twelve hundred dollars and yeah that's in league with other ultrabooks.
And you can get a lot of ports here you get a lot of styling get a lot of security stuff. The screen is just okay. It's not the greatest that we've seen though they do have a higher quality option that may look a whole lot better.
HP EliteBook 820 G1
Performance -

95%

Price -

94%

Value -

95%