The NZXT N5 Z690 Motherboard Review we're publishing today will be mostly concerned with the N5 Z690 board. It's a NZXT product with a number of remarkably effective features.
Motherboards generally follow CPU launches. The ability to use some or all of the fancy new technology will depend on which motherboard you select because these new motherboards will be tied to various chipsets.
Another item that is more expensive than the one we're evaluating today was included with the N5 N690. What we currently offer is ideal for anyone looking for a premium board with striking aesthetics and a reasonable price.
The N7 motherboard, which offers comparable performance and features, is exactly like the motherboard we're looking at for our NZXT N5 Z690 Motherboard Review.
We're talking about the NZXT N5 Z690 Motherboard today. Here, we'll concentrate on its functionality, design, specifications, and key features. Let's examine its packaging and the items within the box first, though, before we delve further into the subject.
NZXT N5 Z690 Motherboard Unboxing & Packaging
The box is plain and unadorned, in classic NZXT style, with just a brief passage of text and a frontal image of the board. The box is somewhat more filled towards the back. It features a massive wall of specifications that covers pretty much every piece of knowledge you would need regarding the board.
A very simple, brown cardboard box with no distinguishable markings is located inside the outer sleeve. The motherboard is within the plain brown box, resting on a layer of foam that keeps it secure and in place inside the box. The provided accessories—a handbook, four M—are quite little. Two Wi-Fi antennas, two screws with a single stand-off, and four SATA cables. Nothing additional or superfluous; just what you need to get going.
Despite the N5 being the less expensive variant of the two, NZXT really worked hard to create a gorgeous motherboard. Although the N5 has a sizable area of visible PCB, the matte black coating on the entire board gives it a stylish appearance.
There are some expanded heatsinks in the upper left and right corners. Both of these are white, which creates a lovely contrast with the board's all-black finish. The top of these heatsinks also has a few perforations, not too unlike from the H7 case lineup.
Otherwise, not much can be said about the general design. Similar to their H7 base model, NZXT has unquestionably adopted a more minimalist style. Because of the matte color and more exposed PCB, this simple design doesn't look too awful.
Another beautiful, well-thought-out touch is the white heatsinks, which add some contrast. More RGB might brighten the board, which would be nice given the price, but it's not necessary and won't improve performance.
NZXT N5 Z690 Motherboard Chipset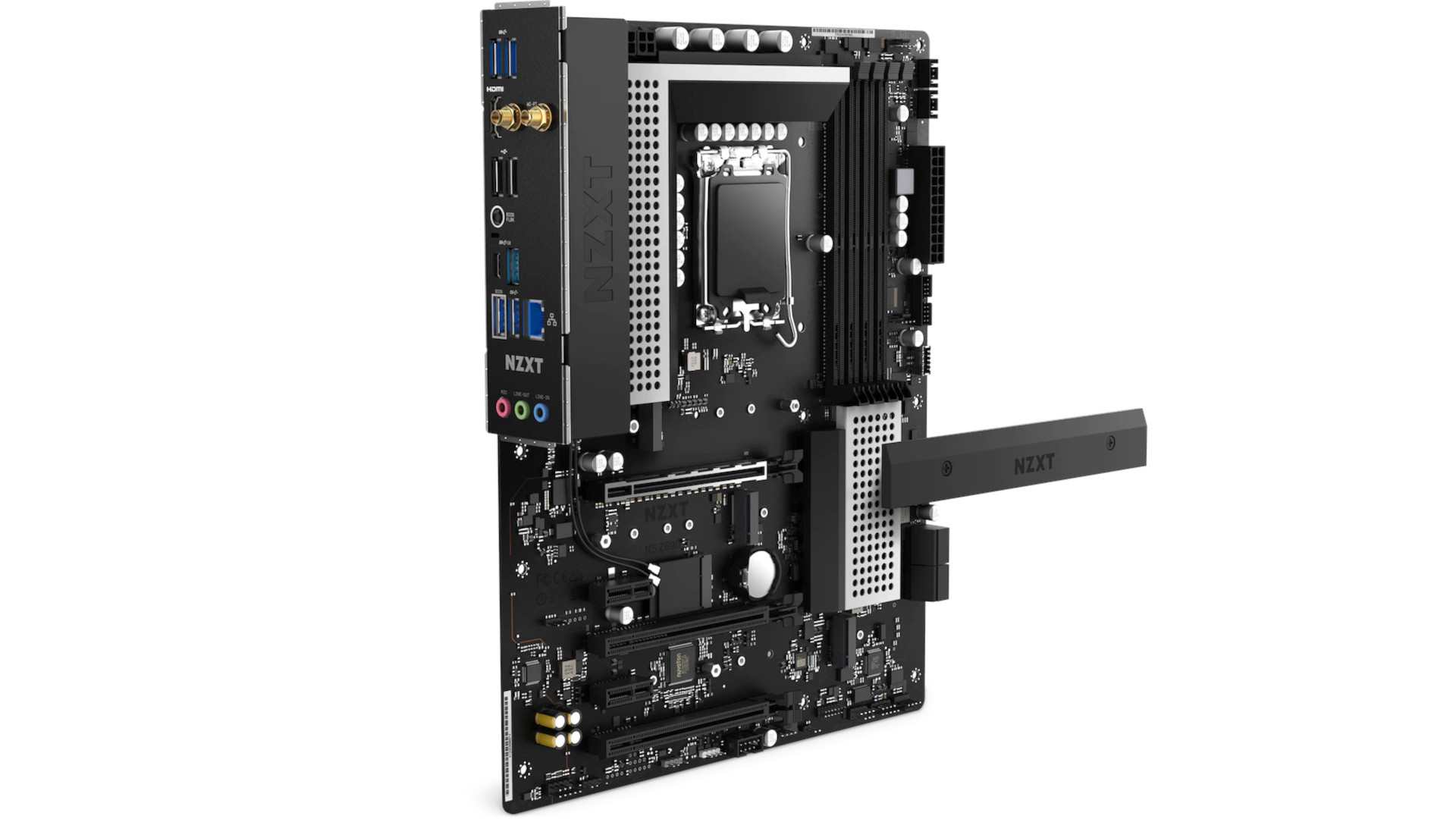 The Z690 chipset, which is the top model among Intel's 12th Gen series of CPUs, is used by NZXT's N5 motherboard. This specific chipset has access to all of the most recent features. Additionally, you have access to CPU overclocking, which for some customers looking to get the most performance out of their system may be a deal-breaker.
For gamers and enthusiasts looking to future-proof their purchase and get the most out of Intel 12th gen, the Z690 chipset is arguably the best choice. Support for DDR5 RAM has been widely observed on Z690 motherboards. Although DDR5 memory technology is still in its early stages, if you have the cash to spare, these kits will work very well with high-end components.
DDR5 memory will support the use of potent GPUs like Nvidia's RTX 3090Ti and RTX 4000 series because it has larger capacity DIMMs, more bandwidth, and faster clock speeds. NZXT decided not to incorporate DDR5 memory support in order to keep the price of this board low. We believe this makes sense for this less expensive N5 design.
PCI-E 5.0 compatibility is another feature included with the Z690 chipset. These GPUs, which are similar to the rumored RTX 4000 series cards, are believed to use PCI-E 5.0 for power. This makes the inclusion of this standard a requirement for those anticipating upcoming hardware changes and releases.
NZXT N5 Z690 Motherboard Specifications
| | |
| --- | --- |
| CPU | Intel® Socket LGA1700 for 12th Generation Processors:Intel® Core™ Processors. Please refer to CPU support list.Intel® Hybrid Technology:SupportedTurbo Boost Max 3.0 Technology:Supported |
| CHIPSET | Intel®:Z690 |
| MEMORY | DIMM Slots:4, DDR4 onlyMax Memory Support:128GBMemory Architecture:Dual-ChannelOC Frequency:5000+(O.C.). Please refer to memory QVL.Base Frequency:3200 / 2933 / 2800 / 2666 / 2400 / 2133 MHzType:Non-ECC, Un-buffered MemoryIntel® XMP 2.0 Support:Supported |
| WIRELESS | Dual-Band Wireless:Wi-Fi 6EProtocol:802.11 a/b/g/n/ac/axFrequency Bands:2.4 / 5 / 6 GHzMU-MIMO Support:SupportedBluetooth:V5.2 |
| AUDIO | Realtek®:ALC897 CodecChannels:8-Channel High Definition Audio |
| INTEGRATED GRAPHICS | Intel® Xe Graphics (11th Gen CPUs) / UHD (10th Gen CPUs):HDMI 2.0 / HDMI 1.4bHDMI Max Resolution:4096×2160@60Hz |
| GENERAL | Operating System:Windows® 11/10 64-bitForm Factor:ATXWarranty:3 yearsModel Number:N5-Z69XT-W1 (White) / N5-Z69XT-B1 (Black)UPC:815671016027 (White) / 815671016034 (Black)EAN:5056547200132 (White) / 5056547200149 (Black) |
NZXT N5 Z690 Motherboard Temperatures & Power Consumption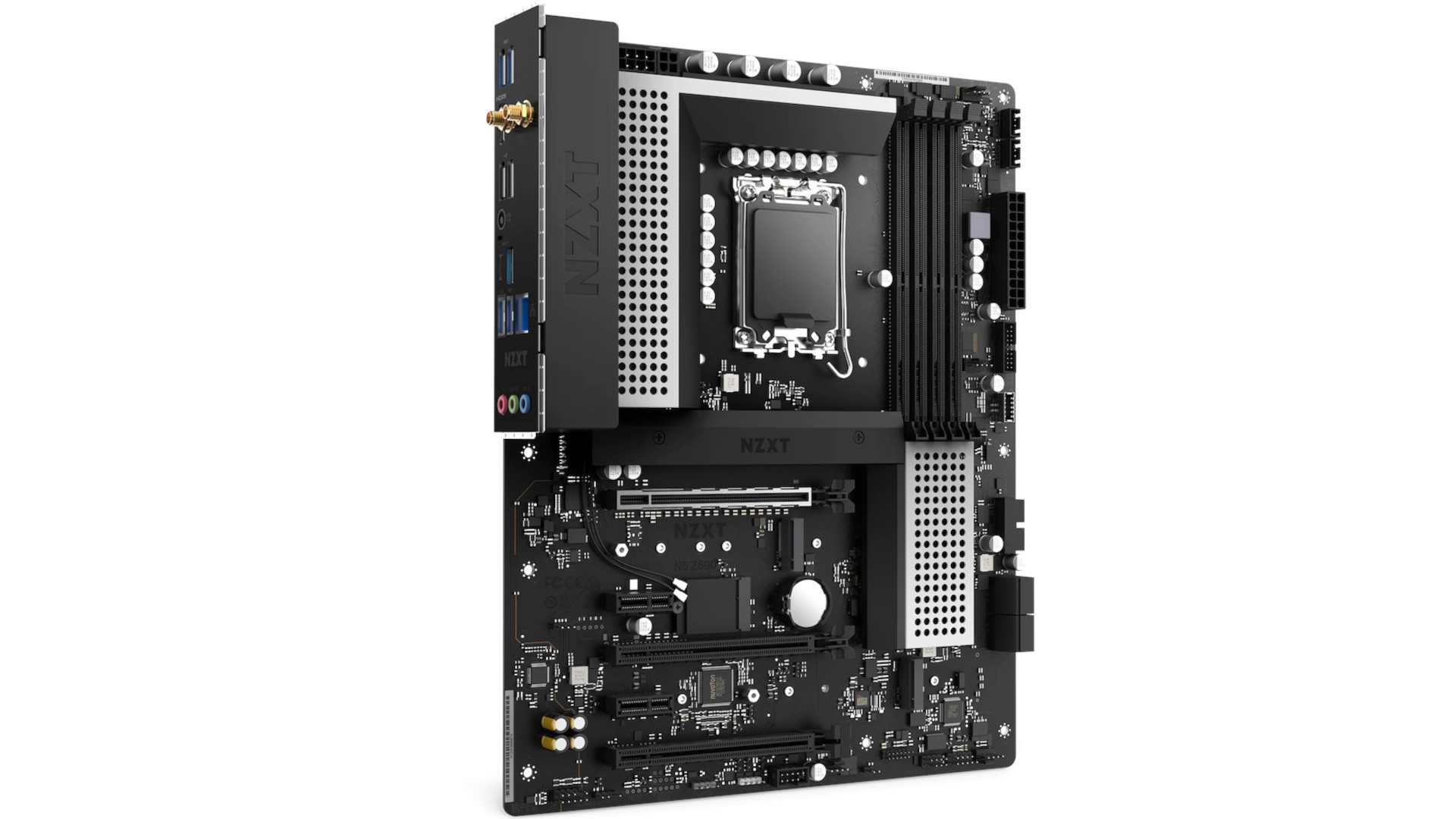 Our PC received 180W from the motherboard, resulting in a low system power drain. The VRMs averaged 28.7° in idle mode, and the motherboard consumed less power. It demonstrates how well NZXT conducts passive cooling and is inside the permitted range for VRMs.
The motherboard's VRM temps averaged 28.7° in idle mode. It demonstrates how well NZXT does passive cooling and is inside the permitted temperature range for the VRMs.
We got a lot of temperature readings from our stress testing on the VRMs, with an average of 55 degrees. It's a little warm, but there is no active chiller.
You can anticipate improvements in a chassis because air will flow across its parts. The results are still within the range of allowable temperatures, even with the slightly heated results.
NZXT N5 Z690 Motherboard Conclusion
In the Z690 board market, the NZXT N5 Z690 Motherboard is a reasonably priced alternative. Even though it's not the best performance we've tested, you should only see a difference in lengthy, highly multi-threaded tests. All of the tests and gaming performance were flawless. It has abundant of M.2 storage and quick Wi-Fi 6E in terms of hardware.
Even though it may not have the most appealing design in comparison to other components, it nevertheless provides a wonderful centerpiece for your build, especially when placed inside an NZXT chassis. The N5 is a great alternative in the sub-$250 pricing range if you're trying to invest in Alder Lake without breaking the bank, especially if you prefer M.2 storage.
NZXT N5 Z690 Motherboard
Performance -

96%

Price -

97%

Value -

97%