In this article, I give you my Razer Book 13 review with specs included. This is actually not a gaming laptop. This is one of Razer's first productivity-oriented laptops.
There's a lot of Razer Blade Stealth 13 DNA in here but there's no dedicated GPU. Why pay for something you're not going to use, right?
This is for those who really just want a laptop for productivity and better battery life. The charger is small and the display quality is pretty nice too.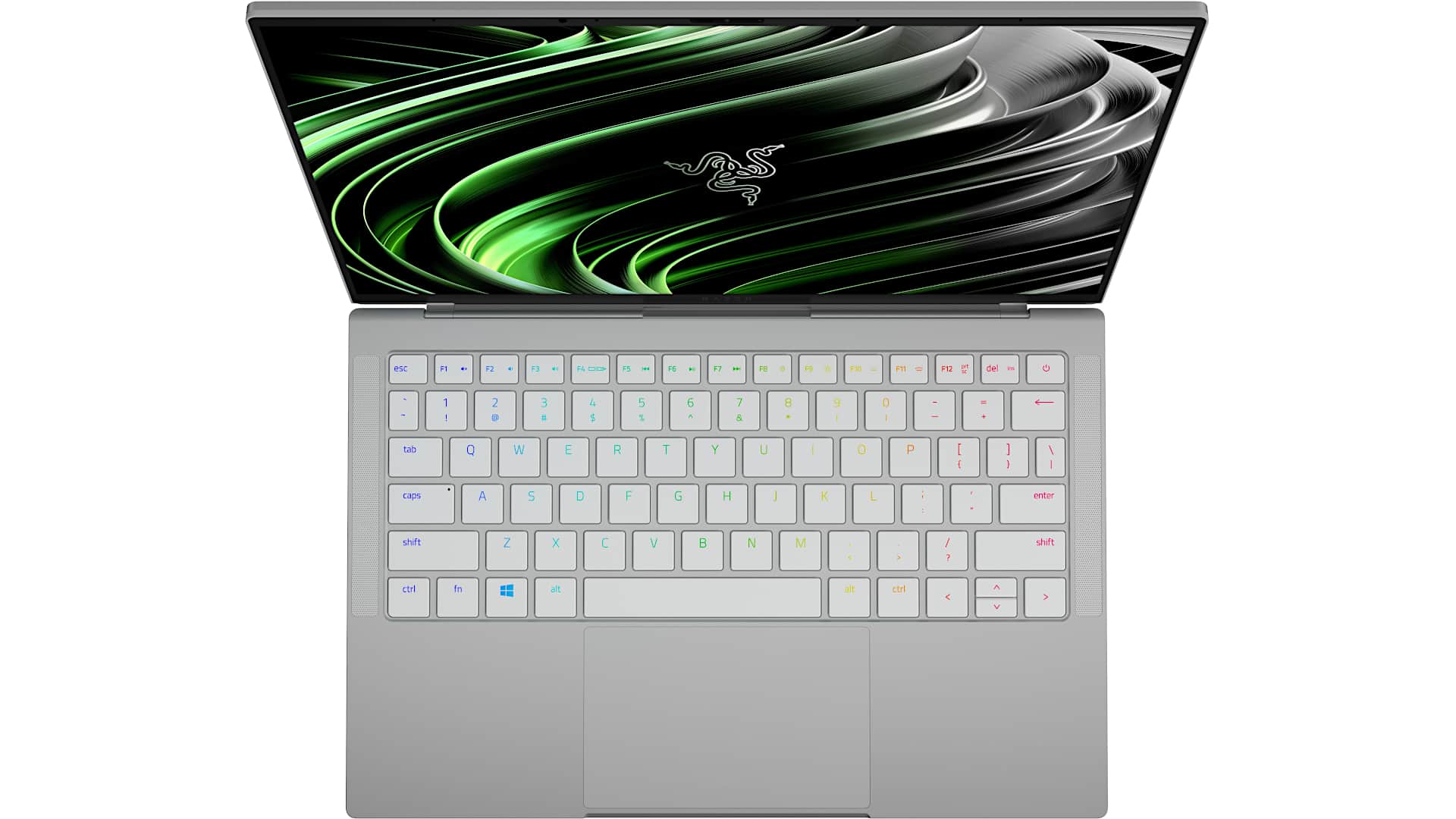 So, clearly, this is a good-looking piece of hardware. We have the CNC anodized aluminum chassis and the mercury white finish.
The build quality is excellent on this and the lines are really clean too. I mean, it holds its own against the MacBook Pro which is an obvious competitor to this as well as the Dell XPS 13 and it looks good on just about anything.
Though it might not be a tiny gaming laptop, performance is still important. It's not just about good looks.
Razer Book 13 is equipped with Intel 11th generation 4 core ultrabook CPUs. You can get it with the Core i5 or Core i7 and Intel Iris Xe graphics. And, it has vapor chamber cooling which you might almost think is overkill but then it's Intel so, it's understandable. They tend to run hot.
Razer Book 13 performs in the range where you would expect against its peers but it's at the top of the pack. I believe that would be totally due to the cooling. Even when running benchmarks not in high-performance mode using the Razer Synapse software it scores very well.
By the way, that performance mode is there. It didn't make a huge difference in benchmarks and day-to-day use but you've got it if you need it.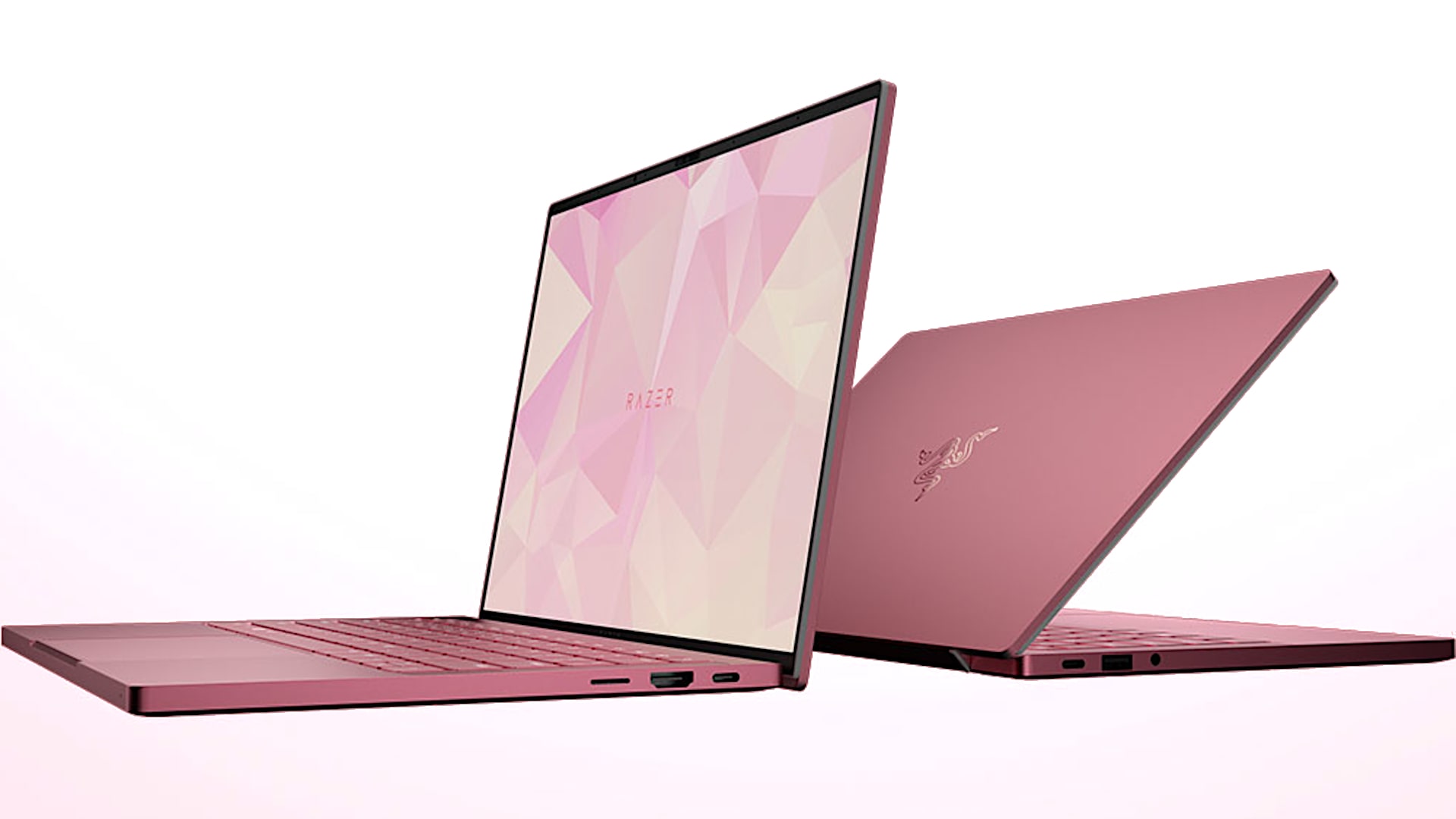 Another nice thing is this is a 16 by 10 aspect ratio 13.4-inch display. You might think this sounds like the XPS 13. In fact, we've gotten similar panels being used here from Sharp (SHARP the manufacturer).
Razer Book 13 has Full HD matte, Full HD touch (which is what I have), and a 4K display option. The 4K option is the most expensive and has short battery life.
This Full HD touch panel is gorgeous and it is in fact just pretty much identical looking to the XPS 13 with the same panel on board. It's 1920 by 1200 resolution. It's a little bit taller thanks to the aspect ratio.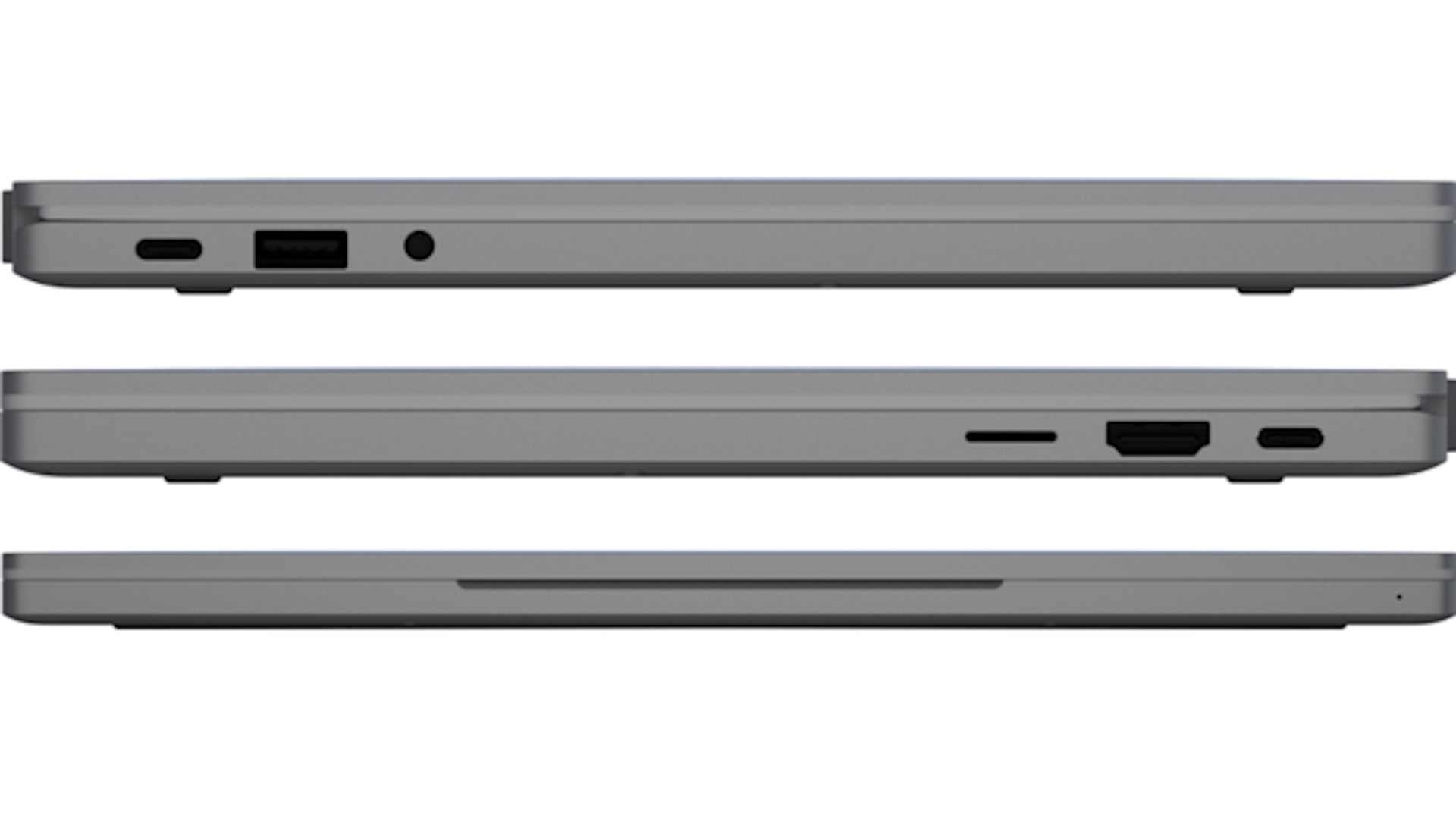 The reflectance is really well controlled on this and the color calibration (these are color calibrated from the factory) is definitely better than the XPS 13 which is your typical a little too blue a little too green from the factory. None of the calibrations that were built in with the XPS were as close to being spot-on as this.
The contrast ratio is very high and this thing is very bright. We're talking around the 550 knit area. So, you can see this pretty much in any sort of lighting.
Razer Book 13 might not be a gaming laptop but it does have Razer Chroma perky RGB backlighting. So, you can either go with a staid chill color if you like or you can program every key to have a different color. And, there's spectrum cycling, lighting effects, and all that sort of thing if you want to do that. And, you can control that with the Razer Synapse software that's on board.
The keyboard itself and much like the chassis is pretty much stealth like razor blade still. And that means the key travel is really short on this and there's not a lot of tactile feel. I've never been a huge fan of their keyboards.
They're not atrocious or anything like that but i'd like a little more feel resistance that sort of thing. The trackpad is a Microsoft precision it's very large they always have some of the best trackpads in the industry. So certainly i like that.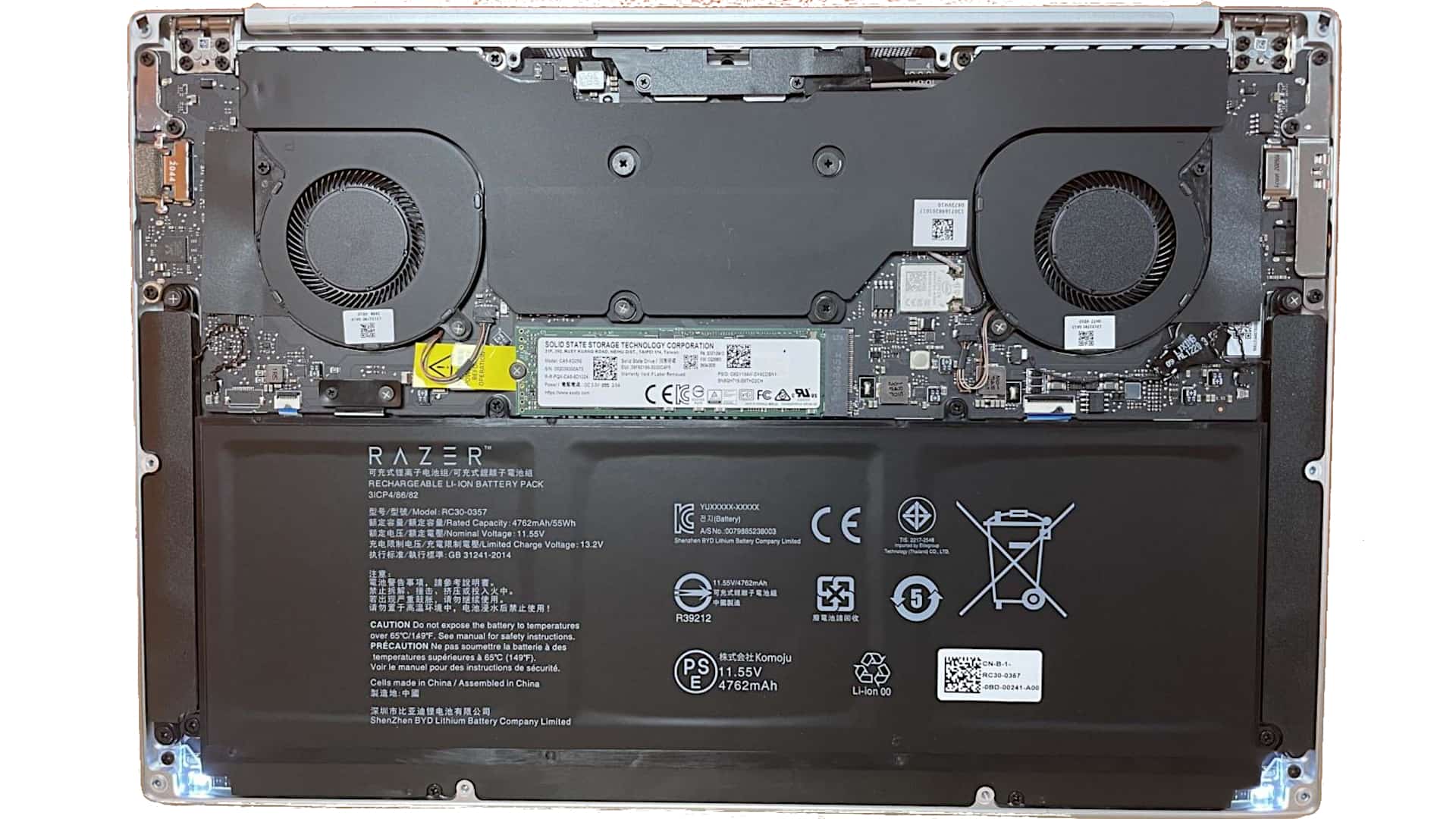 For sound we have four speakers in a stereo configuration up firing surrounding the keyboard like the MacBook pro design there. And it sounds pretty good. It's better than the XPS 13 speaking of competitors uh but it's still really not MacBook pro level just yet. But it's not bad and it has smart amp technology.
When it comes to ports the story is really good. And this would be the selling point versus the xps 13 which is relegated just usbc thunderbolt ports on board. We do have two thunderbolt 4 slash usbc ports here. And yes you can use the razer core for those who do want to add dedicated graphics when you're sitting at your desk.
We also have a usb a port so you're not consigned to dongle life immediately. A full-size hdmi 2.0 port a 3.5 millimeter headphone jack of course. And a micro-sd card slot. So that's pretty nice compared to the MacBook pro or MacBook air and the dell. You just you don't need dongles it's or docs or anything like that to get basic functionality going here with your peripherals.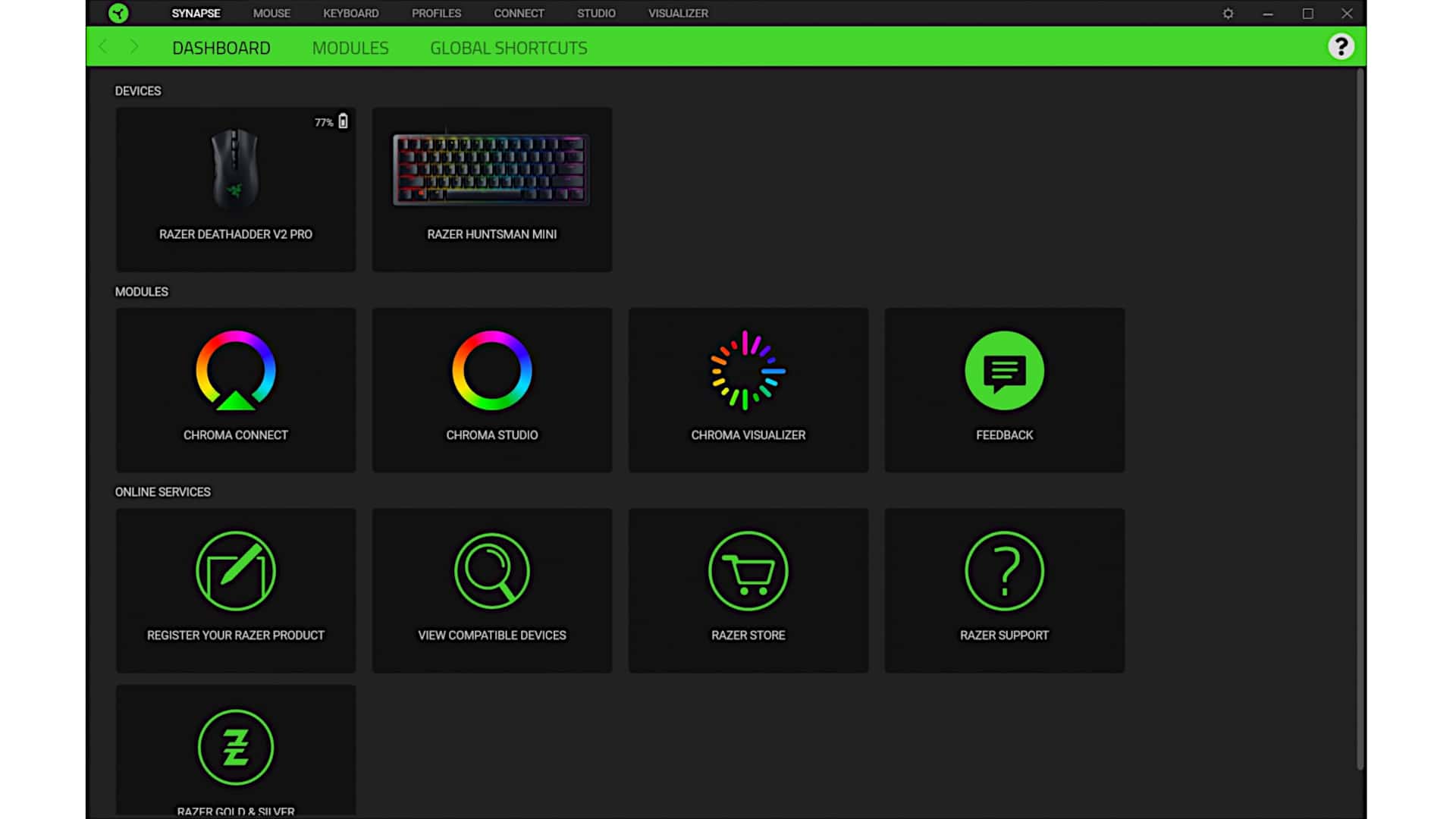 It's intel evo certified so that means it has intel wi-fi six and we have Bluetooth 5 on board. Long battery life is part of the requirement an instant wake from sleep which is true. Now when it comes to battery life this will depend on which display you go for.
The full hds will obviously have better battery life. And razor says basically you'll take a three hour run time hit if you go with the 4k display. We have the full hd display. They claim up to 14 hours. Maybe if you set the brightness really dim and you're doing almost nothing but in our use case when we set brightness to 150 nets and do a mix of productivity tests streaming video a little light photoshop work i was getting about nine hours of battery life.
That's not bad at all. The 65-watt charger is very compact compared to the razer blade stealth for example because that has to support the dedicated graphics unit in it. It's a lot smaller carry and lighter. So let's talk about temperature.
We've already said performance is good well again performance is in part good because temperature is well controlled. We have that vapor chamber cooling on board and the surface temperatures on this get warm.
Certainly, if you're pushing it but not burning hot. I mean it probably is possible in the summertime to get it burning hot but so far in the wintertime here in fairly warm texas actually not burning hot. Fannoids is about average. And CPU core temperatures are pretty good.
When pushing it really hard where we usually see the CPUs and these hitting the 90s centigrade we're more like in the 80s here. So it's well done. Definitely it's performance-oriented even if it's just a non-gaming laptop. As ever with razer laptops just unscrew the visible Torx t5 screws and lift it up.
No irritating plastic edge clips. There are two clips towards the center here but they're not much work. And nicely done here. A little extra reinforcement in this area. And here we have the internals. The battery taking up most of the space inside as is typical with ultrabooks.
Here's our m.2 nvme SSD. If you want to upgrade it yourself there are ssds up to 2 terabytes in capacity. It's compatible with both nvme and SATA 3 ssds. Our vapor chamber baby vapor chamber cooling is pretty wild to see this in an ultrabook. And the two fans right here.
So that's a lot of cooling no wonder it well it has pretty decent performance in terms of thermals. The wi-fi card is soldered on board right here. It's intel wi-fi six card. And that's about it other than the two speaker modules that are up firing that flank the battery as they do on most laptops. Ram again is soldered on board. 8 or 16 gigs.
So that's the razer book 13 with its chill mercury white lid and the logo that's not bright razor green right. I it's a very nice laptop. You know it's pretty light under three pounds 1.34 kilograms. It's powerful the cooling is very good on this and I like the display options which are better looking than the razer blade stealth.
We have them both in houses you can see side by side. Nicer displays a little bit maybe geared towards professionals who might be doing photo and video editing and all that sort of thing. Versus the xps 13 i think it's a win just for all the ports you get here.
Oh and the upgradable SSD on this one it's pretty nice. Versus the m1 MacBook pro 13-inch well or even the air you know the deal. That the m1 MacBook pro and air are going to be the coolest running longer even longer battery life machines. You get bigger bezels on those there's that and there's no touch screen option. And it also depends on whether you need windows since the m1 and macs are not going to run the x86 version windows.
Razer Book 13
Performance -

94%

Price -

94%

Value -

94%